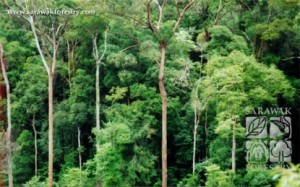 The eastern part of Malaysia comprises the two states Sabah and Sarawak. These two states are amazing places to visit for a memorable holiday. The state of Sarawak is the biggest state in Malaysia and is a must–see destination if you have time to spare while having holiday in Malaysia.
Sarawak is mainly for nature enthusiasts as the state has many parks and forest reserves sprawled across the lands. The forestry Recreation Park for instance is a delightful place to be in if you are looking for a green holiday. Covering more than 200 hectares of land, the recreation park is the place to be for every nature enthusiast. Nature's best is reserved here and as you make your way through the clearly marked trails, you will find many interesting and unique tree; some of which reach very high up into the sky. Walking along the trail will bring you up close with some really large and widespread roots of the big trees. If you are planning a trip for jungle trekking, it is advisable to wear comfortable shoes, wear a cap and long pants to help cover yourself from the hungry leeches in the forests. It certainly is a green paradise and a great place to do some jungle trekking with the family.
You will also love the fact that the park has an amazing camping site that comes with convenient and accessible amenities provided by the forestry department. The forestry department of Sarawak is the department that is responsible for up keeping and managing the park grounds. Do visit the watch tower a few kilometres away from the camping site. At the top lies a spectacular view of the nearby land and is definitely an adventure in itself! The park is also home to a butterfly farm which will definitely be an exciting destination for the young ones. Here is a great place to be surrounded by these beautiful wild creatures!
The park was built to carry out research into anything pertaining to the soil, plants and the fauna that call the park their home. It is a place for all researches and nature enthusiasts to visit and just enjoy. If you are not up for a full day of jungle trekking, the park is still a great place for a swift walk or jog to just enjoy the beautiful green surroundings. There is a cattle and deer farm nearer to the entrance and is a great place to bring young children for a chance to get up close to the deer that live here. Feeding the deer is definitely an unforgettable experience.