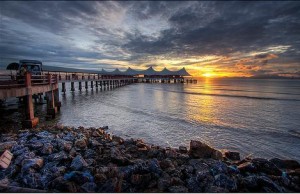 A tour to Perlis will not be fulfilled unless a stopover to Kuala Perlis has taken place! As the largest town in Perlis, Kuala Perlis is acknowledged by travellers for two significant activities, as a pit stop for arrivals as well as departures, and next, as a fishing township. Travellers that go through Kuala Perlis as a pit stop for arrivals would usually arrive from Langkawi Island or to reach the borders of Thailand; same for departures.
From Langkawi Island, tourists can reach the docks of Kuala Perlis by means of boat in an hour. As they carry on through the boat ride, they would be able to take in beautiful scenic views of Malaysia from an island viewpoint.
As for the ones that are already in Perlis itself, they should be familiar by the sounds of North-South Highway as this town is less than 15 kilometres from Kangar. Travellers are to exit this highway by Changlun, and ensue onto the Changlun- Kuala Perlis highway. Once on the mentioned highway, visitors are just required to follow the signboards as guidelines and soon they will reach the docks.
An advantage of Perlis not being entirely large is that each tourist attraction is nearby to the other and that makes it convenient for tourists to consider renting a car for sightseeing. Apart from that, it allows tourists to spend minimal time on travelling and finding directions but more time for exploring! Then again, despite the size of this state, Perlis definitely has a lot to offer, and Kuala Perlis has proved that point.
As the major activity here in Kuala Perlis is fishing, that means only one thing; fresh seafood! Despite being a small but appealing fishing civic, Kuala Perlis has an array of seafood to offer, from numerous types of fishes to squids, prawns and other shellfishes.
Visitors can enter any restaurants that are by the docks and have them be served with fresh seafood. Not only that, visitors would be spoilt for choices with the offered ways to have their seafood prepared; grilled, barbequed, steam, fried or any other possible methods.
No doubt, this town is definitely a place to try out Malaysian delicacies, as one of the most well-known dishes is the 'ikan bakar', which is a common Malay style of having the fish grilled in banana leaf. If one is not interested in seafood, not to worry, as the 'laksa', a zesty soup noodle will definitely arouse the appetite of one. Not only does the good food attract visitors, but also the prices they are paying for; reasonably inexpensive!
Attractions in Kuala Perlis: