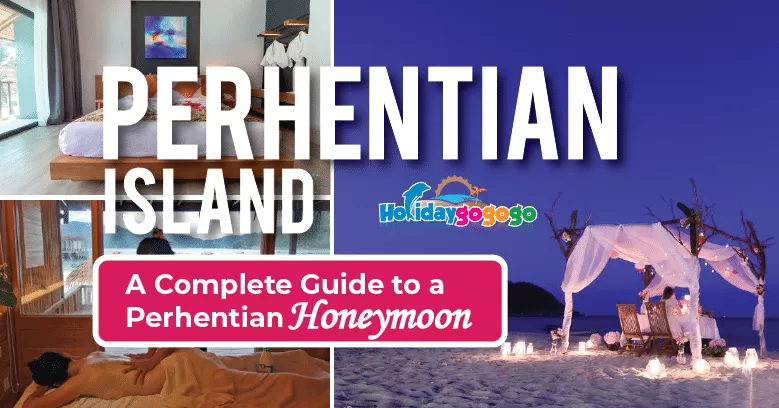 Perhentian Island, located on Malaysia's East Coast in the state of Terengganu, is the perfect holiday destination for a romantic couple's getaway or honeymoon!
A Perhentian honeymoon cannot be topped. Think suites built on crystal-clear waters with the craziest shades of blue ever, thriving marine life, beautiful underwater landscapes, vast expanses of jungle to explore, and so much more. This guide will cover everything from how to get to Perhentian, best resorts for a Perhentian honeymoon, weather in Perhentian, best couples for activities at Perhentian, and much more.
[lwptoc]
How to get to Perhentian Island
There are 2 stages to getting to Perhentian Island. If you're travelling with a package, you won't have to worry about transportation as most will be arranged for you.
Step 1: Get to Kuala Besut in Terengganu
First, travellers will have to find a way to get to Kuala Besut in Terengganu, where boats depart for the island. To get here, there are bus connections from all major destinations in Malaysia, including Kuala Lumpur, Penang and Ipoh.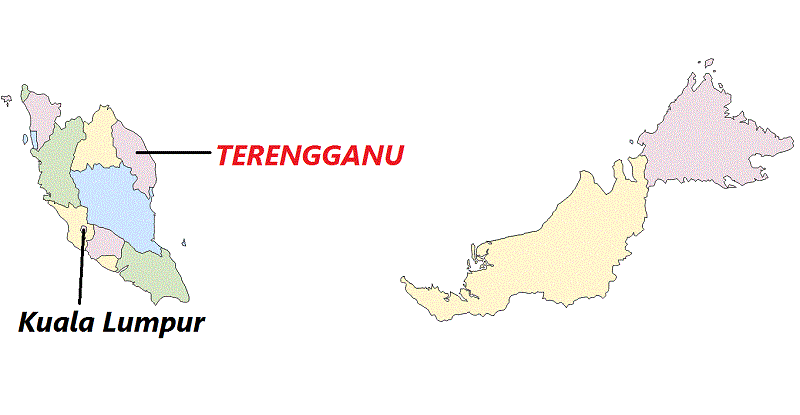 The quicker and more comfortable way would be flying to Kuala Besut directly. Regular flights operated by Malaysia Airlines are available from Kuala Lumpur International Airport to Sultan Mahmud Airport in Kuala Terengganu. Each trip takes about 55 minutes. Alternately, the budget airline Firefly also operates flights from Sultan Abdul Aziz Shah Airport in Subang to Kuala Terengganu and Kerteh as well as from Singapore to Kuala Terengganu.
Step 2: From Kuala Besut to Perhentian Island
Getting to the Perhentian Islands requires purchasing a speedboat ticket in Kuala Besut. As it only takes 45 minutes to reach the island, some service operators have speed boats that depart every hour (every half hour during peak season).
It is RM70/pax for a return ticket, and boats regularly leave throughout the day from 9 am onwards. Be aware that the boats stop operating after 4 pm so plan to arrive in Kuala Besut as early as possible. Or book a night in either Kota Bahru or Kuala Terengganu so that you won't have to rush to make the morning trips.
Travelling to Perhentian Island is often cheaper than going to its neighbouring islands (for example Redang Island or Lang Tengah Island) due to its short distance. Price-wise, a definite plus for honeymooners on a budget!
Annual Weather at Perhentian Island
Perhentian Island is located on the East Coast of Peninsular Malaysia. Unlike its western counterpart, this part of the coast is very prone to unfavourable weather conditions during certain periods of the year. In fact, the island is only open to the public from March to October.
Heavy monsoons sweep in during November so most resorts will be closed and ferry transportation severely restricted. Visibility is also limited underwater due to the strong currents, making diving and snorkelling a less-than-ideal pass time. The island essentially powers down during this period. This is NOT a period where you would want to travel to Perhentian Island.
When is the best time to visit?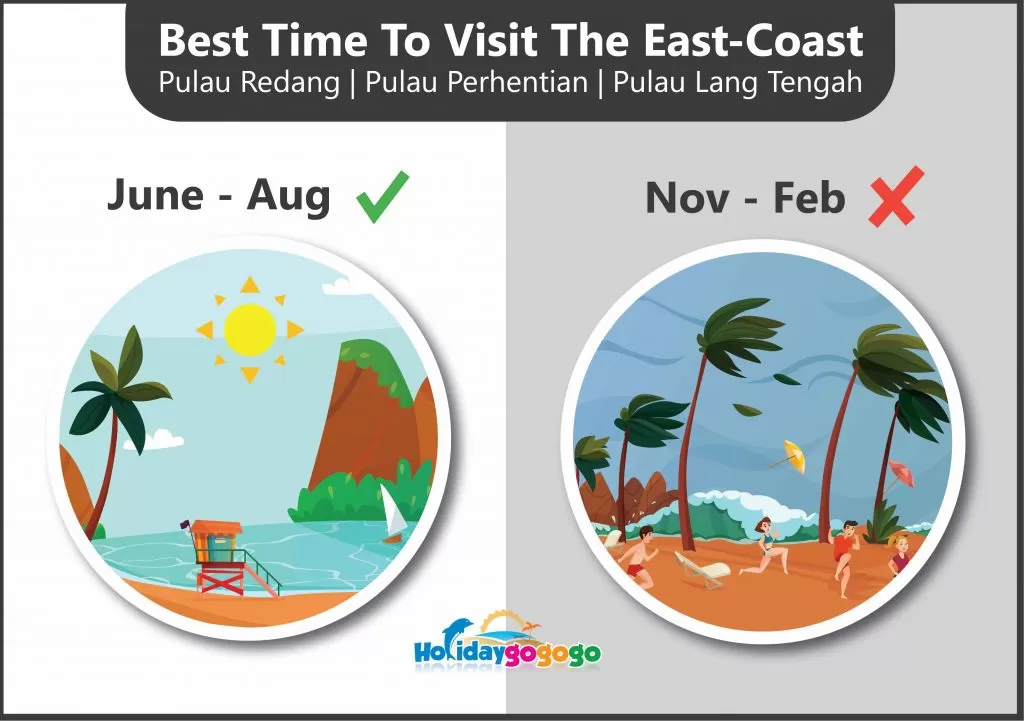 The best time to visit the island is from June to August. This is the dry season meaning that there will be enough sunshine all day long for you to go about your activities care-free.
For lovers who dive together, April through May is considered the best months for scuba diving.
Do note that the island also gets crowded during school and public holidays, so plan carefully if you're after that iconic island serenity.
Which island is best for a Perhentian Island Honeymoon?
Perhentian Island is made up of two islands. there are two of them –Perhentian Besar (Greater Perhentian) and Perhentian Kecil (Lesser Perhentian).  The differences between Perhentian Besar and Perhentian Kecil mainly lie in the crowds they attract.
If you're all about that energetic atmosphere, then Perhentian Kecil just might be the place for you. Party your days (and nights) away, make new friends, explore wonderful trails and gorgeous views. This is the liveliest island this side of the Malaysian coast. Unfortunately, this also means that Perhentian Kecil is prone to noise pollution and has generally more inferior facilities that cater to casual holiday goers (think backpacker crowds). With that in mind…
For the perfect honeymoon, I strongly suggest you make camp at Perhentian Besar.
For some peace and relaxation, Perhentian Besar is the place to be. Snorkelling here is terrific, the views are serene and the beaches lie almost untouched as if waiting for the first human being to set foot on them. It sets up the perfect scene for a secluded, romantic getaway with just you and your partner.
Where to stay for a Perhentian Island Honeymoon
A romantic couple's holiday at Perhentian Islands is all you need to rekindle love or celebrate a landmark anniversary. And nothing contributes more to this than where you stay. A good night's sleep, comfort, and full-range amenities will enhance your honeymoon a-thousand fold.
Resorts in Perhentian Island are excellent in this regard, as apart from the traditional amenities and facilities, they also provide special services for honeymoon packages. These can include beautiful fruit and flower arrangements, romantic lunch spreads and candle-lit dinners, private beach tours, private excursions, spa massages and honeymoon gifts.
Best of all? You won't have to do any planning! It's all in the resort's package. These are some of the best romantic resorts for a honeymoon at Perhentian Island.
Resorts at Perhentian Besar
Coral View Island Resort
Coral View Island Resort is a 2-star seafront resort on Perhentian Besar. The property is strategically placed nearby to the ferry terminal and Teluk Pauh, which is widely considered to be the best beach on Perhentian Besar. Adventurous honeymooners planning to island-hop or visit other islands will find that this resort ideal due to its proximity to the jetty where water taxis gather.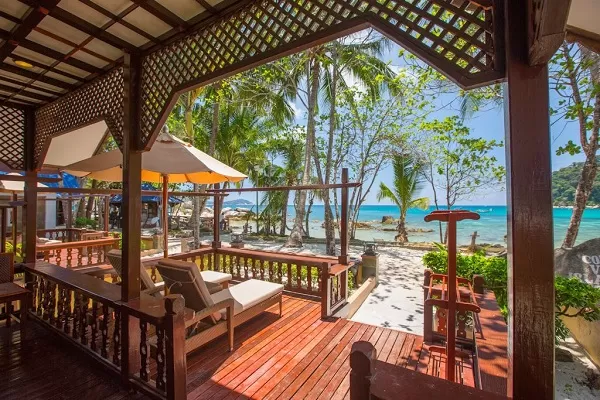 Guests also have access to the resort's very own private beach that is part of Teluk Pauh—no more crowding around with other travellers! Lush trees and beautiful landscaping cover the resort grounds, further granting a sense of exclusivity and seclusion.
View Coral View Island Resort Honeymoon Package
The Barat Perhentian
The Barat Perhentian features excellent sea views and delicious beachfront dining where the food is among the best on Perhentian Besar! This 3-star establishment is located on Perhentian Besar and is a mere stone's throw away from Coral View Island Resort.
Where this resort shines is in its culinary offerings. Treat your significant other to a heartily satisfying BBQ Seafood Platter while enjoying the beautiful ocean views. Their prices are reasonable and definitely match well with the succulent taste of its food.
If you and your partner are food lovers, then you'll love this place!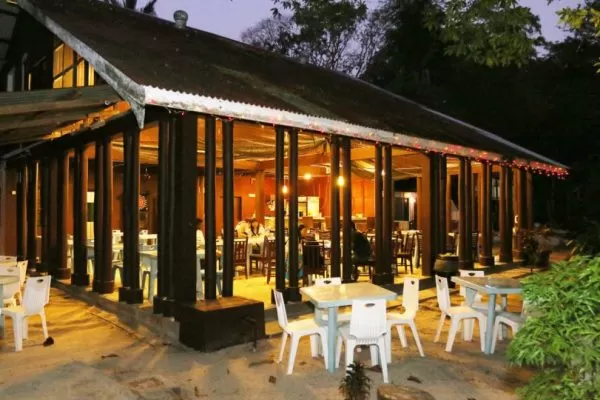 Perhentian Island Resort
Perhentian Island Resort holds its reputation for one thing – having the best beach on the island. The resort is strategically located on Teluk Pauh, where it has its own beautiful sandy beach (PIR Beach) with crystal clear waters and soft sandy shores. Couples will enjoy basking in the warm glow of the island sun as they relax together.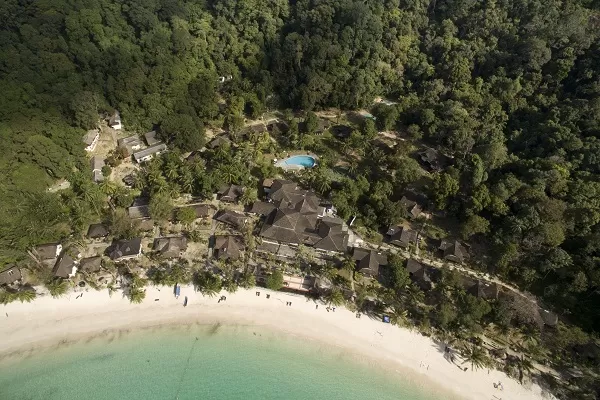 For some activities, you'll find turtles just off the jetty and coral reefs either side of the beach. Perhentian Island Beach Resort wins hands-down when it comes to location and the beach. Perhentian Island Resort also offers romantic suite rooms with terrific views. Their beachfront premier rooms are literally only meters away from the water, and promises a dreamy wake-up scene for couples.
Resorts at Perhentian Kecil
I know what I said about Perhentian Besar being the superior island for romance. But Perhentian Kecil contains some hidden "gems" as well that deserve an honourable mention. Check these resorts out:
Alunan Resort
Located on a quiet, intimate stretch of Petani Beach, Alunan resort sits on a slope gently sweeping down to merge with the sparkling azure ocean at its foot – all the while being enveloped by a stunning backdrop of lush, verdant tropical rainforest.
Its rooms are built along this slope, promising gorgeous views wherever you stay. Best described as private hideaways, the rooms are designed individually and come with a private sundeck on the roof where a hammock, sun loungers, and a shaded patio await. Scenery lovers will fall in love with the floor-to-ceiling glass windows that are characteristic of every room at Alunan Resort.
Indeed, it is hard to care about little else while swinging away with a loved one on a hammock overlooking the blue waters.
Bubu Long Beach Resort
Bubu Long Beach Resort is a 3-star resort located on Perhentian Kecil's most popular stretch of sand – Long Beach. It is one of the few places for peace and quiet on Long Beach, as Bubu Resort is conveniently located on the opposite side of the beach where most backpackers and hostels have their nightly events and parties.
Couples looking for romance will feel particularly charmed by the resort. They offer services such as a sunset cruise, secret picnic (private picnic on a secluded beach), and candlelight dinners – at the gentleman's (or lady's) request. The resort goes the extra mile to make guests feel welcome with free offerings such as cocktail hour (free cocktails!) and complimentary snorkelling equipment rental.
View Bubu Long Beach Resort Honeymoon Package
Suggested Read: 7 Perhentian Resorts for a Peaceful Holiday
Activities to do on a Perhentian Island Honeymoon
Private Snorkelling/Excursions around Perhentian Island
Snorkelling with a group of strangers can often damper the adventure mood somewhat. I mean, it's not necessarily a bad thing. Still, some people may find it hard to be themselves in front of others (especially when you and your loved one want to express affection for each other!).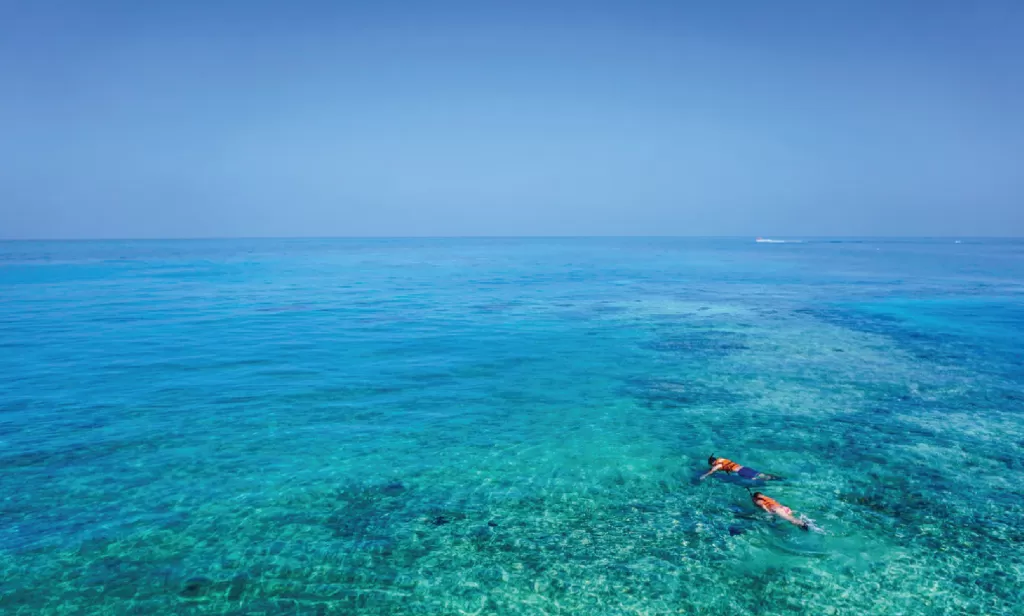 If you're travelling with a loved one, consider spending a little extra on a honeymoon package that will allow the two of you to enjoy the intimacy of a private excursion! Explore the island's thriving marine life and trek into the primitive wilderness in the company of just a private guide and each other. It is usually in these moments that you find out things about each other that you didn't know before!
Romantic Candle-lit Dinner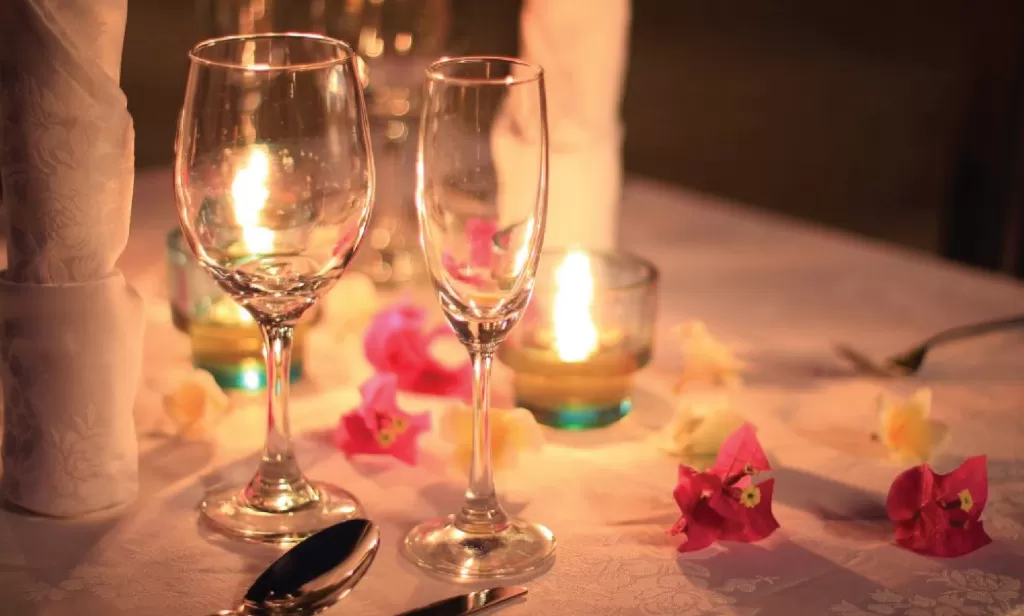 What's a honeymoon without dining under the glow of romantic candlelight? Add beautiful sweeping views of the ocean to the mix, and you'll have the perfect romantic evening that all couples dream of. Candlelight dinners are offered by most Perhentian resorts with honeymoon packages. Some notable ones include Mimpi Perhentian Resort and Shari-La Island Resort.
Secret Picnic on a Secluded Beach
Couples can look forward to some quality, one-on-one time on a private beach with your very own picnic basket prepared by the resort! You won't have to worry about any of the details as the resort will arrange the boat ride, picnic materials, and food (and wine) for you. Snorkel off the shore at your own pleasure, chat about life's ups and downs or simply bask in the sun for a perfect tan. All you have to do is make sure that your significant other feels loved like never before.
Memorable Sunset Cruise
Experience the ultimate honeymoon moment on Perhentian Island's when you get on Bubu Resort's scenic sunset cruise. Kick back, relax and enjoy the ember rays of the beautiful twilight. Pair this with a chilled bottle of wine and some delicious Italian desserts. With instagrammable shots at every turn, this sunset cruise will be one of your most memorable moments on the water.
Get a Therapeutic Couples' Massage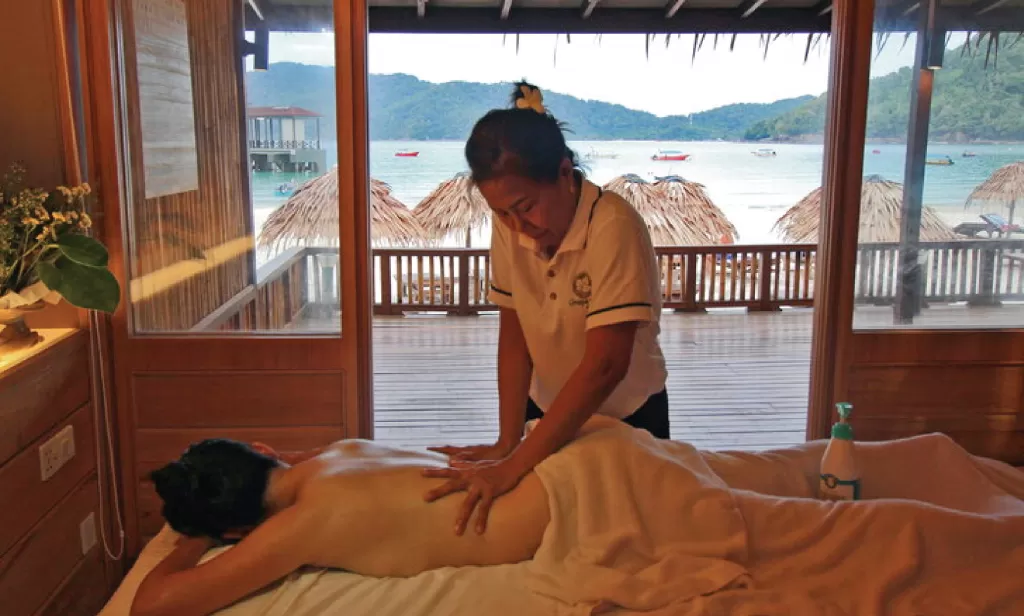 What is an island honeymoon without a slight bit of pampering? Larger resorts on the island boast premium spas that will give your relationship all the peacefulness and tranquillity it needs. Combining the therapeutic scenery, beautiful landscaping and the experienced hands of professional masseurs, a spa experience at Perhentian Island will certainly make your honeymoon a more memorable one.
Want to read more Perhentian Island Attractions for a Honeymoon? Read this!
The Perfect Perhentian Honeymoon Awaits…
Anyone in a relationship will tell you that being in love is no walk in the park. It has its ups and downs. Sometimes when things get a little too tense or stressful, you and your partner might want to consider a short weekend escape from it all. Or, if you're just starting on your journey as a married couple; you might be looking for a honeymoon destination that won't break the bank.
If so, then Perhentian Island is for you. For the perfect honeymoon, look no further than this Malaysian tropical paradise.
---
Popular Perhentian Island Honeymoon Packages