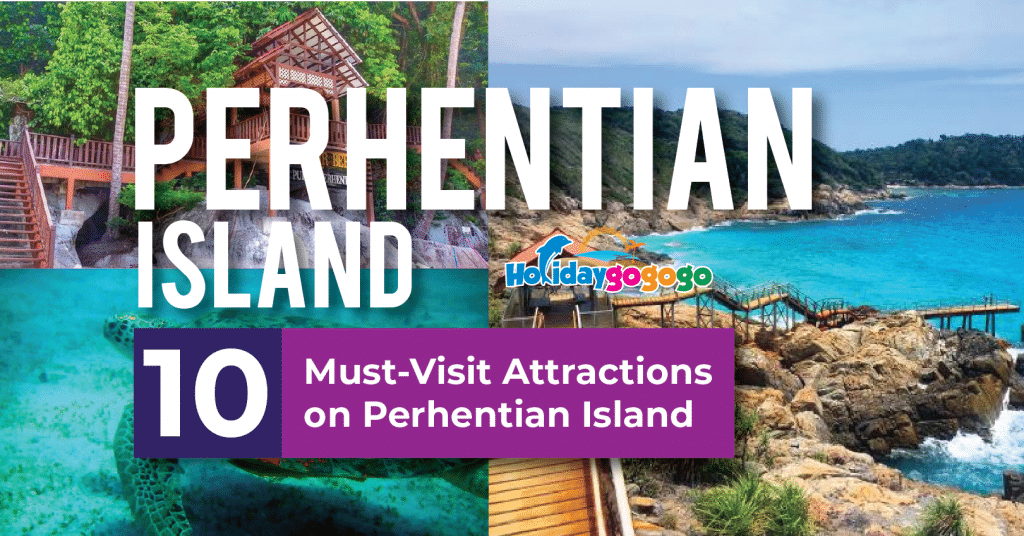 A member of the National Marine Park of Malaysia, Perhentian Island (or islands)  is a well known marine paradise all throughout the world. This is where some of the world's best dive sites, pristine sandy beaches, thriving coral reefs and romantic hideaways can be found. Perhentian Island is full of interesting attractions for eager travellers to explore. So let's dive in!
[lwptoc]
---
Teluk Keke
Located on the southwestern side of Perhentian Besar, this popular beach houses several beautiful coral gardens with thriving marine life within. Any fan of snorkelling will appreciate the beautiful underwater scenery that Teluk Keke provides. The best part? You won't have to go far to see the fishes and corals as they are located very near to the shoreline. In fact, I'd go as far as to say that you can spot the beautiful underwater wildlife even without entering the water.
What makes the beach so unique is that it is accessible even without a boat! You can just walk south along the coastline from Teluk Pauh for about 10 minutes and arrive at Teluk Keke. And suppose after some bouts of snorkelling you start feeling a bit peckish. In that case, Teluk Keke has small shops selling local staples like Nasi Lemak, fried noodles and hot/cold drinks. It is one of the most complete attractions of Perhentian, with a full suite of facilities to cater to travellers.
Being a well-known spot, tourists naturally flock to the beach. Here's a quick tip: come between 1 pm to 2 pm in the afternoon when there are fewer tourist boats. This time is usually when the beach will be relatively empty and allow you to enjoy the privacy of just you, the island and the waves.
Suggested Read: 10 Ways to Relax at Perhentian Island
Perhentian's three famous snorkelling points
Perhentian Island is well-known for beautiful underwater landscapes so travellers certainly won't be disappointed in that aspect. The island boasts three spectacular snorkel locations that are frequently visited by tour operators. These three are Turtle Point, Fish Point, and Shark Point. It is worth noting that all three spots are located on the southern end of Perhentian Besar.
Turtle Point is known for having lots of turtles around, so you are pretty much guaranteed a sighting. The ocean floor here is sandy, perfect for grazing turtles. Swim alongside these graceful creatures and admire their beauty up close. Where else are you going to get this sort of chance?
Fish Point is also known as Nemo Point. The waters here are deeper but does not compromise on visibility. You'll get to see much fish here as well as colourful corals. This is also a great spot for newbie swimmers as the waters are calm.
Shark Point, as its name suggests, offers travellers the opportunity to boast that they have swum with sharks! Don't worry, though, as these are just baby Blacktip Reef sharks which are overall very harmless. Seeing a shark swim across in front of you is the dream that you never realized you had.
Turtle Sanctuary Beach
Turtle Sanctuary Beach is one of the attractions on Perhentian Island that you'll kick yourself for missing out on. Covered with soft white sand and fringed with crystal-clear waters, Turtle Sanctuary Beach is beautiful in every single way. You can swim with a large variety of fish and see colourful coral reefs below. If you are lucky, you may even come across the main attractions of this beach which are the large sea turtles!
A thrill even for adults, this is an experience that will stick to your children most of all. They will be amazed at the way these animals swim and manoeuvre so gracefully in the water. It is a fun experience that provides some education as well. So kick back, grab your phone, and let them frolic around with the gentle creatures as you relax on the pristine beach like the responsible, carefree parent you are.
Romantic Beach
The beauty of attractions at Perhentian Island is that their names often say it all. Romantic Beach is no exception. As its name implies, this beach is quite possibly one of the best attractions on the island for some absolutely stunning sunset views. Come evening, the beach will be layered with glorious vivid colours as you get front-row seats to the sunset. The beach is also a great spot to relax, take photos, swim, and snorkel. The corals are well-developed and maintained. Of course, where the corals are thriving, oftentimes so will the marine life. It is common to spot baby sharks, eels, stingrays and a large variety of fishes – and you won't even have to swim far out from the beach!
You can get here by water taxi or a walk via rocky paths. The latter will take some more effort but is well worth the beautiful scenery along the way.
Teluk Pauh
Teluk Pauh is one of the best natural attractions located at Pulau Perhentian Besar. You will definitely fall for the charms of this emerald bay once you arrive here. Teluk Pauh is famous for crystal-clear water that makes it look like a natural swimming pool. Activities here range from beach soccer, volleyball, diving, and of course snorkelling with the fish and large sea turtles. This is the best location to swim to your heart content as the water level is not too deep, waters calm enough and the bottom free of sharp rocks.
Even during high tide, a lot of the beach is still exposed, making it one of the best beaches for sandy relaxation all day long. All these come together to enhance your swimming experience thousandfold!  Locals here also prepares 'water taxi' services and you can come and experiences it yourself.
Kincir Angin D'Lagoon (Perhentian Kecil windmill)
Put on your good shoes and prepare for a small workout! The insta-worthy attractions, Perhentian Kecil windmill, is only a mere 15-minute hike up a 45-degree incline with steps and the occasional rocky slope (some of the steps have broken but it is still very accessible). But if you want the most panoramic view of Perhentian Island, then Kincir Angin D'Lagoon is the answer.
Kincir Angin D'Lagoon acts as an 'observation deck' of this island and you can see 360 full views of Perhentian Island from here. The climb might take a little bit of effort, but travellers will be handsomely rewarded. The view of the clear emerald sea, smooth rolling hills and superb rocky cliffs, is a truly rewarding sight and a testament to nature's best creations.
Lata Air Berani (Spring well)
Perhentian Island, like other islands in the region, boasts the most magnificent views both above and under the waves. These are usually what attracts travellers.
But the most unique attraction on the island by far is Lata Air Berani, a freshwater brook that spills down the hillside and accumulates in a natural well right on the beach. This unique natural attraction has existed on Perhentian Besar for a long time and has never dried!
You'll see people drenching themselves with the water, especially after snorkelling in the ocean nearby. There is also a pretty wood structure and rock base nearby for travellers to take photos with. Nothing beats a splash of cool, spring water on your body to wash off all that saltiness of the sea – just like a cool drink on a hot day!
Rainforest Campsite
Sleep among the swaying trees and glittering stars with hostel facilities, including a tent with mattress, hammocks, bonfires, jungle open-roof showers, western toilets and much more. It isn't exactly glamping here, but they do offer tents that are already set-up and quite complete facilities for travellers.
The Rainforest Campsite is a unique accommodation concept that focuses on eco-nature living with a twist of the rugged island lifestyle. It has its own beach that comes with a sunset lookout point, a beach bar that serves food and drinks all day and a seafront restaurant.
This is definitely the sort of place that younger travellers will love to explore. It is an entirely different type of experience. Even if you're not staying here, it's worth a visit for the vibes alone. The vibe of the place is of a laid-back, backpacker nature. Of course, the beach in front is also perfect for snorkelling so your visit won't be completely pointless.
Getting here is easy. Once you've arrived at Kuala Besut jetty, approach any boat operators and ask them to drop you off at Rainforest Camping or Rainforest Beach.
Long Beach
Perhentian Kecil's undoubtedly most popular beach is Long Beach. Located on the east side of the island,  Long Beach is famous for its beautiful beach, varied accommodation options and a swingin' nightlife! In fact, Long Beach is usually first on most travellers' list and where most end up staying.
The white powdery d beach is, as the name implies, long enough to accommodate travellers of all kinds – even during peak season. and the swimming is superb. Accommodation on Long Beach can vary from of luxury resorts on the far end, to ramshackle bungalows with dirty mattresses and naked light bulbs towards the centre of the beach. Do note that food and item prices here will be slightly more expensive due to its "hot" location.
A narrow jungle trail connects this beach to the other side of the island and is easily traversed within 15 minutes.
Fisherman Village
Fisherman Village is the island's central village district. The village is known locally as Kampung Pasir Hantu, which roughly translates to "Ghostly Sand Village" (how it got its name, I'll leave to your imagination), This peaceful, idyllic fishing village is home to a quaint little townhouse, a majestic-looking police station, a beachside mosque and the island's only primary school.
The village is a great place to explore. It is also a cultural experience to learn how the locals have adapted to living by the sea. Different from the other attractions on Perhentian Island.
Watch the local children swim and play and dive without a care at the pier. You can also head to any of the local restaurants for local staples at very affordable prices (the cheapest on the island!). It is along a trekking path that runs around the island. From here, you have easy access to nearby beaches such as the nearby Long Beach, Patani Beach (1km away), Mira Beach (2km), and Coral Bay (3.3km). Before you embark, I strongly suggest you douse yourself in insect repellent as the local 'residents' can get quite aggressive.
Suggested Read: What are the differences between Perhentian Kecil and Perhentian Besar?
---
Popular Perhentian Packages