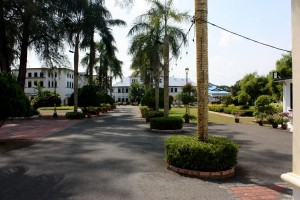 Being the royal town of Perlis and located south of Kangar, Arau is also listed as one of the tourist attractions for visitors. Surrounded by different types of fruit trees and flowing coconut palm trees among the residential areas, Arau is situated on the Peninsula's major railway route that heads towards Thailand. Also, it is the get-off point for visitors that travel by rail from Kuala Lumpur to Langkawi.
As one of the major towns in Perlis, it is no surprise that the transportation system here is vast. Besides the railway method, there are also taxi services from the town of Arau available to Kuala Perlis. There is also a ferry harbour as a take-off point to Langkawi.
No doubt, the term 'royal town' implies. The Istana Arau is here, also known as the Royal Palace. Many tourists would usually have a stopover at Arau to view the fine architecture of the buildings as it takes into the influence of the Malay culture and design. Besides the Royal Palace, the Royal Mosque is also one of the key attractions. Tourists will be mesmerized by the mosque, as the design of this mosque adopts the Islamic architecture in the country. The Royal Mosque, or also known as the State Mosque, can easily accommodate roughly 7,000 people in one prayer session, and that proves to show how humongous the mosque is.
All in all, tourists that are interested in the fine art of architecture are advised to drop by Arau, Perlis for the different point of constructional designs. Foreigners from various other countries may find that the Malaysian-concept of architecture as something more intriguing and never before seen, and so it may be a nice experience for tourists as an enlightening experience. Even so, many local Malaysians do drop by Arau to see the beauty within their own country, and have some sense of patriotism kick into them.