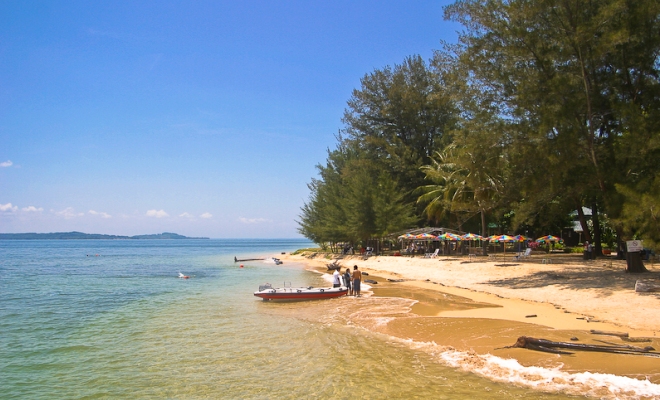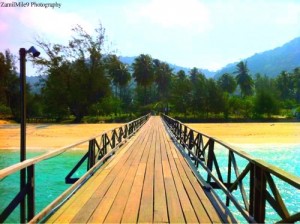 Labuan is an island, with a group of other small islets surrounding it. This collection of islands makes up what is known as the 'Federal Territory of Labuan'. Of late, the government tries to promote tourism in Labuan. By visiting the place and you will agree that if you ever want to get away for a day or two to be at one with nature, and not having to deal with the noises of the city, then one of the islets, in particular Pulau Papan (aka Papan Island), should be your destination.
Pulau Papan or Papan Island is located about 5 to 15 minutes boat ride away from Labuan Island (depending on the speed of your boat). Upon arrival, you will feel that you are quite snugly away from civilization as you know it! To start with, you will see an old colonial style lighthouse greeting you. And there is no fresh water supply here! Rather, the locals harvest rain water to use in washing and bathing. Drinking water is brought by boat from Labuan Island. Of course there are wells, but the water tends to taste rather salty. Hence, if you are heading for adventure here, and you do not want to compromise on the comfort of regular-tasting water, bring your own bottle!
In addition (and perhaps to add to the charm of the place), there is also no 'proper' electricity. Instead, electricity comes from generators, and in many cases, they are used only at night. Some people find this appealing, as this means, in the thick of the night, noises from TVs, and radios are at the minimum. Instead, you can revel in the natural sounds that Mother Nature generates.
Once there, you want to stroll around. There are paved walkways, and these take you all the way to the other side of the islet. The islet is clean and pleasant, with rest points for you to stop and catch your breath. Some areas of the beach are rather wide, and you might run into tourists or locals playing a game of volleyball.
If you are into local fauna, you will be delighted to catch some exotic ones there. For example, there are trees that called the 'pokok ulat bulu', which produces fruits that taste like passion fruit. On the other hand, Pulau Papan also maintains a collection of indigenous plants in its small agro park for research and record purposes.
Pulau Papan welcomes locals in the region as well as tourists from other country, including from the neighboring country of Brunei, to frequent during weekends. Here, they do trekking, picnicking, and snorkeling, and of course, so can you. At night time, stay in one of the chalets, or choose to sleep in a tent – where your bonding with nature can begin!