Last Updated on January 14, 2020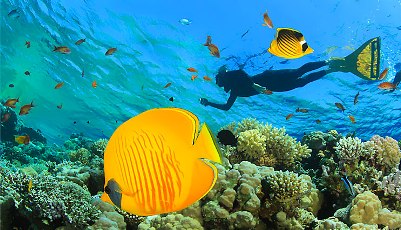 If you are looking for a beach vacation, Malaysia has so much fun to offer under the sun and underwater. In this beautiful tropical country, the weather here is fantastic all year and beaches here are just simply gorgeous. This is one of the reasons why Malaysia is such a popular country for beach vacation and island vacation. A spectacular destination for vacation, Malaysia has so many activities to keep you busy, snorkeling, scuba diving, horse riding, sport fishing and jungle trekking are just a few of the many activities to highlight.
Snorkeling in the Peninsular is fantastic as the water conditions in most of the islands here are great in most of the time. With plenty of islands and beaches can be easily accessible, you will not find short of options in where to snorkel, as there are more coastline that you can imagine for snorkeling. Some of the well preferred snorkeling destinations in Peninsular are Perhentian Island, Langkawi Island and Redang Island. White sandy beaches coupled with crystal clear water, simply meant for a wonderful snorkeling opportunity. With diversified of underwater marine life waiting to be discovered, snorkeling here you can expect to see gorgeous hard corals as well as plenty of tropical fish species.
For a greater diversity of marine life, Sipadan Island, Mabul Island and Layang Layang Island located at the east coast of Malaysia in the state of Sabah are known to be one of the best diving and snorkeling spots in Asia. Parrotfish, stingray, nemo fish are some of the many gorgeous marine creatures here. There are many tour companies offer snorkeling tour in these islands, where you will have the chance to sign for all inclusive package or round trip package. No matter which package you are going for, you will still enjoy the spectacular underwater marine life the islands has to offer.
If you do not want to travel into deep sea to enjoy coral teeming with wildlife, beach snorkeling is also a good option especially for the beginner snorkeler. Rawa Island, Tioman Island and Lang Tengah Island have some beautiful shoreline for snorkeling. With plenty of snorkeling tour companies operating in the region, going out for snorkeling as well as renting snorkeling gears and equipment will not bring you any trouble.
There are many tour companies in Malaysia that are offering diving and snorkeling tour, although most of them are offering top notch service, but it is always good to research about the company and read some review before you decide to book the tour with them. There are also many island and beach resorts and hotels in Malaysia offer snorkeling tour or scuba diving tour as part of their vacation packages.
Popular Snorkeling Tour Packages
---
Whatsapp us to get more details!
Please WhatsApp us by clicking the WhatsApp Button.

We are reachable by call too:
+6010-2396385
+6016-3796385
+6010-2216385
You may also fill up the Inquiry Form below: