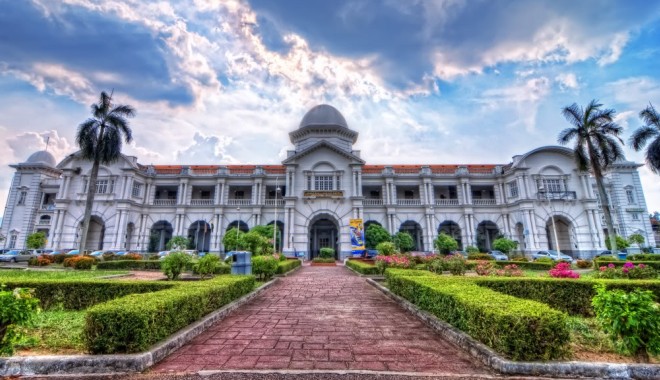 The panorama view of Ipoh Railway Station (credit: robin28witter)
The Ipoh Railway Station is one of the Ipoh's main heritage buildings. The building was completed in 1920, 3 years later than originally scheduled and it was initially designated to be a hospital. The famous British architect Arthur Benison Hubback designed the added features of the building and was then converted into a railway station.
Visitors will get to witness the beautiful design of the building as it is very well-preserved. It was known back then as the Taj Mahal of Ipoh, which is rather exaggerated but nonetheless a mark of approval by those who compare it to the great Indian structure. Visitors who take a stroll within the inner compounds of the building will find that much of the building structure still maintains its original design, from round lights and fans hanging from its tall ceiling, to the building's columns and red-beige chequered flooring. Visitors will get to a feel of neo-Moorish and modern architecture designs, much similar to other well-known buildings of Malaysia that are of Hubback's designs such as Ipoh Town Hall, the Kuala Lumpur Railway Station, Carcosa Seri Negara, extensions of The Royal Selangor Club and the Old City Hall of Kuala Lumpur. Due to its beautiful and colonial design, it is used as one of the filming locations for the film Anna and the King.
The Ipoh Railway Station is one of the places worth visiting in Ipoh, being one the last remnants of colonial heritage in Malaysia.
The Ipoh Railway Station is located off Jalan Panglima Bukit Gantang Wahab, just next to the post office of Ipoh. Journey from Kuala Lumpur by car takes about 2 hours, covering roughly 205 kilometres. Visitors can also take a direct train from Kuala Lumpur to the station.
Opening hour and entrance fee:
There is no entrance fee required to visit Ipoh Railway Station.