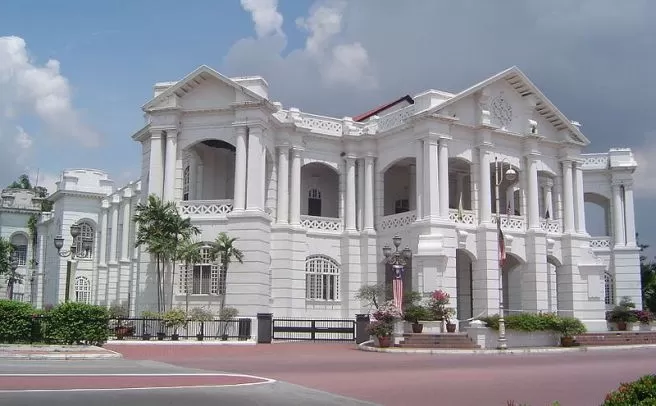 The Ipoh Town Hall building was built way back in 1917 and is part of the Ipoh's heritage sites. Part of the building once served as Ipoh's post office and later on, the district police headquarters.
Visitors will be able to get a feel of Ipoh's colonial past as this building is a good example of British colonial-styled structure. If visitors get the feel that many colonial structures give an almost similar look and feel, that is because the Ipoh Town Hall was designed by the famous government architect Arthur Benison Hubback. Among his other well-known works in Malaysia include the Ipoh Railway Station, the Kuala Lumpur Railway Station, Carcosa Seri Negara, extensions of The Royal Selangor Club and the Old City Hall of Kuala Lumpur. Photography is recommended here, particularly during dusk and night time when the Ipoh Town Hall lights up to reveal a more picturesque contrast. Visitors who are history-enthusiasts will be delighted to know that a few historically important events took place here, one of them being the inaugural congress of Malaya's first political party in 1945.
The Ipoh Town Hall is worth visiting as it is one of the few well-preserved colonial buildings in Malaysia.
A drive from Kuala Lumpur to Ipoh takes about 2 hours, covering roughly 205 kilometres. The Ipoh Town Hall is located at Persiaran Bougainvillea, which is connected to Jalan Dato Seri Ahmad Said and Jalan Sultan Abdul Jalil.
Opening hour and entrance fee:
There is no entrance fee applied for Ipoh Town Hall building and visitors can only admire this colonial building from outside of the building.