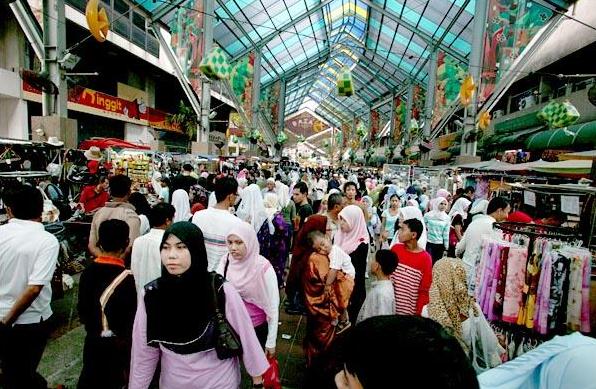 Jalan Masjid India is just a short stretch of road about 350 metres in length, located in the bustling Kuala Lumpur city centre. This is one of the oldest parts of Kuala Lumpur, built more than a century ago by Indian labourers brought into what was known as Malaya back then by the British colonists.
Visitors will find this place to be a shopping haven for items that are not usually found outside the Indian community. Situated on both sides of the road are shoplots, selling Indian clothing such as sarees, lengas (long skirts) and salwar (loose fitting tunics). If visitors fancy tailor-made clothing, then textile shops available here provide plenty of patterns to choose from. Accessories are featured heavily in Indian culture, as visitors will take notice from the availability from various shops, and mostly are made of gold. Kitchen wares are also available here, such as brass and clay pots, both are mainstays of Indian culinary world. Here, visitors will get to sample some of the best Indian food in Malaysia. Head to the hawker centre and try snacks such as vadai (yellow peas in curry leaves and masala), gulab jamun (sweet dumpling), with a mixture of Malaysian beverages. For a full meal, visitors should try briyani rice and roti canai (Indian bread).
The colourful Jalan Masjid India is itself a cultural and heritage hub that represents the Indian community in Malaysia, and serves as an eye opener to visitors.
How to get there:
Jalan Masjid India is easily accessible via the Masjid Jamek LRT station.
Opening hour and entrance fee:
The opening hour varied by shop and there is no entrance fee required to visit Jalan Masjid India.