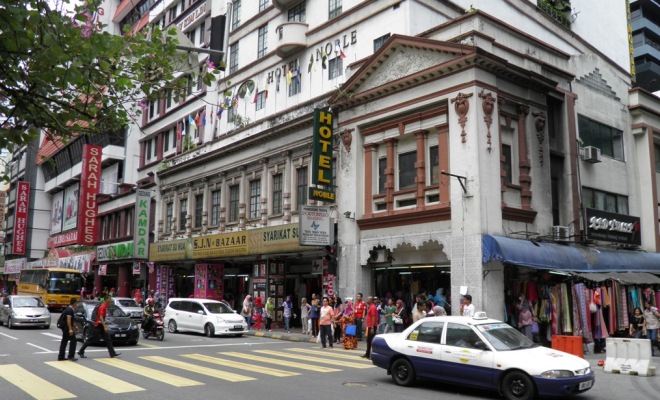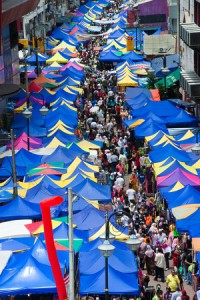 Want to spend a day at a fun place, shop till you drop and experience Kuala Lumpur thoroughly? Take a taxi or drive down to Jalan Tunku Abdul Rahman. If that's not your travel style, hop on board an LRT and stop at the Masjid Jamek Station. If you take the Monorail, you can get down at the Chow Kit station at the junction of Jalan Ipoh, Jalan Pahang, Jalan Raja Muda and Jalan Tunku Abdul Rahman.
Abbreviated as Jalan TAR or Tunku Abdul Rahman Street, it is the street to be in if you want to experience a more traditional shopping experience. Of course, you could end your trip at the more modern shopping complexes that have took over the KL city but this street is a must see destination when you are having holiday in Malaysia. Check out PH Henry, a very old shop established here for a long period of time. You can select from many textile and fabric shops that this street has to offer you. Besides that, it is a place where bargaining can get you a far better price than the one being offered on price tags elsewhere! This street offers you everything-from sports gear, traveling bags and even to winter clothing's. It's a one stop shopping destination that allows you to shop-till you drop!
This amazing shopping district is also a great place to check out the Indian culture of our nation. If you want to immerse yourself in the Indian culture, Little India is the right place to be in. There are many shops here that specialize in selling you the perfect sari! So, if you are looking for a sari to fit into for that next dinner, you've come to the right place. Then, a whole new dimension at the Chow Kit road awaits you. Here you can visit the wet market along this street which is the districts most popular wet market.
Head over to Jalan Haji and you can find in their street market at night; things that can only be found here! Explore a different type of medicine: Malay traditional medicine that may cure some of your ailments or just look for the perfect but fake designer bag at an affordable price!
The district is also the perfect place to taste the local cuisine. You can taste the cuisine of the entire nation-in just one place! From sunrise to sunset, the place is always dishing out something to serve you! It is the perfect place for tourist who wants to taste everything but have so little time. Well, this street will help you taste Malaysia – at affordable prices.
One day is may not be enough to explore the street. So, do come and enjoy at least one day at Jalan Tunku Abdul Rahman, and then keep coming back to explore more of this district!
Recommended Hotels in Kuala Lumpur City Centre
1. Traders Hotel by Shangri La
Nice sky bar and nice room overlooking the Petronas Twin Towers!
Reserve through Agoda.com
2. Corus Hotel
Value for money for a 4 stars hotel and its location.
Reserve through
Agoda.com
3. Fraser Place Kuala Lumpur
Studio and apartment type of accommodation, suitable for both family and business travelers.
Reserve through
Agoda.com
4. G Tower Hotel
Located in the vibrant city center with plenty of dining and shopping options.
Reserve through
Agoda.com
Browse all Hotels in Kuala Lumpur City Centre >>