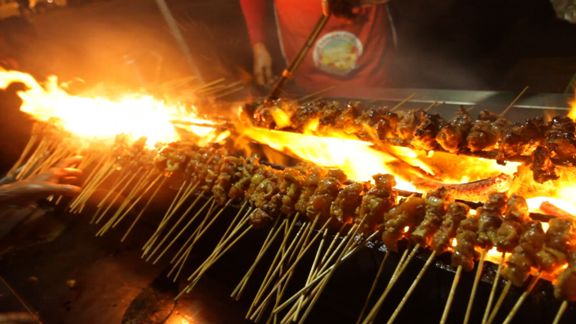 Kajang, the district capital of Hulu Langat, resides in the eastern part of Selangor, Malaysia. It is about 21 kilometers from the Federal State of Kuala Lumpur, the capital of Malaysia. Kajang was founded in 1807 after the historic war of Klang and was made the capital of Hulu Langat because of its central location in the district. As a modern town, the prosperity of Kajang is partly contributed by coffee estates, which were active in end of the 19th century. The famous coffee estate was founded by two British brothers who also started the plantation of rubber in the country for commercial needs.
Things to do in Kajang
Kajang is famous for its Satay and is also known as "Satay Town" among the locals. Satay (sate) is basically skewered barbecued meat marinated in a special sauce. The most famous satay restaurant in the Kajang district is Haji Samuri, which has earned so much fame and name that now people can find its franchises in other cities of Malaysia too. Haji Samurai serves the best satay in town, which includes chicken, beef, lamb, and fish satay. In the entrance of the restaurant there is a large fish tank with beautiful fishes inside it, adding glamor to air-conditioned restaurant. Apart form this; tourists must visit Satay Gallery, which displays artifacts, recipes and history of Satay. While in Kajang, you can't miss "The Song of Magpies", it usually happens in early morning when people bring their magpies for bath and sit there to listen to their beautiful song.
Things to see in Kajang
Bustling Old Town is the center of Kajang; it is where all the roads meet. Most of the buildings were constructed in the early twentieth century. These shops, houses and buildings comprise of the mix traditional Chinese and European architecture. Tourists can enjoy the shop-houses, where the ground floors are shops and family resides on the upper floor. One of the landmarks of Kajang is the "Stadium Kajang", it is located in the heart of town. It can accommodate around 5000 people and is used all year round for community football matches. "Masjid Kajang" is a jewel to the city, it is easily recognized by its bright yellow facade. A local wealthy man painted it, the mosque is blooming at nights with Islamic cultural activities.
What to Eat and Where to Stay in Kajang
Apart from Satay from famous restaurant, tourists can also find Chinese seafood restaurants, but they have to make sure between halal and non-halal foods. Several local Malay and Indian restaurants are there, and western fast food franchises are a must if tourists have to visit that area. Accommodation option is diversified, and a nice room can be rented out for RM50/night. The city center is packed with many hotels that provide hotel rates at a competitive price with other hotels. Tourists can easily book any of these hotels ranging from a single bedroom in budget lodge or a luxury room in a five star hotel.
Get in and Around in Kajang
Kajang is easily accessible by highways, which link it to Kuala Lumpur and other cities in the south. Tourists can visit it from train also; the train can be boarded from any KTM station in Kuala Lumpur. Buses are also available from 6 am in the morning to mid-night. Within the city itself, tourists can use taxis and local buses to get around in the city.