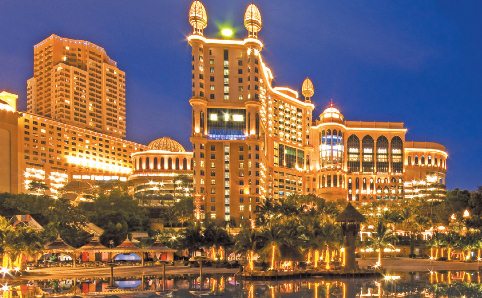 There are a lot of accommodations in Selangor with plenty of mid range and budget hotels found throughout the state. Guesthouses, home stay, hotel rooms and resorts can be found at affordable rates. There are also a lot of luxurious hotels and resorts in the area as well.
Selangor is a good place for vacation for it's diversified of activities and tourist attractions. One of the best places to stay in Selangor is the Sunway area where you will find Sunway Lagoon theme parks and the huge Sunway Pyramid shopping center at the same place. In the surrounding area, you will find several luxury spa resorts and famous chain hotels. Within 5 to 10 minutes driving distance, the Damansara area offers some of the area best budget hotels and inns which are suitable for backpacker and family with all type of budget.
For an eco vacation in Selangor, head to Kampung Kuantan in Kuala Selangor to see the biggest fireflies colonies in the region. There are inexpensive inns and home stays in this area where you can taste the local culture and brush up your local language at the same time. The nearby Gold Coast Morib Resort located along the Morib Beach is perfect for beach vacation with plentiful of activities designed for all ages of visitors. The 18 holes golf course located within walking distance to the resort offers golfer a unique experience for playing golf near to the ocean.
If you are a fan for any of the F1 star driver or MotoGP motorcyclist, Sepang International Circuit located in Sepang of Selangor is a must visit. The circuit hosts the F1 race every March/April and Oct/Nov for MotoGP, this period marks the most crowded period throughout the year as the fans from other part of the world will come and participate in these international events. There are quite a number of hotels and budget bed & breakfasts located nearby, these accommodations are normally fully booked during the race period and having promotion during the off peak. During the off peak, these hotels and B&B normally cater for the transit passengers from KLIA.
Selangor also has a lot of golf resorts that are some of the best in Malaysia. Saujana Golf and Country Club located within Petaling Jaya is one of the golfer preferred golf courses with 2 internationally popular golf facilities – the Bunga Raya Course and the Palm Course. The Bangi Golf Resort is another golfer preferred golf course located in Bangi, this green is able to cater for golfers with all expertise levels thanks to its intelligent design. These internationally well known golf resorts are also famous for its accommodations, if you are planning for a golf holiday in Malaysia, these golf resorts are recommended to be included in your travel plan.