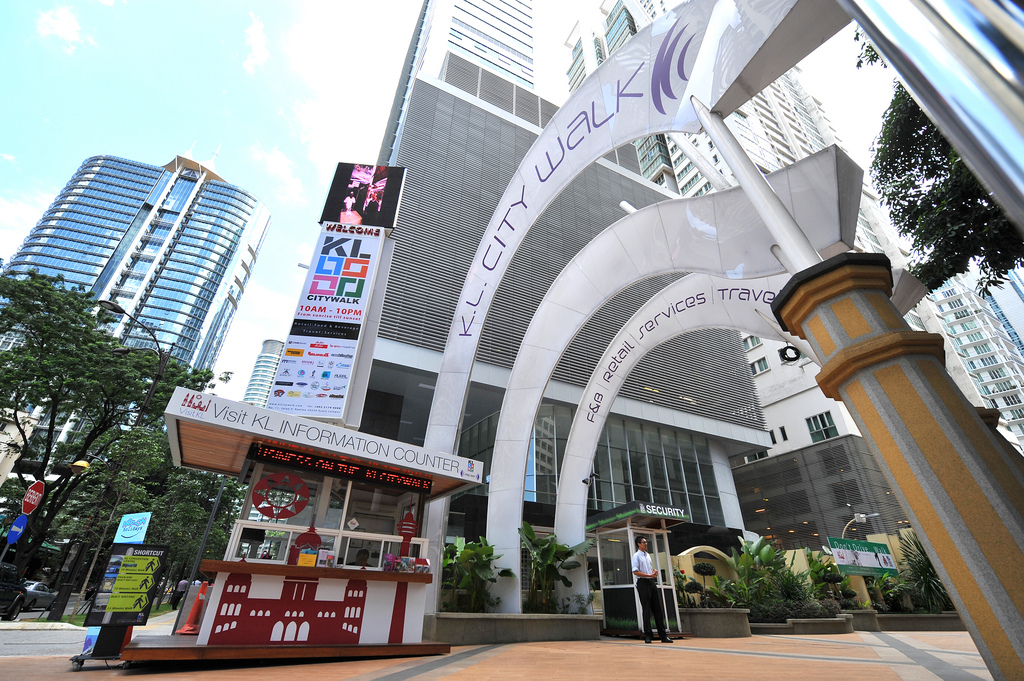 The Kuala Lumpur Citywalk is a 500-metre stretch of mall, consists of bistros, fashion boutiques and restaurants. Completed in 2011, the RM 20 million development aims to be a tourist hub for shopping and relaxation in the KL city centre.
KL Citywalk houses 50 retail outlets for visitors to experience shopping and dining in Kuala Lumpur. Visitors can choose from a variety of restaurants ranging from traditional Malay, Vietnamese, Italian to local fusion cuisine to satisfy their hunger. The walk has many boutiques that shoppers will find unique, selling gowns and dresses that mostly feature local designs, as well as accessories made from local products. There are also other services outlets such as AirAsia and banks branches located here for the convenience of visitors. At the entrance, the Visit KL Concierge is set up to provide maps, visitors info, places of interest brochures, lodging info and even ticketing services to visitors to Kuala Lumpur.
With its offering of many food choices, boutiques and helpful guide to the city, KL Citywalk is one of the must visit places in Kuala Lumpur.
How to get there
The KL Citywalk is accessible via two entrances, one located along Jalan P.Ramlee, another at the junction of Jalan Pinang / Jalan Perak. It is just 5 minutes walk from KLCC.
Opening hour and entrance fee
Entry to the KL Citywalk is free. Opening hours varied by outlets, but generally between 12pm to 10pm daily.