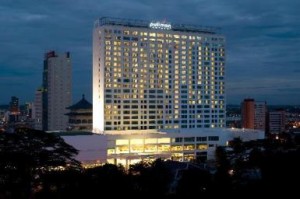 Mysterious and tropical Malaysia is one of the most preferred destinations for not only adventure and eco tourists, but for honeymooners and families alike where there are all types of Malaysia hotels to choose from. Among the most naturally gorgeous places in the world, this tiny South East Asia country has all the ingredients to form an unforgettable vacation. Towering landscapes, white sandy beaches, dense tropical forests, luxury hotels, plenty of exotic floras and faunas, and mysterious history background, make Malaysia the best tourist destinations for vacationer looking to have a good moment; be it sunbathing on the sandy beach or taking a city tour in the bustling city.
There is wide range of Malaysia hotels, with every option to cater for every budget. Nevertheless, it is a wise move to make hotel reservations, particularly during the peak seasons (festive seasons and school holiday seasons). Have your reservations done ensure that there will be a room ready upon your arrival, and will make your holiday in Malaysia even more enjoyable and pleasant. Weekend coupled with a local public holiday (before or after weekend) is also considered as peak travel time, so it is highly recommended that you pre-book your hotel room to avoid any trouble and inconvenience.
In fact, most highland and island hotels are pre-booked couple of weeks in advance for popular holidays like New Year, Christmas, Hari Raya, Chinese New Year and Deepavali. Especially during long school holidays, most locals will visit the tourist places within the country for week long vacation. So do not forget to check the local calendar and then book your hotel in advanced. Beach hotels, luxury hotels and all inclusive resorts in particular, especially in highland or beach areas should always be reserved in advanced for a hassle free vacation.
For a more luxury beach vacation the Langkawi Island, Tioman Island and Redang Island are the perfect place to stay. These areas home to the hotels operated by Berjaya, Westin and Sheraton, which are some of the most luxurious hotels in Malaysia. Nevertheless, if you are looking for a more affordable beach vacation, Perhentian Island and Pangkor Island can be a good option, where resorts and hotels to suit every budget are available here.
For travelers who are looking for budget hotels in Malaysia, Melaka and Perak are some of the great options. Normally big rooms with several beds and occasionally offering a private bath, staying in these states will not cause a big hole on your pocket and the accommodations are normally clean and tidy.
One essential tip before making any resort or hotel booking in Malaysia is to carefully check out the hotel's facilities and its location. You can do this by reading online reviews and this will normally provide you a good hint of what to expect from your preferred hotel in Malaysia.