The Malaysia Tourism Centre in Kuala Lumpur is located in a heritage building that was formerly the residence of Malaysian tycoon the late Eu Tong Seng in 1935. Since then, it was utilized successively as a war office of the British Army, Japanese Army, the Malayan Parliament and royal installation ceremonies of Malaysian sultans.
Here, visitors can get tons of information regarding places of interest throughout Malaysia. The centre is dedicated to helping visitors plan their holidays by providing guides pertaining to accommodation, travel tips, transportation arrangements and ticketing, booking of tour packages as well as foreign exchange services. With the centre providing Internet access for free, visitors will be able to quickly and conveniently book their tour packages. The centre provides video presentation to visitors to better help explain the places of interest. Visitors can also tour the centre, which exhibits various displays related to Malaysian culture. There are cultural shows for viewing between 2pm and 2.30pm, available on Tuesdays, Thursdays, Saturdays and Sundays. Visitors can purchase souvenirs from the shops selling silverware, art and crafts and accessories.
The Malaysia Tourism Centre is definitely the place to be for visitors seeking to know more about interesting destinations with attractive packages in Malaysia.
How to get there:
Malaysia Tourism Centre is located at Jalan Ampang, nearby to Petronas Twin Towers.
The map of Malaysia Tourism Centre is shown as below.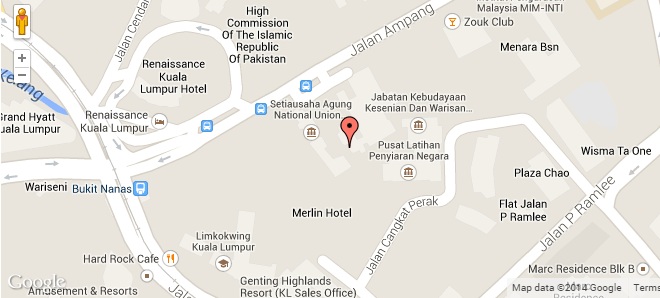 Opening hour and entrance fee:
Malaysia Tourism Centre is open daily from 8am to 10pm and entry is free.
Recommended Hotels in Kuala Lumpur City Centre:
1. Traders Hotel by Shangri La
Nice sky bar and nice room overlooking the Petronas Twin Towers!
Reserve through Agoda.com
2. Corus Hotel
Value for money for a 4 stars hotel and its location.
Reserve through
Agoda.com
3. Fraser Place Kuala Lumpur
Studio and apartment type of accommodation, suitable for both family and business travelers.
Reserve through
Agoda.com
4. G Tower Hotel
Located in the vibrant city center with plenty of dining and shopping options.
Reserve through
Agoda.com
Browse all Hotels in Kuala Lumpur City Centre >>