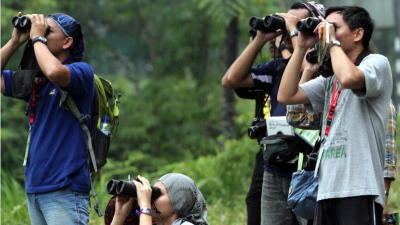 Fraser's Hill is always being recognized as the best place for bird watching in Pahang. With more than 250 bird species flying across the mountain range, bird watching enthusiasts will sure be fascinated with this fantastic scene. Bird watching is definitely a fun and exciting outdoor activity, the Pahang International Bird Race event not only able to bring all bird lovers together for interaction but also able to promote ecotourism at the same time.
Although there are still plenty of bird watching destinations in Malaysia, Fraser's Hill is still an ideal bird watching spot because a great diversity of mountain birds thrive happily in the most conductive habitats here. In certain seasons, there will be a large group of migratory birds flying across the range, bird lovers can view some of the most rare bird species from Middle East and eastern part of Asia, definitely an extraordinary experience that is difficult to encounter elsewhere.
If you think you are a definite bird lover and be able to identify different species of birds, you should participate in the Pahang International Bird Race organized in Fraser's Hill.
Event: Pahang International Bird Race 2014
Venue: Fraser's Hill, Pahang
Date: 20th June to 21st June 2014
Recommended Hotels in Fraser's Hill, Pahang


Shahzan Inn Fraser's Hill (3 stars)

Check rate

Puncak Inn Bungalow (1.5 stars)

Check rate

Puncak Inn Fraser's Hill (1.5 stars)

Check rate

Puncak Inn Apartment (1.5 stars)

Check rate