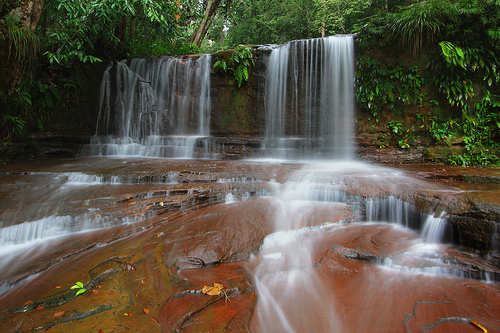 Bordered by the Straits of Malacca and the South China Sea, Malaysia is widely known as one of the main ecotourism destinations in Asia. Homes to some of the most biologically diverse habitats on earth, there are wide ranges of habitation from mangrove swamps to rainforests and high levels of endemism. The country is filled with a great diversity of fauna and flora which is guarded by the national park system of Malaysia.
From the National Park in Pahang to the Turtle Island of Sabah, the pristine Mulu National Park in Sarawak, the tremendous Kilim Geopark in Langkawi and from the Rantau Abang Turtle Hatchery crowded with giant turtle to the Kuala Gula Bird Sanctuary in Perak – eco tours in Malaysia offer a relaxing fascination of gorgeous tropical environments.
The eco tours offered in Malaysia creates a perfect mixture of diversity. Causing a least to no impact to the environment, the eco tours available in Malaysia attract nature lovers who share a common interest in culture, nature and wildlife. These tours offer education on environment, allowing eco-tourists to participate in the conservation programs. Combining meaningful preservation effort and fun as one, the eco tours offer you a special occasion to truly learn and experience nature while promoting eco conservation awareness. Malaysia offers tourists a good diversity of eco activities in which they may join to fully experience and appreciate the ecotourism, activities such as hiking, caving, white water rafting, jungle trekking, bird watching, rock climbing, scuba diving and river cruising are widely available throughout the country.
Tourists can participate in a variety of conservation plans in the nation and stay at the eco friendly hotels. Preservation programs like the Sabah's Tabin Wildlife Conservation Conquest, International Bird Race at Fraser's Hill and the Eco-Challenge competition in the National Park.
For a truly eco adventure tour, you can visit the various national parks and biological reserves where you will stay up close with some of the most interesting fauna and flora. The eco tours provide you with bird watching facilities and wildlife viewing that you will never get to experience elsewhere. Visit the wildlife refuges and national parks to experience an assortment of ecosystems. Places like the Gua Tempurung in Perak, Penang National Heritage Park, Bako National Park and Niah National Park in Sarawak are some of the eco destinations that worth for a visit.
The eco tours offered in Malaysia are aiming to broaden conservation awareness as ecotourism continues to bloom in the nation. A perfect place for eco-tourists, honeymooners, bird lovers and nature enthusiasts alike, today Malaysia stands as a strong ecotourism country and facing to its eco-challenges continuously.
Popular Tour Packages