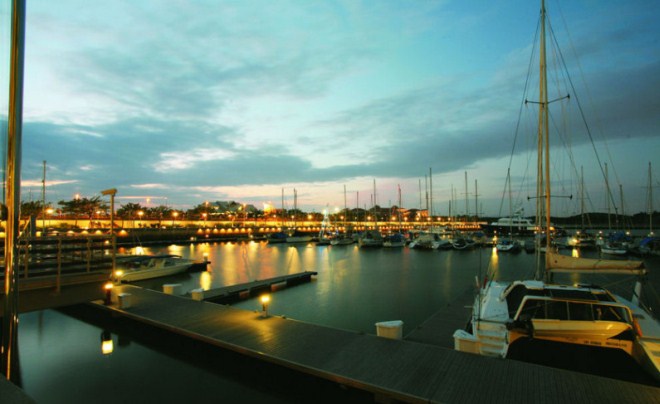 Puteri Harbour in Johor is a mixed development of a harbour front and retail-entertainment centre, consisting of a hotel, retail outlets and a theme park. Located on a beach promenade fronted by a calm beach and high-end lifestyle, the development is an appealing destination for an exciting getaway.
The water front project spans 688 acres, providing a wonderful view of the Johor Straits that keeps visitors company at all times. Beautifully illuminated at night, the harbour is a luxurious complement to gastronomic treats at various restaurants. Puteri Harbour is also a shopping destination, with many retail outlets for visitors to choose from. But it is perhaps better known for its family theme park, which features loveable characters such as Hello Kitty at Hello Kitty Town, and others such as Pingu, Barney, Bob the Builder and Thomas the Tank at the Little Big Club. The theme park covers 3 levels, with the first level dedicated to Hello Kitty Town. The second and third is dedicated to Little Big Club, and where visitors can participate in games, take rides and watch performances, all of which are set to thrill kids and adults alike and providing a wonderful family getaway. There is even a treat for local comic lovers in the form of Lat, Malaysia's famous comic strip, at Lat's Place, a themed restaurant to satisfy the hungry stomachs.
Puteri Harbour is indeed a one-stop destination that packs all excitement, convenience, comfort and luxury together.
How to get there
Puteri Harbour is located in Nusajaya of Johor with approximately 330 kilometres from Kuala Lumpur and 31 kilometres from Johor Bahru. Visitors can get to Puteri Harbour by taxi or shuttle bus from the nearby Legoland, Singapore or Senai International Airport.
Opening hour and entrance fee
Puteri Harbour opens daily and charges no entrance fee except at the theme park.
Sanrio Hello Kitty Town – 10am to 6pm – RM75 (Non Malaysian) & RM55 (Malaysian)
Little Big Club – 10am to 6pm – RM75 (Non Malaysian) & RM55 (Malaysian)
Recommended Area to Stay in Johor
Johor Bahru City Centre
Gateway to the city attractions, Legoland Theme Park and eateries.
Desaru
For those looking for beach vacation and nature exploration.