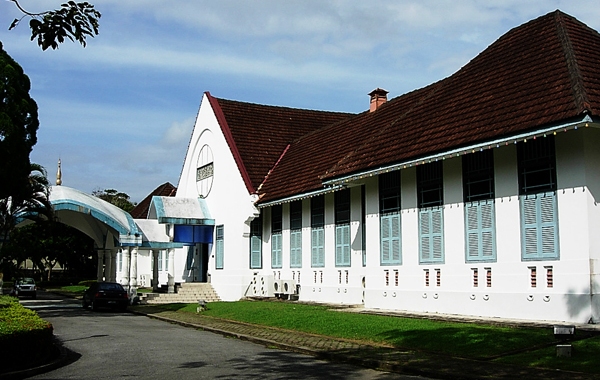 Sarawak Islamic Heritage Museum (photo by: Sarawaktourism)
Initially, the current building which houses the Sarawak Islamic Heritage Museum was constructed as a college, known as James Brooke Malay College. In 1930, it was converted into a school for Islamic studies, called the Madrasah Melayu Sarawak Muuseum until it was the officially the Islamic Heritage Museum, on 22 May 1992.
The Sarawak Islamic Heritage Museum provides visitors with a comprehensive view of the Islamic Civilization both of Sarawak and the world. It comprises seven galleries, each with a dedicated category of exhibition. In the first gallery, the history of Islam in Sarawak will be displayed, along with details of the religion's arrival and its adoption by locals. In the second gallery, visitors will show exhibits about Islamic architecture and get quick facts of its development from the early days when it began and how it has influence many other cultures with it. This is followed by the third gallery, through which visitors will learn about the contributions of Islamic in various disciplines such as science, technology, economics and literature, and how all these knowledge promoted the Islamic world to various regions such as Europe,Central and East Asia. Exhibitions regarding music, costumes and personal ornaments will be displayed in the fourth gallery, while fifth gallery is pertaining to warfare and weaponry. The sixth gallery displays Islamic decorative arts and domestic utensils, and a collection of the Holy Que gallery.
There is no better way to concisely and adequately sum up the Islamic culture than a visit to the museum. Exhibits at the museum appeals to visitors who love history, theology, culture, arts and architecture.
Sarawak Islamic Heritage Museum is located at off Jalan P. Ramlee, about 12 minutes walk (about 1 kilometer) from Kuching Waterfront.
Opening hour and entrance fee:
Sarawak Islamic Heritage Museum is open from 9 am to 4.45 pm on weekdays and 10 am to 4 pm on weekends and public holidays. The museum is closed on the first day of major public holidays in Malaysia as well as on the Governor's birthday, Labor Day (1 May) and Malaysia Day (16 Sept). Entry is free.