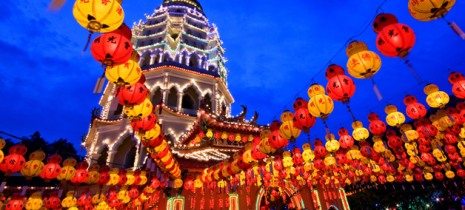 A tropical country known for its diversity of cultures, sun kissed beaches, towering skyscrapers and lush tropical rainforests, you will always be mesmerized with something unique Malaysia has to offer. Malaysia has never falls short of option in offering things to do and see for its visitors thanks to its diversified of cultures and religious in the country. Malaysia boasts more than 10 religious festivals in its calendar and often host international events in any of its 13 states and federal territories.
The Charm of Religious Festivals
Most of the religious festivals are celebrated nationwide in spite of belief or race, ranging from the main cultural celebrations such as Hari Raya, Chinese New Year, Deepavali, Thaipusam to internationally celebrated Christmas. Each of the festival has it unique way of celebration, during Chinese New Year, you will see most of the Chinese houses, Chinatown and temples are beautifully decorated with colorful lanterns and lion dances come to live, during Thaipusam, most of the believers will come to the street or hit the famous Batu Caves for some unique cultural activities and performances, whereby most of the shopping centers and restaurants will be decorated in snowy atmosphere alike during the Christmas. With so many festivals and cultural activities in the country, this is one of the reasons why Malaysia is so famous among tourists to South East Asia. Not only that, Malaysia is rated as one of the best working destinations in Asia for expats.
International Sport Events
Other than cultural celebrations, Malaysia also play host to some of the major international sport events such as the F1 and MotoGP in Sepang International Circuit, various Badminton Championships across the country, Golf Tournaments as well as the famous road cycling races in Langkawi. Such events not only well preferred by the locals and also attracted thousands of overseas visitors to participate in each of the event.
Travel Mania – Locally and Internationally
To boost the tourism industry in Malaysia and also to encourage the locals to travel abroad, there are always travel events organized in the major cities of Malaysia. One of the popular events is the Matta Fair organized several times a year in different locations. This event allows the travel companies to setup a service booth in the event hall to serve thousands of holiday makers visiting the event. Visitors not only exposed to various tourism products but also get to compare multiple travel deals provided by the many travel companies in the event. Whether you are looking for land tour package or all inclusive package, you can find them all in one place.
At the same time, the airlines company such as the Malaysian Airlines, AirAsia, Firefly and other private charter airlines will take this opportunity to promote their international flights and domestic flights. In most cases, travelers will get a dirt cheap flight tickets to some of the international destinations and even zero fare to local destinations.
Numerous other Events
Whether you are looking for education institutes in Malaysia or wish to study abroad, visit the education fairs that happen several times a year especially during year end and middle of the year. For those who wish to stay close with their preferred superstar artist, there are many concerts organized in some of the huge outdoor stadiums and medium scale indoor stadiums. Stadium Merdeka, Bukit Jalil Stadium and Genting Highlands are some of the hotspots for such international events.
All in all, whether you are locals or international travelers who are looking for things to do and see in Malaysia, the festival celebrations and international events will keep you busy all year round. To stay up to date on all activities of your preferred festivals and events, check out our latest updates from time to time.