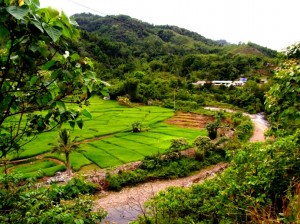 There are many interesting places that are worth exploring in the state of Sabah. If you happen to be in the state for vacation, the Tambunan District is one place in the state you would not want to miss out. Although it is a small town occupying a small area in the state, it is not hard to discover the uniqueness of the place once you set eyes on it. There are many stories to be told and many secrets to be uncovered. To know all these amazing stories, you would need to step into the place for yourself.
One step into the Tambunan District will instantly expose you to the evergreen land well preserved by the local people residing in the area. In here, the local people depend heavily on their local plantations for a living. Thus, it is not surprising for you to locate a sea of local plantations if you are to explore more of the place. These precious plantations include pineapples, mushrooms, rice, bananas, and also some vegetable species which are often plucked and sold by the local people while some use them as their everyday meal.
It is also a common sight to discover wild orchids by the roadside of the place when you are trailing along the paths. Although small, these wild orchids are actually precious flora species in the place and also, they are some of the flora species you would not find elsewhere. Thus, if you happen to witness these wild orchids, remember to snap some pictures of them as a future reference or as a remembrance of your visit to the Tambunan District.
If you are adventurous enough, you can also participate in the various outdoor activities in the place. One of them is jungle trekking. Before you depart into the green forests in the Tambunan District, it is highly recommended for you to prepare yourself thoroughly with the equipments and tools you need for you to explore with ease in the green environment. Through this activity, you will be able to discover many flora and fauna species which you might not see in any other places. It is also a good training for your stamina as you would be able to enjoy the experience of exposing yourself closer to the Mother Nature while discovering new knowledge every now and then. The huge waterfall in the green environment is also a great place for you to wash away your tiredness and to be fully indulged in the peace of the Mother Nature, which you will definitely not get in the busy cities.