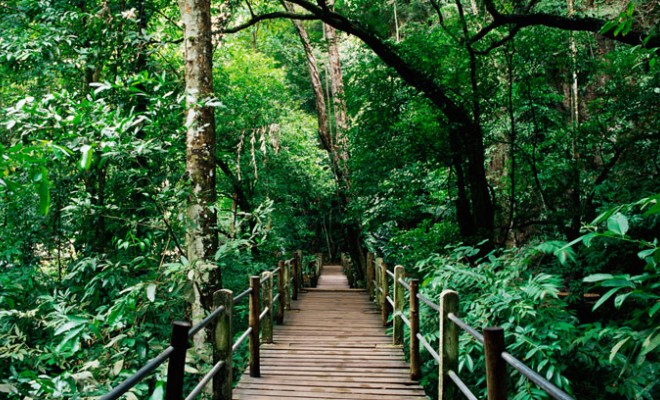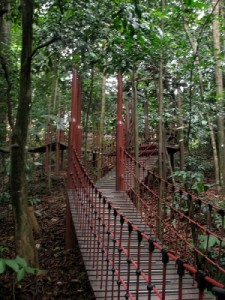 If you believe that you are nature's best friend and that every vacation in Malaysia is only complete if you see some green, well, the Bukit Nanas Forest Reserve is just for you. The nature trails here are tailored to allow anyone to unwind, breathe a little and to marvel at the beauty of creation itself.
The reserve is strategically located within the city, saving you the trouble of having to go off to a remote jungle area to experience nature. It's the only oldest forest where you can walk through lush green and hear the sound of music making birds and see trees a century old right beside a bustling city. It's the perfect place for nature lovers and even if you are not a huge fan of trees and nature walks, do visit the reserve anyway because it is a museum like no other, displaying the beauty of nature in the tropical climate in all its glory. After all, entrance into this beautiful kingdom of trees, birds and exotic insect species is free.
Making your way there, you will notice the landscape it filled with giant skyscrapers; even the KL Tower and the KLCC Twin Towers dominate the skyline nearby. Then, when you enter the reserve, you cannot help but realize that it is a different landscape all together; a landscape governed by big trees whose roots spread majestically around the ground. You will notice big timbers that have spread its roots over the soft rolling hill slopes in their attempts to adapt in order to survive. If you are not so wise when it comes to trees and have absolutely no idea that each tree actually has a name and a function , the silent guided tour in the form of labels that mark most parts of the trail will be of a big help to you. Find out which trees are used to make the wooded furniture that you may end up buying or maybe which tree makes the chopsticks that come out to the dining table. All these answers lie in the reserve.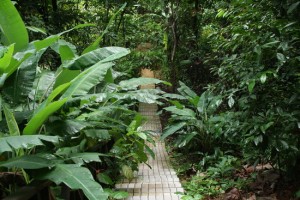 Learn more about nature right here in the forest reserve. As you walk along the trail, you cannot help but notice that some trees are vibrantly green while some others are brown with decay. It just means that the forest is growing healthily and is reproducing for the future by recycling nutrients and water.
The reserve park is made convenient with public restrooms, an information center so that you never have to get lost and huts along a few trails. The park is open from 7am to 6pm every day of the year and is accessible by taxi. You could also choose a cheaper mode of transportation by taking the Monorail. Alight at the Bukit Nanas station and take a walk to the reserve located along Jalan Puncak. Once you have arrived here, alight onto the free shuttle service that serves every 15 minutes to take you straight to the park. This free service operates from 9am to 6pm only.