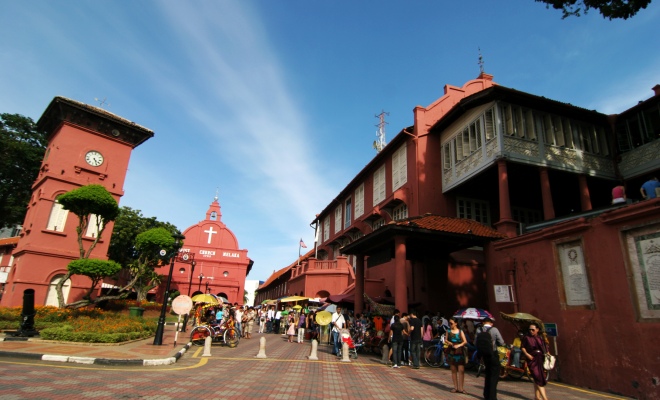 If you are having vacation in Italy, it won't be fulfilled without having a visit to Pisa Leaning Tower. If you go to France, you won't perfect your tour not visiting Paris and of course, Eiffel tower. Well for Malaysia, if you do attracted to the calmness of this god-bless country, heavenly beautiful beaches, multicultural people, then your journey won't be considered done without visiting Malacca and visiting Malacca without reaching The Stadthuys is just as incomplete as breakfast without coffee!
History
The building is owned by the Dutch Governor in 1650 as the governor office, it serves the purpose as Museum of History and Ethnography nowadays. Well to be honest, the building itself is much more antique and unique compare to the inside offering! Standing tall and Strong with bright historical red wall, with one magnificent clock tower in its proximity, it is sure a great place with a postcard view.
The Stadthuys Museum Complex is composed by History and Ethnography Museum, Literature Museum, Admiral Cheng Ho's Gallery, The Governor's Museum and The Museum of Government Democracy. If your history teachers always call out your name for getting A's in history, this is really a Disneyland for you. Walking through the display will put you in a time travel machine showing the history of Malaysia throughout the decades.
Weapon Collection
Taking time between few hours up to half day tour, one can simply mesmerized by the collection offered by the museum. Old rifles, porcelains, replicas, ancient weapons like swords, Kris exhibit will kill the time efficiently. Try to look for traditional wedding of Malay, Chinese, Indian, and Portuguese with plenty of classic wedding dresses complete with altar or pelamin area carefully presented with detail of history.
Nevertheless, if you are not a historian or perhaps not a museum goer, walking around the Stadthuys will also a memory to bring back. The beautiful building, endless souvenirs option to browse, windy St. Paul Hill just behind the Stadthuys and enjoying the crowd is worth a visit.
Make sure you include Stadthuys in your itinerary; it will perfect your visit to Melaka. Located at Jalan Laksamana, Bandar Hilir. Just ask any taxi driver and they will bring you there. Don't forget to bring along your camera to capture all the great moments!
Recommended Area to Stay in Melaka
Jonker Street
For those looking for culture exploration and food trails. Also known as a backpacker paradise.
Melaka Raya
A gateway to all the city attractions with wide range of accommodation options.