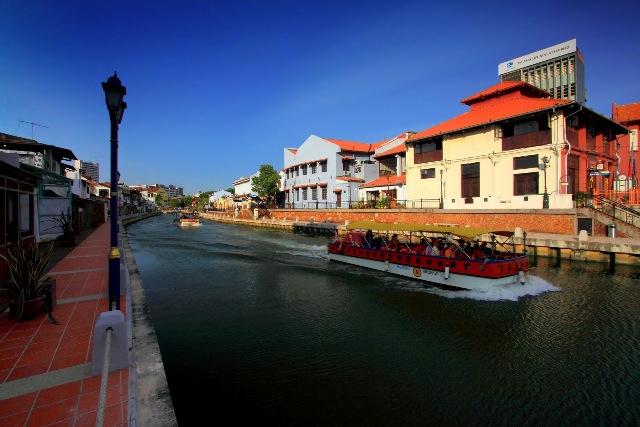 Melaka is a state rich in historical background with its capital listed as one of the UNESCO World Heritage sites in Malaysia. Here in Melaka you can see lots of historical buildings from the Portuguese and British era. Melaka offers a range of activities for visitors of all ages. Therefore visitors will never bored when visiting Melaka for vacation or weekend breakaway.
River Cruise and Revolving Tower Ride
Cruising in the Melaka River is a great way to start your holiday journey here. Visitors are able to sit back, relax while enjoying the colorful town scenery. The cruise departs daily from 2 different jetty, Muara Jetty and Taman Rempah Jetty. Both route takes approximately 45 minutes for a round trip. Besides the river cruise, visitors can later stop by at the Menara Taming Sari to get on the revolving ride. Standing at 110 meters, this high tower is such a prominent high tower in Melaka. It has a revolving viewing platform to provide a 360 degree panoramic view of the town without needing to walk around the platform. It is claimed to be the first revolving gyro tower in Malaysia.
Tram Ride and Elephant /Pony Ride
Melaka Zoo is the second largest zoo in Malaysia. Covering 22 hectares, instead of walking you may take the tram ride to go around the zoo. The zoo surrounding is covered in green landscapes to form a rainforests environment for more than 214 species of animals. Other than that, you can have some fun riding the elephant and pony. There are daily animal shows as well as a night safari available for visit.
Go off the Beaten Track
Melaka is also a popular destination for trekking activity. Visitors can go for a jungle tour at Ayer Keroh Recreational Forest. The location is more than 500 acres of jungle. There are trails in and outside of the park. If you would prefer to trek outside of the park then you are advised to organize with the local trekking agency for guidelines on safety purposes. Fishing is a common activity here for both locals and visitors along the coastal areas. You can easily find the necessary equipment like fishing reels, bait and tackle in most of the stores.
A Shopper Paradise
One of the greatest things to do in Melaka is shopping. There are lots of interesting handicrafts and antiques along Jonker Street. Another place is the Intocraft Centre where you can get handicrafts like handmade ceramics, canes, batik and other decorated items. In addition, there is a night market at Little India which sells Indian products as well as Chinatown across the river. If you prefer to shop indoor then you may head to Dataran Pahlawan Melaka Megamall, the largest shopping centre in Melaka. Here you can escape from the hot weather while looking for souvenirs.
Experience Exciting Water Activities
Visitors can splash in cooling water while enjoying the rides here at A Famosa Water World. It is a good place to spend your day here with friends and family. There are many interesting water rides like the 7-storey speed slide, a raft ride, wave pool and Arabian-style water playground. Little children can also join in the fun at the miniature slides and water sprayers in the Kids' Adventure Pool. Definitely a fun filled day for the whole family.