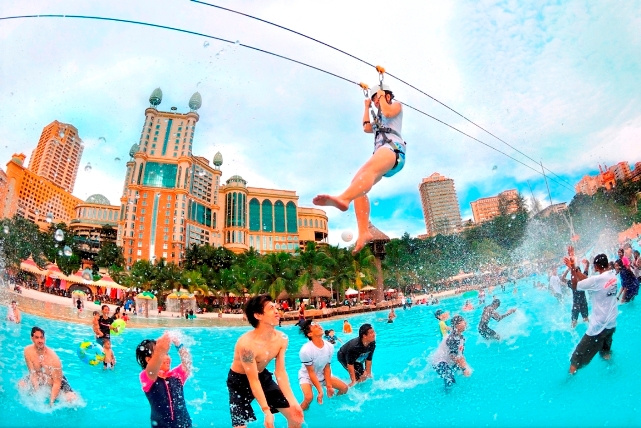 Selangor Darul Ehsan or better known as Selangor for short is a heavily developed state as compared to other states in Malaysia. Today it has a great number of populations. However it still manages to keep the state green with plenty of parks and forest reserves. There are lots of attractions in Selangor in a mix of urban and nature activities. It is a must stop holiday destination in Malaysia especially for oversea tourists.
Go-Karting and Fishing
If you like speed and enjoy driving, then you must visit the Shah Alam Stadium for go-karting. It is an exciting and fun thing to do especially if you are travelling with your kids. There are go-karting lessons available before racing around the track. The track here is fully equipped with all the required accessories or equipment that you need to race in the track. On the other hand, visitors can go fishing in the waters off Selangor's coast. There are boats for rent and fishing trips can be arranged through the local travel operators or some major hotels. Some hotels may even help to cook and prepare some delicious cuisine based on your catch upon request.
Sailing and Trekking
Sailing is available at the Royal Selangor Yacht Club. There is an annual sailing event known as Muda Regatta held here. Sailors from all around the world would gather to join the Asian Yachting Regatta Circle races. It is usually held on the first week of December. Of course visitors would still be able to go sailing on normal days at the yacht club depending on the weather. Besides, for visitors who wish to go off the beaten track can go trekking at the Malaysia Agriculture Park located at Taman Bukit Cahaya in Shah Alam. There are well maintained trails and guides available for trekkers and you may plan a picnic here at the park as well.
Horseback Riding and White Water Rafting
Horseback riding is a fun and enjoyable activity for both kids and adults. The costs are reasonable as well.  There are lessons provided for the novices by the well-trained and multi-lingual staff here at the Templer Park Equestrian Centre in Selangor. For those who prefer a more challenging activity, you should try the white water rafting at Sungai Selangor. The popular location is near Pertak, located in the district of Hulu Selangor. Here you can get some adrenaline rush when rafting in a canoe or an inflatable dinghy. It is a must do activity here.
Zoo and Water Theme Park Visit
If you are on vacation with your kids, the Zoo Negara and Sunway Lagoon Water Theme Park are 2 places where the kids will enjoy spending a fun filled day. Visitors will be able to see a great variety of animals at the Zoo Negara. There is an aviary and an aquarium for you to observe the birds and sea creatures as well. Meanwhile, Sunway Lagoon is a water park with lots of thrilling rides and exciting water slides. There are more than 80 rides and attractions in the park cater to children or all ages. For adults, you may challenge yourself to the exhilarating activities available there like the Asia's Highest Slingshot Ride, Malaysia's Longest Flying Fox and the first ever bungee jumping in Malaysia where you will have to jump down from a hanging bridge.
Shopper Paradise
For shoppers, you will need find short of options as Selangor is also known as a shopper paradise. There are several huge shopping malls in the state, 1 Utama, Sunway Pyramid, Setia City Mall are just a few to highlight. In these shopping malls, you will not only get the chance to shop, there are also plenty of entertainments waiting to be explored. Hence, while having vacation in Selangor, be sure to includes one of these shopping malls in your travel itinerary.