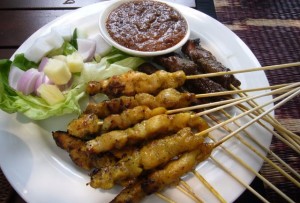 Melaka is one of the states in Malaysia that is full or heritage sites and attractions. It is the third smallest state located at the southern part of Peninsular Malaysia. Melaka was once conquered by the Portuguese hence there are a lot of Portuguese influence can be found here. Most of these attractions are left from the Portuguese era hence it is a very famous state among the tourists for culture and heritage exploration. Other than its historical value, there are also lots of mouth-watering food and delicacies in Melaka which are worth a try whenever you pay a visit here.
Duck Noodle, Naan and Tandoori Chicken
Duck Noodle in Melaka Style can be either with soup or dry. It is a kind of duck noodle served in hot soup with duck meat and if it's dry it will be in thick gravy and topped with shredded duck meat. One of the famous places to savor the duck noodle is at Soon Yen coffee shop located at Jalan Tengkera.
On the other hand, Naan is a type of oven-baked flat bread. It is very much enjoyed among the locals here. It is always eaten together with Tandoori Chicken where the chicken is marinated with yogurt and spices and roasted in a clay oven. Visitors can try it at Pak Putra Tandoori and Naan at Jalan Laksamana 4, a popular spot for these 2 dishes where the restaurant is always crowded.
Nyonya Kuih and Cendol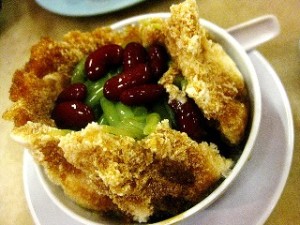 Kuih in Malay means cake or delicacies. Melaka are renowned for the wide variety and delicious kuih like Onde-onde, Kuih Lapis, Kuih Seri Muka, Kuih Bongkong and more. At Baba Charlie Lee located at Jalan Tengkera Pantai 2, visitors can expect to try the wonderful kuih here. One of the top recommended kuih would be Kuih Bongkong where it has a smooth and silky texture just like the bean curd and is eaten with Gula Melaka, a type of brown sugar made in Melaka. Another type of kuih is Onde-onde, the Gula Melaka is wrapped up in chewy ball shape kuih and with coconut sheds on the outside. It is a sweet delight where everyone loves it.
For those who like to sample sweet stuffs, you should definitely try the local dessert here, the Cendol. One of the best Cendol can be found at Cendol Bukit Rambai prepared by a Chinese lady. Cendol is a type of sweet delicacy in green strips of starch noodle mixed together with pandan leaves extract and gula Melaka. It is creamy and fragrant with the added fresh coconut milk. Most of the Cendols here are sold out by noon.
Chicken Rice Ball
Chicken rice ball is one of the must eat foods in Melaka and most of the famous restaurants that sell chicken rice ball are located in the famous Jonker street.
Satay Celup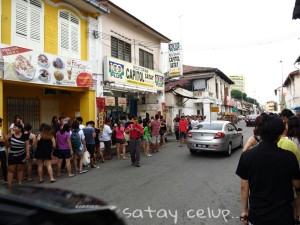 Most of the Satay we seen are chicken and beef. Here in Melaka you can find Pork Satay at Xiang Ji Satay Shop along Jonker Street. The satay has a well combination of mean and fat. It is well marinated and when you bite it, you can feel the pork meat and fat melts in the mouth. The special peanut sauce for dipping in is added with pineapples giving the gravy a sweet and tangy taste.
Another famous satay shop is Capitol Satay and it seems like every Melaka trip will not be completed without tasting a stick or two of Satay from Capitol Satay. From the queue, it is already self explanatory on how delicious the Satay is.
Egg Omelette with Oysters and Oysters Noodle
At Sin Yin Hoe coffee shop at Jalan Hang Jebat, visitors can sample the scrumptious dish of crispy and fluffy egg omelette with fresh oysters as well as oysters noodle with thick gravy. This is one of the most famous foods that you can find in most of the restaurants or Kopitiam as well as at the street stalls in Melaka. Don't be surprised to see a long queue before you get to taste this delicious local delicacy.