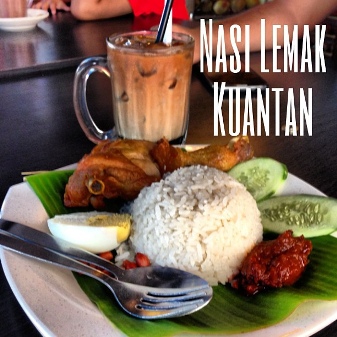 Pahang is the 3rd largest state in Malaysia and the largest in Peninsular Malaysia. The capital of Pahang is Kuantan and some other famous destinations are like Genting Highlands, Cameron Highlands, Bukit Tinggi and Fraser's Hill. These are all the major tourist attractions in Malaysia as well. There are a variety of delicacies can be found in Pahang with the mix of Malay, Chinese and Indian communities here.
Nasi Lemak
Rice is the main food in Malaysia. In Pahang you may find one of the best Nasi Lemak across the country. It is a Malay dish loved by people of any ethnic regardless of Chinese, Indian or Malay. It is rice cooked in coconut milk and served together with spicy anchovy sauce, hard-boiled egg, peanuts, cucumber and a choice of chicken, beef, mutton or squid. You can basically find Nasi Lemak in most of the food stalls, Kopitiam as well as restaurants in Pahang.
Satay
Satay is a popular Malay dish. It is made from some cube sized marinated meat skewered on sticks and barbequed over the charcoal flame hence the fragrant. It is best served with spicy peanut sauce, fresh cucumber, onions and ketupat (a type of rice wrapped with woven palm leaf cases).
Dim Sum
This is a Chinese cuisine with more than 30 varieties served in bamboo tray. Some of the famous types are like "Siew Mai", "Ha Kao" and many more. The dishes are all placed in bamboo trays and cooked in the steam cooker. Most people will eat this early morning for breakfast and you will get to sample this food in Chinese restaurant.
Nasi Briyani and Naan
Nasi Briyani is a scrumptious dish from Indian. It is made of rice cooked with several different types of spices together with a choice of chicken, beef or lamb. The meats are juicy and tender and the rice is flavorful with the fragrant from the spices.  On the other hand, one more great cuisine from the Indians is Naan. It is a kind of bread baked in a clay oven and always served along with curry for dipping. Another variant is like Naan Cheese where the cheese is wrapped in Naan bread for baking.
Fish-Based Dishes
In Pahang, fresh water fish area is easily accessible and available due to the longer and bigger rivers here. Hence in terms of food, there are many fish dishes worth a try, like the "Patin", "Jelawat", "Temalian", "Kelah" and "Baung" all prepared in traditional Malay cooking style with a mouth-watering taste and visitors always come back for more.