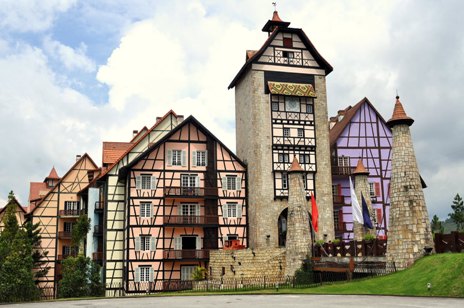 With about 1 hour drive from KL city , Bukit Tinggi (Mount Tinggi) located in the district of Bentong, Pahang is a brand new tourist place perfect for family vacation and honeymoon. Sitting at about 3500 feet above sea level, Bukit Tinggi offers a unique getaway by bringing mysterious culture from the east and west. With fresh and cool air surrounding the area, Bukit Tinggi not only suitable for overnight stays but also perfect for day trip .
Things to see in Bukit Tinggi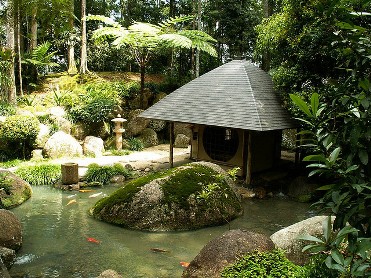 The highland is famous for its French style Colmar Tropicale as well as the Zen inspired Japanese Garden. The Colmar Tropicale is designed with French style architecture and decorated with paved courtyard which will ensure to bring a spectacular experience for its visitors. and cafes surrounding the square as well as a series of live bands and street performances, whether just to enjoy a glass of chilled wine or dining here are both equally fantastic.
Walk through a rustic doorway and a zigzagging Japanese trail leads you through a magnificent garden to a waterfall, then cross the bridge with koi pond underneath, you will come to a Japanese Tea House. Every element you observe along the way displays the spirit of an authentic Japanese craftsmanship. Designed and built by the Japanese architect and craftsmen, explore the Japanese Village allow you to experience the unique Japanese culture through the architecture.
Walk through a 4 acre botanical gardens and you will come to a viewing deck offering a magnificent view of the surrounding countryside areas. Be amazed by towering trees, orchids, ferns and numerous tropical floras along the walk.
Things to do in Bukit Tinggi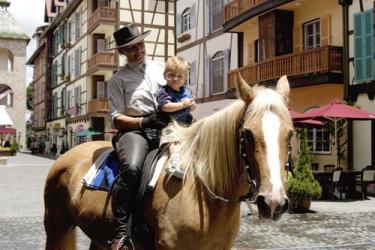 Not only to fascinating its visitors with unique cultures and architectures, visitors to Bukit Tinggi will also get to enjoy numerous activities that cover both leisure and adventure. For a relaxing getaway, visitors can opt for a relaxing spa and hot bath in the Japanese Village. The onsite Japanese restaurant offers some fine Japanese cuisines and the tea house allows tea lovers to experience the Japanese tea ritual at its best.
To explore Bukit Tinggi in a different way, visitors can go horseback riding to discover the beautiful surroundings. With fresh and cooling air amidst the tropical rainforest, horse riding in Bukit Tinggi offers an experience that is hard to resist. If you are rabbit lover, visit the Rabbit Park located nearby and be fascinated by the fluffy rabbits running across the park.
Malaysia has no short of option on golfing, same goes to Bukit Tinggi. The 18 holes golf course operated by Berjaya Hills Golf and Country Club is a perfect place for the avid golfers to test their golfing skill. Surrounded by lush greenery and cooling climate, some golfers admit that the course here is one of the best golf courses in South East Asia.
Where to stay in Bukit Tinggi
Visitors to Bukit Tinggi should not worry on where to stay as the Berjaya resort in Bukit Tinggi provides its visitors a sense of luxury and comfort. The French themed resort is the first and only resort in Malaysia that offers its guests with unique French decorated rooms and Asian styled service.
For visitors who are visiting Bukit Tinggi on day trip and wish to continue their tour to the nearby destinations, Genting Highland is the best place to stay in. Janda Baik located at about 5km away from Bukit Tinggi is also perfect for a stay, accommodation here ranging from budget hotel to mid range all inclusive resorts.
How to get in to Bukit Tinggi
With only 1 hour journey, driving from KL to Bukit Tinggi offers you a pleasant journey with the beautiful view of lush green rainforest along the way. For overseas tourists who prefer self drive can always rent a car easily from the airport or city area, for those who prefer hassle free vacation can also opt for a tour provided by the many tour companies in the region. As there are several tourist places nearby, such tour will also bring you to visit one of the oldest limestone caves in Malaysia, the Batu Caves As well as to get up hill to the entertainment city, Genting Highlands .