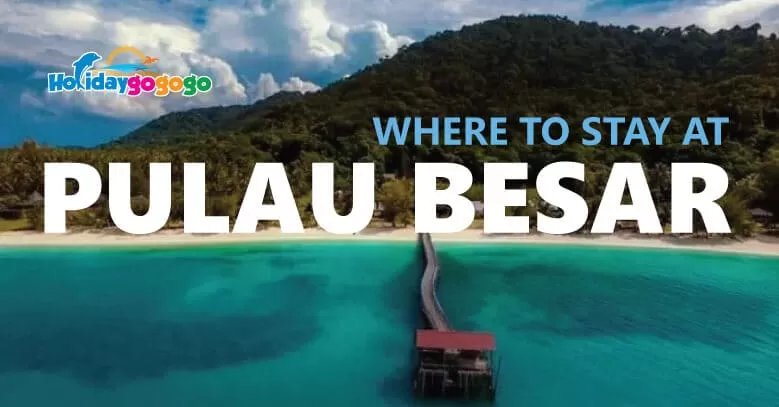 Pristine, peaceful and secluded are just a few words you can use to describe this sandy patch of paradise. Contrary to what its name might suggest, Pulau Besar ("Besar" meaning big in Malay) is quite small and offer only 4 resorts for travellers to choose from.
Only a small part of the island is developed for visitors. Head in deeper and you'll soon find yourself immersed in the dense, primitive island jungle (which is quite an experience with a guide).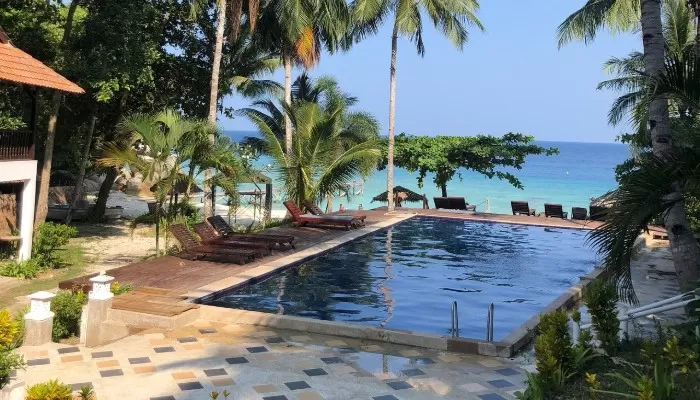 [lwptoc numeration="none"]
---
Where To Stay At Pulau Besar
Where you stay at Pulau Besar is important as most activities can be done with the resort you are staying at. Snorkel trips, sea-based activities, beach activities and resort games can be found within most resorts. Meals are also provided at resort restaurants as part of the package. There is little reason to venture beyond your resort during your stay at Pulau Besar since everything is conveniently placed nearby.
However, if you want to explore the rest of the island, you can do so via the main pathway about a few kilometres long. The path winds along the beach, providing you with a stunning view of the open sea. The water is so clear that even tiny sea creatures and the coral reef can be seen from the water surface.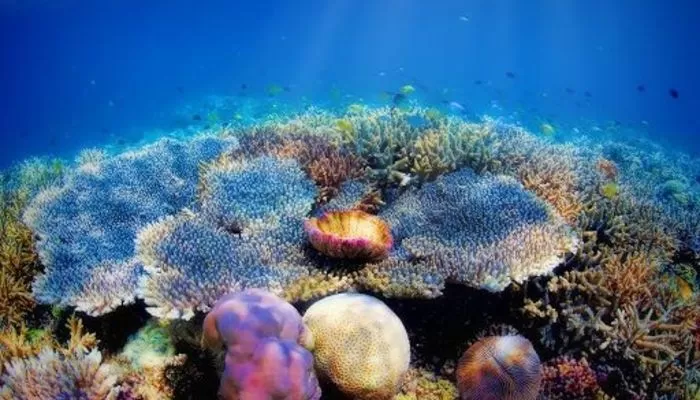 No matter which Pulau Besar resort you choose, you'll have easy access to clean, private beaches and easy snorkelling. No worries there. Just grab your snorkel mask and jump right in the clear, sparkling blue waters off the beach.
The 4 resorts on the island are Aseania Beach Resort, D'Coconut Island Resort, Mirage Island Resort and Bayu Bestari Resort. Be inspired to plan for an island getaway by checking out our list of where to stay at Pulau Besar for that amazing beach resort experience!
1. Aseania Beach Resort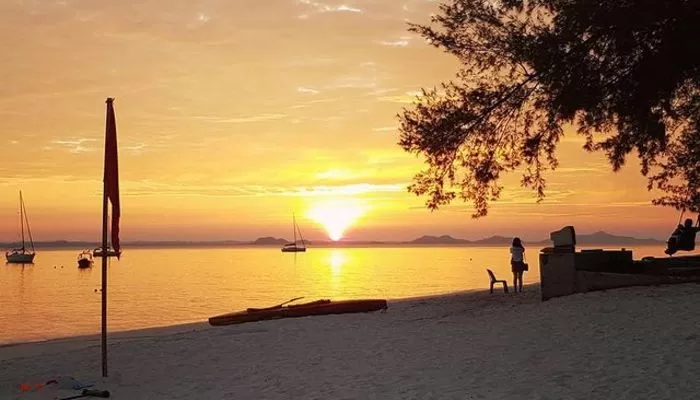 Breathtaking sunset beach view @ Aseania Beach Resort
Perfect for adventure seekers, team building activities and even a short family getaway, Aseania Beach Resort has received the best travel reviews for a memorable stay at Pulau Besar. We also think that this is the Best Family Resort in Pulau Besar.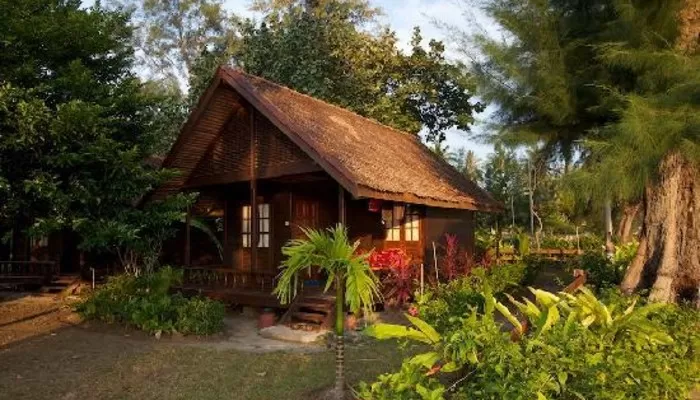 Located 0.7 km away from the centre of Pulau Besar, this resort is surrounded by white sandy beaches, coconut trees and lush greenery with a great sea view. The resort features a laidback and traditional Malay Kampung style exterior and rooms. Two types of accommodations are available in this resort – Country Chalet and Seaview Chalet. The Country Chalet has a garden view with a private balcony and comes with 1 queen-size bed and 1 single bed as well as standard facilities. This is convenient for a family of 2 adults and a child or a group of friends.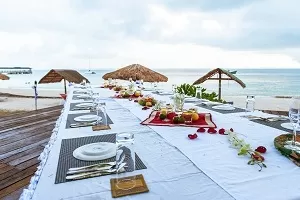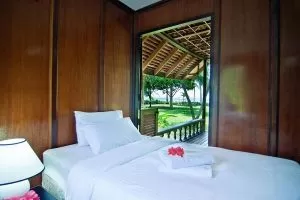 Honeymooners may opt for the Seaview Chalet and wake up to a breathtaking sea view or go for a romantic stroll along the beach at sunset! Better still, just sit back and relax in one of the beach huts facing the sea! Perfect for those looking for privacy to simply de-stress or enjoy each other's company.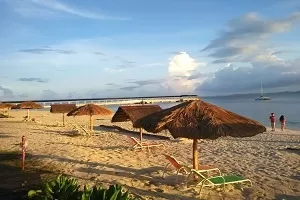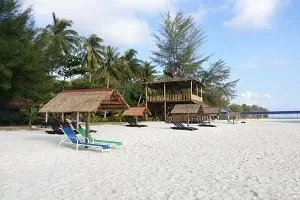 Sit back and relax in beach huts overlooking the sea
If you are planning to get married in the New Year, this resort is the perfect place and a favourite among couples hosting beach weddings and accommodation for their guests.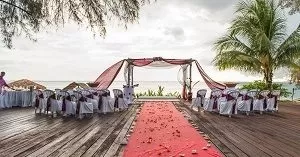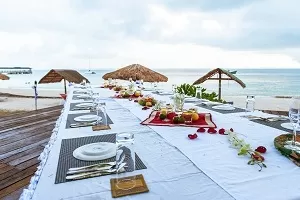 A popular destination for beach weddings
With its homey – feel and friendly staff, this resort equipped with basic beach amenities such as beach volleyball and cycling is perfect for solo travellers, too.
Major attractions at this resort include snorkelling, scuba diving and kayaking for thrill seekers. The resort has a dive centre with PADI courses available for anyone to take. If you are a beginner or want to start diving, this is the place to learn!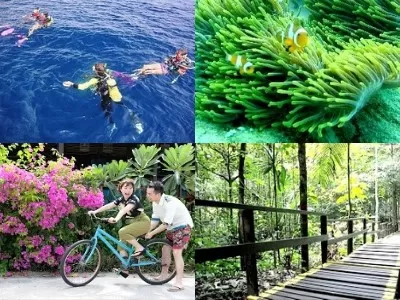 Since the resort provides  island-hopping facilities, be sure to check with the customer service desk and embark on an island-hopping expedition to nearby islands for some sightseeing and photography sessions.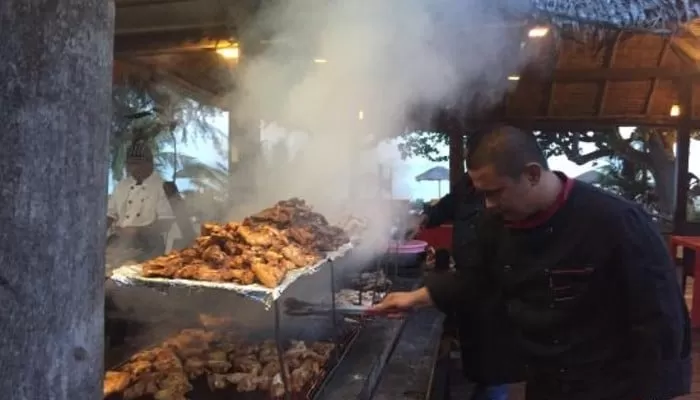 If you are craving some scrumptious food, head over to Kayu Manis Restaurant for a laidback brunch or dinner featuring Asian and international cuisine in a Balinese setting that overlooks the sea. Chill at night with friends and family at the Lounge while enjoying the cool sea breeze and electrifying music by the resident DJ, and a cocktail or two!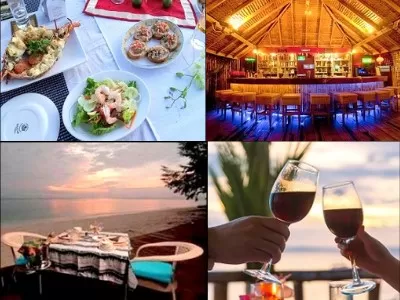 When travelling, you won't want to be bogged down by travel plans gone wrong, or having to plan your vacation from scratch. We recommend choosing a package tour for an affordable and hassle-free beach resort experience! Our tailored itinerary will ensure you get the full island experience while still giving you room to explore on your own.
Click here for package info
2. D'Coconut Island Resort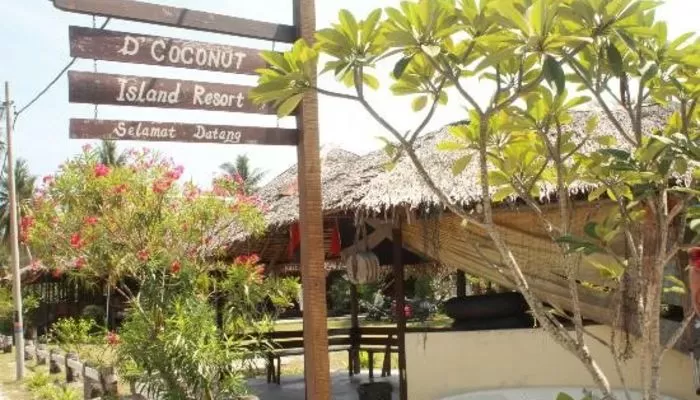 Are you travelling on a budget and wondering where to stay at Pulau Besar? Then, look up D'Coconut Island Resort. With spacious and comfortable rooms close to nature, you can be sure to get your money's worth with a wide range of activities during your stay at this resort. Accessible by boat from Mersing, D'Coconut Pulau Besar is another beachfront resort with spectacular views and a beautiful stretch of beach.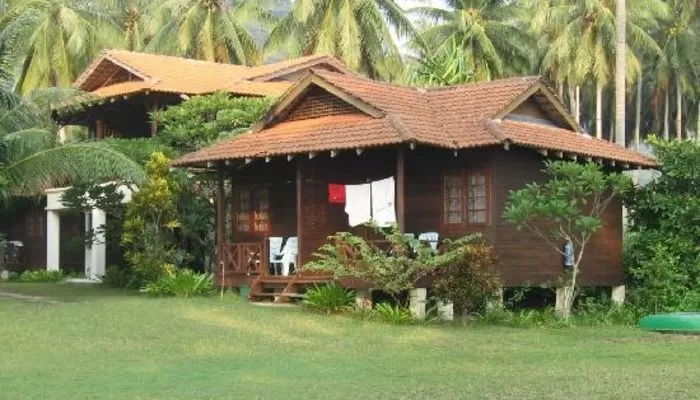 Catering to different types of travellers, D'Coconut Island Resort houses 23 rooms featuring Malay Kampung Style exterior and a simple furnished interior. The Standard Room at RM205 per night can fit up to 4 persons with basic facilities and 2 single beds. The Executive Deluxe Room is suitable for business travellers with a private balcony. If you are travelling with a large family choose the Family Room at RM400 per night which comes with 1 king-size bed and 2 single beds surrounded by lush greenery.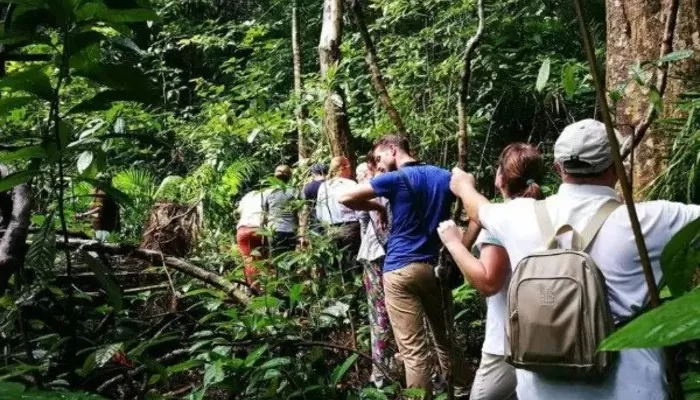 Nature lovers would definitely enjoy their stay here as they get close to the rich flora and fauna on the island such as Nicobar Pigeons and Eurasian Hoopoes via jungle trekking and immerse in the scenic views.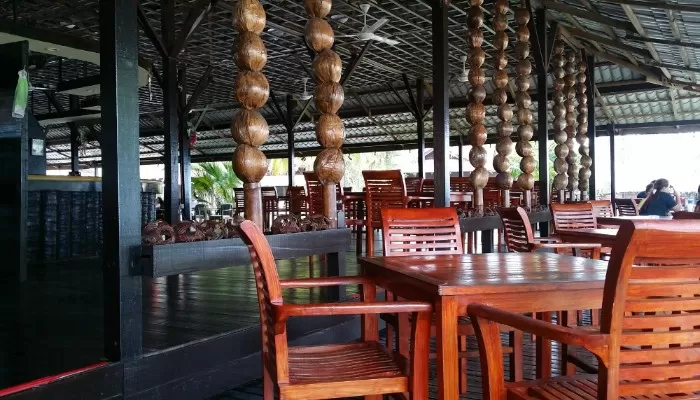 The open-air restaurant at this resort serves simple local and international cuisine to satisfy your taste buds.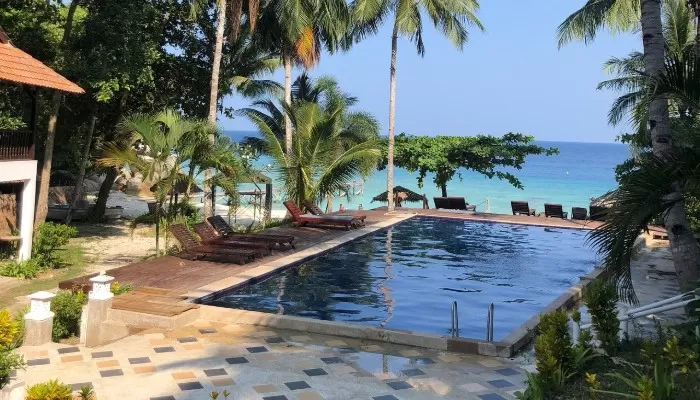 Enjoy a tranquil stay at D' Coconut Island Resort and go for a relaxing swim at the beach or snorkelling and discover beautiful corals along Pulau Besar!
Click here for package info
3. Mirage Island Resort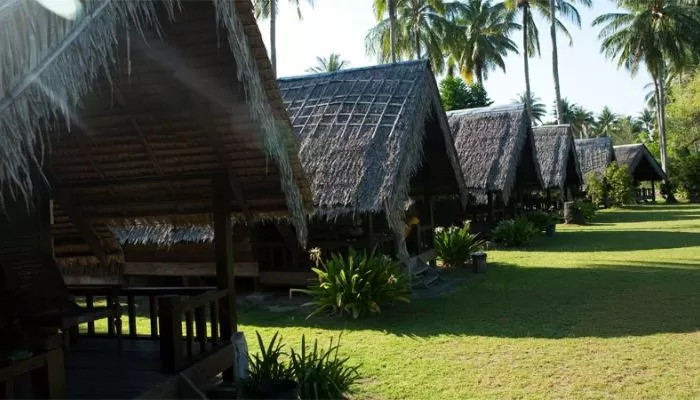 If you are willing to splurge on an island holiday and wondering where to stay at Pulau Besar, check out Mirage Island Resort. Located about 1km away from the centre of Pulau Besar, this serene and relaxing island resort is a great pick among leisure travellers.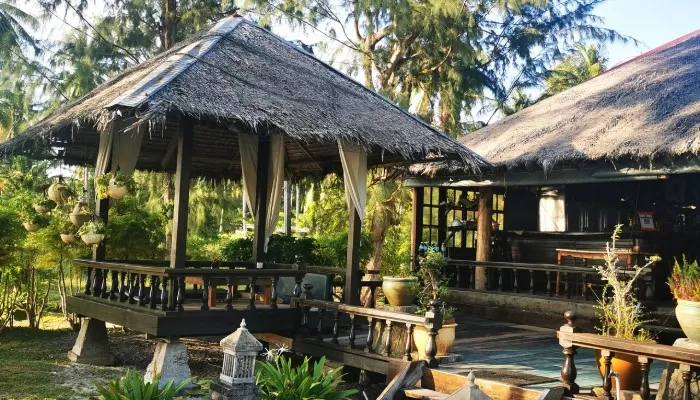 Upon your arrival at the jetty, you will be greeted by hospitable resort staff with refreshments and transportation of your luggage. At the entrance of the resort, you will first notice the cosy and laidback bar and restaurant in addition to the picturesque view of the beach and coconut trees.
The resort has 10 uniquely designed chalets. They resemble an A-framed design (imagine a roof slanting in an A-shape) and come in single and double-storey wooden huts which are all air-conditioned. The chalets offer economical accommodation for 3 persons with 1 double bed and 1 single bed while the Family Room and Sea View rooms are more spacious and suitable for a large family or group of friends. All the chalets have a view of the sea and resting chairs at the outdoor terrace to just laze around and enjoy the cool sea breeze and breathtaking view. With no TV or WIFI, a peaceful and relaxing stay is the order of the day at Mirage Island Resort.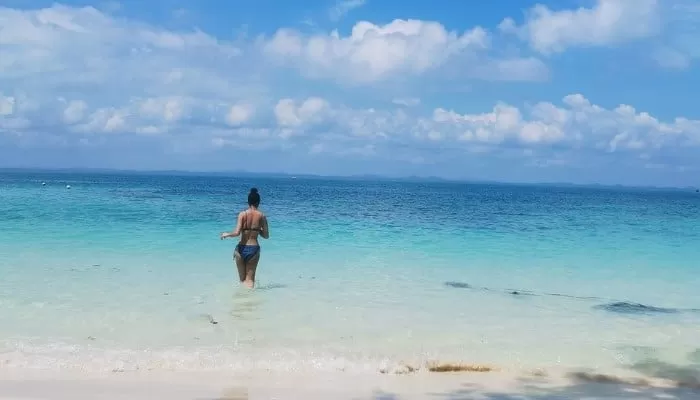 Enjoy various beach activities such as swimming, snorkelling, windsurfing, kayaking and beach volleyball. Scuba diving enthusiasts have the opportunity to swim close to fascinating sea creatures such as rare turtles and manta rays and view corals underwater. Capture some Instagram-worthy pictures the tropical rainforest and hilltop view as you go jungle trekking and hiking. There is definitely something for everyone to do at this resort whether you are travelling solo or with family and friends.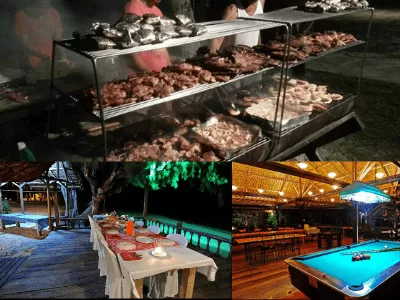 On weekends, you get to indulge in the resort's special BBQ night with a great selection of fresh seafood and meat. Unwind to music, fun and games such as darts and a game of snooker or just sit back and relax with a beer or non-alcoholic beverage overlooking the beautiful sea view.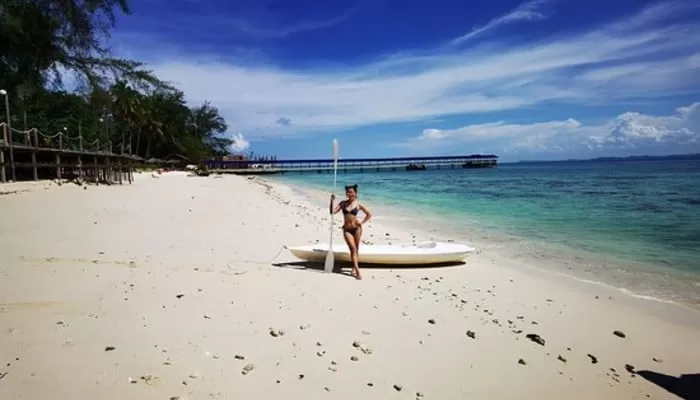 Address: Mirage Resort & Safaris, Pulau Besar, 86800 Mersing, Johor
Contact: +6019 789 6355 (Mobile) / +607 799 2334
4. Bayu Lestari Resort
Bayu Lestari sits on the southern-most part of the island. This idyllic beachside resort draws travellers for its easy beach access and relaxing surroundings.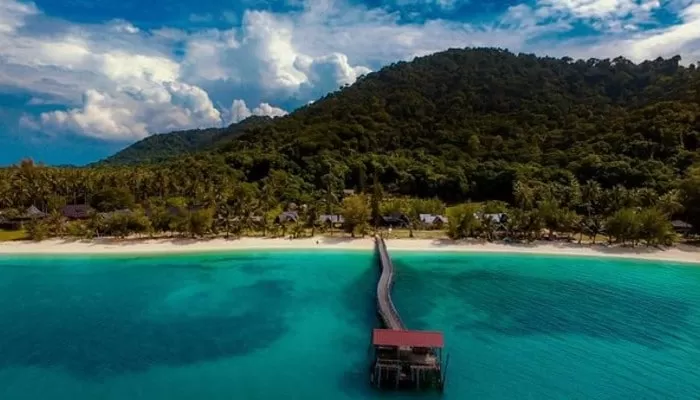 Having the beach at your front door guarantees the best view of the blue ocean anytime you feel like it. Snorkelling or cooling off in the refreshing waters is an easy pastime here and you can do so anytime you please! The beach itself is also extremely beautiful and highly suitable for picture-taking and Instagram posts/stories! At night, you can even see thousands of stars in the sky.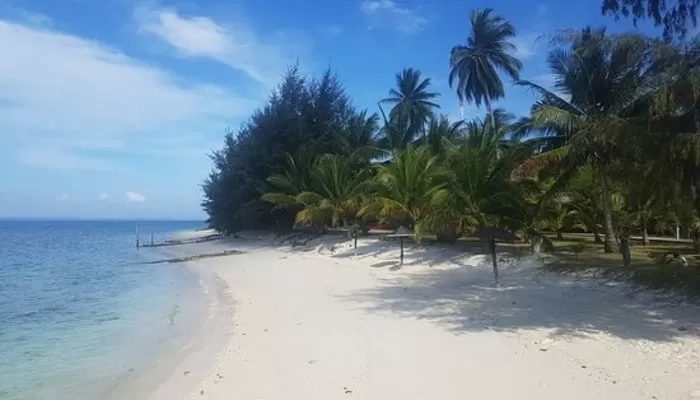 There are a few facilities available for visitors such as kayaks, dart board, hiking trails, bike rentals (must-try) and water activities equipment rentals. With an ideal location and facilities to match, the resort itself is a great place to relax and unwind after a busy day.
Speaking of unwinding, the rooms at Bayu Lestari are reasonably spacious. Similar to other resorts on the island, Bayu Lestari's rooms are built around a "kampung" theme. There is a certain novelty to traditional architecture that just adds an extra flavour to an island vacation. You feel more relaxed and removed from concrete jungles of the city.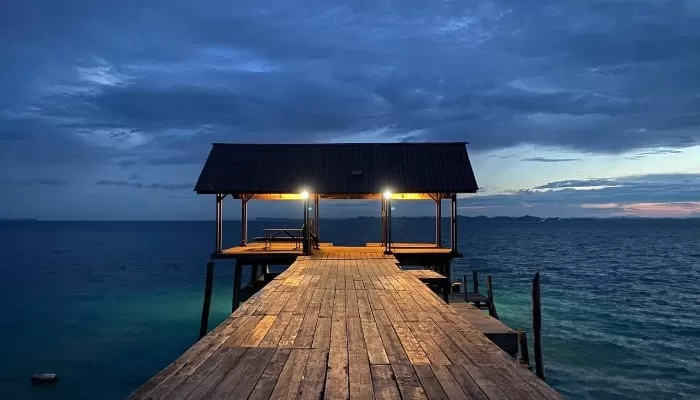 Dining at Bayu Lestari is a bit of a mixed bag. Guests regularly complain about long waiting times. However, the quality of the food and the authenticity of it (traditional local cuisine cooked by "Ibu" or mothers in English) is definitely up to standard. You can feel the love and warmth in every bite. In all fairness, it is worth the wait.
---
Travellers staying at Pulau Besar can expect a tranquil holiday at any of its 4 resorts. Easy beach access, calming village architecture, rich traditional roots (from the room design to food options) and relaxing activities make for a very peaceful holiday. Travellers craving for some action will not be disappointed either. The island offers a whole bunch of fun activities such as snorkelling, diving, kayaking, cycling, trekking, beach games and more to occupy your time.
We hope our recommendations of where to stay at Pulau Besar will help you organise an island retreat in 2021 or a short weekend trip post-Covid. Whether you are travelling solo, on a budget or with family and friends, now you know where to stay at Pulau Besar!
---
Pulau Besar Popular Tour Packages: