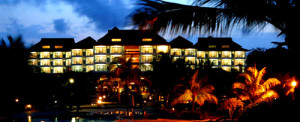 A one stop tourist destination to cater for all type of travelers, Johor has a great diversity of attractions, from the beautiful mountain view, dense tropical forest, spectacular sky scrapers in the city to the cascading waterfalls. Visitors to Johor will basically be spoiled for choices on where to go.
Johor Bahru (JB), the state capital is more of a business center than a tourist destination, but it has some good accommodations to cater for business travelers and tourists. Although JB does not own many tourist destinations but there are still a few that worth for a visit. One place that you should consider is The Royal Abu Bakar Museum, this is a beautiful royal palace built in 1866 by Sultan Abu. In this museum, you will discover the royal collection of historical documents, international treasures, fine art, costumes and relics of the sultanate. The type of accommodation in JB available from guesthouses, hostel to 5 stars luxurious hotels, just to cater for all types of travelers.
Retaining much of its natural reserve, Johor homes to long stretch of white sandy beaches and gorgeous islands with crystal clear water that are perfect for sport fishing, snorkeling and diving. Pemanggil Island, Sibu Island and Rawa Island are some of the islands in Johor that are must visit for a relaxing getaway. If you enjoy sunbathing while listen to the sea water splashing onto the rocks, Desaru Beach is awaiting your visit. The 4 star Lotus Desaru Beach Resort located on the beach will ensure a fun filled vacation for you and your family.
For a more adventurous vacation in Johor head up to the Endau Rompin National Park, nature lovers will definitely love this place and leave with an unforgettable experience. Johor also homes to some of the best golf courses in Malaysia, the 4 star Katerina Hotel in Batu Pahat and the 5 stars Le Grandeur Palm Resort in Senai are some of the well preferred options for golf enthusiasts.