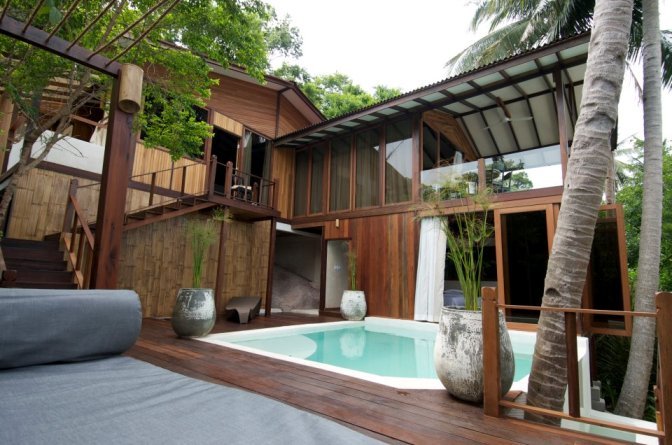 Holding a reputation for one of the 10 must-visit islands in the world, Tioman Island has something unique to offer for travellers, especially those who love to discover the amazing underwater marine life or lush primitive jungles. Visitors to Tioman Island must not miss the opportunity to dive or snorkel as the underwater here features plenty of soft and hard corals as well as countless fish species. Exit the water and venture into the deep, green unknown of the island's lush jungles that contain varied wildlife and rare species.
With the amazing underwater world and tranquil white sandy beaches in Tioman, this tiny island in Malaysia has become one of the must-visit destinations for both the locals and international tourists. Knowing this, visitors should not worry about where to stay in Tioman as there are plenty of resorts and lodges available on the island to suit every traveller's needs and budget.
Luxury Vacation in Tioman
If you are looking for a luxury island vacation and do not mind to pay a little bit more, Berjaya Tioman Beach Golf & Spa Resort located in Lalang Village is the perfect place to stay in. Staying in the resort not only allows you to enjoy the peace and calm amidst the tropical plantations, but visitors can also enjoy the spa service offered by the resort. Berjaya Resort is the only resort in Tioman homes to a golf course, the 18 holes golf course will sure fascinate golf lovers to enjoy a round of golf near to the ocean. Another luxury resort in Tioman is the Japamala Resort and Spa located in a private bay near to the Lanting Village. This beachfront resort is one of the most preferred resorts by the holidaymaker for the seclusion the resort has to provide.
For Holidaymakers Traveling in Budget
For travellers who are looking for a budget island vacation, Ayer Batang Village homes to a range of chalets and restaurants with tranquillity and village charm in place. Another village that worth for a stay is the Tekek Village, this is the most developed village in Tioman and you will find resorts, restaurants, duty-free shops, police station and clinic lie within the village. Tioman airport is also located in close proximity to the village.
Hassle-Free Vacation in Tioman
Tioman Island is one of the most developed islands in Malaysia that is visited by millions of visitors yearly. Visitors to the island will definitely find no short of options on where to stay, what to do and where to eat, the island has it all to offer for its visitors. The island will get very full in most of the time especially during weekend and local holiday seasons. If you are planning for a vacation in Tioman, it is always best to reserve your room in advanced to avoid any disappointment. To enjoy a hassle-free tour to Tioman, you can also opt for an island tour offered by the local tour agencies. Most of the tour will cover accommodation, flight, local transportation, activities and dining, all in one package.