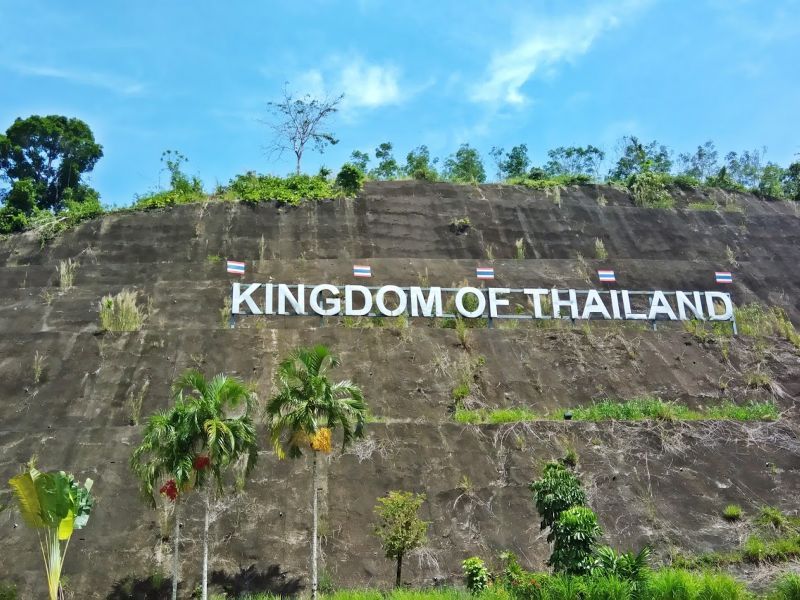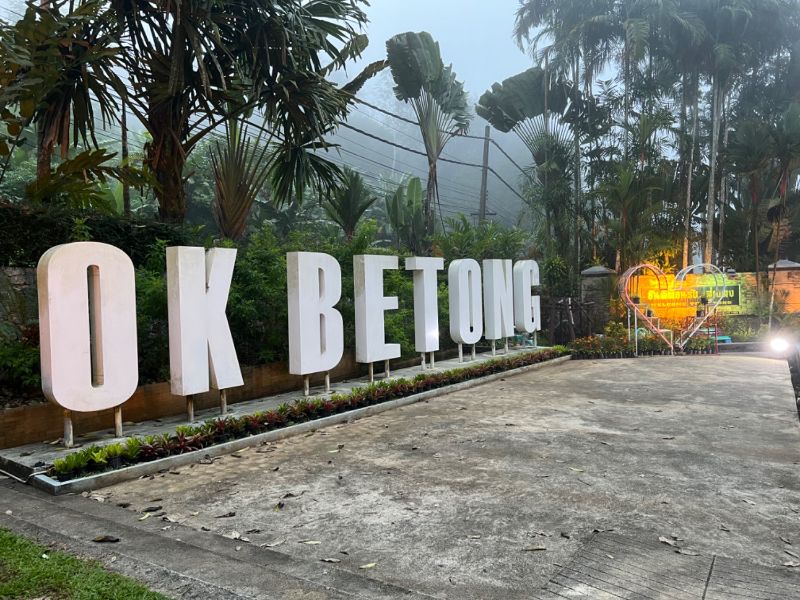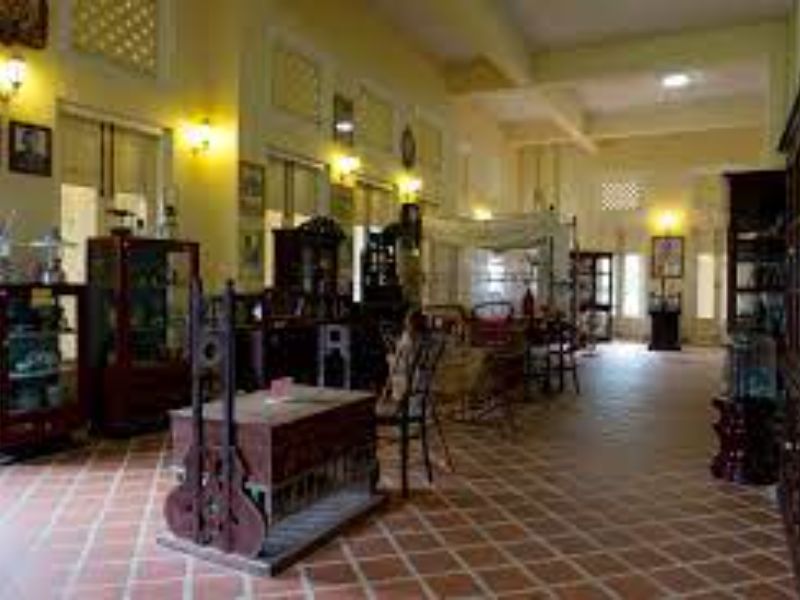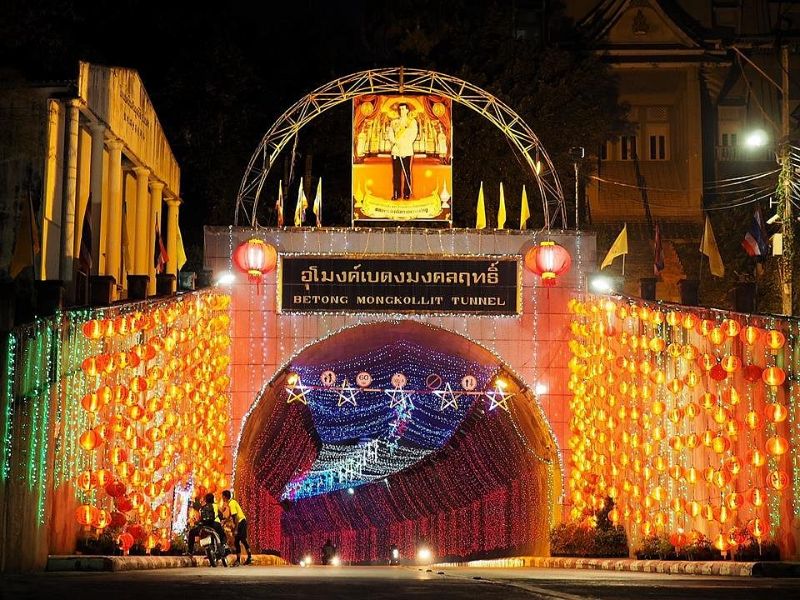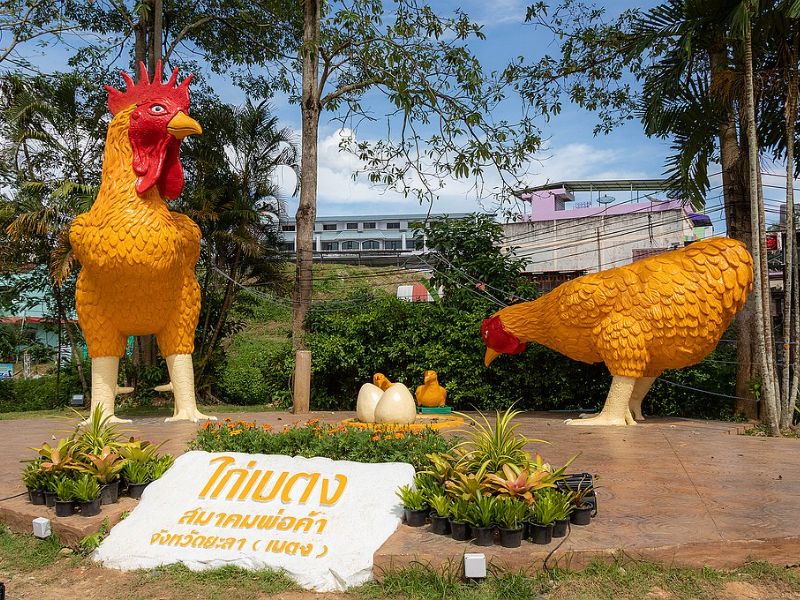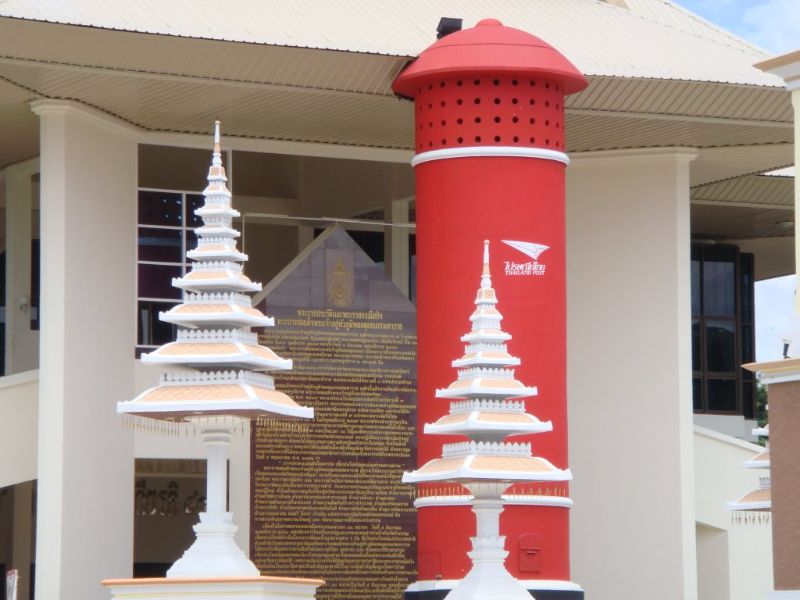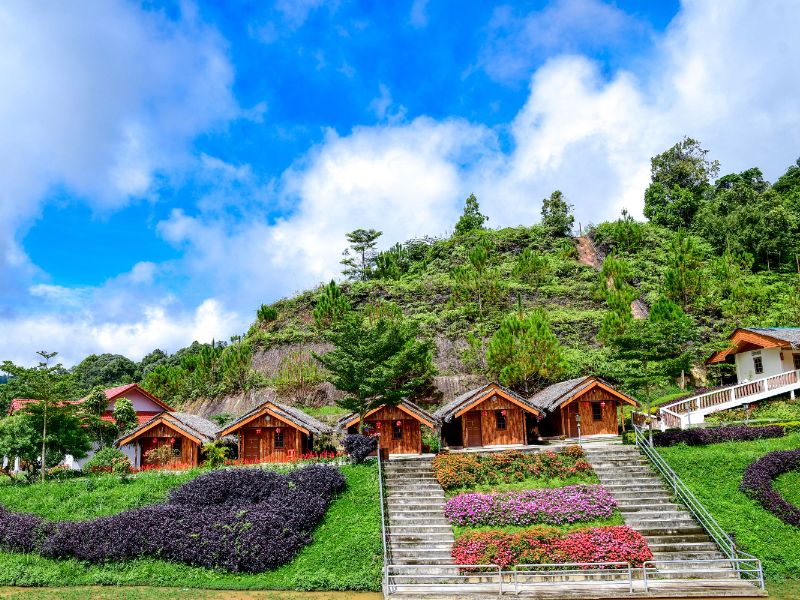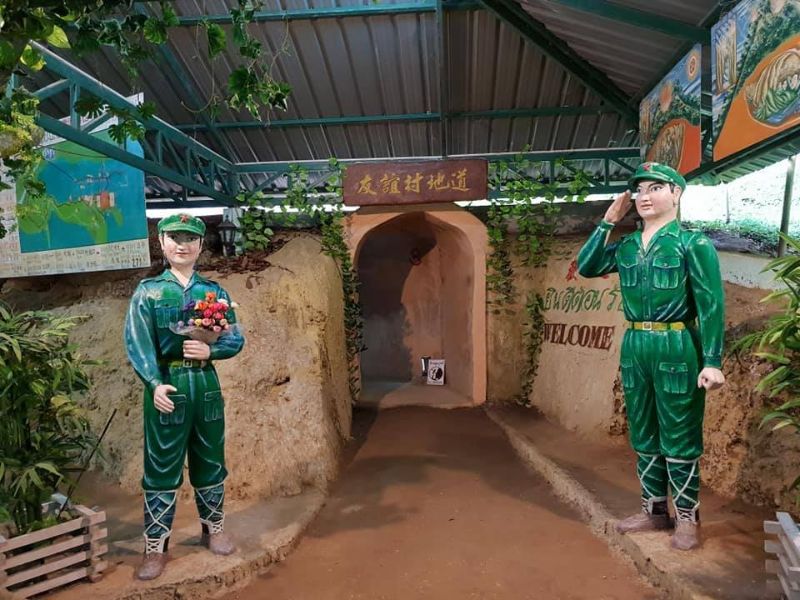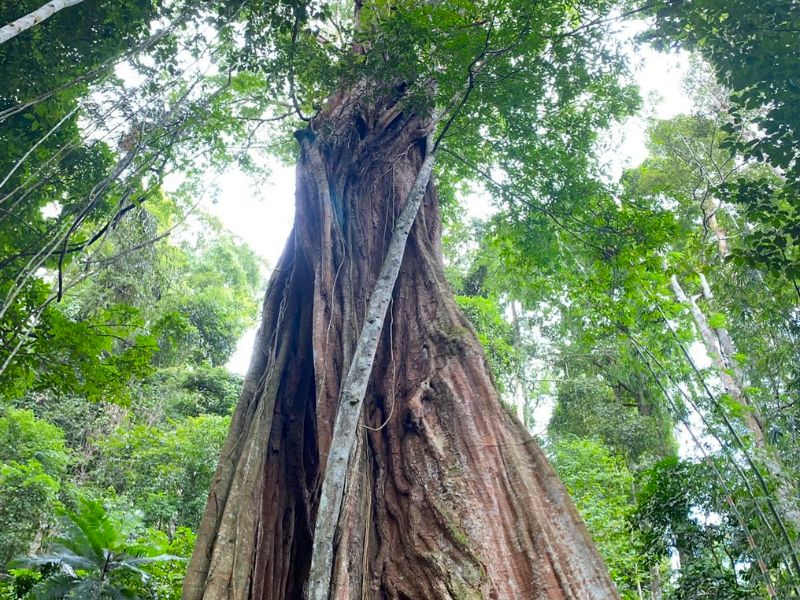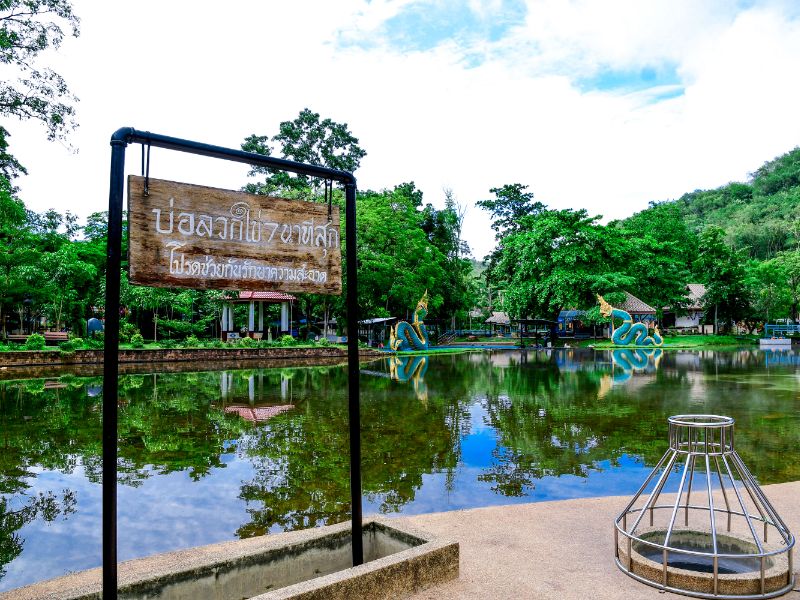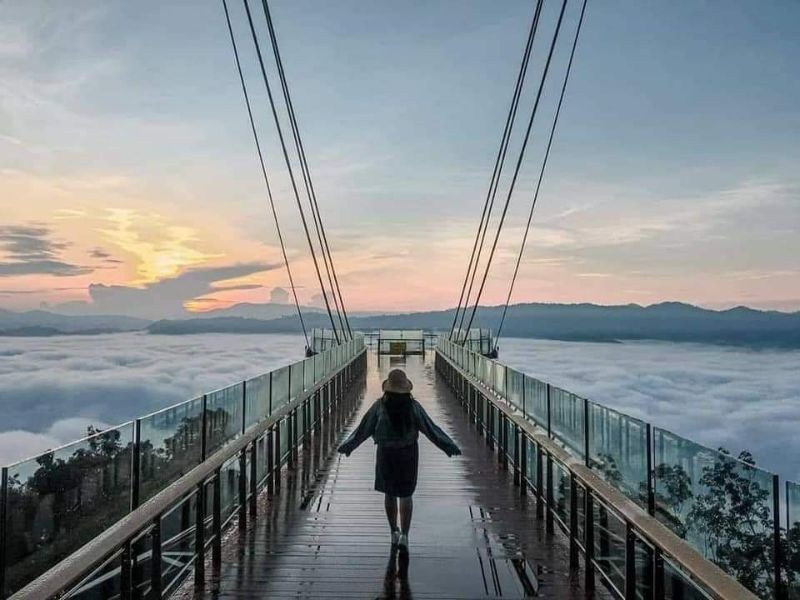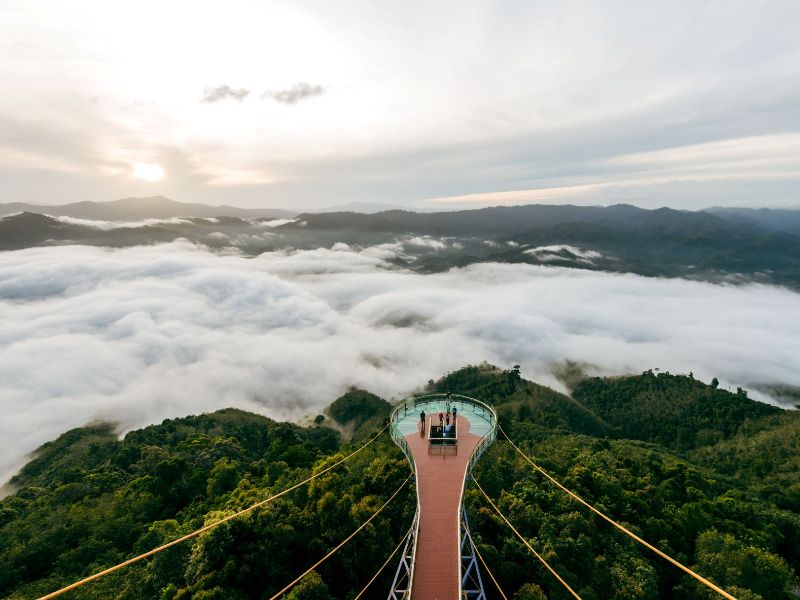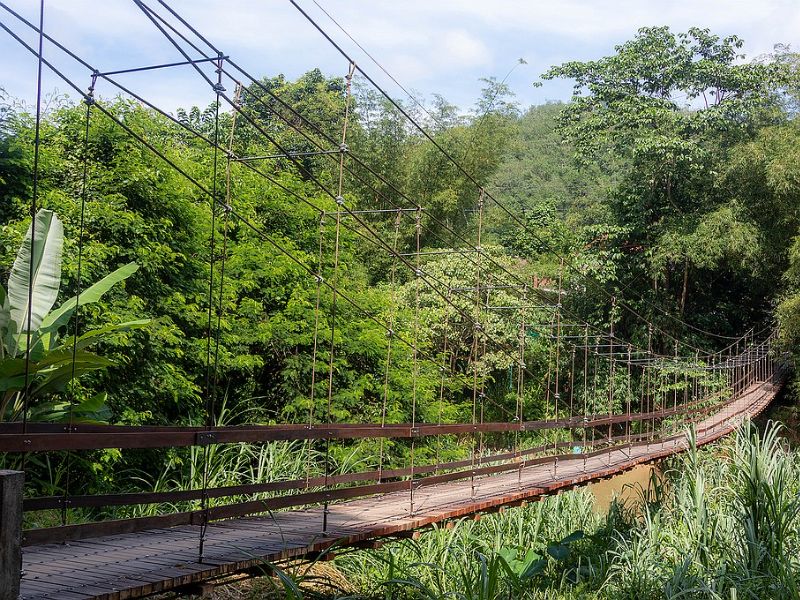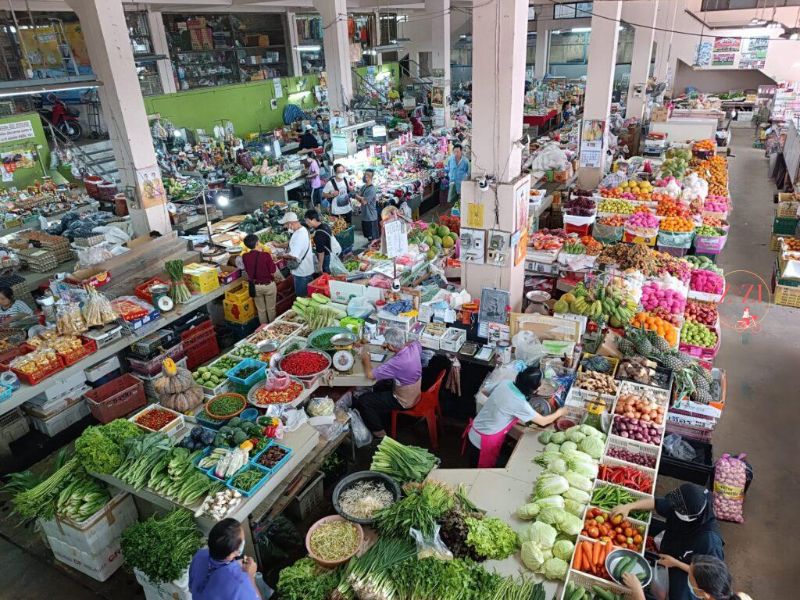 Sea of Cloud View in Betong

182 reviews
From
RM
550
- RM
1,150
---
Latest online promotion for 3d2n Best of Betong Thailand Tour, book with Holidaygogogo to save more! Chat with us today to find out more!
Tour Highlights
This tour takes you on a whirlwind adventure through some of the most captivating and unique spots in the region, showcasing the perfect blend of natural wonders and fascinating man-made marvels.
Behold the iconic Betong's World Largest Mailbox, an architectural marvel that stands tall as a symbol of communication and connection
Step into history's embrace as you venture through the mysterious Piyamit Tunnel, an underground wonder that will leave you awestruck.
Indulge in nature's warm embrace at the rejuvenating Betong Hot Spring. Relax your mind, body, and soul as you soak in the therapeutic goodness of this hidden gem.
Suspended high above the stunning landscape, this Skywalk Ayerweng with its thrilling walkway offers breathtaking panoramic views that will take your breath away.
Private tour arrangement, itinerary can be customized according to guest's preference. This tour can be conducted with departure from Penang, Singapore, Kuala Lumpur, Ipoh & any other cities within Malaysia.
---
Itinerary:
---
Day 1
Welcome to an unforgettable adventure in Betong, Thailand! We'll start our day early at 7:00 AM with a comfortable pick-up from your Penang hotel. Our journey begins as we cross the border to Betong, where a world of wonders awaits. Upon arrival, we'll kick off our exploration with a photo stop at the iconic OK Betong landmark, capturing the essence of this captivating town.
Next, immerse yourself in Betong's history at the Betong City Museum, where intriguing exhibits will transport you through time. A scenic walk up to Betong Municipality Park , treating you to awe-inspiring city views from the Sud Siam Park.
Be enchanted as we pass through the Betong Mongkolit Tunnel, leading us to the Betong Chicken Statue, a must-see symbol of prosperity. As the sun sets, prepare for a gastronomic adventure at the Betong night market hawker street, where you can indulge in a wide array of delicious local dishes (at your expense).
Finally, we'll check-in at our comfortable hotel, ensuring you have a good night's rest for the excitement that awaits tomorrow.
Tour Summary:
0700AM Pick up from Penang, transfer to Betong Border
Arrive Betong
Photo stop at OK Betong
Visit to Betong City Museum
Walk up to Betong Municipality Park (Sud Siam Park) – city view
Walk-through Betong Mongkolit Tunnel to Betong Chicken Statue
Betong night market hawker street(own expense)
Check in hotel
Meal Plan: Own arrangement
---
Day 2
Rise and shine! After a delightful breakfast at the hotel, we'll embark on another day of thrilling exploration. At 8:00 AM, we'll head to the world-famous Betong's World Largest Mailbox, the biggest of its kind, where you'll have the perfect opportunity for an envy-worthy photo session.
Our next stop takes us to the Winter Flower Garden, a mesmerizing sight that will leave you in awe. Camera at the ready, as you'll want to capture this picturesque experience. The adventure continues with a visit to the legendary Piyamit Tunnel, and the majestic Piyamit Millennium Tree, where the secrets of the past await your discovery.
In need of relaxation? We've got you covered with a visit to the therapeutic Betong Hot Spring, where you can soak in nature's bliss. Returning to Betong City, we'll visit Wat Phuttha Thiwat, a serene temple exuding tranquility.
Time to shop till you drop! Enjoy a shopping spree at BM Super Center, a wholesaler's paradise for groceries and snacks, providing you with the perfect opportunity to pick up some local delights.  As the day comes to a close, we'll head back to the hotel, allowing you to unwind and get ready for a magical day ahead.
Tour Summary:
Breakfast at hotel
0800AM Depart from Hotel
Visit to Betong World Largest Mailbox – Photo session
Visit to Winter Flower Garden, sightseeing & photo session
Visit to Piyamit Tunnel / Piyamit Millennium Tree
Visit to Betong Hot Spring
Return to Betong City
Visit to Wat Phuttha Thiwat
Shopping at BM Super Center (Wholesaler – Grocery & Junk Foods), free & easy
Return to Hotel
Meal Plan: Breakfast
---
Day 3
Embark on a mesmerizing journey that begins with the soft glow of 4:30 AM as you depart from your hotel, your anticipation matched only by the dawn's first light. Arriving at the iconic Skywalk Ayerweng, you'll find yourself on the cusp of daybreak, a serene moment to witness the world awakening from its slumber. Behold the ethereal Sea-of-Clouds, a mystical Sea-of-Mist, unfurling before your eyes from two carefully chosen vantage points, casting an otherworldly spell upon the landscape.
From there, your adventure leads you to the Tae Pu Su Bridge, a masterpiece of architecture that gracefully spans not only physical distances but also bridges the gap between the past and the present. Returning to the vibrant heart of Betong City, a sumptuous breakfast awaits at your hotel, replenishing your spirit and energies.
As the day matures, take a moment to prepare for your departure, a bittersweet yet inevitable end to this chapter of your journey. Before saying your farewells, the bustling Betong Wet Market invites you to immerse yourself in the lively tapestry of local life, offering a chance to savor delectable dumplings and fresh, succulent fruits.
With noon's arrival, it's time to bid adieu to Betong, but not before etching the memories deep into your heart. At 2pm, the road leads to Betong Border, where the thread of this experience ties its final knot, ready to unravel as you journey back to Penang.
Tour Summary:
0430AM Depart from Hotel to Ayerweng (i-yer-weng)
Arrive Skywalk Ayerweng (just before sunrise)
Enjoy Sea-of-Clouds (Sea-of-Mist) – there are 2 viewing stations
Visit to Tae Pu Su Bridge
Return to Betong City
Back to hotel breakfast
Clean & pack out. Check out
Visit to Betong Wet Market (dumpling, fruits, etc)
Transfer to Betong Border and back to Penang
Meal Plan: Breakfast
---
Includes:
2 Night Stay in Grand Mandarin Betong
Breakfast stated as per itinerary
English speaking guide
Tour and transportation stated as per itinerary
Entrance fee for Piramit Tunnel, Winter Flower Garden & Skywalk Ayerweng
Travel Insurance in Thailand
Border crossing fee
---
Excludes:
Meals other than stated
Entrance fee as per itinerary
Travel insurance

(strongly recommended to purchase)
Other expenses not stated in the "Includes" section
---
Important notes:
Itinerary and package content is subject to last minute changes due to weather or operational issue.
Activity stated (if included) is provided on complimentary basis, no refund will be made for cancellation of activities due to weather or operational issue.
Other terms and conditions for booking.
All the photos shown are for reference purpose only, there may be different design/decoration/setup on actual unit.
Minimum 4 pax
Transport type: Van – group below 12 pax; Bus – Group below 30 pax
Group with Bus tour will need to change to Lorry as transport in the area of Piramit Tunnel and Winter Flower Garden
The Thailand Van will be used when visiting to Skywalk Ayerweng, 10pax per Van
---
Price:
Pricing is based on per person basis
Please click the whatsapp button or email us to enquire for best price
---
6 Benefits for booking with Holidaygogogo Tours Sdn Bhd, no more worry of SCAMMER!
1 to 1 personalized customer service & tour suggestion. We want to make sure you get the fastest response and latest information, even during weekends or public holidays. 

Licensed travel agency under

Ministry of Tourism MOTAC

&

 

Malaysian Association of Tour and Travel Agents MATTA

. Click above link and enter our company name Holidaygogogo Tours to check our license and membership. We are not scammers. 

More than 10 years experience in the tourism industry. We are serious in doing business. 

5 star customer rating in

Google

&

Facebook

. We let our customers judge us publicly, only agencies who provide the best service dare to do so.

Regular on site inspection to ensure product quality is met according to customer requirements. 

Reservation is done with complete paperwork and supporting documentation. We don't collect payment without any documentation, we will ensure all the reservations are done before collecting payment.
Customer Reviews for Holidaygogogo: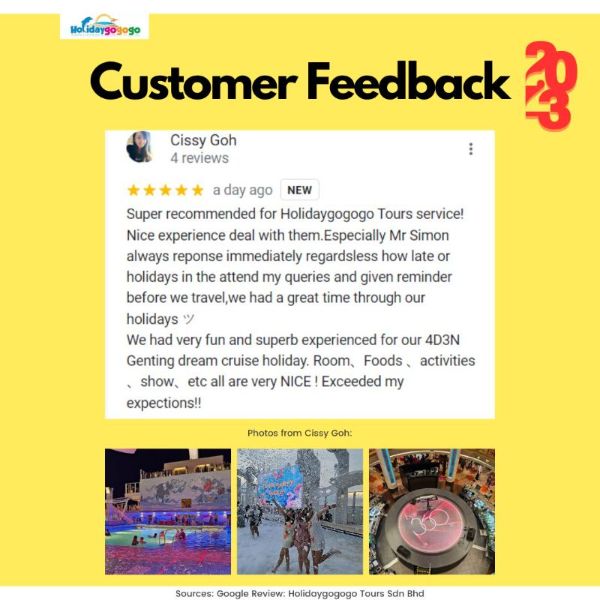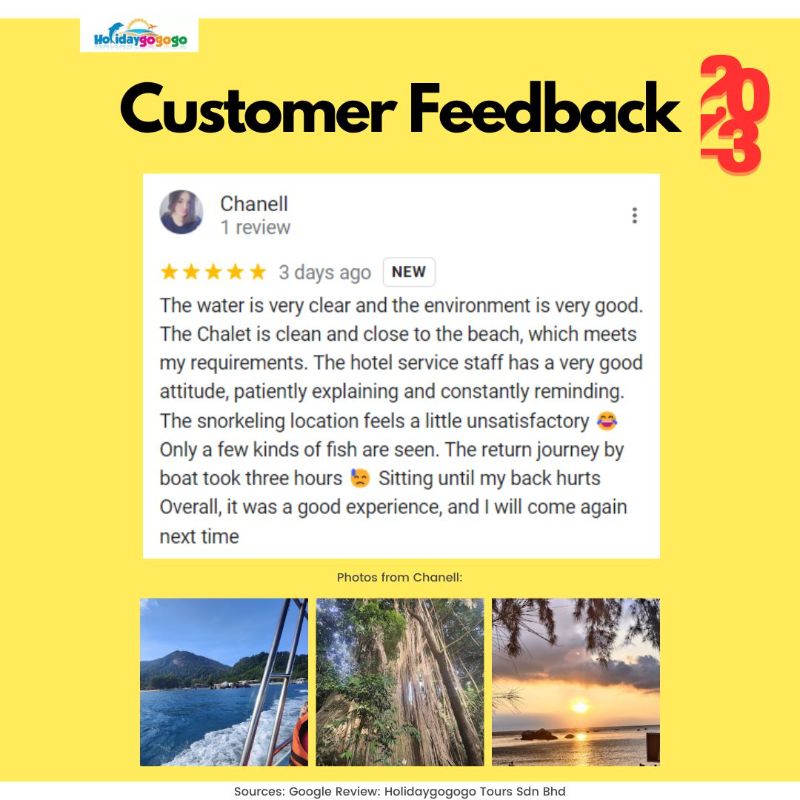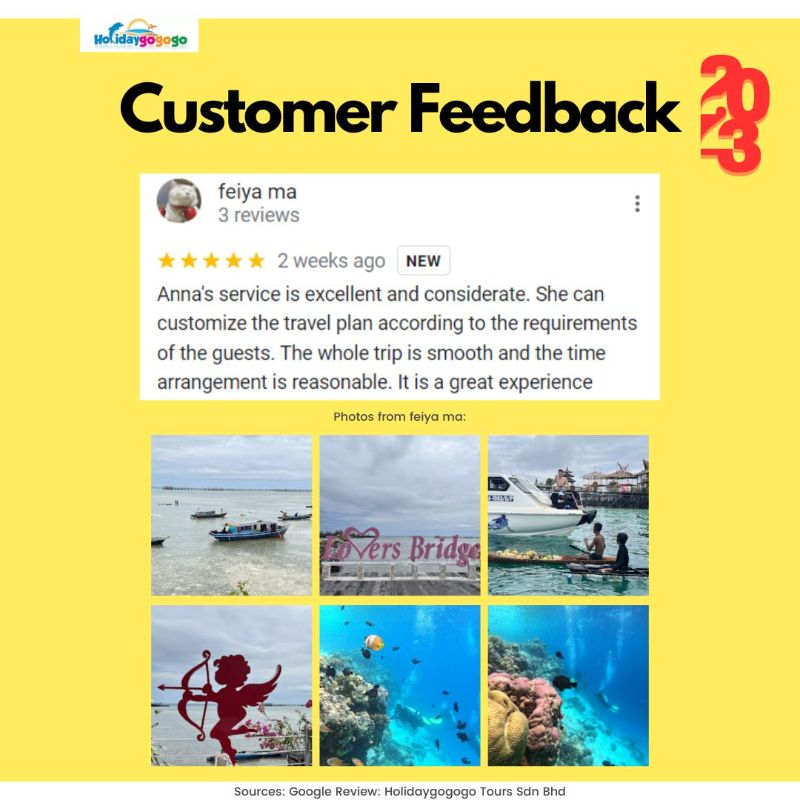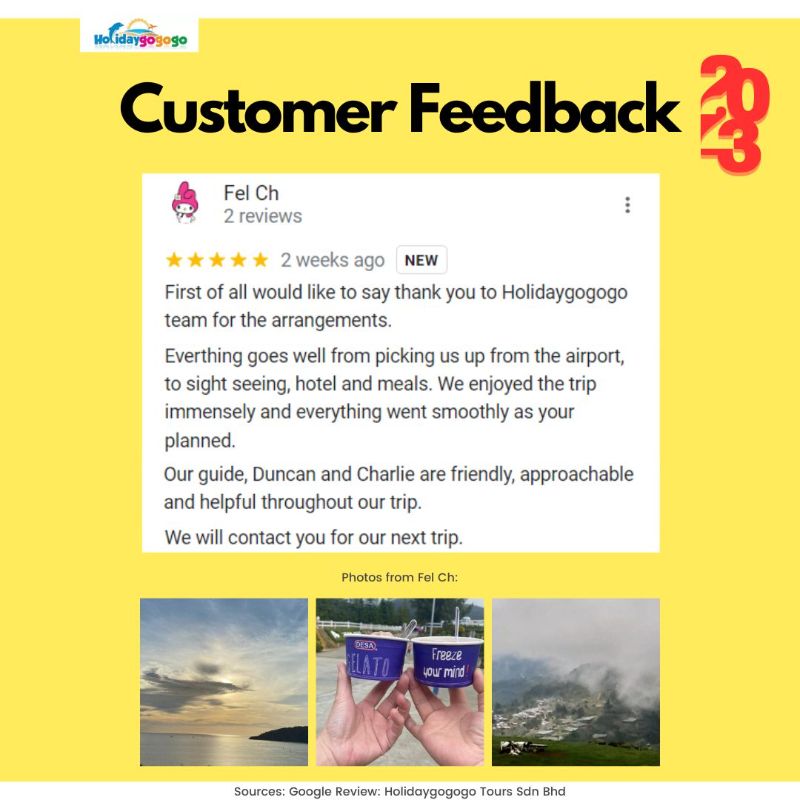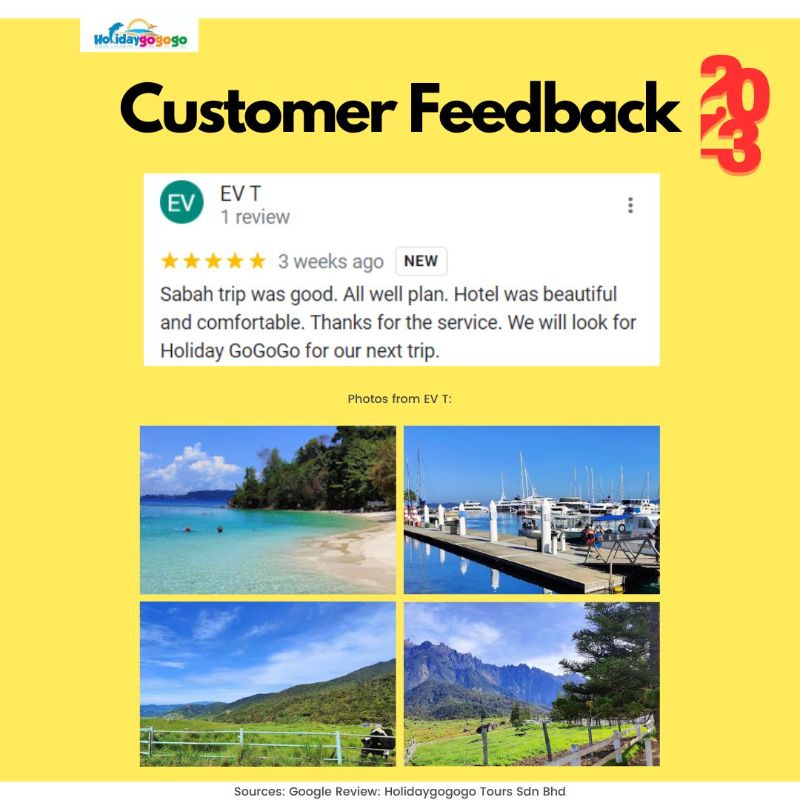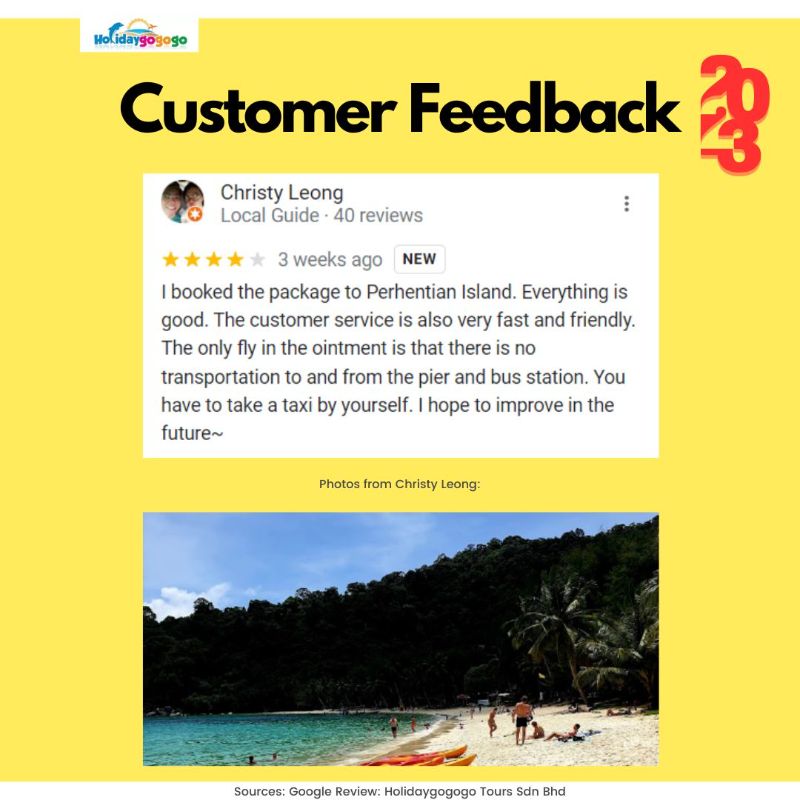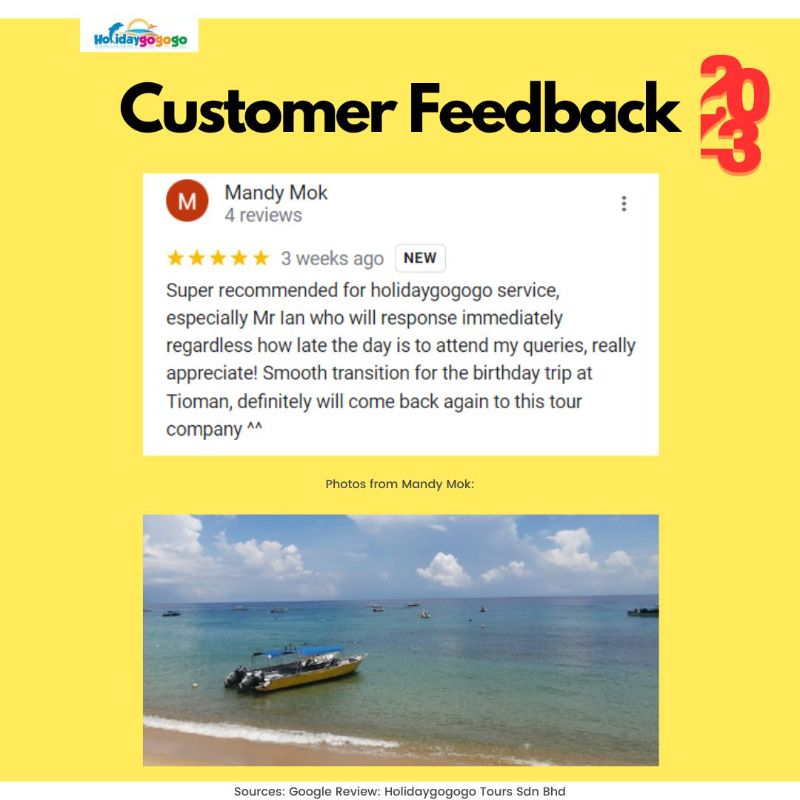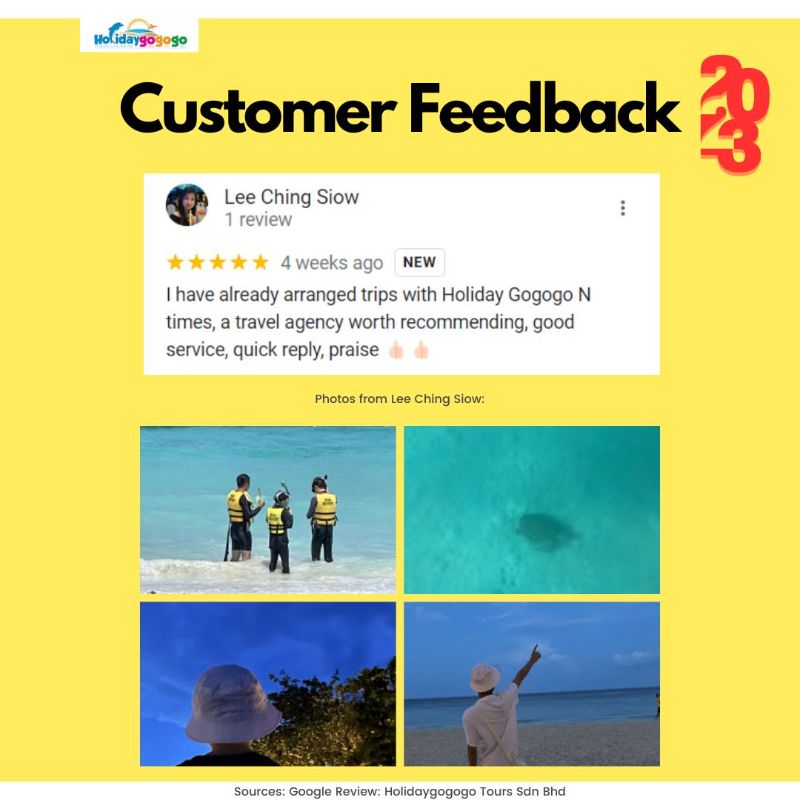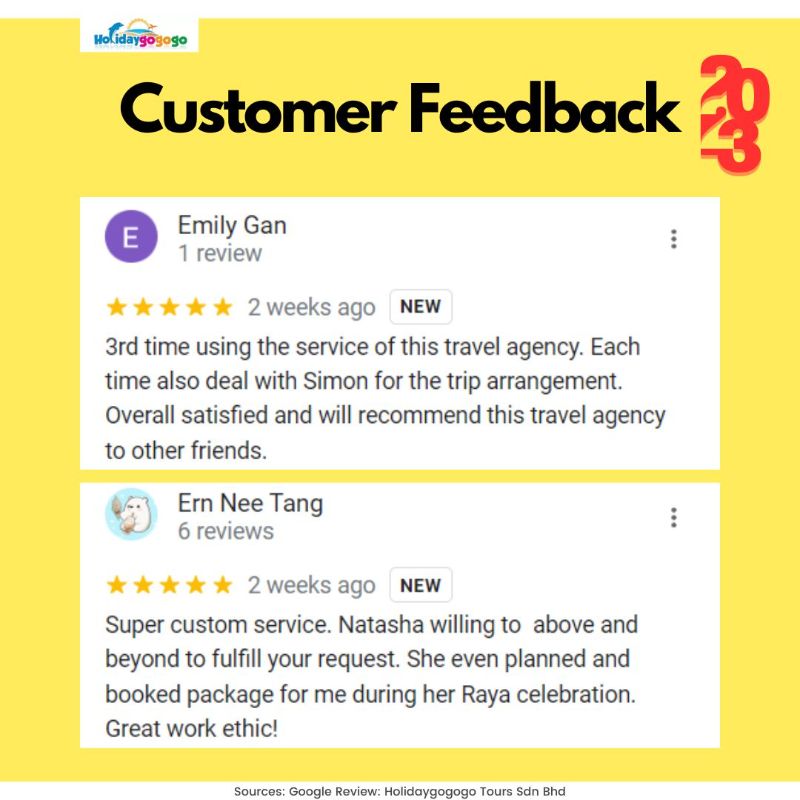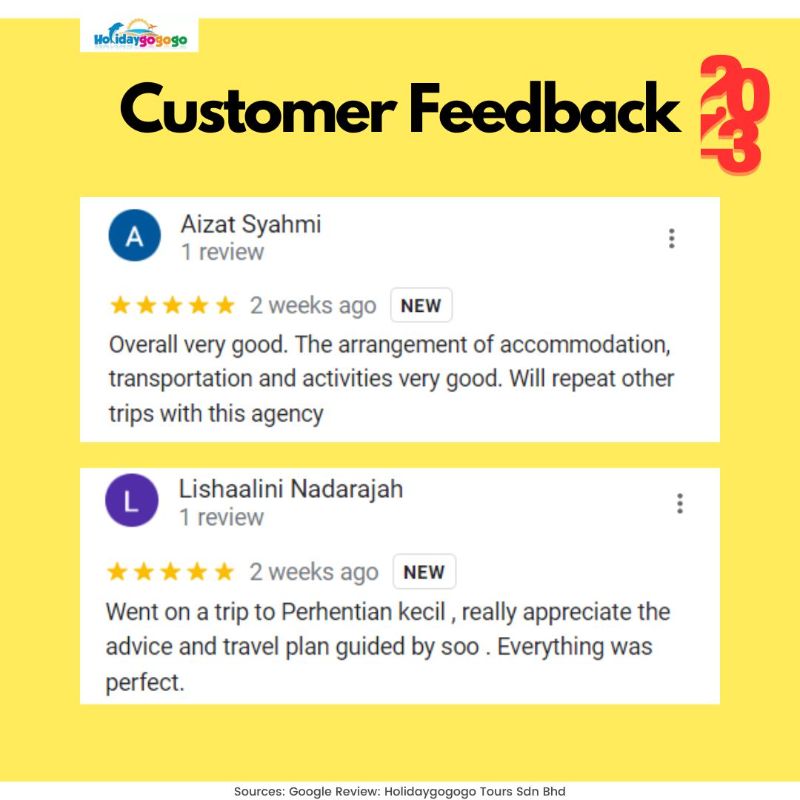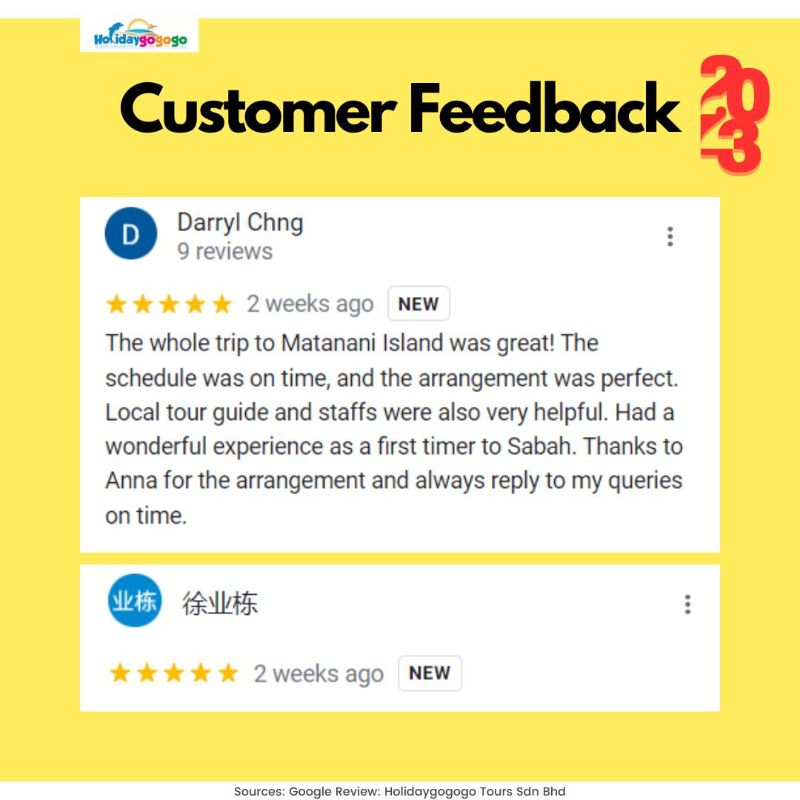 holidaygogogo travel agency review
holidaygogogo travel agency review
holidaygogogo travel agency review
holidaygogogo travel agency review
holidaygogogo travel agency review
holidaygogogo travel agency review
holidaygogogo travel agency review
holidaygogogo travel agency review
holidaygogogo travel agency review
holidaygogogo travel agency review
holidaygogogo travel agency review

---
Whatsapp:
Please WhatsApp us by clicking the WhatsApp Button.
---
Enquiry Email:
---
Related Tours & Packages:
---
Rating & Review: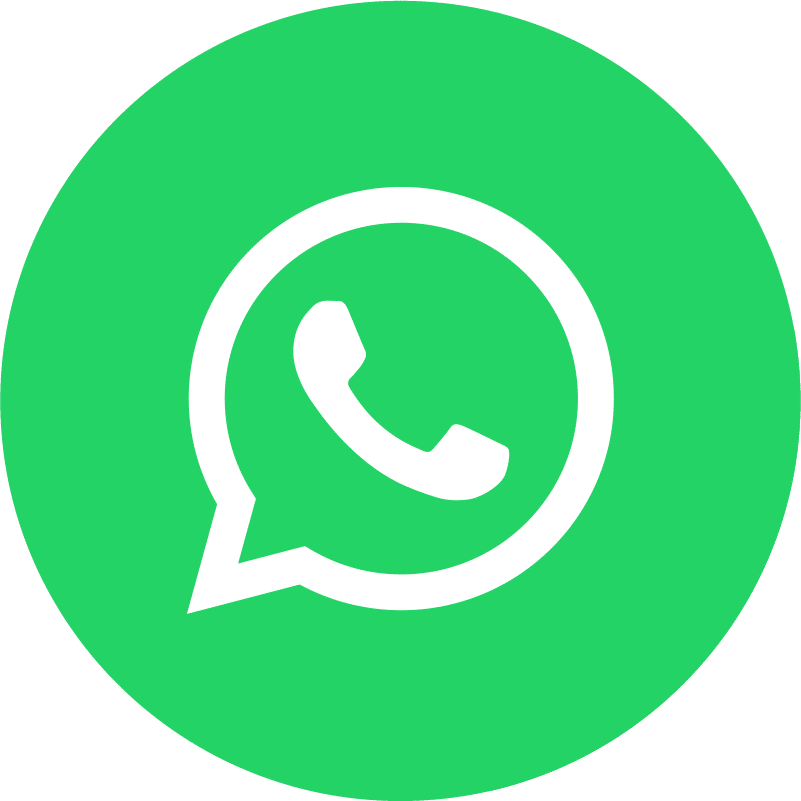 HolidayGoGoGo
Average rating:
0 reviews