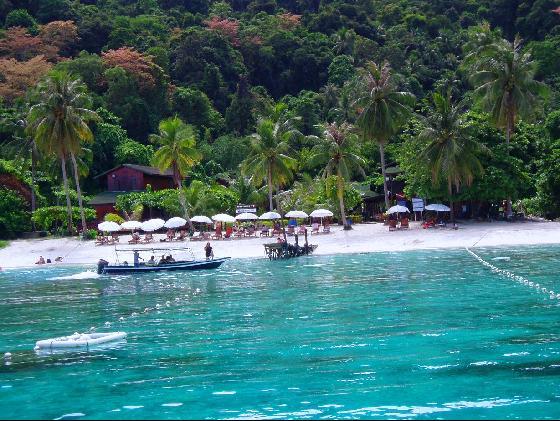 Destination: Lang Tengah Island (Pulau Lang Tengah)
Travel duration: 4 days 3 nights
Departing from: Bukit Mertajam, Penang
There were 9 of us being split into 2 cars as the fare for the tour bus is really expensive!
The tour expenses is about RM600 per head inclusive of accommodation, transportation and the snorkeling equipment:
4D3N at Lang Island Resort (4 person per room): RM530
Transportation (fuel): RM130
Parking fees: RM40 per car
Snorkeling equipments (Mask & Life jacket): RM30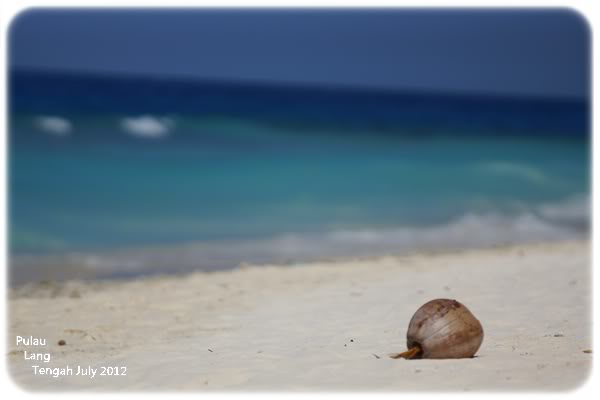 Day 1
12.30am: We were worried that we'll get lost because this is our first time driving to the destination. Thus, both cars did use the GPS. During our journey, we almost hit the wild boar which ran across the road! You shall not drink too much water before you depart. This is because there isn't any toilet available during midnight along the highway till a very long distance drive to reach a shop that opens during midnight.
5.45am: We reached Merang Jetty and parked our car at the parking area all of us took a nap to recharge ourself.
7am: Some of our friends went to walk around and someone asked them where were we going. Then, we realized that we went to the wrong jetty! Lucky the right one is just around the corner. So, we quickly went there and have our breakfast!
10.05am: Bought the boat ticket at RM5 and we are heading to Lang Tengah!
11.05am: Finally we have reach Lang Tengah. The sea water is so clear viewing from the boat! Our mood is even better when we saw people snorkeling. Let's have a look at the photos we took at the surrounding of our accommodation, Lang Island Resort:
After putting down our luggage, it's time for lunch! Then, I quickly equip myself for snorkeling. However, you would need to walk slowly and carefully if you are not wearing shoes to walk into the sea. This is because there are too many dead coral reefs. It's different from Redang as you could experience the fun of surfing with its strong ocean wave and less dead coral reefs. If you are staying in D'coconut Resort, it will be different. The ocean wave will be stronger and the sea water isn't that clear.
Time to get into the sea!
The waves were so strong and all of us felt so dizzy. Thus, we went back to the boat and look for another snorkeling spot. During that time, we saw an eagle!
4pm: We ended our snorkeling activities and went back for tea time. We were only managed to get some cakes and coffee after our shower. We then went back for rest.
7pm: We went for a walk after dinner and of course not forgetting about photo taking session!
– end of day 1-