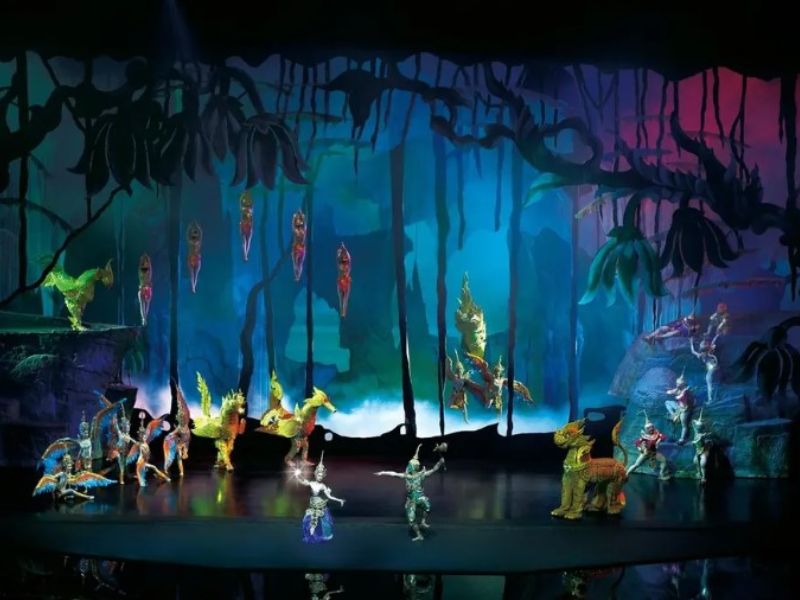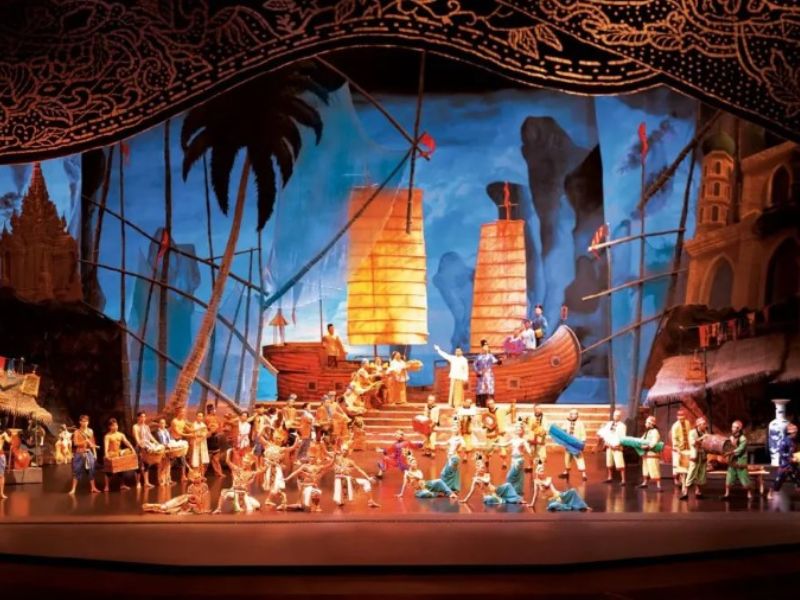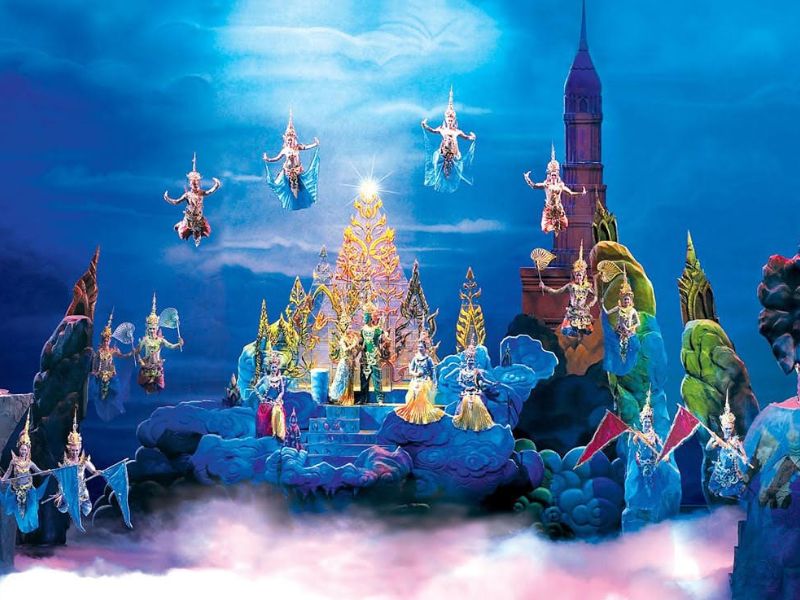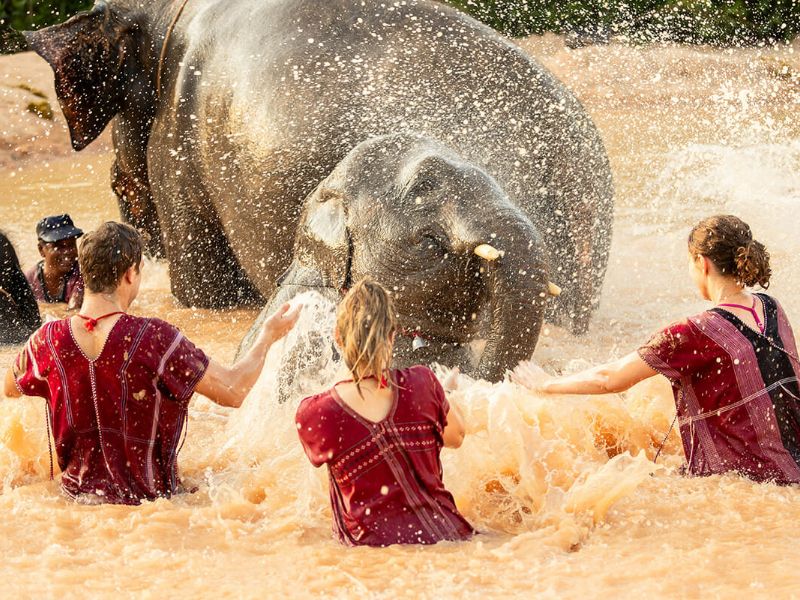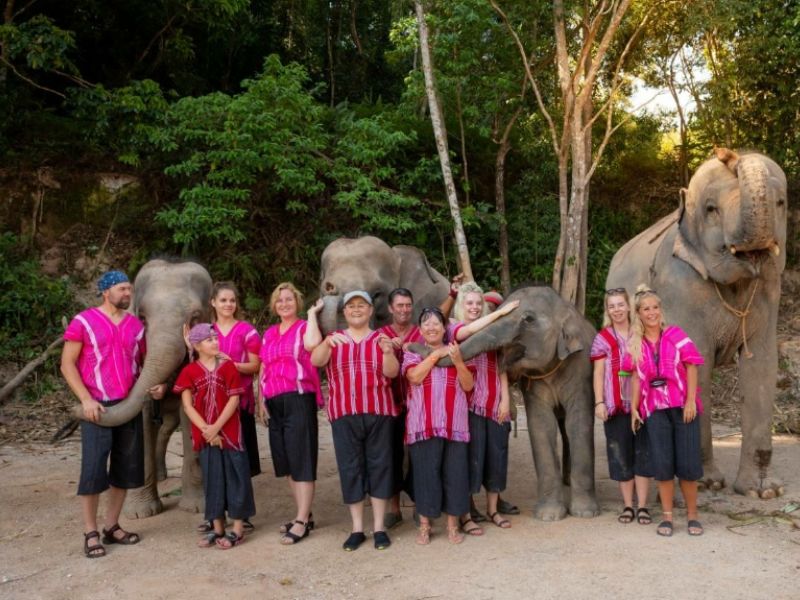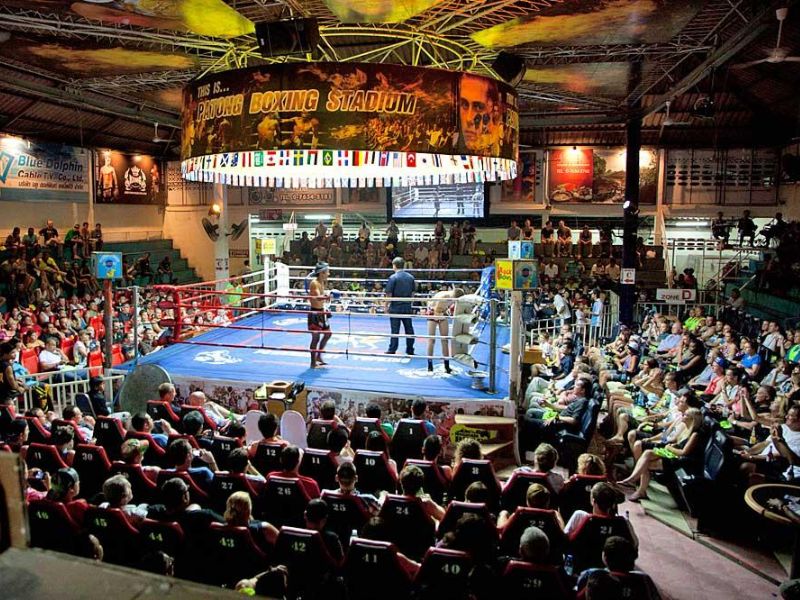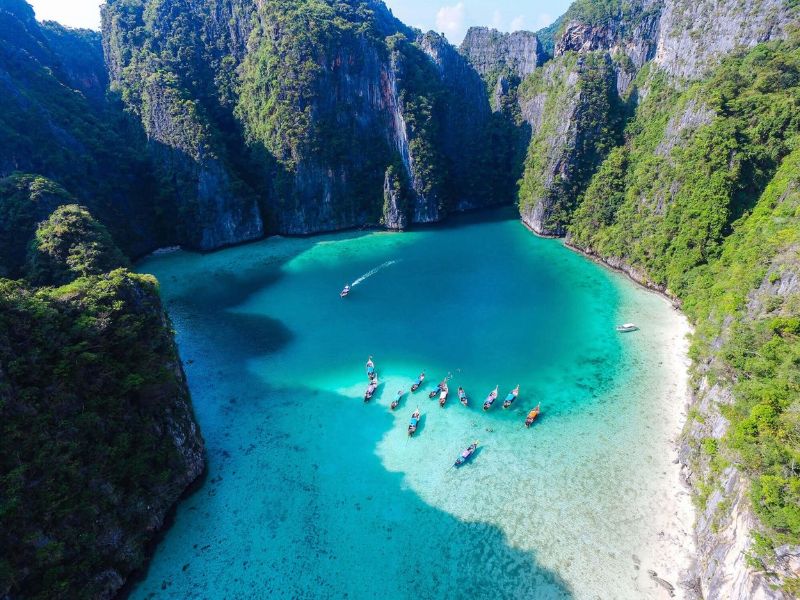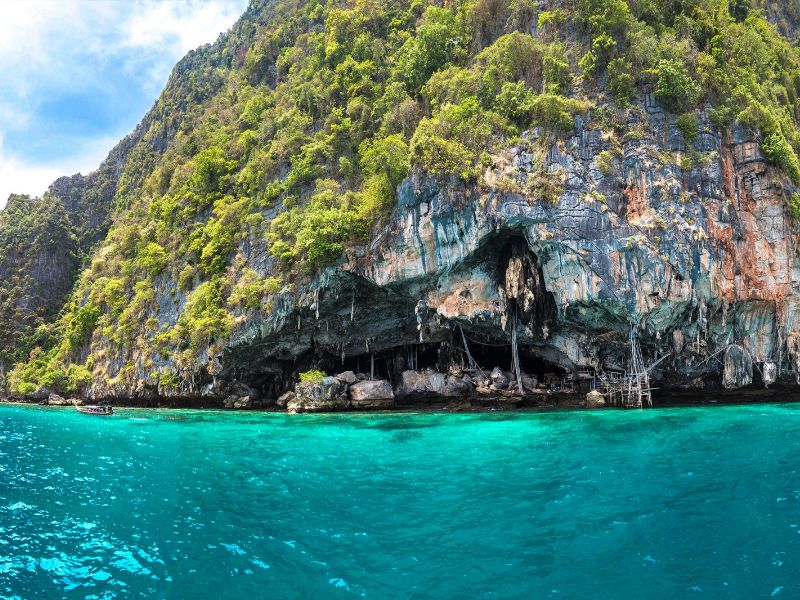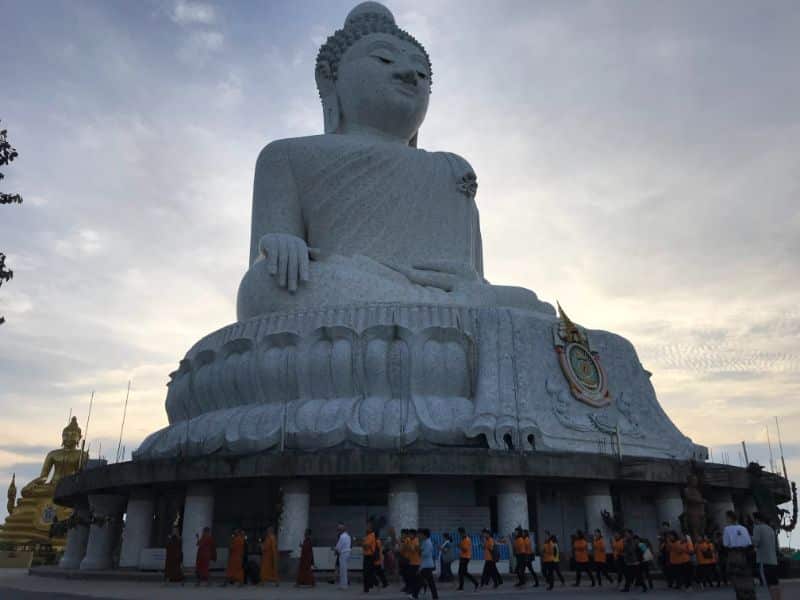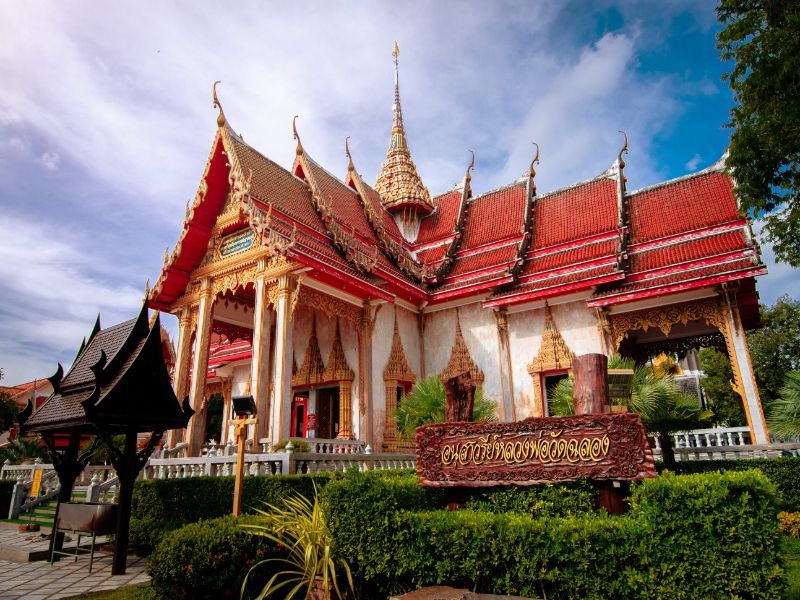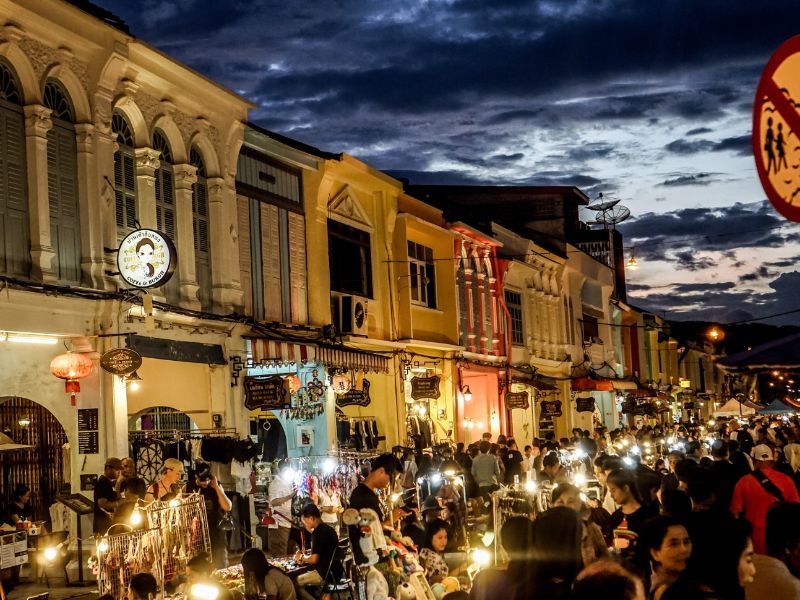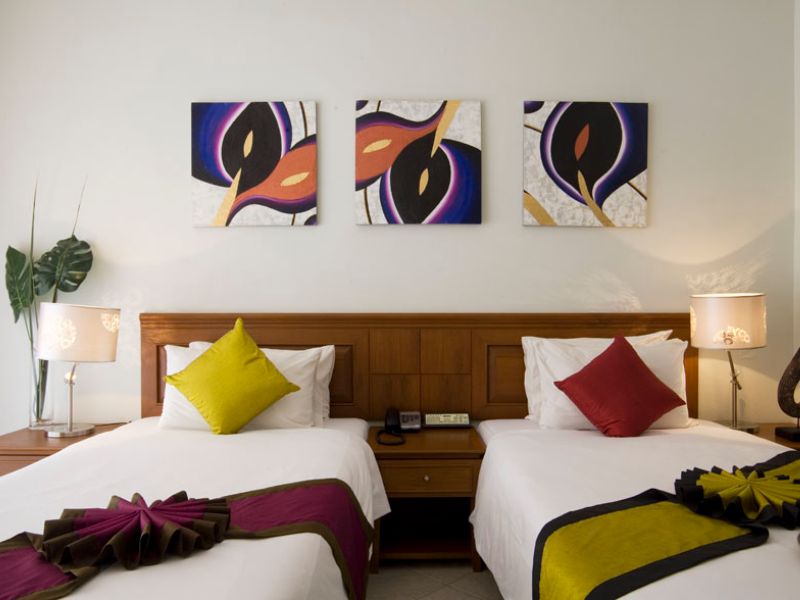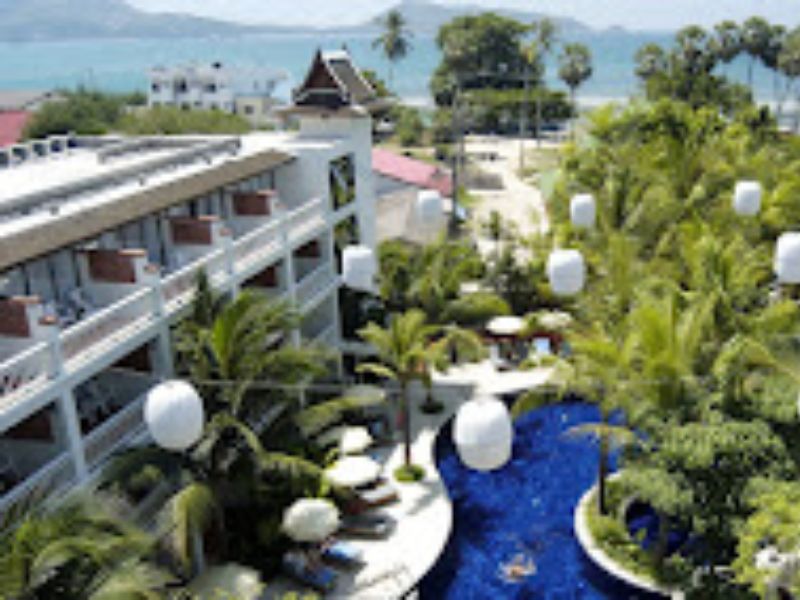 Elephant Family group photo
Big Buddha Viewpoint Phuket
SunsetBeachResortTwinroom
Sunset Beach Resort Phuket

305 reviews
From
RM
1,790
- RM
3,635
---
Latest online promotion for 4d3n Phuket Family Getaway Tour Package, book with Holidaygogogo to save more! Chat with us today to find out more!
Tour Highlights
Witness the captivating Siam Niramit cultural show while enjoying a delectable dinner. 

Feed, interact, and even bathe with elephants at the Elephant Family Sanctuary. 

Soak up the sun and take stunning photos at Maya Bay, Loh Sama Bay, and Pileh Cove. 

Discover Buddhist culture at the iconic Big Buddha and Wat Chalong temple. 
---
Itinerary:
---
Day 1
Welcome to Phuket, a tropical paradise that promises a fun-filled family vacation! Indulge in the stunning beaches, thrilling water sports, and local delicacies.
Key attractions highlight: Siam Niramit Cultural Show, Phuket
Siam Niramit Phuket
Sit back and witness one of the most magnificent shows in the world. Be transported back in time and experience the grandeur of Thai culture and history, brought to life with jaw-dropping special effects and surprises that will leave you in awe. 
Tour Summary:
12:00pm – Transfer from Phuket International airport to hotel
2:00pm – Check-in hotel
4:00pm – 6.00pm – Transfer from hotel to Siam Niramit Phuket
6:00pm – Dinner at Siam Niramit Phuket
9:00pm – Enjoy the show
– Transfer back to hotel
Meal Plan: Dinner
---
Day 2
Embark on an exhilarating adventure with Elephant Family Phuket after indulging in a scrumptious breakfast! Spend quality time with these majestic creatures and discover their captivating world, forging unforgettable connections with your family. 
Key attractions highlight: Elephant Family Phuket
Elephant Family Phuket
Get up close and personal with the elephants as you feed, walk, and even bathe alongside them, an uplifting experience that will leave you with a profound admiration for their majestic ways.
Thai Boxing at Patong
Buckle up for an electrifying night of action at Patong Boxing Stadium in Phuket, one of the top-ranked Muay Thai stadiums in the city! Brace yourself for an adrenaline-fueled spectacle as local talents and fighters from around the globe engage in an epic battle of strength and skill. 
After a day full of adventure and exploration, take a stroll through the vibrant streets, relishing in the lively atmosphere and sparkling lights that will create lifelong memories with your family.
Tour Summary:
7:00am – Breakfast at hotel
8:30am – Transfer from hotel to Elephants Family Phuket
10:00am – Arrive and short briefing regarding how to protect elephants & learn about elephants
10:15am – Feed and interact with elephants
10:40am – Enjoy mud spa, bath and massage elephant
11:20am – Change clothes
12:00pm – Finish activities and enjoy Thai snacks
12:30pm – Transfer back to hotel
~ Watch Thai Boxing at Patong (self-arrangement transfer/book in advance)
Dinner at Own
Meal Plan: Breakfast
---
Day 3
Good morning, have delicious breakfast and get ready for a thrilling day filled with adventure and excitement as you explore the enchanting Phi Phi Islands!
Key attractions highlight: Phi Phi Island
Phi Phi Island
Discover the wonders of Koh Phi Phi Le, a national park that showcases three magnificent lagoons – Maya Bay, Loh Sama Bay, and Pileh Cove.
Maya Bay
Renowned for its appearance in the iconic movie "The Beach" featuring Leonardo DiCaprio, this stunning location has become a sought-after tourist destination, drawing visitors from all corners of the globe to its pristine white sand beaches.
Loh Sama Bay
Discover a hidden paradise boasting sparkling turquoise waters and towering limestone cliffs. This stunning bay offers a breathtaking setting for visitors in search of a reprieve from the hustle and bustle of everyday life.
Pileh Cove
Nestled amidst towering cliffs lies a mesmerizing lagoon with crystal-clear azure waters – some of the clearest you'll ever encounter. Take a leisurely stroll around and revel in the breathtaking natural beauty of this wondrous destination, while capturing stunning photos to cherish for a lifetime.
Viking Cave
Explore an essential natural wonder on Koh Phi Phi Leh, the stunning cave nestled at the foot of a towering limestone cliff on the island's northeast side. Admire the remarkable cave paintings portraying an array of boats, including a Viking ship, adding to the cave's allure and mystique.
Tonsai Bay
Immerse yourself in an underwater paradise as you swim alongside vibrant schools of fish and stunning coral reefs.
Monkey Beach
The Andaman Sea's sparkling waters are ideal for swimming and snorkeling, teeming with vibrant marine creatures waiting to be discovered. Alternatively, you can unwind on the silky white sand and bask in the sun's warmth or take a leisurely stroll along the shoreline, exploring the nearby caves and rock formations.
Khai Nok Island
This tiny but unspoiled island is a treasure trove of exciting activities and mesmerizing attractions just waiting to be discovered. Whether you choose to swim, snorkel, or simply unwind on the beach, this place has got you covered.
As the day draws to a close, it's time to bid farewell to this incredible island and return to your hotel. We'll handle the transportation, leaving you free to plan the highlight of your evening: a mouthwatering culinary adventure.
Tour Summary:
6:30am – Breakfast at hotel
7:30am – Transfer from hotel to pier
9:00am – Depart from pier to Phi Phi Islands
10:15am – Arrive in Maya Bay, Loh Samah Bay and Pileh Cove for sightseeing and take photos, visiting Viking Cave
11:00am – Snorkelling at Tonsai Bay.
12:30pm – Enjoy Thai buffet lunch at Andaman Beach Resort
1:30pm – Depart from Phi Phi Don Island to Monkey Beach for swimming, snorkelling, or relaxing at the white sand beach
3:15pm – Arrive at Khai Nok Island, swimming, relaxing and snorkelling
4:30pm – Depart from Khai Island back to pier
6:00pm – Arrive at pier, transfer back to hotel
– Dinner at own
Meal Plan: Breakfast, Lunch
---
Day 4
Start your last day in Phuket off right with a scrumptious breakfast to energize you for the adventures ahead. With your family by your side, set out to explore an array of exciting attractions that await you on this island paradise.
Key attractions highlight: Phuket Old Town Sightseeing
Big Buddha
Experience the wonder of the Phuket Big Buddha, an awe-inspiring 45-meter tall statue made of white marble that will leave you breathless. 
Chalong Temple
Experience the enchanting Buddhist culture at the magnificent Wat Chalong temple. Learn about the fascinating customs and beliefs of the locals in a tranquil and calming environment. 
Honey Farm
Explore the intriguing world of bees and indulge in their delectable honey-based products. From rich chocolates to honey products, and even honey-infused skincare and beverages, there's something for every sweet tooth. 
Cashews Nut Factory
Here, you can sample a range of mouth-watering flavors and even purchase some to take home as a delicious souvenir. As a signature delicacy of Southern Thailand, trying cashews is a must, and this factory is the perfect place to taste their unique texture and flavor. 
Phuket Old Town
Embark on a fascinating trip through history with your family in Phuket Old Town. Stroll through beautiful alleys lined with colorful shops and taste delicious Thai cuisine at local eateries and trendy cafes. Discover ornate temples, bustling Chinese shrines, and fascinating museums while admiring old mansions.
Although it's bittersweet to say goodbye to the beautiful sights, sounds, and flavors of your vacation, cherish the memories you've made with your loved ones. Take a moment to reflect on the moments that brought joy to your heart and look forward to returning home with a renewed spirit. Keep the adventure alive by planning your next trip and continue to explore the world together.
Tour Summary:
06:30am – Breakfast at hotel
– After breakfast, check out from hotel
07:30am – Pick and visit to Big Buddha Viewpoint
08:30am – Visit Chalong Temple
09:30am – Visit Honey Farm
10:00am – Cashews Nut Factory
10:30am – Coffee Break & Souvenir Shop
11:30am – Sightseeing around Phuket Old Town
1:30pm – Transfer back to hotel
– Transfer to airport
Meal Plan: Breakfast
---
Includes:
3 nights accommodation
Meals as stated in itinerary meal plan
2 ways Phuket airport transfer
D1 – Siam Niramit Show (including shared transfer, admission ticket & dinner)
D2 – Elephant Family Phuket Sanctuary Half Day Tour (including shared transfer, guide service, food for elephant feeding & drinking water)
D3 – Phi Phi & Maya Area Snorkeling Day Tour (including shared transfer, snorkeling equipment, life jacket, guide service, national park fee, lunch, refreshments, snacks)
D4 – Phuket City Sightseeing Day Tour (including shared transfer & guide service)
---
Excludes:
Return flight ticket
Meals other than stated
Entrance fee other than stated
Return transfer to Patong Boxing Stadium (est. RM20-30 per way per person)
Tips & gratuities: est. RM5-RM30 (NO mandatory required)
Travel insurance

(strongly recommended to purchase)
Other expenses not stated in the "Includes" section
---
Important notes:
Itinerary and package content is subject to last minute changes due to weather or operational issue.
Activity stated (if included) is provided on complimentary basis, no refund will be made for cancellation of activities due to weather or operational issue.
Other terms and conditions for booking.
All the photos shown are for reference purpose only, there may be different design/decoration/setup on actual unit.
Minimum 2 Pax
Holidaygogogo reserve the right to change to other hotel at same class if the hotel stated below is not available during the travel date.
No changes of room arrangement is allowed after full payment made.
Latecomers for Siam Niramit show will be seated only during certain times decided on at the theater's discretion
Ready at hotel lobby 15mins before selected pick-up time for transportation provided to the activities
Infant age below 3 years old, seniors age 60 years old and above, pregnant women and persons with any medical or physical disabilities are not allowed to join Phi Phi & Maya Area Snorkeling Day Tour.
Surcharge 450THB for infant for transfer service, pay direct to staff before tour commence
Age below 3y.o. and above 70y.o. is recommended not to take part in Elephant activity
Not recommend for anyone with certain medical conditions such as high blood pressure and epilepsy etc. to join elephant activity
Free T-shirt while stock last (Thai Boxing)
Boxing Show time: Every Monday, Thursday, and Saturday from 21.00-23.00
What to bring: change of clothes and swimsuit, personal medication, sunscreen, caps/hats, camera and sunglass.
Check in 2PM
Check out 12PM
---
Price:
Pricing is based on per person basis
Step 1: Select a Date
Step 2: Select Number of Guests (Per Room)
Please enter quantity of adult/child PER ROOM
children
(4-11 Years Old)
No Package Found 😕
Please try other dates
No Room Found 😕
Please try other guest number options
The price stated is for budgetary purpose only, pls chat with our customer service for detailed quotation.
---
Whatsapp:
Please WhatsApp us by clicking the WhatsApp Button.
---
Enquiry Email:
---
6 Benefits for booking with Holidaygogogo Tours Sdn Bhd, no more worry of SCAMMER!
1 to 1 personalized customer service & tour suggestion. We want to make sure you get the fastest response and latest information, even during weekends or public holidays. 

Licensed travel agency under

Ministry of Tourism MOTAC

&

 

Malaysian Association of Tour and Travel Agents MATTA

. Click above link and enter our company name Holidaygogogo Tours to check our license and membership. We are not scammers. 

More than 10 years experience in the tourism industry. We are serious in doing business. 

5 star customer rating in

Google

&

Facebook

. We let our customers judge us publicly, only agencies who provide the best service dare to do so.

Regular on site inspection to ensure product quality is met according to customer requirements. 

Reservation is done with complete paperwork and supporting documentation. We don't collect payment without any documentation, we will ensure all the reservations are done before collecting payment.
Customer Reviews for Holidaygogogo: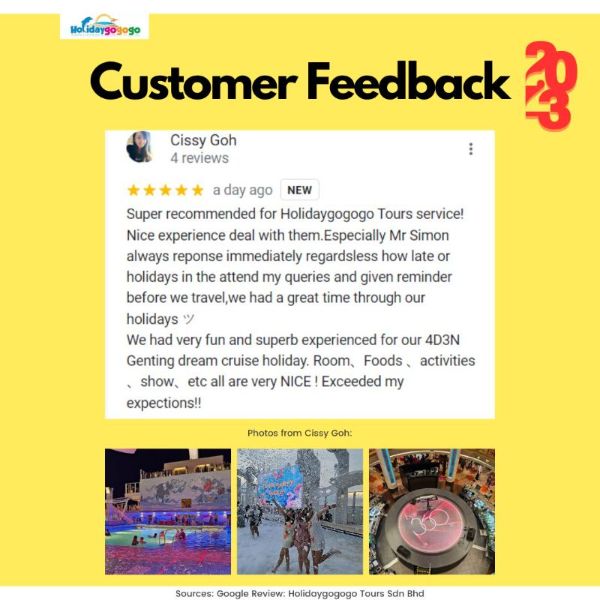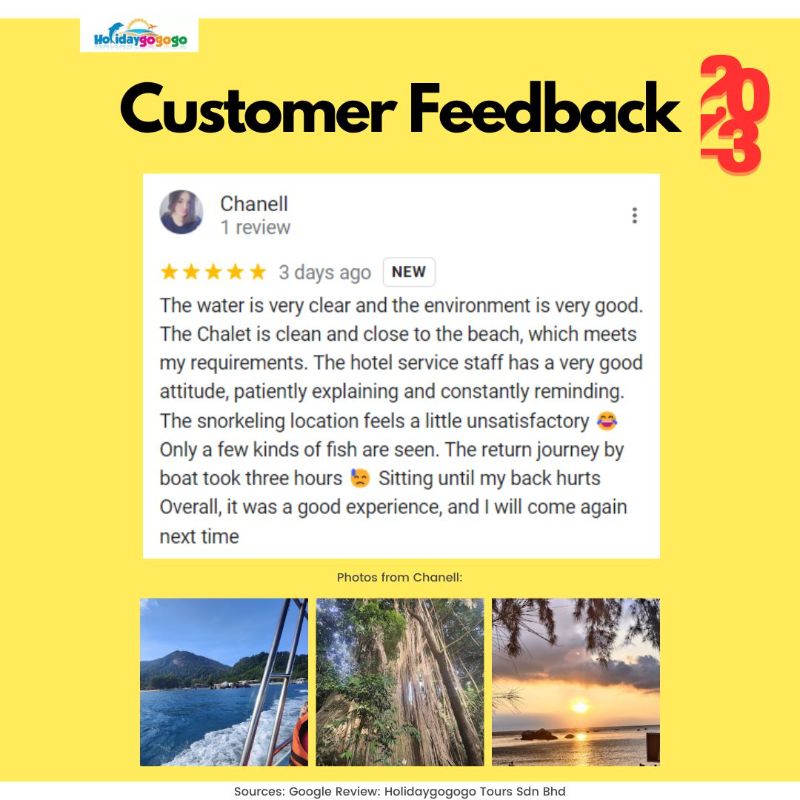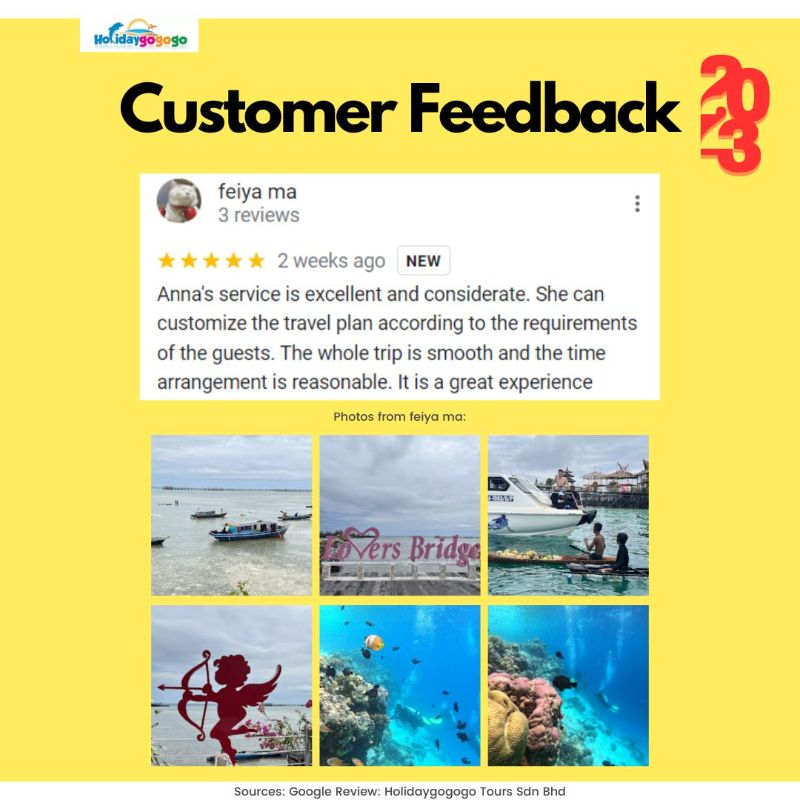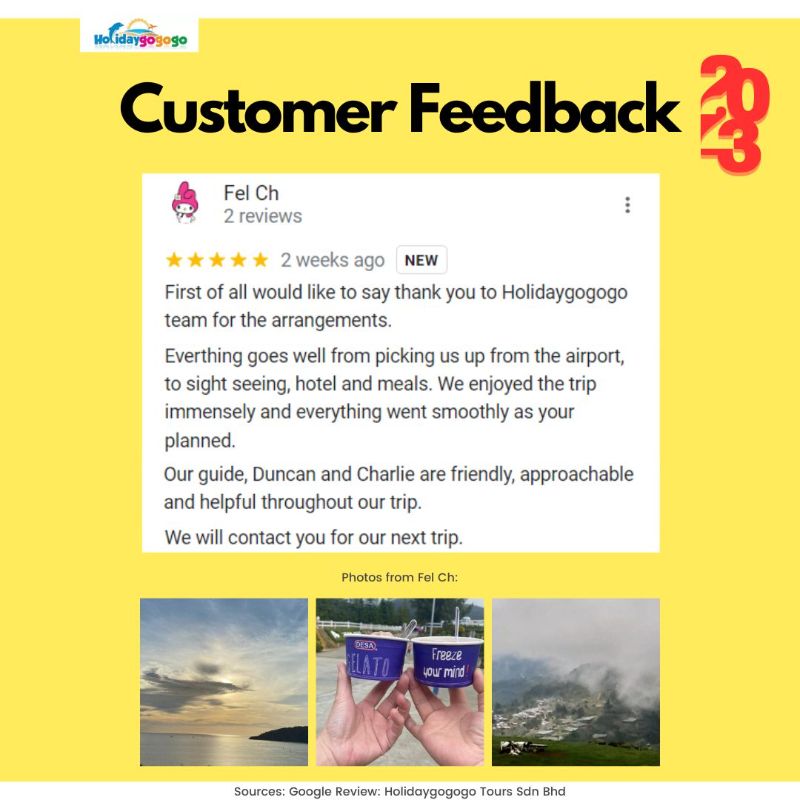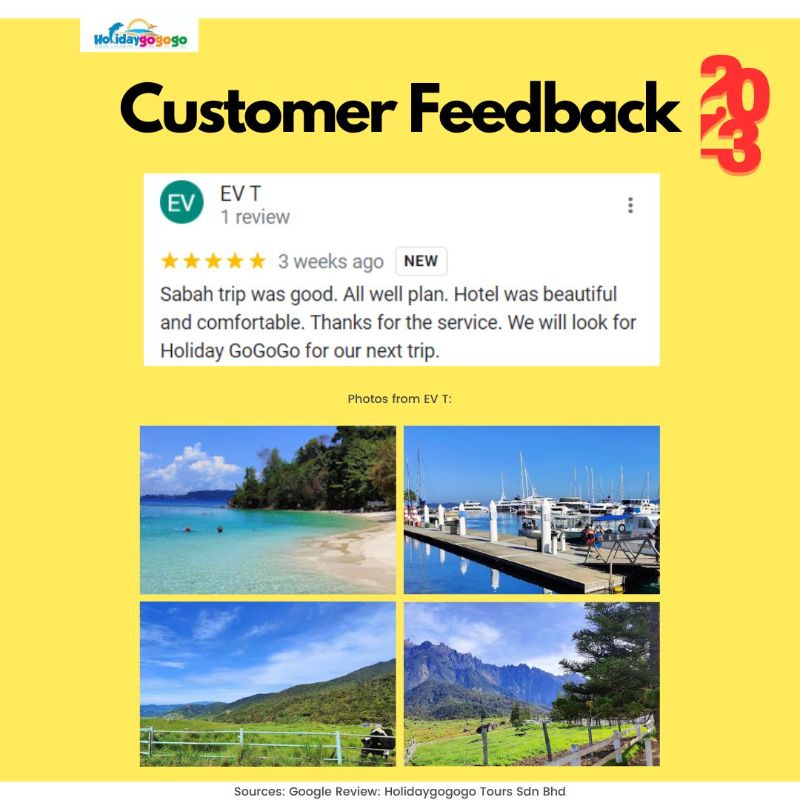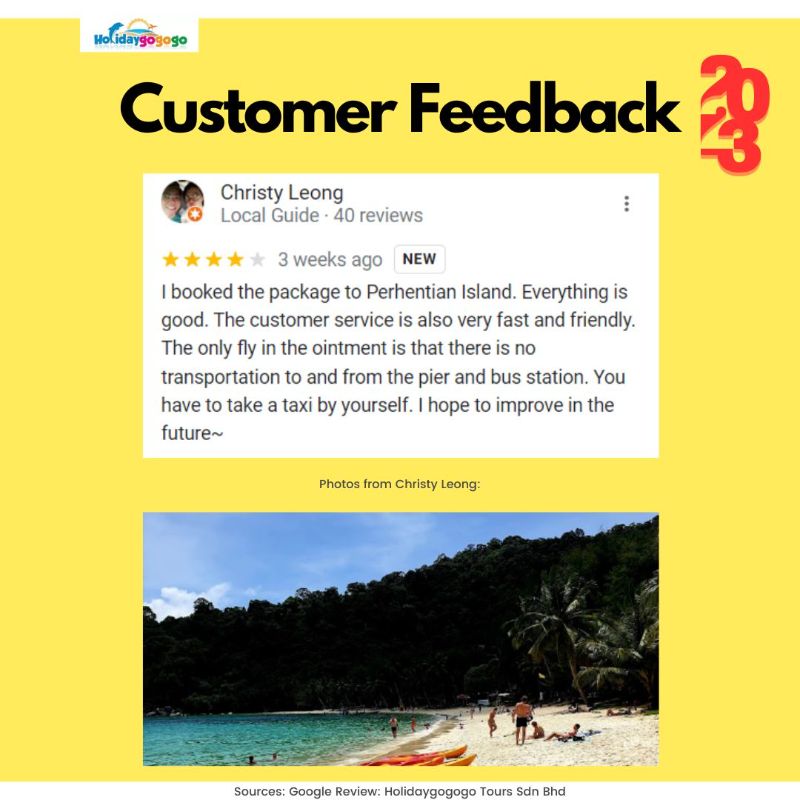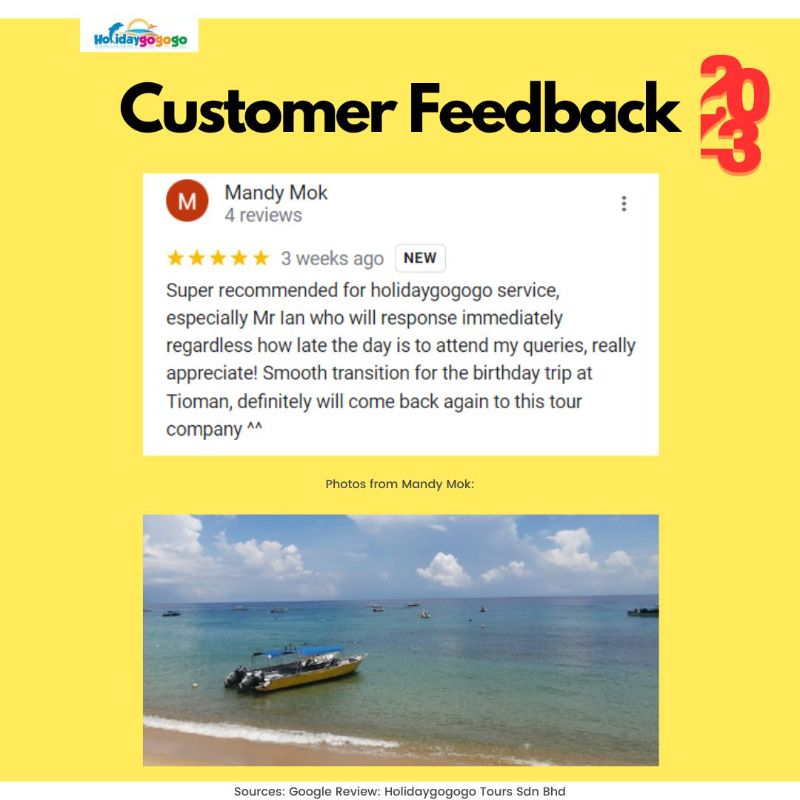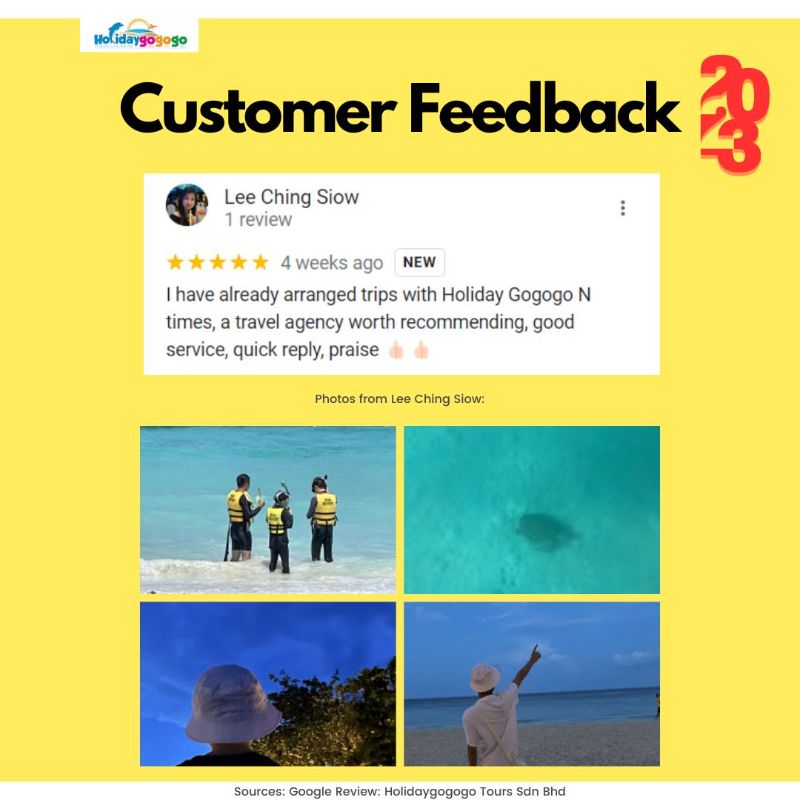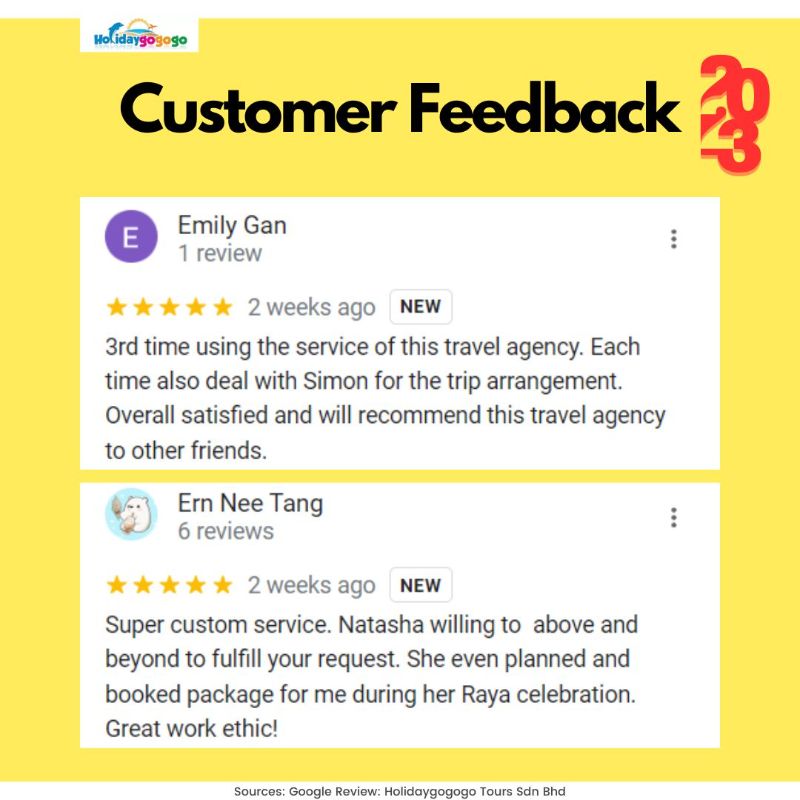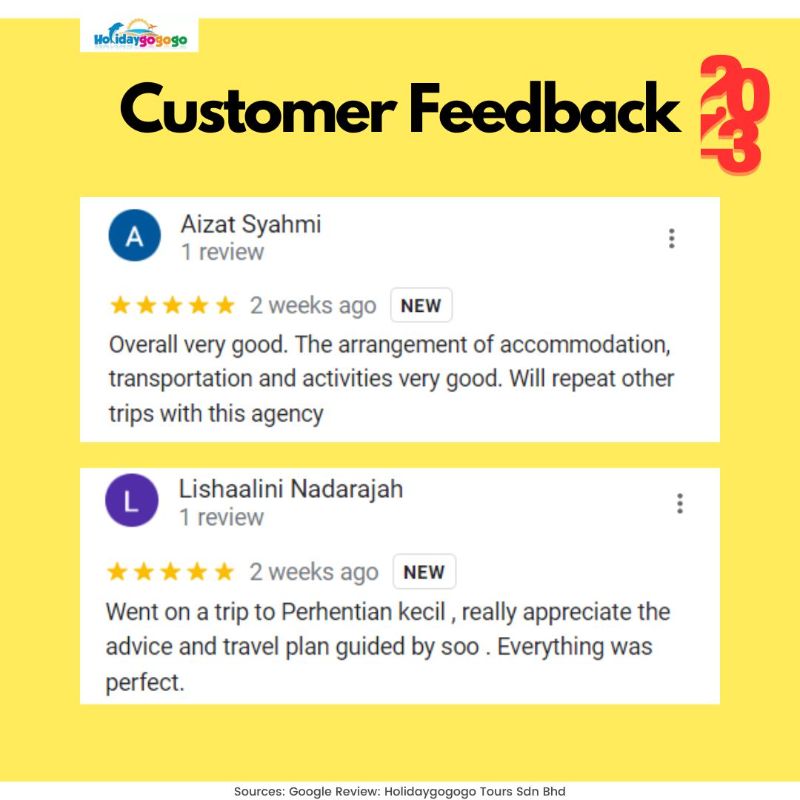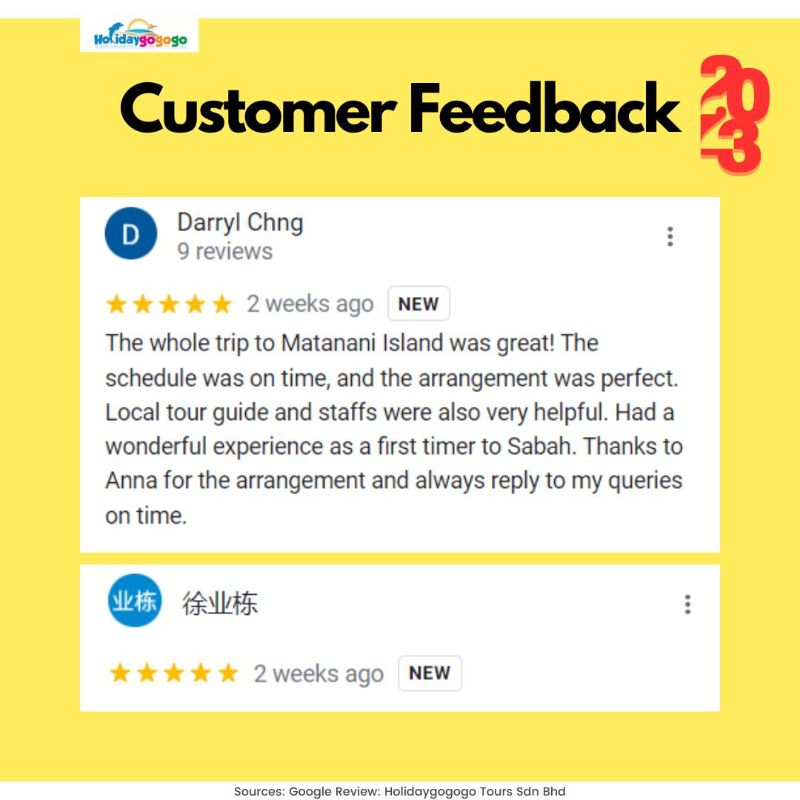 holidaygogogo travel agency review
holidaygogogo travel agency review
holidaygogogo travel agency review
holidaygogogo travel agency review
holidaygogogo travel agency review
holidaygogogo travel agency review
holidaygogogo travel agency review
holidaygogogo travel agency review
holidaygogogo travel agency review
holidaygogogo travel agency review
holidaygogogo travel agency review

---
Related Tours & Packages:
---
Rating & Review: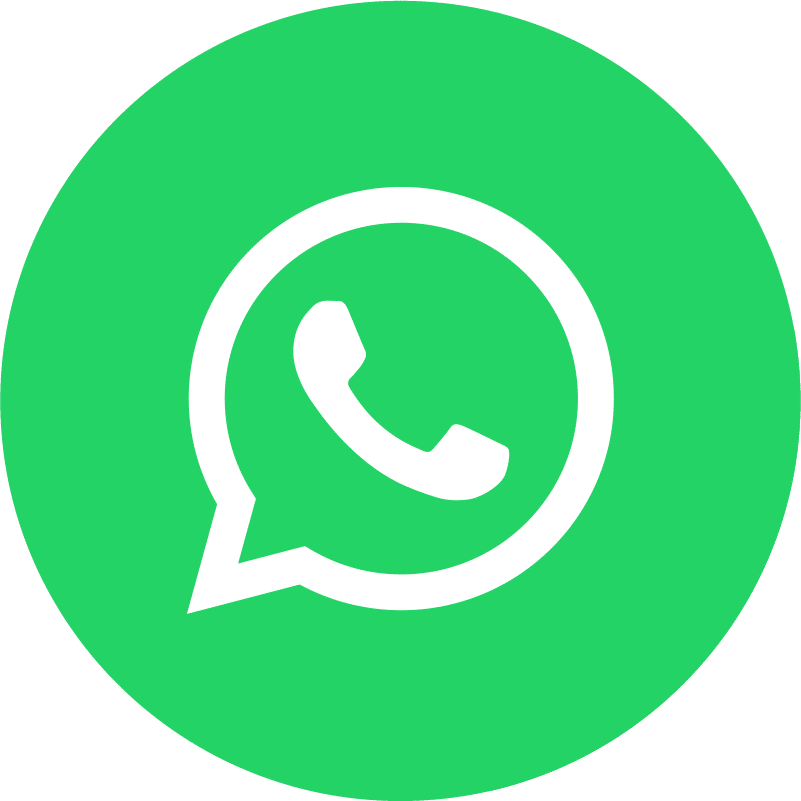 HolidayGoGoGo
Average rating:
0 reviews