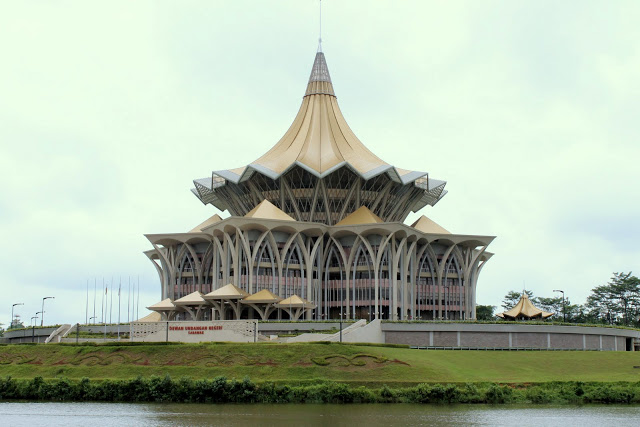 Itinerary & Tour | Day 1 | Day 2 | Day 3 | Day 4 | Day 5
As soon as we have confirm the room reservation with Tune Hotel and keep our luggage at the hotel lobby, our very first move is to find something to fill up our stomach! We went to one of the shops behind Tune Hotel and managed to find some of the famous local foods, Mee Kolo and Sarawak Laksa. It cost us less than RM3 and the taste is pretty good.
After the meal, the first destination that we are heading for is the Guang Zhe Zun Temple, on foot, you need only 2 minutes by walking along the Kuching Waterfront. We did not visit the temple but only pass by and took some photos from outside. Further down is the Chinese History Museum, we are quite lucky as there are no other tourists visiting the Museum at that time, so managed to explore and take as many pictures as we want.
We left the Museum after 20 minutes of exploration. Fort Margherita and Astana are just opposite split by the Sarawak River. Square Tower is located just in front of the Museum, walking near to the tower you will see the Dragon statue sitting beside the river.
| | |
| --- | --- |
| Guang Zhe Zun Temple | Square Tower |
| | |
| Dragon Statue | Fort Margherita |
| | |
After strolling beside the river for some time, we hop on to a boat and had a river cruise to see Astana and Orchid Garden, the boat ride cost us RM0.50 per person.
| | |
| --- | --- |
| River cruise to see Astana | Astana entrance |
| | |
After the river cruise with the "Sampan" (small boat), our destination place to visit is the Sarawak Court House. We also collected the bus schedule here, without this schedule, it is difficult to hop on to a bus for traveling back home! Beside the court house is the Atap Street, strolling along the street you will see Chinese temple and some old street shops. We also visited Main Bazaar to shop for some souvenirs and foods.
| | |
| --- | --- |
| Atap Street | Chinese Temple Shang Di |
| | |
| Kuching street shops | Main Bazaar |
| | |
| Sarawak High Court | |
| | |
After the shopping, we walk back to the hotel and take a rest. During check in, we spoke to the receptionist and told her that we are going to stay for 4 nights and ask whether there is any bigger room available. We were given an option of room with no window, we took it without hesitation:) The reason of choosing Tune Hotel is because there are several outlets such as convenient shops, restaurants and cafes are all located within walking distance, this become very easy for the tourists if they are looking for foods or drinks during night time.
After rest and refresh in the hotel room, we gone out for some foods and take a stroll at the Kuching Waterfront since it is still early. Afterwards, we joined the River Cruise and we are surprised to see some cultural performances on the cruise.
Here we come to the end of day 1 in Kuching, mainly sightseeing, eating and shopping.