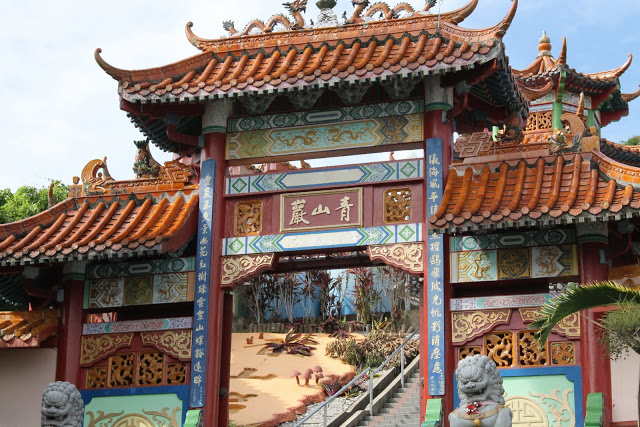 Itinerary & Tour | Day 1 | Day 2 | Day 3 | Day 4 | Day 5
Day 2 in Kuching is a shiny day and everyone of us are ready to head for our next destination, Bako National Park. We booked a day tour to Bako National Park that cost us RM170, the tour package includes meal and free visit to the Mount Ching Yen. It is recommended to engage a tour to Bako National Park as the package includes travel insurance, it is better to cover yourself  especially when the tour requires a little bit of challenging moves.
Before we move on to the National Park, we managed to see the Big Cat Statue just located within 3 minutes walk from Tune Hotel.
Here we start our journey to Bako and the journey will takes about 45 minutes of land transfer and follow by about 25 minutes of boat transfer.
| | |
| --- | --- |
| | |
| | |
| | |
| | |
| Proboscis monkey in Bako National Park | |
| | |
After visited Bako National Park and spotted one of the most precious animals, Proboscis monkey, we proceed to visit the Mount Ching Yen Temple.
After an exciting day trip to Bako, we headed back to the town and had our seafood dinner in Top Spot. The dinner cost us less than RM50 inclusive of drinks, quite affordable.
After the dinner, we gone back to the hotel and looking forward for our day 3 itinerary in Kuching!