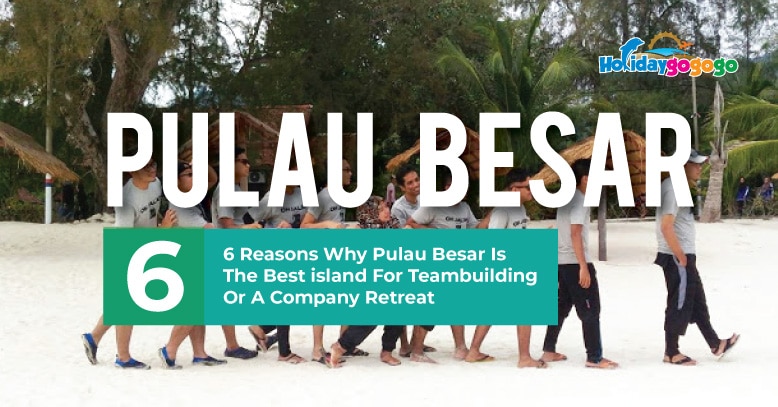 Teambuilding activities or a company retreat is often the best way for boosting employee morale and engagement. Most employees look forward to an all-expense paid company trip to take a break from the daily grind while enjoying fun activities and getting to know their bosses and colleagues better.
On the flip side, planning a company retreat may be a challenging experience for the human resource department to ensure the entire trip is not only pleasant but more importantly, one that encourages employees to improve their work performance for the benefit of the company in the long-run. Wondering where to host your next company retreat? Here are 6 reasons why a Pulau Besar teambuilding retreat is the perfect destination for your employees to have fun, mingle and recharge for better work performance!
[lwptoc hierarchical="1″ numeration="none" numerationSuffix="none" title="Table of Contents"]
---
1. Enjoy a fun and hassle-free road trip away from the city
The time spent travelling to the teambuilding venue can often make or break a company retreat. Choosing a Pulau Besar teambuilding retreat helps the company save on travel time and costs.
Mersing, where travellers can take a boat to Pulau Besar, is easily accessible by car or bus. It only takes approximately 3 to 4 hours to reach Mersing from Kuala Lumpur or Singapore. This is an ideal time for co-workers to play some fun games, mingle and share a few laughs heading to Mersing!
Better still to charter a bus as the Mersing Bus Terminal is just 10 minutes away from the jetty.
Your employees will appreciate the change in scenery and mesmerising sea view during the 30-minute boat ride to Pulau Besar.
The best way to travel hassle-free is to book a tour package. To ensure a smooth journey from Mersing Jetty to Pulau Besar, check out our affordable Pulau Besar Company Team Building Tour Packages.
2. Comfortable accommodation in a serene environment
Want some calm and relaxation? You got it.
To maintain the exclusivity and privacy of its guests, Pulau Besar is home to only a few resorts. If your company is on a tight budget then our recommendation for an affordable stay is D'Coconut Island Resort.
Your employees will feel at home and get a taste of Malaysian hospitality as they are whisked away by the staff of the resort to Malay village-style houses with a breathtaking sea view.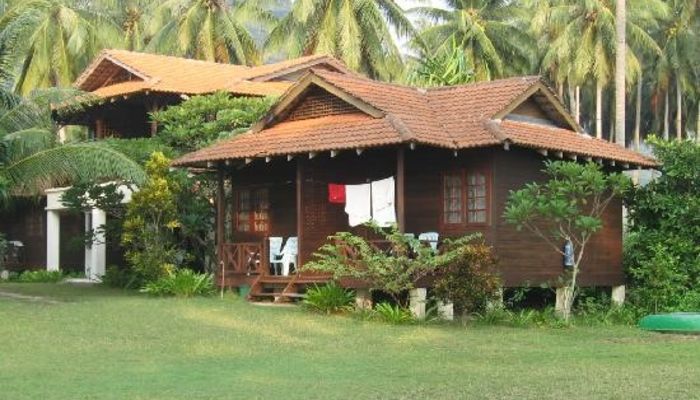 All types of accommodation at the resort come with basic amenities such as air-conditioning, a mini-fridge and hot and cold showers and an ocean/mountain view. Larger rooms have a private balcony or terrace with a wider view of the island's crystal clear waters and rich greenery.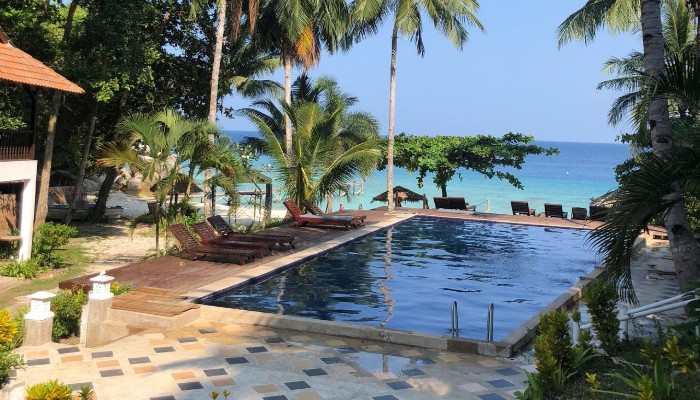 Even if your employees are not exactly beach bums, they can spend their free and easy time at the private swimming pool overlooking the sea view.
Companies with a bigger budget to spend or a relatively small number of employees may opt for Aseania Beach Resort.
Voted as the top pick for accommodation at Pulau Besar, the rustic and spacious Country, and Sea View chalets can accommodate up to 3 individuals. Apart from standard amenities, each accommodation has a private balcony where co-workers can sit back, relax and bond with each other while enjoying an amazing view of the beach, especially during sunset.
Suggested Read: Where To Stay at Pulau Besar, Johor
3. Foster team spirit, competitiveness, and celebration over various exciting beach activities
An exciting Pulau Besar teambuilding activity is kayaking without a doubt!
This team sport provides an excellent opportunity for co-workers to learn about teamwork and foster greater team spirit in a fun and low-stress environment while experiencing nature's beauty at its best.
Just ask the friendly staff at resorts such as D' Coconut Island Resort, Aseania Beach Resort, or Mirage Island Resort on the rates for renting a kayak and put your employees' kayaking skills to the test in a kayaking competition and reward the winning team for great teamwork..
Snorkelling is a major free and easy option for employees to witness up-close the beautiful and pristine coral gardens and a variety of sea creatures exclusively found in the warm, azure waters of Pulau Besar. A refreshing experience for the mind, body, and soul of every employee!
Leave no employee behind, even those who don't enjoy water sports or activities by hosting a beach volleyball match. Co-workers both new hires and senior staff get to bond as a team and enjoy a great workout by blocking, passing, and diving to hit the ball, not to mention rolling on the sandy white beach to a cheering crowd of colleagues at the beachfront!
The rustic beach huts on the beachfront set the scene for a great time to just chill and socialize with co-workers over snacks and drinks with a spectacular view of crystal clear waters. Socialising and getting to know co-workers in a relaxing environment is a great way to increase productivity when everyone's back in the office!
Suggested Read: 13 Thrilling Activities For Adventure Seekers at Pulau Besar
4. Organise a jungle trekking or hiking trip for an instant mood booster and improve the general well-being of employees
A jungle trekking or hiking session has many health benefits. According to a study, taking a walk in nature not only makes people happier but also improves concentration and increases creativity. This is certainly good news for any company as an office filled with happy and creative employees is bound to steer a company to success!
Check out the guided trekking tours at Aseania Beach Resort and D'Coconut Island Resort which accommodate a minimum of 4 co-workers to a group. Employees will appreciate the rich flora and fauna commonly found only in Pulau Besar such as the Nicobar Pigeon as they hike up to the hilltop for a breathtaking view of the South China Sea.
At Aseania Beach Resort, employees can explore the surrounding areas of the resort by cycling or taking a stroll – literally and figuratively speaking a breath of fresh air for improved mental health.
Suggested Read: 8 Best Relaxing Activities at Pulau Besar
5. Team bonding over fresh, mouthwatering seafood and an array of local and Western cuisine
This may sound cliché', but the food at resorts in Pulau Besar has a special way of bringing people together especially a large group of employees.
Food therapy is often the best stress-buster!
At Kayu Manis Restaurant located in Aseania Beach Resort, co-workers will get to mingle over a variety of local and Western delights (halal, of course) for breakfast and lunch in a laidback Balinese setting. Their signature breakfast dish – porridge with 7 side dishes is a must-try and a great way to start the day. Other crowd favourites include local cuisines such as pineapple chicken curry and sambal fish.
We recommend a Pulau Besar teambuilding retreat that extends over the weekend where employees get to experience their popular BBQ Night, feasting on fresh seafood, chicken, and a variety of meat barbequed to perfection! Employees who enjoy cooking may even gain some valuable cooking tips from the chefs at the resort – a handy survival tip for employees to host a company barbeque night in the future!
Other resorts such as D'Coconut Island Resort also feature great food. Your co-workers will appreciate the wholesome and simple breakfast of bread, sausages, eggs, fruits, and a variety of finger food available at this resort.
6. Celebrate the success of employees and your company with a night of music, fun, and games
A perfect way to end a Pulau Besar teambuilding retreat is a night of music, fun, and games with the entire work-family. The Lounge at Aseania Beach Resort offers ample cosy and laidback spots to enjoy drinks with co-workers and live music amidst a view of the beach. It is not surprising if some of your employees end up making new friends from other departments over a game of darts or board games!
Before deciding on the venue to host your company's Pulau Besar teambuilding retreat, be sure to check out the beach bar at Mirage Island Resort, agreed by many as the best beach bar on the island which serves non-alcoholic beverages, too.
---
At the end of the day, a company trip is more than just having fun. It is all about ensuring every employee is engaged and gains some benefit from the activities organised to bring everyone closer for greater productivity, improved teamwork, and long-term success of the company. If that sounds like something your company needs, then book your next trip to Pulau Besar ASAP!
Pulau Besar Team Building Tour Packages: