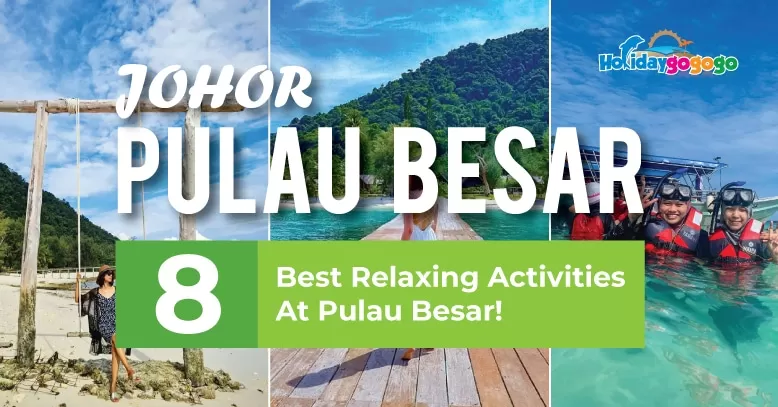 The enchanted island of Pulau Besar in Mersing, Johor is a perfect destination for a simple and relaxing 2-day weekend getaway either solo or with family and friends. The island itself is relatively small and least known compared to neighbouring islands such as Pulau Sibu, Pulau Rawa and Pulau Tinggi, making it ideal for those looking to escape the daily stresses of life.
Rejuvenate your mind, body and soul with various relaxing Pulau Besar activities in the island's pristine waters and serene green surroundings!
Here are eight ways to relax and refresh your senses with a host of Pulau Besar activities.
[lwptoc numeration="none"]
---
1. Get a dose of Vitamin Sea with a relaxing swim in crystal clear azure waters
The white sandy beach and pristine waters of Pulau Besar set against its lush greenery will draw you in for a swim that you simply can't resist.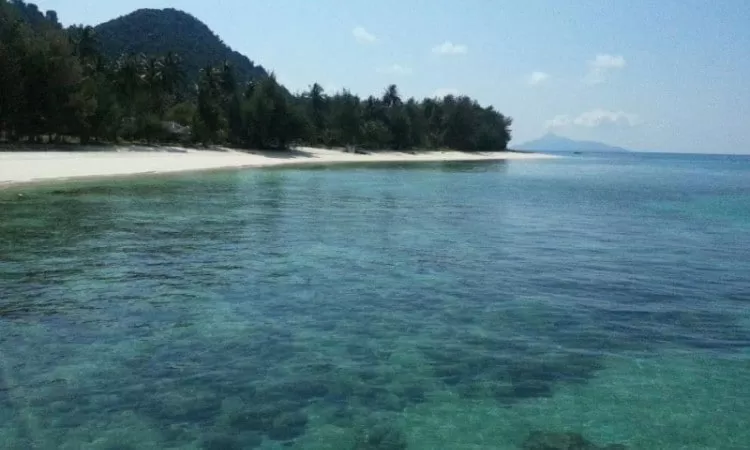 The benefits of sea swimming go beyond its calming effect. Often regarded as the simplest form of breaking a sweat, sea swimming strengthens muscles, increases endurance, and boosts skin health. With minerals such as magnesium, seawater helps moisturise the skin and reduces inflammation. Those with heart disease will discover that sea swimming increases blood circulation and promotes longevity. This will make slipping on your swimwear and hitting the beach even more worthwhile!
Resorts such as Aseania Beach Resort and D'Coconut Island Resort also have in-house swimming pools at affordable rates, great for families with children. You can be sure to have a splash of a time while basking in the sunshine overlooking the magnificent sea view.
Suggested Read: Pulau Besar's Big 4 – Choosing the Best Pulau Besar Family Resort
2. Soothe your senses with a stroll along the white sandy beach
There is nothing more relaxing than strolling along the beach listening to the sound of waves crashing gently on the beach, the smell of salty sea mist, and feeling the sand between your toes.
Studies have shown that negative ions in the sea breeze have anti-depressant effects and calm the brain almost instantly. Simply walking barefoot and feeling the warmth of the white sand between your toes can do wonders for your mental and physical wellbeing.
Pulau Besar resorts are strategically located on the beachfront. Have the sea at your doorstep – literally!
3. Lounge in idyllic beach huts and watch the sunset
If you are not feeling adventurous, just sit back and relax in beach huts with a spectacular sea view. Aseania Beach Resort has Balinese inspired beach huts to unwind and remove your blues as you experience the breathtaking view of the clear blue sea. You can even enjoy some finger food while lazing on your deckchair or catch up on some good reads.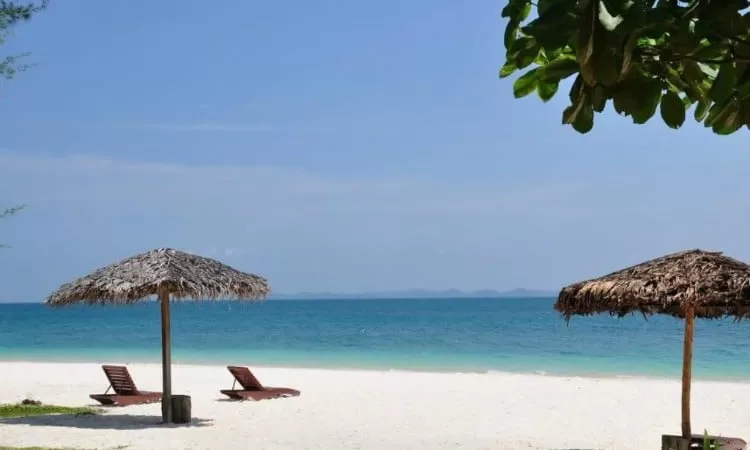 In Ayurveda (the ancient Indian science of living) and traditional Chinese medicine, the colour blue and water elements exude a sense of calm and clarity. By staring at the sea, you put your mind in a calm state to balance mind, body and soul!
You can do this any time of the day from the private terrace of the Seaview Chalet at Aseania Beach Resort with your better half or loved ones. Aseania Beach Resort has the best parts of the beach and sea view at Pulau Besar.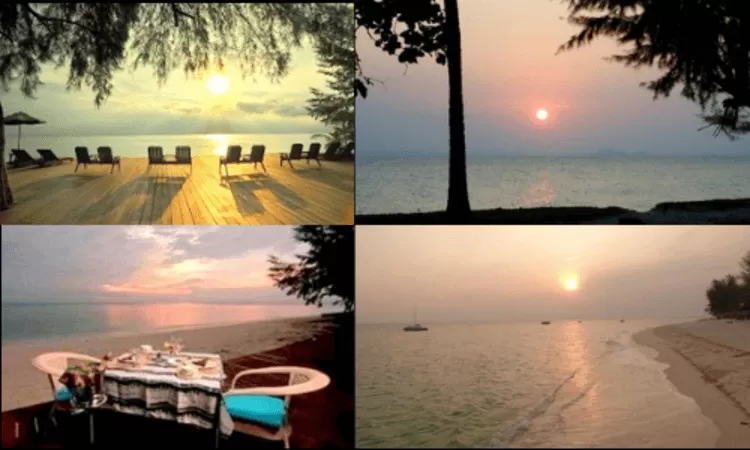 It is not surprising that Aseania Beach Resort has received rave reviews from foreign and local travellers as the best resort in Pulau Besar!
Witnessing a sunset by the beach is magical on a different level as it leaves you energised and inspired for new beginnings! If a picture is worth a thousand words, then these images of sunset views at D'Coconut Island Resort and Aseania Beach Resort certainly do it justice.
4. Boost your mood by snorkelling underwater
Out of all the Pulau Besar activities, snorkelling is a fun and relaxing way to experience the beauty of an underwater world. This fun activity is suitable both for adults and children, great for family bonding. Like most forms of exercise, snorkelling is a great mood booster as it helps ease stress and anxiety.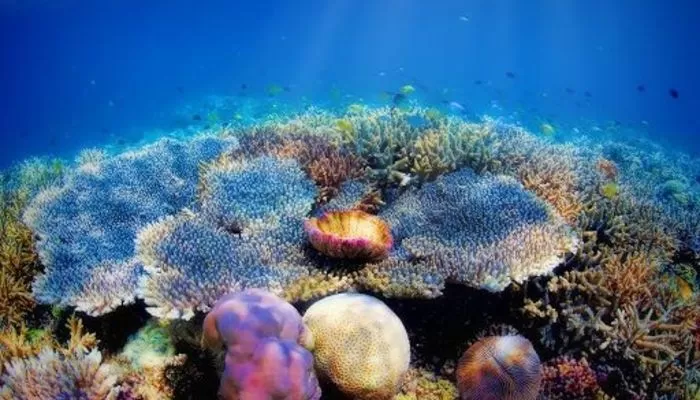 The highlight of any trip to Pulau Besar is definitely the snorkelling excursions. Marine life on Pulau Besar itself is fantastic enough, but head out to surrounding islands such as Pulau Tengah and you'll encounter a whole new world of underwater paradise! Pulau Tengah boasts a never-ending stretch of marine life, with corals and fish stretching as far as the eye can see.
Snorkelling is a must-try activity at Pulau Besar to boost your mood as you get close to beautiful marine life and untouched corals. As you bob up and down in the middle of the vast ocean, you'll feel your mind relax and all your worries will simply float away.
5. Go on an island-hopping voyage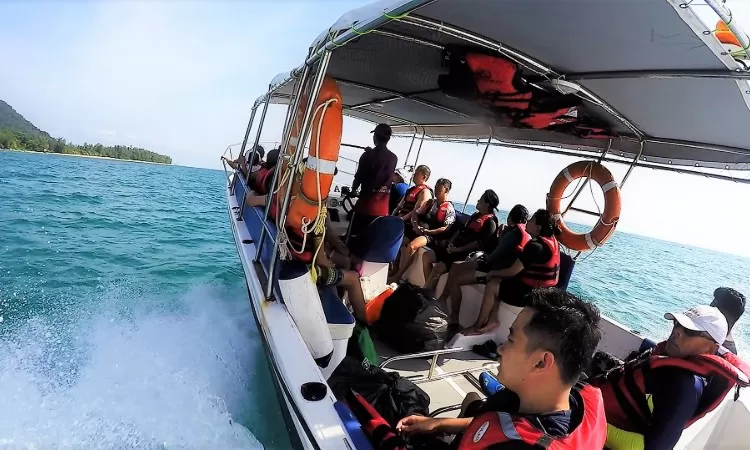 Island hop your way to relaxation by getting on a boat and feeling the sun and sea breeze on your skin as you explore nearby islands such as Pulau Rawa and Pulau Sibu. Aseania Beach Resort offers an island-hopping schedule for your relaxation needs. All you have to do is check with the friendly staff at the customer service desk.
Revel in nature's beauty while creating memorable moments with your loved ones as you gain new perspectives and adventures exploring neighbouring islands. Remember to capture those moments on camera for your Instagram, too!
Suggested Read: 13 Thrilling Activities for Adventure Seekers at Pulau Besar (Besar Island)
6. Take a relaxing hike and snap breathtaking photos of the hilltop view
Enjoy the company of friends as you go hiking amidst the lush greenery surrounding Pulau Besar. Be mindful of making a conscious effort to stop and take in the view of rich flora and fauna along the way and spot some exotic birds found in this part of Malaysia, such as Nicobar Pigeons and Eurasian Hoopoes.
Check with hotel staff at Aseania Beach Resort and book a guide to go hiking. An experience you won't regret as the hilltop boasts a spectacular view of the South China Sea – perfect for your Instagram!
If you are not up for hiking, we recommend a short walk around the resort either in Aseania Beach Resort of D'Coconut Island Resort. Remember not to go too deep into the jungle without a guide as you may get lost and come close to wildlife.
There are many Pulau Besar resort packages that let you experience jungle/beach trekking and feel the comfort of being close to nature.
7. Enjoy a laidback dining experience with great food
The joy of feasting on tasty food is often the best way of alleviating stress. At Kayu Manis Restaurant in Aseania Beach Resort, be pampered by an array of delicious local and international cuisine set against a tranquil Balinese style open-air restaurant.
With top reviews as the best resort restaurant in Pulau Besar, you will be spoilt for choice with a wide selection of meals including crowd favourites such as seafood fried rice, chicken chop, pineapple chicken curry, sambal fish and porridge with 7 side dishes!
Catering to various taste buds, Kayu Manis Restaurant's food strikes the right balance as it is not too spicy and suitable for both adults and children. On weekends, you get to indulge in BBQ nights with a variety of fresh, succulent seafood and meat such as prawn, lobster, lamb and chicken cooked to perfection!
Those travelling on a budget can enjoy simple and satisfying meals at D'Coconut Island Resort's restaurant, which features finger food such as club sandwiches and fried snacks. Be sure to check out the breakfast buffet selection of eggs, sausages, toast and fruit and fuel up for the day before you embark on other Pulau Besar activities!
8. Chill at night with drinks, music, fun and games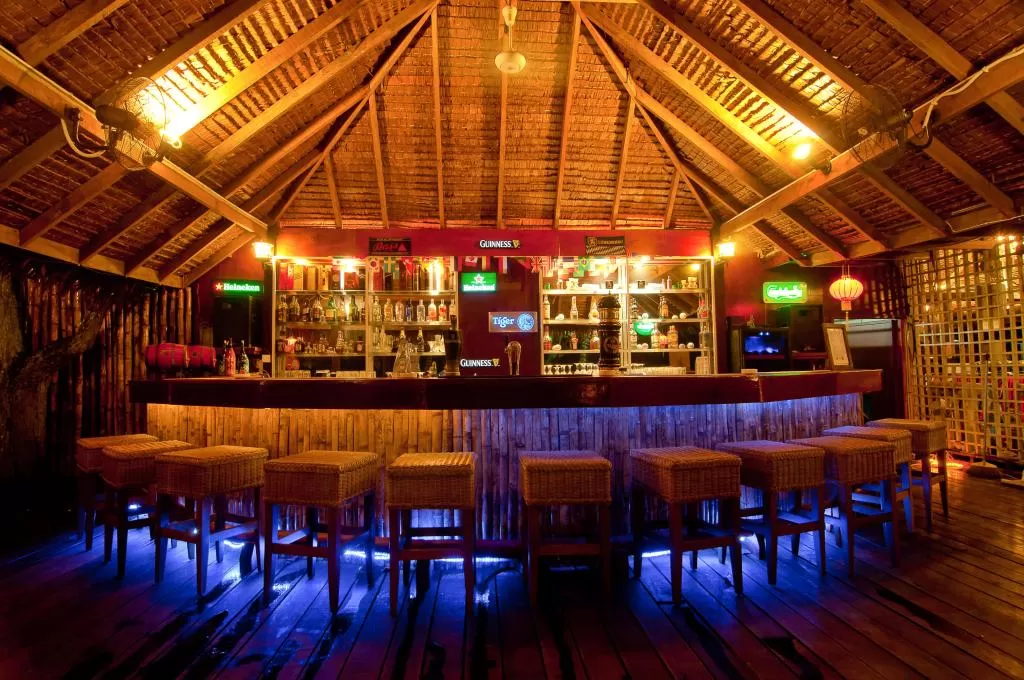 The Lounge at Aseania Beach Resort is the place to be for a night of drinks, music, and all-around fun.
Immerse yourself in great tunes played by the resident DJ and relax as you sip a cocktail or two at the Lounge of Aseania Beach Resort. This one of a kind in-house lounge serves a range of brews for every mood and knick-knacks to tantalize your taste buds.
The chill vibes at the Lounge overlooking the sea view at Aseania Beach Resort is one not to be missed!
Although the best bar in Pulau Besar is in Mirage Island Resort, it is the most expensive resort in Pulau Besar with premium prices for very basic amenities and food. If you don't mind splurging on a night out, then give this rustic bar a try. Join a game of snooker with friends or sit back, enjoy the sea view and sip alcoholic or non-alcoholic beverages and forget all your worries.
---
How To Get To Pulau Besar
To reach Pulau Besar, you first need to get to Mersing. If you are travelling by car, it is a 4-hour drive from Kuala Lumpur, 3-hour drive from Singapore and just a 2-hour drive from Johor. The boat ride from Mersing Jetty to Pulau Besar takes 30 minutes. Check out our Pulau Besar tour packages inclusive of boat transfers to and from Pulau Besar to make the best of your time.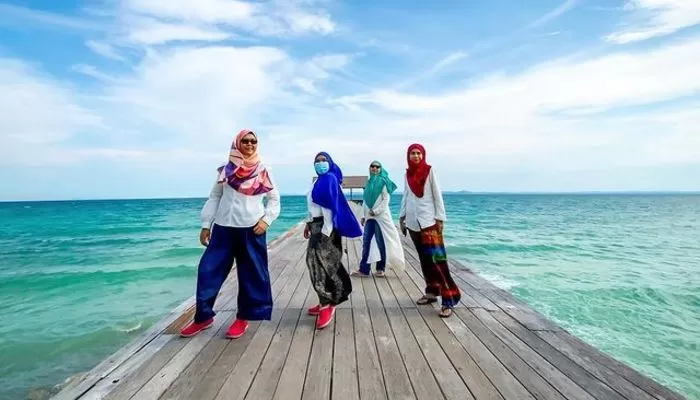 Travellers looking for a quick escape from the hustle and bustle of the city will find solace in the natural beauty of Pulau Besar. With various Pulau Besar activities catering to every need, this hidden gem in Malaysia ticks all the right boxes for a short R&R to recharge your batteries and start afresh.
Suggested Read: Where To Stay At Pulau Besar, Johor
---
Whether you're a solo traveller or travelling with family and friends, browse through our Pulau Besar tour packages and book your next relaxing holiday now! Let us help you make everything fall into place for a relaxing island getaway.
Pulau Besar Popular Tour Packages