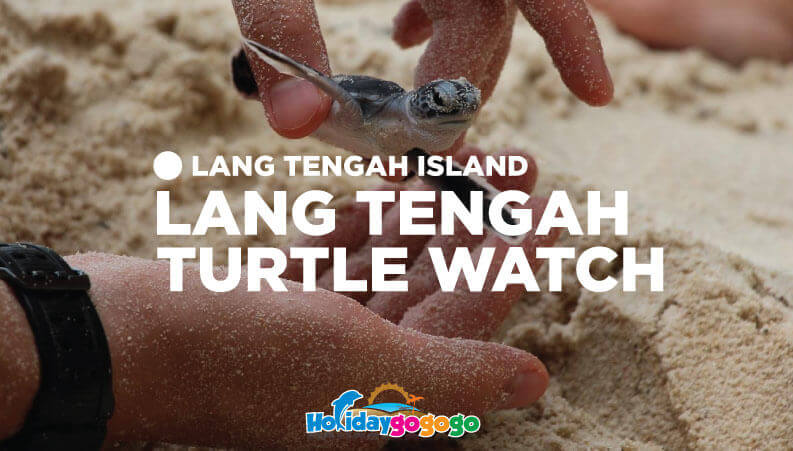 Lang Tengah Turtle Watch is located in (yes, you guessed it right!) Lang Tengah Island. The island itself is a small paradise off the east coast of the Malaysian Peninsula in Terengganu, snuggled between its larger neighours Redang and Perhentian Island.
Lang Tengah Turtle Watch is located on the southern sandy shores at Turtle Bay – a most fitting name for what it is.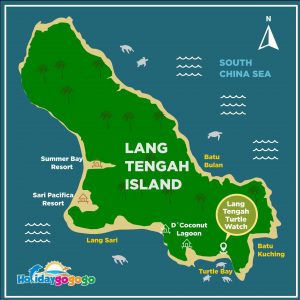 So what Is Lang Tengah Turtle Watch all about? What can you do here? Can you see turtles here? Let's explore this fascinating Lang Tengah attraction.
[lwptoc]
---
What does the Lang Tengah Turtle Watch do?
The Lang Tengah Turtle Watch was founded in 2013 by Hayati Mokhtar with the joint efforts of WWF conservation specialists and the Terengganu state government. She was later joined by co-founder Raphe van Zevenbergen in the Watch's efforts to monitor turtle landings at the beach, fend off poachers and gather data from both terrestrial and marine ecosystems.
Lang Tengah Turtle Watch's principal duty is to safeguard the turtles' nesting population at Lang Tengah Island, predominantly Green Turtles. This is done by maintaining a constant and continued presence on the island to deter the egg poachers. You will find the volunteers living 24 hours a day in the camp, and they will patrol the nesting beaches at night. They even move any nests that are laid on other beaches to Turtle Bay, as it is a safer environment under their protection.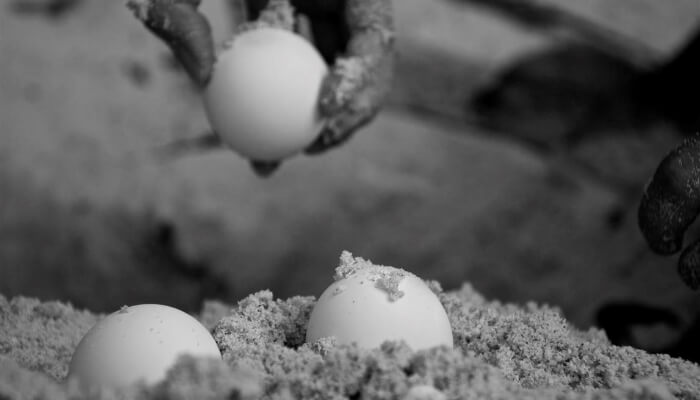 As of 2018, Lang Tengah Turtle Watch has expanded its operations from the shore into the ocean. They are aiming to compile a list of the island's terrestrial and marine fauna. This marine research project is aimed at developing a better understanding of improving the health of this ecosystem.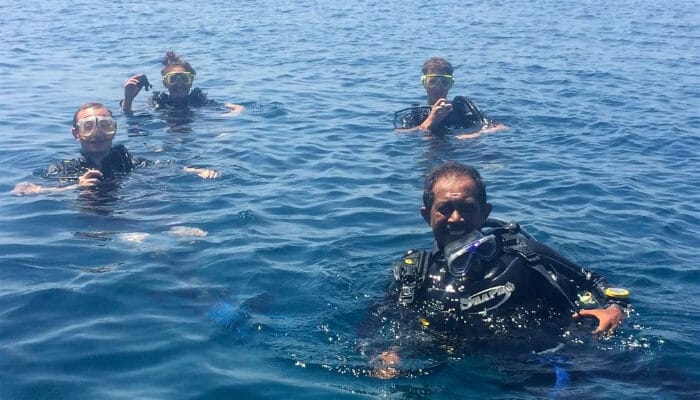 The Watch is also focused on improving the island's waste management, as floating plastic debris plays a lethal part in endangering marine life.
Can I visit Lang Tengah Turtle Watch even if I don't volunteer?
You're more than welcome to drop by the project during the day as a visitor. The camp is open between 11am-1pm & 5pm-6pm daily, from March to October (monsoon seasons starts from November to February).
There is a wooden Visitors' Hut, located next to the Nelayan Restaurant near the Watch. As the name suggests, this is where most visitors can stop by and chat with the staff. As a visitor, you can talk to the staff and volunteers about the meaningful work they are doing and find out more about sea turtles, their biology, ecology, and conservation at large. It is also quite relaxing.
Visitors are also invited to participate in Nest Inspections conducted almost daily at the hatchery (between May – October). This is a good chance for visitors to catch front row seats to conservation at work. Watch how the staff gathers data from nests keep them as clean and healthy as possible. This step is crucial in minimizing the risk of infection and predation.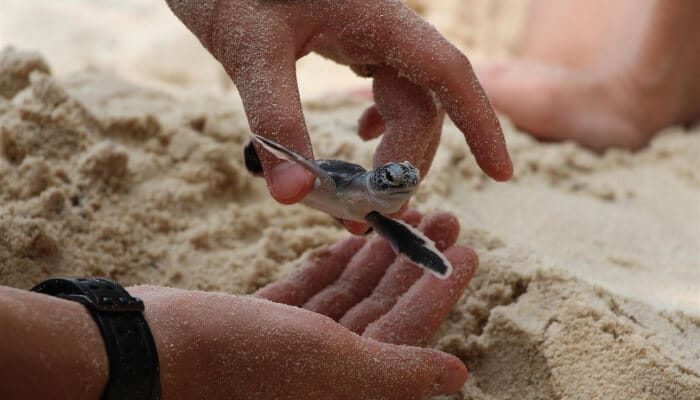 From June onwards, visitors can witness the miraculous scene of baby turtles being released into the sea. This usually occurs once a week. However, keep in mind that this there is no fixed time for this event so it will depend highly on your luck. Generally, once the staff has identified nests with babies ready to go, they will invite guests to celebrate the momentous occasion together.
Admission is free, but the Watch welcomes donations.
Turtle Conservation in Lang Tengah
Malaysia is home to many key habitats for marine turtles to breed.
These turtles lay their eggs on the nesting beaches and feed off the seagrass beds and coral reefs. According to the World Wide Fund for Nature (WWF) Malaysia, our country hosts four out of the world's seven marine turtle species. This includes the Green, Hawksbill, Olive Ridley, and Leatherback turtles.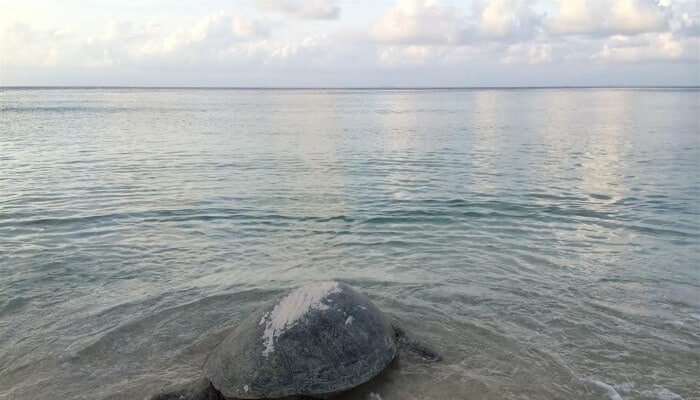 Unfortunately, these species are endangered or critically endangered because of human activities that have been overexploiting and polluting the ecosystem.
While the situation has been difficult enough for the turtles to approach the shores to lay their eggs, doesn't it sadden you further to know that once they laid their eggs, they are exposed to the threat of egg poachers as well?
This is precisely why conservation initiatives like the Lang Tengah Turtle Watch exist.
What can you do there?
Now that you know what the noble people at Lang Tengah Turtle Watch are up to, wouldn't you want to join their crusade? To ensure the continuous efforts of the Watch, the operation can only function with a dedicated team of people who are willing to participate in its conservation practices and marine research projects. Therefore the Watch is offering volunteer programs to those who believe in protecting mother nature – someone like you!
Volunteers shared their experiences on their adventures during the program. Like many of them, you too can experience the magic of spotting turtles laying eggs or witnessing hatchlings scurrying off into the sea during their night patrols. No doubt it will be a rare sight for you as well.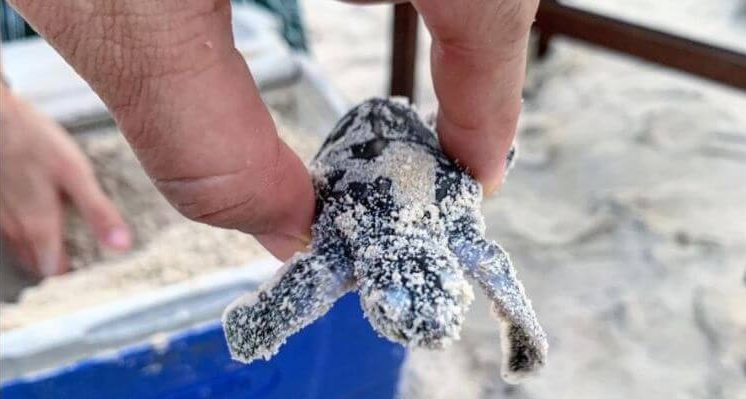 Besides patrolling the beaches and relocating turtle nests, there is so much more to do at the Lang Tengah Turtle Watch. During the night patrols, you will encounter fireflies, phosphorescence, and plenty of shooting stars above!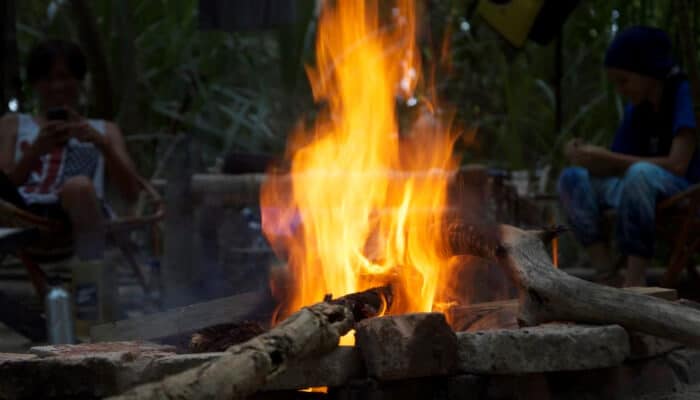 You will join the team for beach cleaning efforts or coral restoration off at the coral nursery in the day. You get to snorkel at different parts of the island during your rest or go jungle trekking in the island terrains. Suppose you chill out at Turtle Bay itself. In that case, you could grab a kayak and feast your eyes with an impressive collection of fishes, blacktip reef sharks, blur-spotted stingrays, and even the occasional octopus. Some volunteers have shared stories too of brave attempts at a thrilling cliff jump!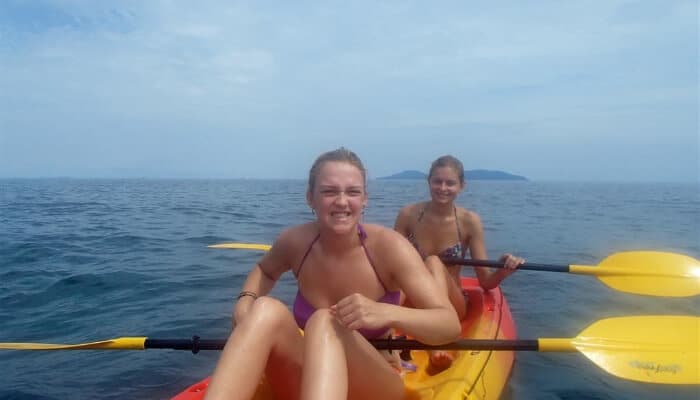 How to volunteer?
Now that you are all hyped up about the activities Lang Tengah Turtle Watch has to offer, let's see how you can volunteer and be a part of this meaningful programme.
You can sign up for volunteer programs that are 2 or 4 weeks long, but you could extend longer if you wish to. The cost is mostly to cover the expenses of your food, accommodation, project training, and leisure activities.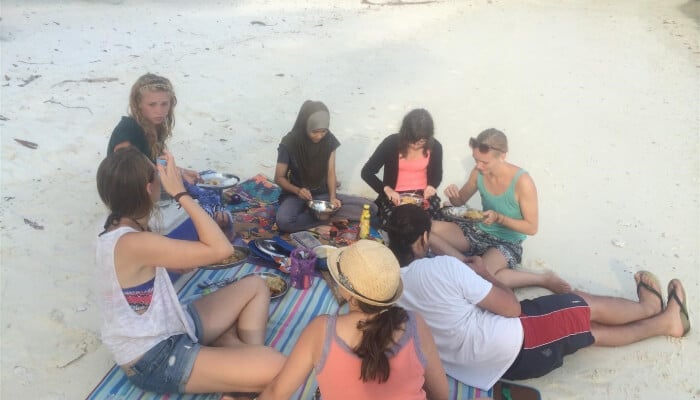 To be a volunteer, you will need to fulfill the following requisites:
You are willing to patrol beaches during night time

You are willing to take part in all turtle and survey work as requested

You are willing to help with chores around the camp

You can swim

You are adventurous enough to try living in the jungle

You are open-minded, outgoing, and looking to make new friends during the project
What does a volunteer do?
Your typical day at the volunteer program starts off with breakfast. Then you will conduct nest inspections to make sure that the eggs are developing well and safe from predators. You will also be split into groups to work on various surveys, depending on which research project you sign up for.
After lunch, you will be given free time where you could go snorkelling, jungle trekking, or just relax at Turtle Bay. You might think the day seems like a walk in the park, but remember that the chief responsibility you have as a volunteer is to assist in night patrols along the beaches and to search for nesting mother turtles. This session is divided into shifts between 9pm to 6am.
If you are looking for a volunteering project where you contribute to a cause while enjoying yourself on a paradise island, then Lang Tengah Turtle Watch is an outstanding choice. Living in the jungle while only a few steps away from a paradise beach, you experience the best of both worlds. Actively learn about and engage in coral restoration and turtle conservation; meet new people; explore the island; and have tons of fun!
---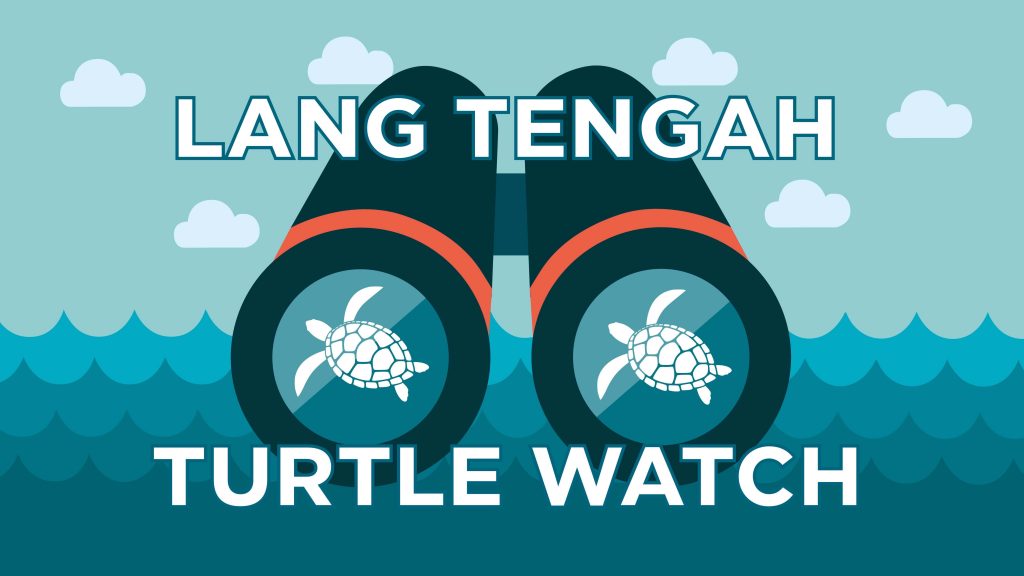 We hope you have a better understanding of Lang Tengah Turtle Watch after reading this article. The conversation project has received superb reviews from those who have volunteered. If you're someone very much in tune with nature, you won't want to miss this short but amazing experience. Play your part in saving the turtles when you check out their website at www.langtengahturtlewatch.org.
---
Popular Lang Tengah Packages