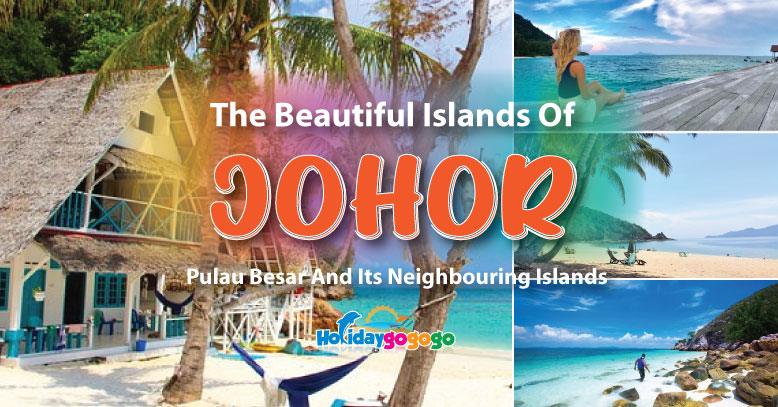 The islands of Malaysia have long been a favourite destination of visitors both local and worldwide, with popular islands such as Perhentian and Langkawi becoming a favourited destination for family fun, adventure, and even romance. These happening, popular islands are located to the north of the peninsular.
You might want to turn to the quieter, less explored islands found on the eastern coast of Johor for a more toned-down experience.
[lwptoc]
---
The beautiful Islands Of Johor
The islands of Johor are located near each other. Although each island hwas its own beauty, collectively, the islands are a source of calm for those seeking peace. It can be a daunting task to pick just one island for a short getaway with so many of them on offer.
Fret not as we delve into the islands of Johor, specifically the islands around Pulau Besar, and share the best bits the southern state offers.
1. Pulau Besar
We've recently written some articles about this accessible retreat, and not without reason.
One of the closest islands to peninsular Malaysia, off the coast of Johor, is a fantastic island getaway called Pulau Besar (or "Pulau Babi Besar". The wild boar population eventually dwindled and the island was renamed to "Pulau Besar" instead).
Renowned for its clear and pristine waters that offer unobscured views of its vibrant marine life, this island is truly picture-postcard pretty with beautiful palm trees that sway in the gentle breeze. Its captivating natural beauty has earned it its reputation as a marine park that has attracted international filmmakers for shoots.
Just a short 30-minute boat ride away from Mersing Jetty, Pulau Besar offers fun-filled activities such as water sports and trekking as well as premium resort living.
2. Pulau Tengah
Located 16km from Mersing and right above Pulau Besar, you'll find its closest neighbour.
This is Pulau Tengah, which means "Middle Island" in Malay. The island is famous for its white sandy beaches and azure waters.
Tucked away among coconut trees is the island's eco-resort called Batu Batu Eco Resort where you can find jungle villas, poolside villas, and ocean villas that feature rustic interiors in a traditional Malay design.
Pulau Tengah Is full of many activities for an enjoyable time such as snorkelling in the crystal-clear waters to explore the thriving marine life. The resort offers activities for its guests, such as snorkelling, kayaking, swimming, diving, and hiking.
After an exhausting day of fun, you may retreat to the resort spa where therapists offer a rejuvenating experience to relax your senses.

Instagram: mama_miqa
3. Pulau Hujung
Next up on the islands around Pulau Besar is Pulau Hujung, a relatively uninhabited paradise island.
The only means of access is through a Johor Island Hopping Tour or through chartering a private boat. Pulau Hujung is the third island in the trio of islands, together with Pulau Besar and Pulau Tengah.
Unlike the other islands, there is no resort here, but white and soft sandy beaches along with crystal clear aquamarine waters that lap away at the sand await you.
Pulau Hujung is a perfect paradise for those seeking a quiet time away from the hustle and bustle of a busy life and looking for a place to chill with nature.
4. Pulau Rawa
This island north of Pulau Besar is one of the most famous islands on this side of the coast.
A 20-minute boat ride away from Mersing lies the luxurious, private island Pulau Rawa. This is an island reminiscent of the popular dream destination, Maldives.
Blessed with a lush, tropical rainforest, sparkling blue waters, and stunning coral reefs, this island makes for a perfect locale for a photoshoot. The island even has its own cactus garden where you can find different types of cacti. Beautiful peacocks can also be found roaming freely around, adding to the island's natural charm.
Pulau Rawa is a secluded island with just two small beach resorts, Rawa Island Resort and Alang's Rawa to minimize crowds. You can be assured your visit here will be peaceful and stress-free.
Rawa Island Resort's main draw is its giant winding slide at the jetty that lands you right smack into the ocean! Take as many turns as you wish, as this enjoyable activity is free.
For those keen on a pampering session, the resort is equipped with a spa offering a variety of body, leg and face treatments.
The other resort, Alang's Rawa is a peaceful oasis with rustic beach shacks lining the coast. The resort also offers a list of activities for its guests for an unforgettable stay on this picturesque island.
5. Pulau Mensirip
An island owned by Johor's royalty, Pulau Mensirip requires official clearance before visiting. But don't worry. You can get this clearance easily the resorts at other islands or Mersing Jetty.
The small island is an untouched paradise, further preserved by it protected status and zero development. White sandy beaches make up the western part of the island, with another stretch linking the beautiful rock formation to the east.
The island is a perfect scuba diving spot with the main attraction, surprisingly, a man-made one. The royal post box off the coast of Pulau Mensirip draws in diving enthusiasts from the region who gather for a "snap-of-accomplishment".
Due to its protected status, the thriving marine life here ensures an amazing diving experience. Families and small groups can also enjoy snorkelling with a one-day trip that also consists of Pulau Harimau.
6. Pulau Harimau
Another privately-owned island by Johor royalty, Pulau Harimau is just another few minutes away from Pulau Mensirip and easily accessible from Pulau Rawa. It garnered a lot of attention in recent years due to its naturally-formed cave that conceals a breath-taking lagoon. The cave has an open-top, inviting the warm sun rays to light it up with a mysterious glow.
On the island itself stands a lighthouse tall and proud. A short 10-minute hike across the small island away, the lighthouse is open for visitors to explore and enjoy a photo-taking session. The lighthouse offers a sweeping, 360-degree view of the island.
Along with Pulau Mensirip and Pulau Rawa, these islands around Pulau Besar are a must-visit for everyone.
7. Pulau Tinggi
Pulau Tinggi or "Tall Island" as its name suggests, is home to the highest hill among the islands around Pulau Besar. It features an extinct volcano, Mount Semundu, and is accessible via a 40-minute speed boat ride from Johor Tanjung Leman Jetty. Located 30km off the east coast of Mersing, Pulau Tinggi boasts of a waterfall and beautiful lagoon that you can find while jungle trekking your way through lush rainforest.
The island is also home to villages and soft sandy beaches that accompany sparkling clear waters that you can snorkel or scuba dive in for exotic views of the abundant marine life and beautiful coral reefs found under.
For accommodation in your quest for island living, you have three choices between Tad Marine Resort, Shaz Resort, and Chalet Tok Mok. Each resort offers comfortable lodging and amenities as well as exciting activities to partake in during your stay there. An interesting feature to mention is Tad Marine Resort's sightseeing fireflies tour in which guests can enjoy the twinkling lights of these brightly lit bugs while sailing in a boat through the forest swamp.
For the more adventurous, the island also offers a 3-hour hike to Mount Semundu where you can enjoy breathtaking views of Pulau Tinggi and its surrounding islands at its peak. For the less adventurous, there are cycling trips around the island where you can rent bikes to explore the island comfortably on wheels.
8. Pulau Sibu
Just south of Pulau Tinggi, is Pulau Sibu, another bigger island compared to Pulau Besar. Similar to Pulau Tinggi, Pulau Sibu is home to a few villages offering modern-day facilities behind the rustic charm facade.
Due to its natural sea vegetation, Pulau Sibu is home to dugongs. In fact, it is one of the few known places in the world where dugongs are found in their natural habitat.
The "sea-cows" as they are affectionately known, are commonly spotted in the waters surrounding the island, grazing in the shallow, murkier waters and gliding lazily amongst the fishes.
Like the other islands mentioned earlier, Pulau Sibu also features four amazing resorts with their own unique traits. The resorts are found throughout the northern and eastern beaches, providing a scenic view of Pulau Tinggi.
How to get to these Islands of Johor?
To get to the Johor islands around Pulau Besar (Tengah, Hujung, Rawa, Mensirup and Harimau), you will first need to go to Mersing. Mersing jetty is the main point of departure from the mainland.
You may charter a boat for RM 200 and the estimated duration takes 30 to 40 minutes depending on the schedule.
For Pulau Tinggi and Sibu, you would have to charter a speed boat from Tanjung Leman jetty for around RM 70 – 100 per head and it takes approximately 30 to 40 minutes to get to your destination.
Take note that the islands are closed off to visitors during the monsoon seasons of November to February and the best time to visit would be during the months of April to September.
---
Pulau Besar Popular Tour Packages: