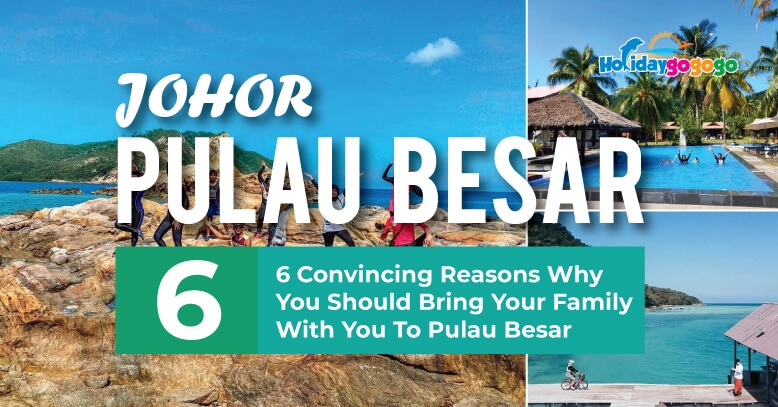 Spending time with family on a holiday is always exciting and something to look forward to. Yet, it may be a daunting task to find the perfect destination to cater to the needs of each family member – from young children to teenagers and your spouse. One of Malaysia's hidden gems, Pulau Besar located in Mersing, Johor is our top holiday pick for a memorable time with your favourite people at an affordable cost. With its beautiful beaches, fascinating marine life and rich flora and fauna, take your own sweet time to explore the wonders of nature for an amazing family bonding experience with a Pulau Besar family holiday.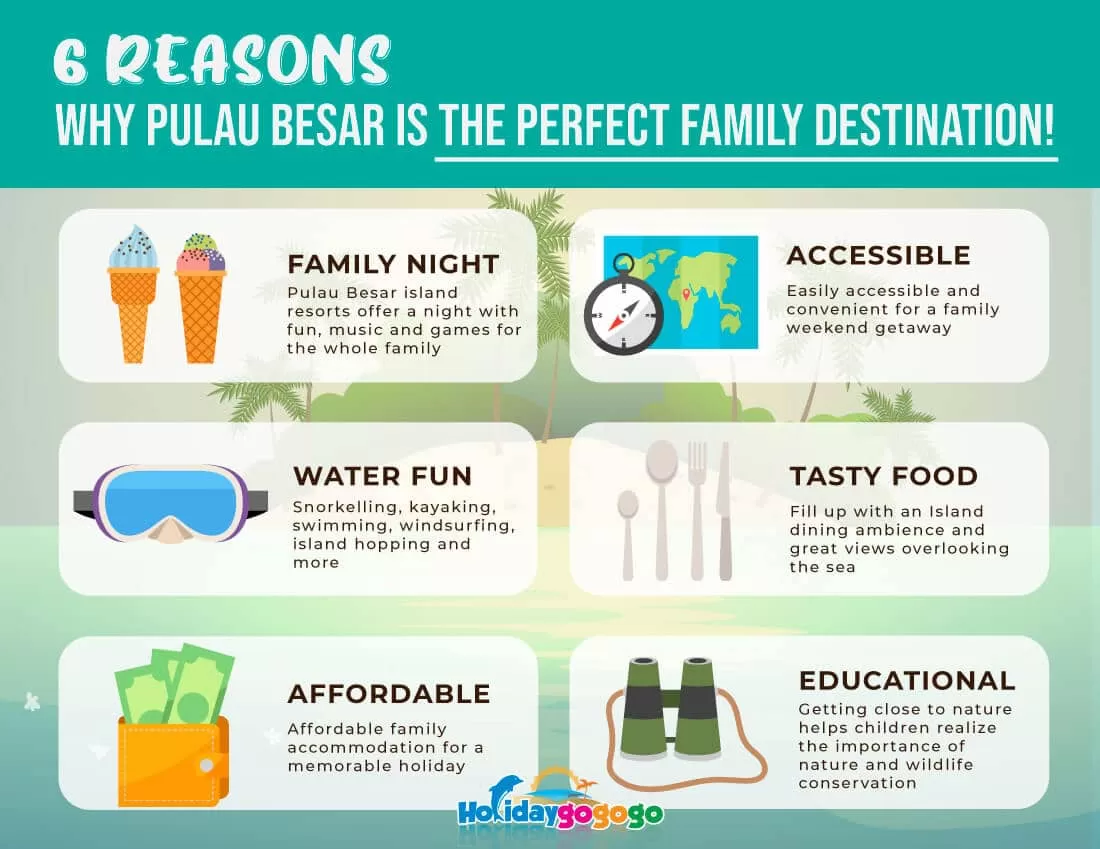 If you have never taken your entire family with you on a holiday, let us make your life easier by narrowing down 6 compelling reasons for a fun-filled Pulau Besar family holiday!
[lwptoc numeration="none" numerationSuffix="none"]
---
1. Easily accessible and convenient for a family weekend getaway
Getting to your holiday destination is a major part of any holiday experience. When you are travelling with family, it is important to ensure the entire journey to your destination is fun and not tiring for every family member, especially young children or senior citizens.
This is precisely why a Pulau Besar family holiday should be at the top of your staycation list.
You can easily reach Mersing by car or bus. Whether you are driving on your own, renting a car or taking a bus, you can reach Mersing within 3 – 4 hours (depending on the traffic conditions) from Kuala Lumpur or even Singapore. If you are travelling by bus from Kuala Lumpur, once you reach Mersing Bus Terminal, the jetty is just a short 10-minute walk.
The boat ride from Mersing Jetty to Pulau Besar takes only 30 minutes. This provides a change of scene from mundane city life and is a fun way for children and adults to enjoy each other's company surrounded by the breathtaking sea view. Life jackets are provided for safety purposes.
For a fuss-free boat arrangement to Pulau Besar, check out our Pulau Besar tour packages.
2. Affordable family accommodation for a peaceful and memorable stay
Pulau Besar is home to a handful of charming family resorts. No matter which you pick, you will be sure to enjoy a fun vacation with your loved ones.
Option 1: One of our favourite resorts for a Pulau Besar family holiday is D'Coconut Island Resort. With its rustic Malay village-style charm and comforting vibes, this resort even caters to large families with its cosy Family Room, equipped with 1 king-size bed and 2 single beds. The Family Rooms are located away in a more private section of the resort for some quality family bonding time. D'Coconut Island Resort also houses the best in-house swimming pool which is kid-friendly. You can be sure to have an amazing time with the entire family with a fantastic view of the sea.
Along the beachfront, the resort offers ample spots to just laze around in hammocks and beach huts while enjoying the company of your loved ones and overlooking a magnificent sea view. Children and adults alike can make full use of the beach swings available at this resort and have a ball of a time! Even if you don't feel like indulging in water activities, you can still have an amazing family time by rounding up the brood for a game of beach volleyball!
Option 2: If you don't mind splurging a little, then Aseania Beach Resort is the place to stay for a perfect island family holiday. The spacious Country Chalet and Seaview Chalet can accommodate a family of 3 persons. Children aged 3 years and below get to stay for free with their parents with no extra charges for cots or bedding. Both types of chalets come with a private balcony for visitors to just chill and enjoy the serene surroundings and cool sea breeze.
In fact, this resort was our top pick for Best Family Resort at Pulau Besar!
Aseania Beach Resort is miles ahead of the other resorts with its wide array of activities. The resort offers kid-centric activities like cycling, beach volleyball and kayaking. We love cycling in particular. Explore the expanse of the resort and its tranquility with your family by cycling. You can check with the friendly staff at the front desk on bicycle rental charges.
It also houses a separate swimming pool for children right in the middle of the resort. This way, the little ones are not missing out on the amazing sea view!
At Aseania Beach Resort, you can even island hop your way to relaxation with your whole family on board as visitors can charter a boat to nearby islands including Pulau Sibu and Pulau Rawa. The expedition in itself presents a new and memorable adventure for you and your loved ones. And what's more you get to immortalise precious family moments against the backdrop of the ocean and lush greenery through fun photography sessions! (Source: http://www.aseaniapulaubesar.com/island-hopping.html)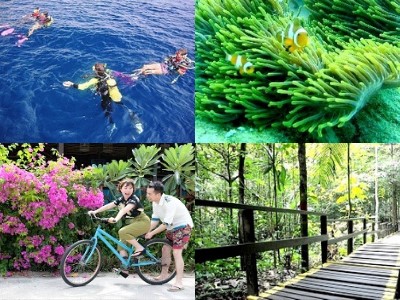 The rustic beach huts overlooking pristine waters and surrounded by coconut palms and tropical forests are equally inviting for a relaxing family time.
Suggested Read: Pulau Besar's Big 4 – Choosing the Best Pulau Besar Family Resort
3. A host of exciting water activities for every age
Given the abundant marine life and untouched corals stretching around 3.7 km of the island, a Pulau Besar family holiday promises a host of water activities for both young and old.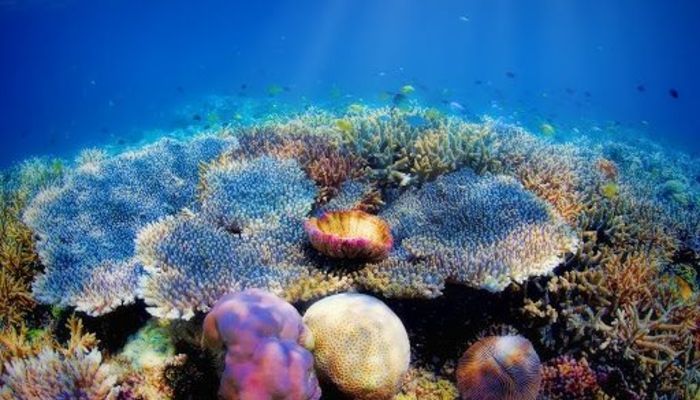 Snorkelling is one of the major attractions at Pulau Besar. This exciting water activity is not only a fun activity for the entire family but also an educational experience for the younger generation on the importance of preserving marine life and coral reefs. Snorkel right off the beach and get close to exotic and bright-coloured sea creatures, giant cockles, and coral gardens!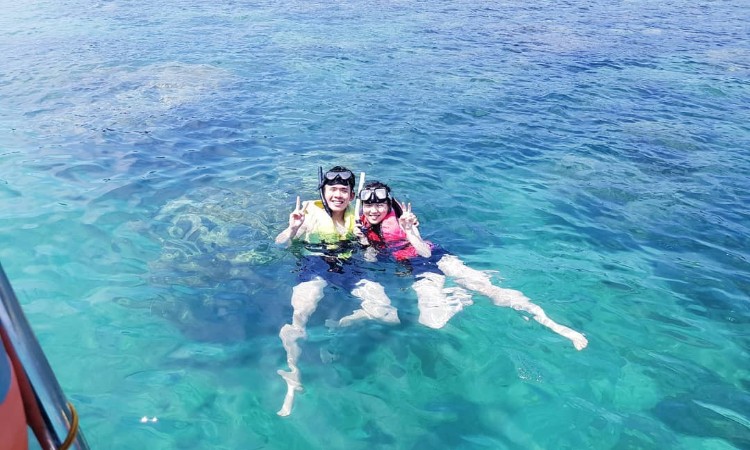 Another popular family activity is kayaking. Family resorts such as Aseania Beach Resort and D'Coconut Island Resort rent kayaks to travellers staying at the resort. Take it up a notch by organising a kayaking competition between family members for an instant adrenaline rush.
Even sceptical swimmers in your family would not resist the opportunity to have a relaxing swim in the clear blue waters of Pulau Besar!
Adult thrill seekers can look forward to go wind surfing right in front of the beach and perfect their windsurfing tricks to a cheering crowd of family members along the beach.
There is definitely something for everyone to enjoy at Pulau Besar!
Suggested Read: 13 Thrilling Activities for Adventure Seekers at Pulau Besar (Besar Island)
4. Take your loved ones on an educational journey close to nature
Blessed with rich flora and fauna, Pulau Besar is a great destination for nature lovers. Resorts such as D'Coconut Island Resort and Aseania Beach Resort offer guided trekking tours for groups of 4 and above.
Jungle trekking is the best way to spot unique wildlife and birds found in Pulau Besar such as Nicobar Pigeons and Eurasian Hoopoes. The younger generation would surely benefit from this first-hand experience close to nature and realize the importance of nature and wildlife conservation.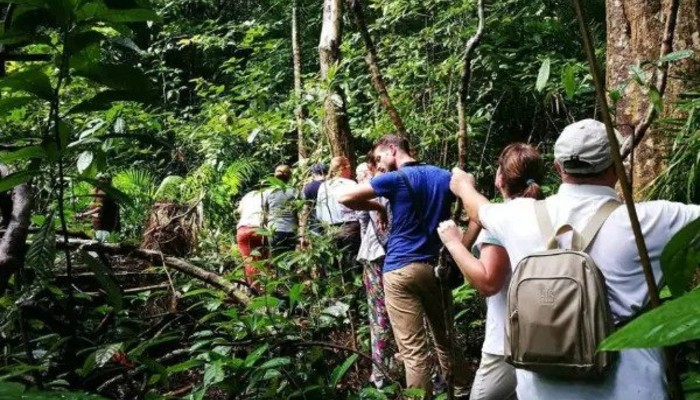 Those up for a hike would have no regrets upon reaching the hilltop with a fascinating view of the South China Sea!
5. A family who eats together, stays together
This well-known expression proves how important it is for families to have breakfast, lunch and dinner together. Family meals are the best way for families to gather and have the opportunity to share their stories and experiences. It strengthens family ties and improves overall family health.
One of the best resorts in Pulau Besar known for its scrumptious food and great ambience for family bonding is Aseania Beach Resort. The Kayu Manis Restaurant offers a wide array of local, international and halal food in a Balinese open-air setting overlooking the sea!
If you are planning on a Pulau Besar family holiday at this resort, try their crowd favourites such as pineapple chicken curry and seafood fried rice and sambal fish. If you love porridge, the resort offers a unique selection with 7 side dishes. As the food is not too spicy, it is suitable for adults and children. Vegetarians in your family will not feel left out as the kitchen staff are willing to accommodate meals to cater to their needs, too.
A weekend Pulau Besar family holiday at Aseania Beach Resort is worthwhile just for their BBQ nights! With a variety of fresh seafood and meats including lamb and chicken, feasting on food cooked to perfection are priceless family moments!
Breakfast junkies can start the day right with a simple breakfast at D'Coconut Island Resort featuring a wholesome breakfast buffet of fruits, bread, sausages and eggs. That's not all – enjoy a plate of club sandwiches and fried snacks as you chill out at their rustic open-air restaurant with a spectacular view of the sea.
6. Enjoy a chill family night with live entertainment and games
There can never be a dull moment during a Pulau Besar family holiday. At night, most resorts come alive with food, drinks, fun and games to everyone's delight. At the Lounge located in Aseania Beach Resort there are ample cozy spots to just chill out in the open-air area and feel the sea breeze with much chit-chat and laughter among family members. Adults can indulge in a drink or two while enjoying upbeat music by the resident DJ. Get your game face on and play fun family games such as darts or board games and make new friends by mingling with the locals.
Speaking of beach bars, parents deserve a break too! Visit the unique attraction at Mirage Island Resort is its beach bar area and the deck out front with a scenic sea view.
In fact, the entire lounge area leading up to the dining area is designed specifically to keep a great view of the sea within sight at all times.
It is not surprising that many travellers consider the bar at Mirage Island Resort as the best beach bar on the island.
---
These are our top 6 reasons to have your next family holiday at Pulau Besar. We hope you agree with us that Pulau Besar is a great family vacation destination! With its simple accessibility, fun activities and beautiful natural surroundings, the island is a family's playground.
Are you excited to explore Pulau Besar with your family?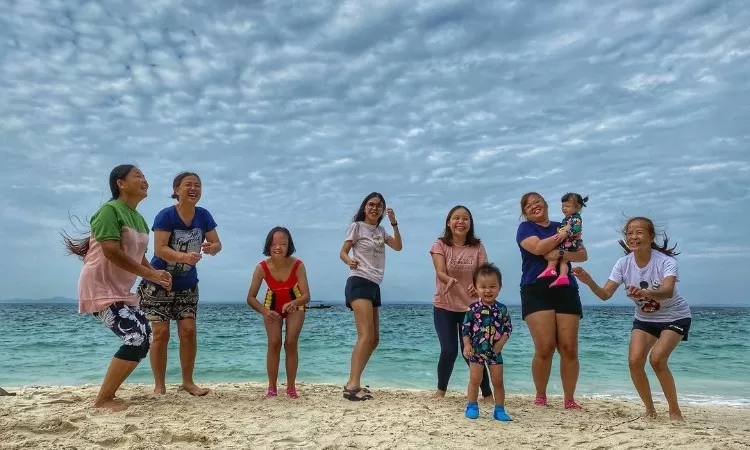 Here are some handy tips for your next Pulau Besar family holiday!
Ask for boat departure times from your tour operator or resort in advance so that there won't be any complications when you arrive.
Private boat transfers are available but will usually cost more (you can haggle for lower prices for younger children).
There are wild monkeys around the island so watch your child's safety at all times.
It is not advisable to venture too far into the jungle trails due to poor road maintainence and wild animals. Get a guide to lead the way.
Wear sunblock lotion to avoid sunburn and keep your family safe from the harmful rays of the tropical sun.
Use an oil-based repellant to avoid being bitten by sandflies which are common at beaches.
Ensure you have enough cash as there are hardly any ATM machines in Pulau Besar. However, most resorts such as Aseania Beach resort accept payment via credit card or cash. You can also withdraw sufficient cash for your expenses from ATM machines on the mainland in Mersing.
---
Pulau Besar Popular Family Tour Packages: