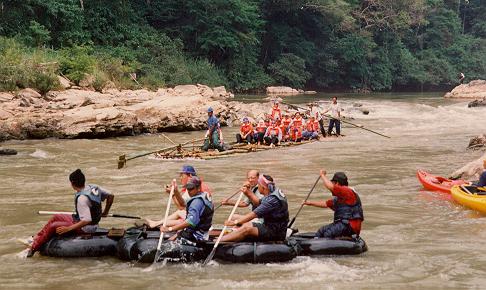 With the major population of Malay ethnic, Kelantan is known as the "Cradle of Malay Culture" in Malaysia. Some of the well-known traditions like kite flying, wayang kulit (puppet show), songket weaving and batik design can be seen in this state. There are many beautiful beaches around Kelantan with romantic ambiance which attract visitors from both local and overseas every year. There are also plentiful of activities suitable for kids and adults therefore spending your holiday in Kelantan will be so much fun.
White Water Rafting and Rock Climbing
If you like exhilarating experience, you may go for white water rafting at the famous spot here in Nenggiri River at Gua Musang, Kelantan. The rafting adventure will take you through some of the most scenic jungle areas where you will get to see wildlife along the way and visit to a few caves for some archaeology experience. In addition, visitors can do rock climbing at Mount Stong. It is located at the Stong State Park. You will be able to see the 7 tiered waterfalls which is one of the highest in Southeast Asia at the height of 303 meters.
Jungle Railway Riding and Jungle Trekking
For some interesting encounters, visitors may go on a Jungle Railway Riding. It is a train ride that starts from Tumpat where it go through the mountains and jungles of Peninsular Malaysia and later on connect to the Singapore-Kuala Lumpur line at Gemas station. Along the way, visitors can enjoy spectacular scenery as the train passes through the Stong Waterfalls and limestone caves in Gua Musang. There are lots of jungle trekking trails in Kelantan. Most of the treks can be found at Jelawang. Many trekkers like here as you will get to see wonderful Jelawang waterfalls after trekking for about 1 hour 30 minutes. Other available trails will lead you to Lata Beringin waterfall near Gua Musang or to Taman Negara National Park.
River Cruising and Homestay
One of the interesting things to do is to cruise the Kelantan River. Visitors will be seeing the rainforest environment along the cruise. The cruise begins at Kuala Krai and ends at Dabong. You may indulge in the beauty and wildlife diversity as you make your way up the river. You will even see little villages at the river bank along your way. The cruise takes about 1 hour 30 minutes and will stop at the south of Kota Bharu. Later on visitors may experience the daily lifestyle of the local villagers as you spend your nights at Kampung Blok Ulu Kusial Homestay. It is a great cultural activity when you get to explore about their daily work like rubber tapping, fishing and husking rice. When night falls, the villagers will do some traditional performance like making the percussion sounds, listening to their ethnic singing or watching the Malay men performing the Malay form or self-defense call Silat.
Scuba Diving and Batik-Painting
The Awazisan Maru is a popular scuba diving site in Kelantan. It was where the transport ship sunk in the Pacific Naval hostilities during World War II. The location is 20 meters off the coast of Kota Bahru. Visitors can reach the dive spot 30 minutes by boat from Kota Bahru. There divers are able to see the giant barracudas and an abundance of pelagic life. On the other hand, visitors are welcome to experience the local culture at Zecsman Design. Here you can do batik-painting, tutored classes are available for work on cotton and on silk. It is a fun activity as you get to discover how the batik is made and the art behind it.