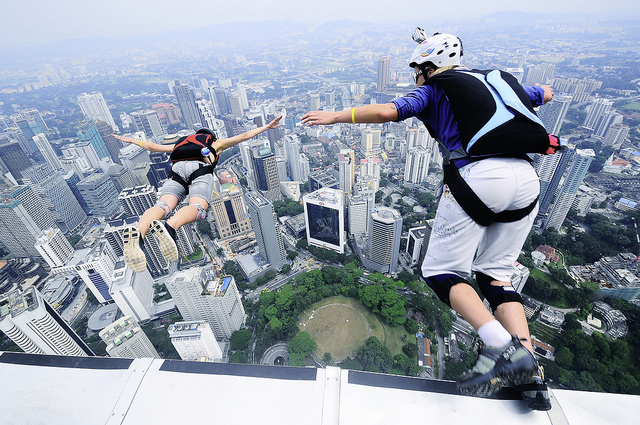 Kuala Lumpur or commonly known as "KL" for short by the locals is the Federal Territory of Malaysia. Kuala Lumpur is a city full of bustling streets, skyscrapers office and residential, huge shopping complexes, happening night life and scrumptious Malaysian food from its multicultural background. This city is always the entry point for most visitors especially the first timers as it has the country's many attractions hence it is a great gateway to start your wonderful holiday in Malaysia.
Go Shopping
Kuala Lumpur is a city with lots of big shopping malls on sales almost every day throughout the year. Hence visitors can indulge in a wonderful shopping spree here in the city. Other than the major shopping malls around the town center, visitors can stop by at Petaling Street in Chinatown for some replicas or local made stuffs. There is also a daily market that sells food, clothing, bags, jewelry and so much more. Prices are affordable and if you can bargain well, you might get a very good deal.
Sightseeing and City Tour
For visitors who are just getting to know the city, you should go for the KL Hop-On Hop-Off city tour. It is offered by local agencies that bring you around the city center on an air conditioned bus. The tour will do a circuit of the main tourist sites for half an hour and it is available every hour throughout the day. It stops at the KLCC, Jalan Bukit Bintang, Menara KL (KL Tower), Malaysian Tourism Centre, Chinatown, Merdeka Square, Lake Gardens and etc.
There are also quite a number of museums in Kuala Lumpur. Visitors can discover more about the city and its culture by coming to these museums. Among all, the National Museum is very interesting as it showcases the Malay history, Chinese culture, vintage automobiles, flora and fauna and so much more. Besides, the National Art Gallery is a great place to be where you get to see fascinating architecture and more than 2,500 pieces of art from both local and international artists.
Get Close with Tropical Floras and Faunas
For those who love bird watching do spend some time in the KL Bird Park. Located at the Lake Garden, KL Bird Park is the world's largest free-flight walk in aviary and home to more than 3,000 birds of about 200 species of local and foreign birds. Visitors can explore the 20.9 acres of verdant valley terrain while joining in the different birds feeding sessions throughout the day.
There is a canopy walkway available at Bukit Lagong Forest Reserve. The walkway was built in 1992 for the scientific study of flora and fauna. It is about 300 meters at sea level, in a length of 150 meters and is suspended between trees at roughly 30 meters above ground level. Today, the walkway is open to the public and visitors can enjoy a panoramic view of a tropical rainforest as well as the Kuala Lumpur area from a distance.
For the Adventurous Nerds
Visitors can experience some adrenaline rush by going bungee jumping or base jumping at either Sunway Lagoon Theme Park or KL Tower. At Sunway Lagoon Theme Park, you will be jumping down from the world's longest pedestrian suspension bridge at the length of 428 meters and 21 meters height. The height is as tall as about 8 to 9-storey building, with the lake underneath where you can choose to have the water touch option or just right at the surface when you jump down. Meanwhile the base jumping at KL Tower is at the height of 421 meters, the highest in the world. Therefore you should definitely try out this activity if you love exciting and thrilling experience.
Mountain biking is a growing sport in the city. There are many mountain biking trails in KL that are suitable for bikers at any age with any expertise level. Whether you like to explore more about the hidden treasure of a rainforest or simply wish to test your skill in a manmade trail, you will sure find something that will fascinate you.
Enjoy Kuala Lumpur Leisurely
You may go for horseback riding at Bukit Kiara Equestrian and Country Resort. It is a world class horse riding club as well as a horse riding school in the region. Here there is a complete horse riding and polo facilities. Visitors will get to do some horseback riding activities or take up some short course provided here.
The Putrajaya International Hot Air Balloon Fiesta that takes place in March every year at Putrajaya is an annual event in Malaysia. During the event, you will be able to see hot air balloon from other countries and even get a chance to ride the tethered hot air balloon. Besides, there is KMX Kart and archery available at the event. Visitors can also take the opportunity to board a helicopter and fly above the land and lakes below. At night, there will be fireworks displays forming beautiful arts up in the sky. It is absolutely a must see event while having vacation in KL.