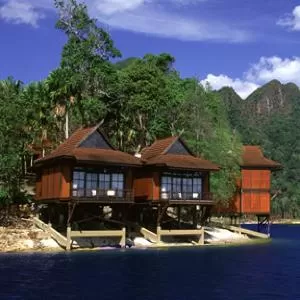 Located at the north western part of Malaysia's Peninsular with many picturesque paddy fields, the state of Kedah offers a breathtaking retreat for the tired traveler. The capital city Alor Setar itself is an amazing destination to spend a few days away from the hustle and bustle of Kuala Lumpur. A calm and scenic town, the accommodations in the mainland are somewhat limited where all the luxury hotels and resorts are located in the popular Langkawi Island, but do not let this put you off, as this state is the ideal destination for tourist looking to get away from the monotonous city life. From hotels to vacation rentals, there are accommodations available to suit every budget.
If you are looking for an island vacation in Malaysia, Langkawi Island is one of the many islands in Malaysia that is a must visit destination. With diversified of attractions and things to do, you will find no problems in finding a hotel or resort in Langkawi. For beach lover, accommodation from budget to luxury beach resorts and hotels are available along the coastline. If you wish to stay away from the beach, Kuah town is an alternative place to stay on the island.
For having vacation on the mainland, Baling is a good place to stay in to enjoy a hot spring retreat. Visitors can choose to stay in the town of Baling or to stay in Sungai Petani if travelling in the range of 50km is not a problem. In Sungai Petani, you will find star rated hotels and resorts as well as home stay and budget inns that are perfect for budget traveller.
If you are coming to Kedah for a golf vacation, you are coming to the right place. There are several top notch golf clubs and resorts located on the mainland as well as on the Langkawi Island. One of the best golf courses in Kedah that worth to mention is the Datai Bay Golf Club that is sitting at the foothill of Mount Machinchang in Langkawi. The golf course is surrounded by a rainforest with Andaman Sea within close proximity. Another championship golf course that worth to highlight is the Pedu Golf and Lake Resort located at the northern part of Kedah. The resort features chalets that are built on stilts surrounded by million years old rainforest and the unspoiled banks of Lake Pedu. This resort not only perfect for the golfers, but also wonderful for a family vacation.