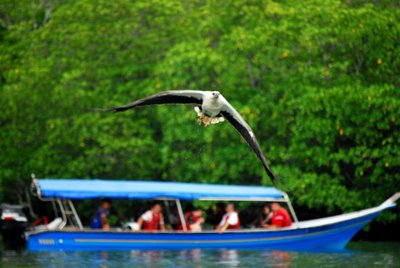 Langkawi is an island that has it all; beautiful beaches, great outdoor adventures, perfect sunsets, wildlife sanctuaries and the 99 islands. There are 104 islands in total; during low tide and 99 when the tide is high. While most of the islands are uninhabited, a few were chosen for tourism so that visitors to Langkawi would able to appreciate and admire the spectacular atmosphere of Langkawi Island. There are quite a number of island hopping tours available, to get you started, here are some of the most favorited island destinations that you should pay a visit.
Rebak Island


Located just off the coast of one of the many beautiful beaches Pantai Cenang is the untouched Rebak Island. It is an ideal place to visit if you want a secluded spot and have the beach to yourself. The beaches here are exclusive and offer white sandy beaches looking out to the crystal blue sea. Some visitors not only visiting this island for hopping but also get hooked by the charm of the island and decided to stay in the island resort.



Beras Basah Island

If you are looking for a quiet and relax island vacation in Langkawi, the Beras Basah Island is a perfect getaway from the busy city life that allows you to swim in the crystal clear water and beautiful white sandy beach. Tourists can normally visit to Beras Basah Island with an island hoping tour package provided by the local tour providers. You will also get the chance to visit the Dayang Bunting Island and Singa Besar Island during the half day or full day tour. Read more…

Dayang Bunting Island

Dayang Bunting Island owns the largest lake in Langkawi called Pregnant Maiden Lake, a lake shrouded with beautiful surrounding and mysterious past. Legendary lake, limestone hills, dense forests, exotic floras and faunas are some of the attractions of this island. If you are a beach lover, Dayang Bunting Island homes to a beach with crystal clear water and allows you to relax in a quiet afternoon.
Tuba Island


Tuba Island is a mesmerizing island offering a beautiful gateway where you can see great sandy white beaches, serene trees swaying gently, friendly locals and small gentle waves meeting the shore. The island is a must see if you are in Langkawi and is the perfect spot for a romantic getaway.

Singa Besar Island


One of the most famous attractions in Singa Besar Island is the sedimentary rocks which are known to be the oldest rock in Malaysia. The island is also known to be rich with beautiful floras and faunas. It is a wildlife sanctuary where you will discover mouse deer, lizards, macaques, eagles, hornbills wander freely. During low tide, you will get the chance to witness the beautiful coral bed exposed in front of your eyes and if you are lucky enough, you will be seeing the signs of coral regeneration at some spots.
Recommended Hotels in Pulau Langkawi, Kedah:
1. Meritus Pelangi Beach Resort & Spa
Among the best resorts in Langkawi, close to the lively Cenang Beach.
Reserve through Agoda.com
2. Resorts World Langkawi
A hotel near to Cenang Beach praised for its nice view and superior staff service.
Reserve through
Agoda.com
3. One Hotel Helang
A stone throw away from the Langkawi Airport.
Reserve through
Agoda.com
4. Casa Fina Fine Homes Hotel Cenang
Value for money accommodation and easy access to the Cenang Beach.
Reserve through
Agoda.com
Browse all Hotels in Pulau Langkawi, Kedah >>