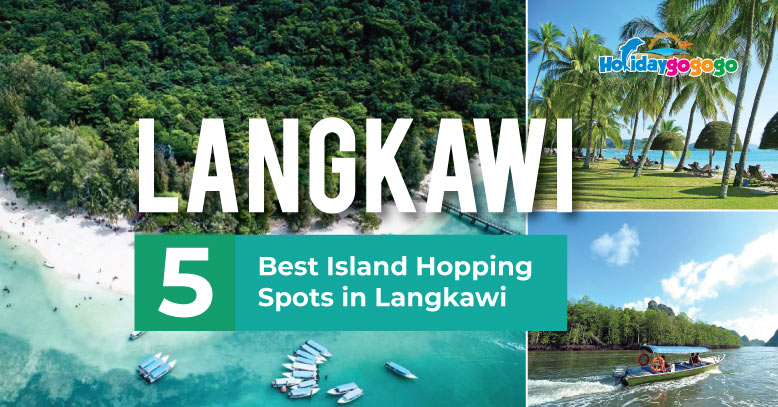 Langkawi is an island that has it all; beautiful beaches, great outdoor adventures, perfect sunsets, wildlife sanctuaries, and the 99 islands. There are 104 islands in total; during low tide and 99 when the tide is high. While most of the islands are uninhabited, a few were chosen for tourism so that visitors to Langkawi would able to appreciate and admire the spectacular atmosphere of Langkawi Island. There are quite a number of island hopping tours available, to get you started, here are some of the most favourited island destinations that you should pay a visit to!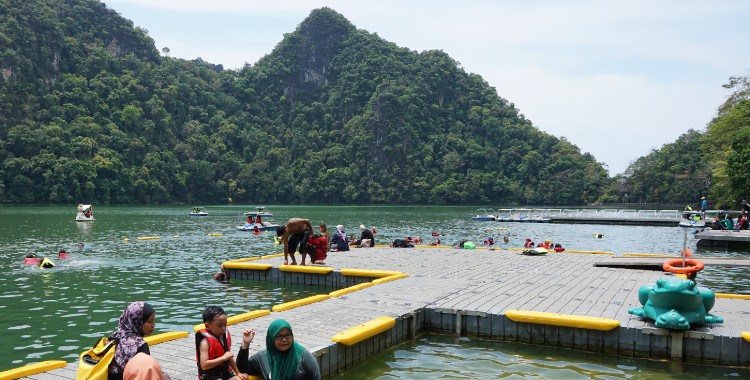 You can visit these islands via booking a group tour online or private boat arrangements. Group tours are the more common and cheaper route.
---
The 5 Best Island Hopping Spots in Langkawi
1. Rebak Island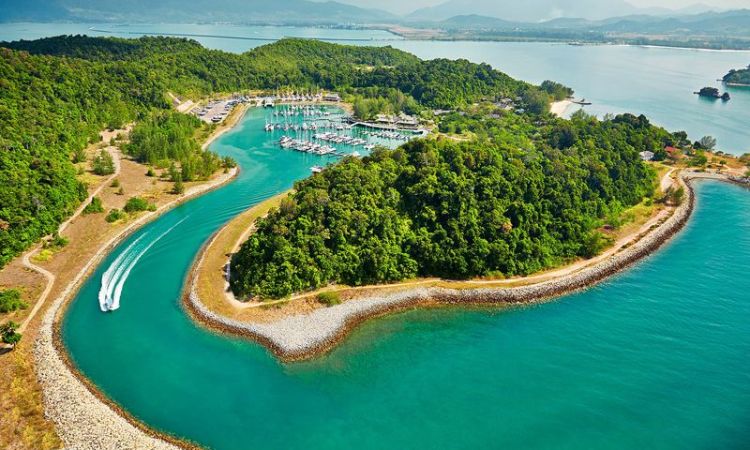 Located just off the coast of one of the many beautiful beaches Pantai Cenang is the untouched Rebak Island. It is an ideal place to visit if you want a secluded spot and a beach all to yourself. The beaches here are exclusive and offer white sandy beaches looking out to the crystal blue sea.
Rebak Island is teeming with diverse wildlife and is the perfect place for indulging the adventurer in you. Immerse in adrenaline-fuelled experiences such as jungle treks, sunset cruises, or cycling. Or just relax in the calm turquoise waters of the sea and plenty of sunshine.
Some visitors not only visit this island for hopping but also get hooked by the charm of the island and end up staying in the island resort instead.
2. Beras Basah Island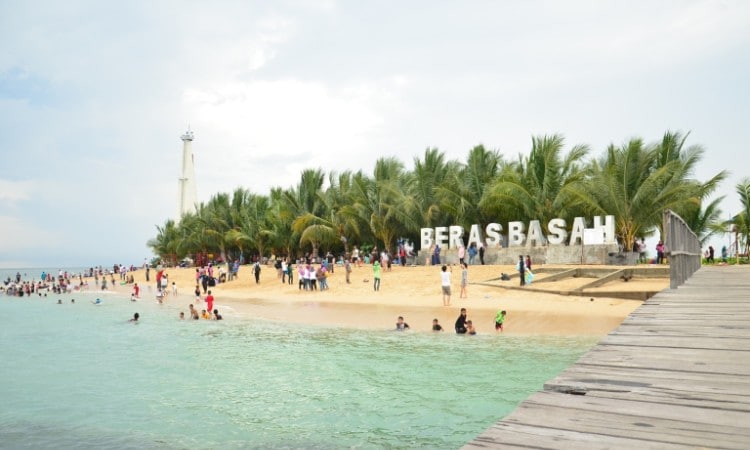 If you are looking for a quiet and relaxing island vacation in Langkawi, Beras Basah Island is a perfect getaway from the busy city life that allows you to swim in the crystal clear water and beautiful white sandy beach. Its sweeping beach is excellent for casual swimming and picnics. If you're travelling on your own, you can even choose to trek into the dense jungle and camp overnight under the stars. Do note that this isn't possible if travelling with a group tour.
This island is also known as the Island of Wet Rice. Legend has it, a huge storm caused a rice-laden boat to get stranded on the island. The storm was caused by the fury of Dayang Bunting, the powerful guardian spirit of the archipelago islands! She was furious by merchants who refused to pay respects to her.
Tourists can normally visit Beras Basah Island with an island hopping tour package provided by the local tour providers. You will also get the chance to visit the Dayang Bunting Island and Singa Besar Island during the half-day or full-day tour.
3. Dayang Bunting Island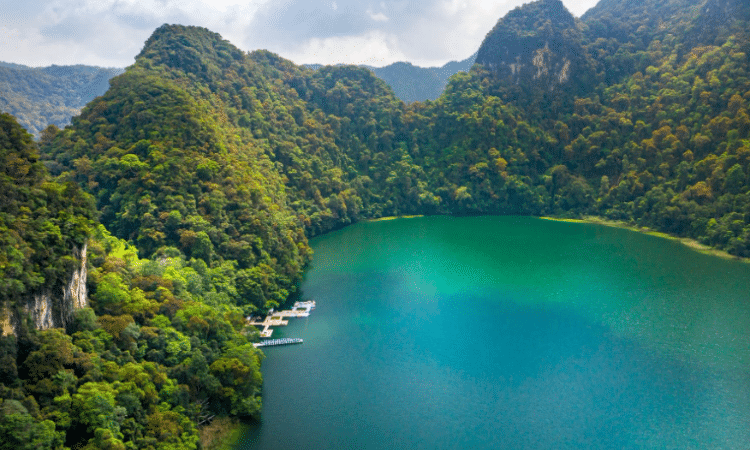 Dayang Bunting Island is home to the largest lake in Langkawi called Pregnant Maiden Lake, a lake shrouded with beautiful surroundings and a mysterious past. A legendary lake, limestone hills, dense forests, exotic floras, and faunas are some of the attractions of this island. If you are a beach lover, Dayang Bunting Island homes to a beach with crystal clear water and allows you to relax in a quiet afternoon.
A quick tip for interested travellers: your time on each island is rather limited. If you take things too slowly, you may not have much time to dip in the lake, kayak, or get a massage done. The best way to maximize your time spent in Dayang Bunting is to head to the admission desk quickly, get your ticket and immediately climb to the lake. You can do more relaxing activities such as shopping and eating snacks later.
4. Tuba Island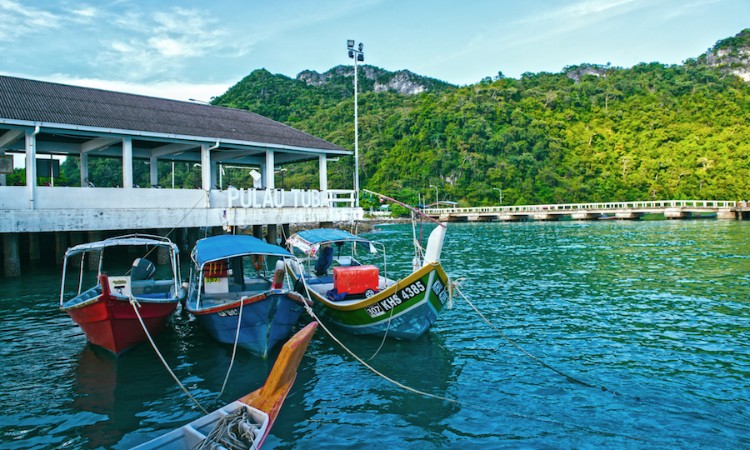 Tuba Island is the forgotten island of Langkawi. A mesmerizing island offering a beautiful gateway where you can see great sandy white beaches, serene trees swaying gently, friendly locals and small gentle waves meeting the shore, the island is a must-see if you are in Langkawi and is the perfect spot for a romantic getaway. In 2019, the Rural Development Ministry promised to turn Tuba Island into one of the rural tourism destinations for the northern states.
This traditional fishing village retains its old ways of drawing water from the wells although it provides all the other facilities such as power, telephones, and a freshwater supply. Household heads of local villagers work as fishermen and do farming. If you want to know more about the local island culture, then this is the place. Visitors can stay at the local homestay programs that have popped up since the Rural Development Ministry's pledge to develop the island's ecotourism sector.
5. Singa Besar Island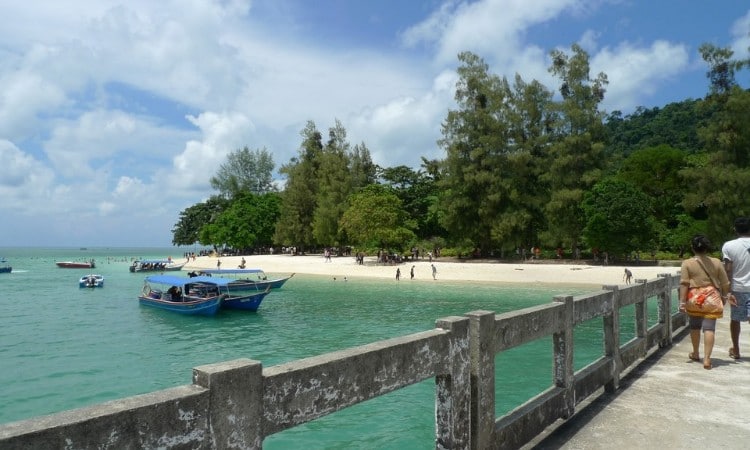 Singa Besar Island is an island rich with beautiful flora and fauna. It was even once a wildlife sanctuary. Although that has since been discontinued, it still retains many animal species such as mouse deer, lizards, macaques, eagles, and hornbills that wander freely around.
Legend has it that the island was once shaped like a lion, thus getting the name Singa Besar, which means "big lion" in English. But locals like to tell the story of a fairy who placed lions on the island for protection. A cool story for an equally cool island!
One of the most famous attractions in Singa Besar Island is the sedimentary rocks which are known to be the oldest rock in Malaysia. In fact, many tourists visit this island just for its swimming and snorkeling opportunities! During low tide, you will get the chance to witness the beautiful coral bed exposed in front of your eyes and if you are lucky enough, you will be seeing the signs of coral regeneration at some spots.
What You Need to Know About a Langkawi Island Hopping Tour
Langkawi is a tourism hub. With throngs of tourists (both local and foreign) swarming to the archipelago, competition is healthy and rife. This benefits us, the travellers, as there will be many options available for tours. In fact, there are many half-day and full-day island hopping tours available at very low prices. Rates may differ according to operators and the travel season. If you book directly with your resort, expect higher prices for the tour.
Related: Langkawi Island Hopping Tour
Most tour operators provide hotel transfers, included with the tour package. If you're staying at Pantai Tengah or Cenang, tour operators will readily pick you up and drop you off from your hotel. This is super convenient as you don't want to worry about transport especially after a tiring day out.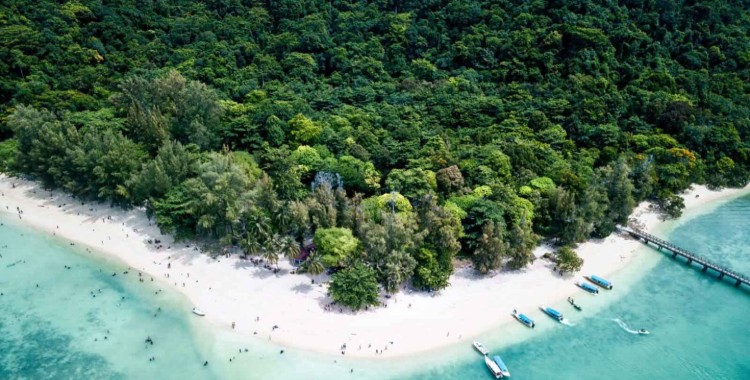 A usual island hopping tour at Langkawi will take roughly 4 hours. This will cover the usual 3 islands: Pulau Dayang Bunting, Pulau Singa Besar, and Pulau Beras Basah. But this can change according to individual tour packages and boat traffic congestion.
What to Bring While Island Hopping in Langkawi
1. Water
The entire island-hopping experience in Langkawi is outdoors. You'll be under the hot Malaysian sun for the duration of the tour. And if there's one thing we can tell you, it's that dehydration sucks! Bringing enough water with you is essential during a Langkawi Island Hopping Tour. Most tour operators will provide complimentary drinks, but it's better to bring your own just in case. Some islands will have small shops selling water but at a much higher price.
2. Sun Protection
Sunblock, sunglasses, and a hat are the essentials to hiding from the sun. The strong rays from the scorching Langkawi sun can burn your skin and cause severe discomfort for the rest of your trip. Trust me, that's something you do not want. Lather on a thin layer and your body will thank you for it! Pay special attention to certain areas such as your forehead, nose, and shoulders. These tend to burn very easily and can get very tender (not the good, juicy kind).
3. A Plastic Bag/Waterproof Bag
Always fold and carry a spare plastic bag with you when travelling. Whether it's to store your wet clothes, valuables such as phone and wallet, or trash collected during your trip, an empty bag lying around is always appreciated. And you'll find much need for it especially when out on the ocean getting sprayed by waves.
4. Snacks
Malaysians love our snacks. Whether its a classic pack of Twisties, muruku, peanuts, bakery bread (a fluffy hot dog bun anybody?), or even freshly-made kuih, we know how to enjoy a good break. And why should being on a boat stop that? In fact, any island hopping experience is better with snacks. A bonus is that it will keep you from going hungry as you use up all that energy at sea.
Recommended Hotels in Pulau Langkawi, Kedah:
1. Meritus Pelangi Beach Resort & Spa
Among the best resorts in Langkawi, close to the lively Cenang Beach.
Reserve through Agoda.com
2. Resorts World Langkawi
A hotel near to Cenang Beach praised for its nice view and superior staff service.
Reserve through
Agoda.com
3. One Hotel Helang
A stone throw away from the Langkawi Airport.
Reserve through
Agoda.com
4. Casa Fina Fine Homes Hotel Cenang
Value for money accommodation and easy access to the Cenang Beach.
Reserve through
Agoda.com
Browse all Hotels in Pulau Langkawi, Kedah >>
---
Langkawi Best Day Tour Packages: