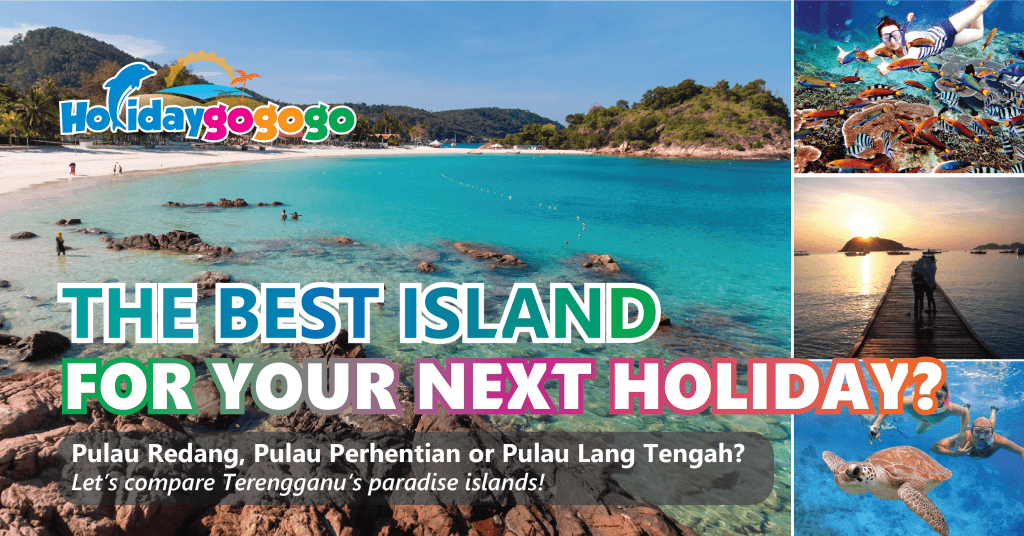 The MCO has ended and you might already be planning your next holiday. And it's no wonder that your eyes have turned to Malaysia's very own beautiful East Coast islands. There are three for us to compare: Pulau Redang, Pulau Perhentian and Pulau Lang Tengah. The question is, which one is better?
We know how subjective the "best island for a holiday" can be. So feel free to come to your own conclusions. But if you want to know what we think, read to the end where we reveal which is the best island for your next holiday. 
[lwptoc numeration="none"]
Introduction
Malaysia's East Coast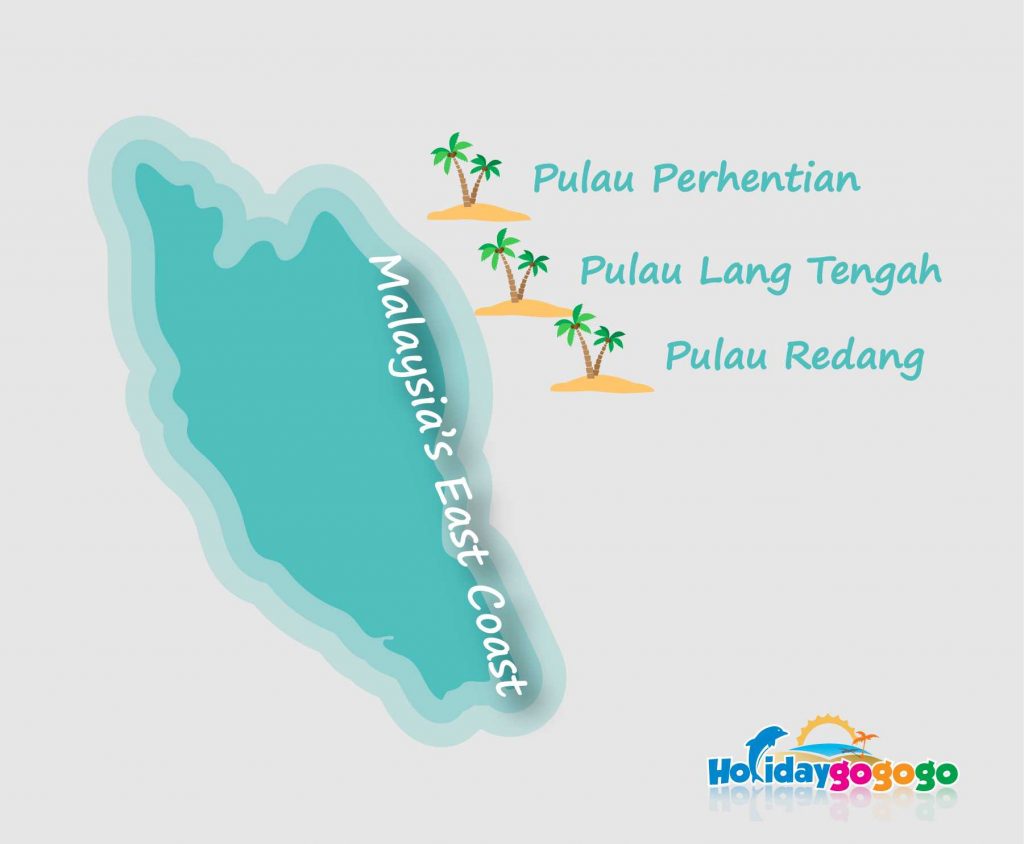 Malaysia's East Coast is a part of Peninsular Malaysia. It is made up of 3 states: Kelantan, Pahang, and Terengganu. What's so special about this agricultural-heavy region is that it contains some of the most untouched islands featuring white, sandy beaches and rich, unspoiled ecosystems teeming with rare wildlife.
These islands offer fantastic opportunities for diving and snorkeling; or simply a chance to kick back and experience the care-free island paradise you've always seen in movies (coconuts sold separately).
You can find three popular islands located in Terengganu and nearby each other. These are Pulau Redang, Pulau Perhentian, and Pulau Lang Tengah. We'll compare them below.
Check out our ongoing island tour promotions here.
Pulau Redang
Almost as famous as a certain hilltop-theme park, Pulau Redang is the most popular destination on Terengganu's coast. It is one of nine islands that make up the Redang Island Marine Park. At 7KM long and 6KM wide, it is also one of the largest islands on Peninsular Malaysia. Over the years Pulau Redang has transformed into one of the most beautiful islands in Malaysia for weekend family vacations or luxury getaways. It is widely known as one of the best island holiday destinations in Malaysia.
Pulau Perhentian
Pulau Perhentian, or the Perhentian Islands, comprises two islands. Perhentian Kecil is a smaller island with cheaper accommodation options catered towards backpackers and party-goers while Perhentian Besar offers better accommodation options and activities that cater to families and travelers who prefer comfort at the expense of price. Both islands have their own charm and it's up to you to decide which suits your taste. 
Pulau Lang Tengah
Snuggly nestled in between Perhentian and Redang lies Pulau Lang Tengah. This small middle island is known for its pristine beaches and lesser crowds. It has four main beaches, each privately owned by the four resorts on the island. It is considerably less crowded than Pulau Redang which makes it an ideal spot for a quiet night's rest while still maintaining easy access to popular snorkeling and dive spots nearby. This is the best choice for those looking for a tranquil getaway in paradise.
---
Which is the best island?
To make things fair, we'll list down some categories, followed by each island's strengths and why we think it wins in that category. In this article, we'll help you decide once and for all which is the best island for a smashing holiday! Let's begin.
---
1. The Hygiene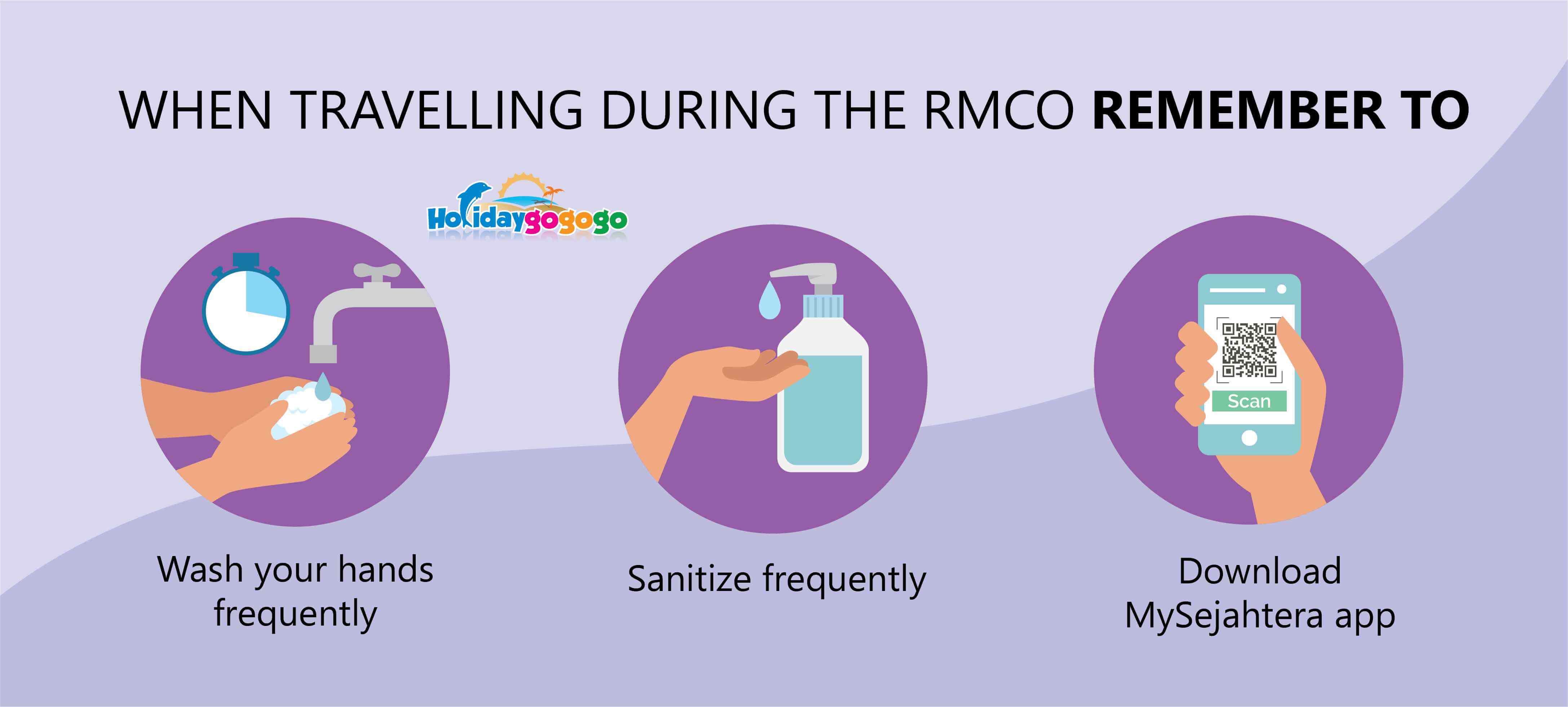 This biggest worry on everyone's minds now must be whether it is safe to travel around Malaysia. At the time of writing, Malaysia is still in RMCO mode. While the Malaysian government has been encouraging domestic travel, our borders are still closed to international travelers. If you're planning a trip to these islands anytime soon, there are a few things to keep in mind.
First, pack along some masks and hand sanitizer for your personal use. Make sure to have enough to get you through public spaces like restaurants, transports, or public beaches. Install the MySejahtera App as it will be needed upon entry to some locations. And of course, practice social distancing wherever possible.
Buses, shuttles, boats, and other transport are disinfected daily. Diving and all snorkeling equipment are disinfected after every use. Guests can choose to bring their own equipment or purchase a new one, or a new mouthpiece.
Hotels are doing their best to accommodate the new RMCO requirements, with every room undergoing thorough disinfection and sanitization after each checkout. When checking in, expect a much more stringent process that includes mandatory temperature checks and sanitization. Most hotels are also operating at 50% capacity to avoid large crowds. However, having fewer people around only adds to the holiday experience and is, in our books, a definite plus. However, you might have to pre-book earlier as room availability has been affected because of this.
Travelling has changed a little compared to before, but if you take enough precautions and adhere to SOPs, you'll be able to have a stress-free island holiday with your loved ones. 
The Hygiene Winner: You!
---
2. The Weather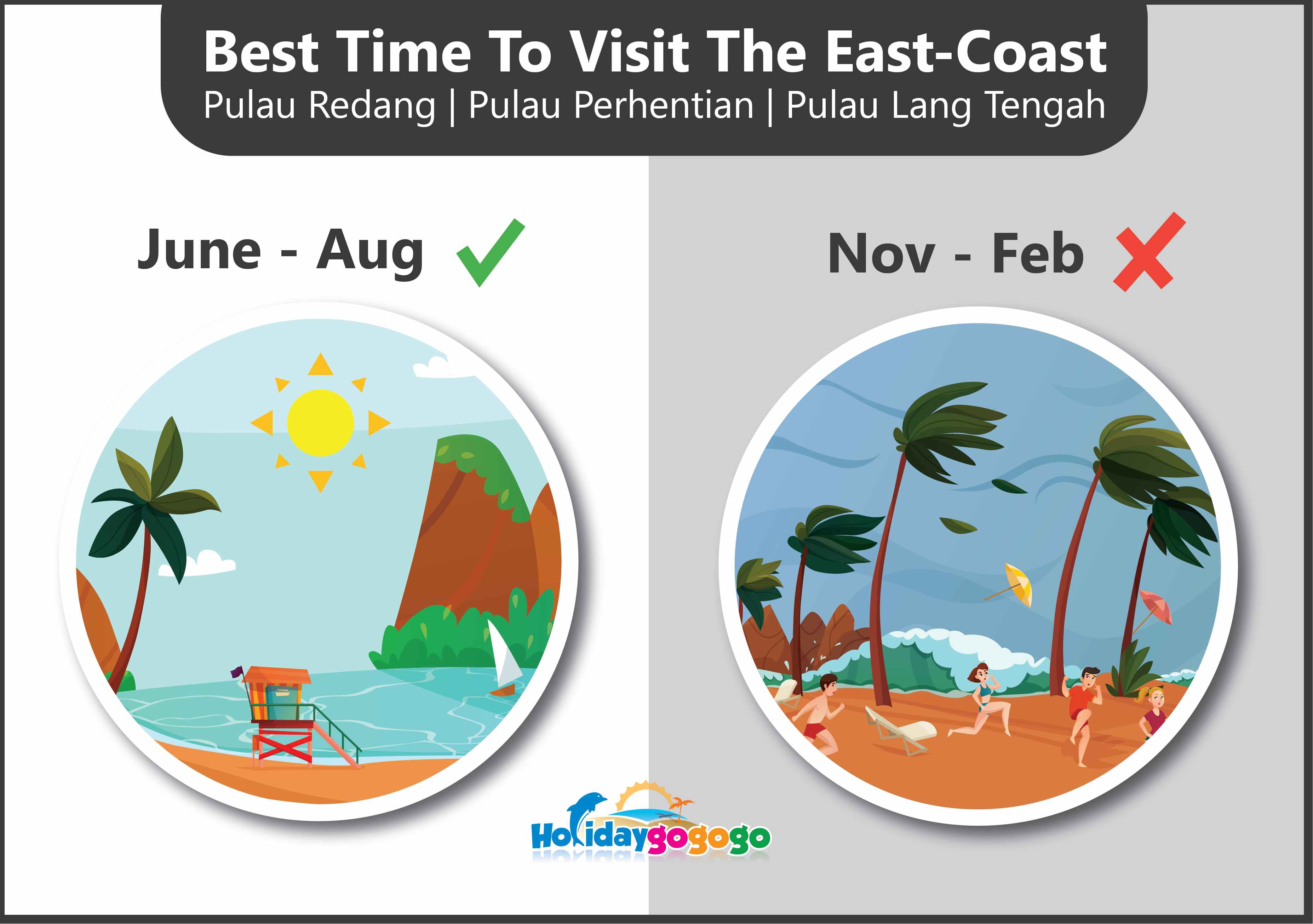 The islands are open to the public between March and October — though the popularity of the islands means that reserving ahead is a wise option. High season ends in mid-September and November brings in the powerful monsoons that last all the way till February, or sometimes even longer. It is impossible to predict the exact time when the monsoons end, so make sure to check carefully for when the islands re-open every year.
During this time boat travel is a big no-no and all resorts will be closed. Still, if you want sunshine all day long, we recommend visiting from June to August. This is the dry season which is actually the best season to visit and the best time for your island holiday!
All islands are subject to the same weather conditions all year round. There are no winners here.
The Weather Winner: None!
---
3. The Accomodation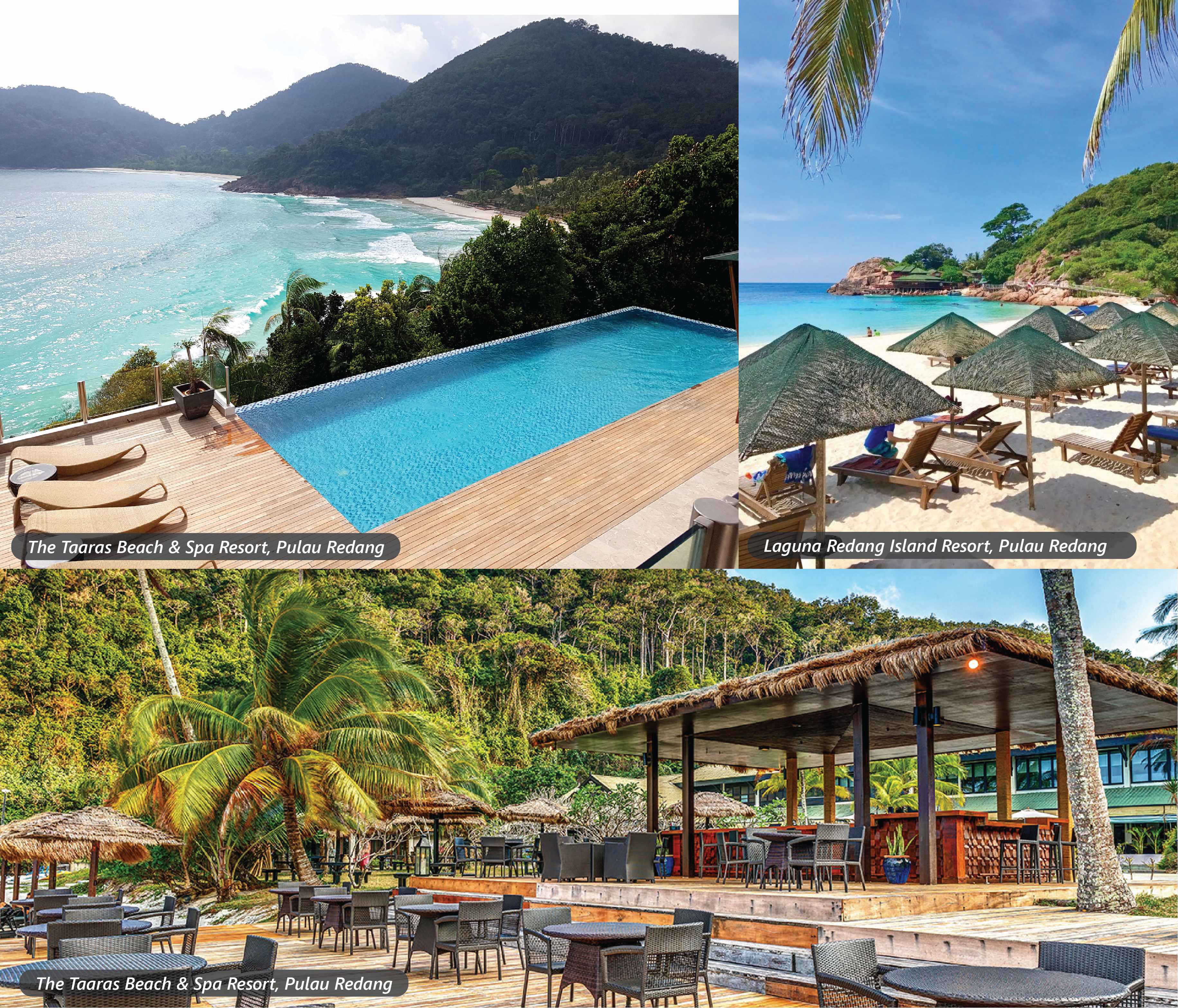 Pulau Redang has it all. From deluxe spas, private beaches, and exquisite international cuisines, the facilities offered by resorts here are no laughing matter. The island is most known for its premium resorts such as The Taaras Beach & Spa or Redang Laguna Resort. These resorts are your best options to spend your island holiday in luxurious glamour. While budget-friendly options are still readily available, Redang Beach Resort is one of the more popular establishments that fall somewhere in the middle of expensive and affordable living.
Whichever you choose, basic comforts like air-conditioning and hot showers are guaranteed. Chalet style rooms are common among hotels in Redang Island and most come with pools, which makes it the perfect choice for families with kids. Pulau Redang is the ideal choice for those looking for the best island experience with all the creature comforts of the city.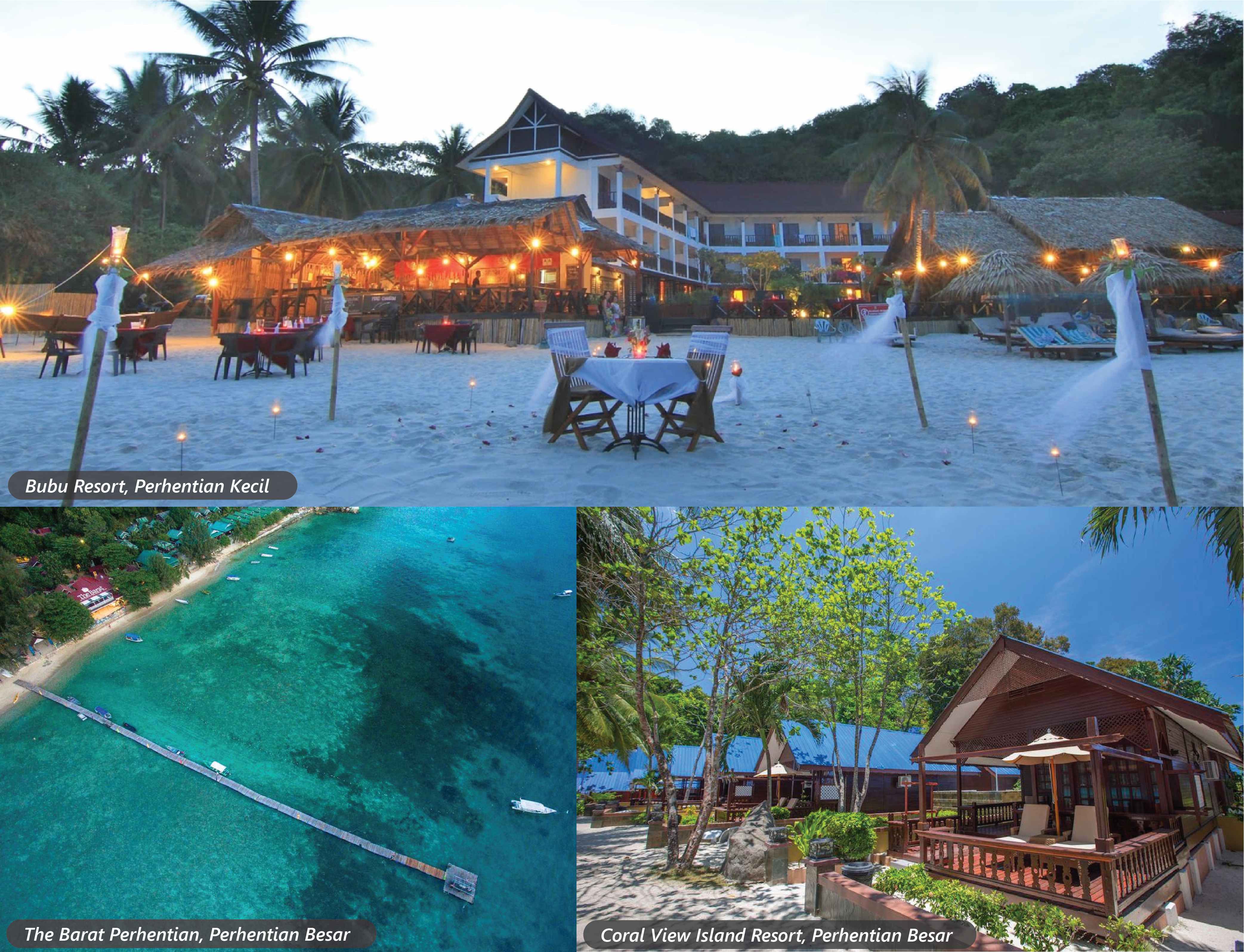 Pulau Perhentian offers accommodation that caters more to two distinct groups of travelers. You'll find more no-frills options and constant parties in Perhentian Kecil whereas Perhentian Besar will be more suitable for families or couples who are looking for quiet getaways in tucked-away resorts. You'll see more European faces here compared to the other islands due to its active party scene and eventful nights.
Check out Bubu Resort Perhentian Island, tucked away in Long Beach Perhentian Kecil for a spectacular sight of the island and its sandy beaches. Facilities at budget-friendly accommodation options here might be less compared to Pulau Redang, meaning you'll have to be more careful when making reservations to ensure that the resort provides the amenities you want.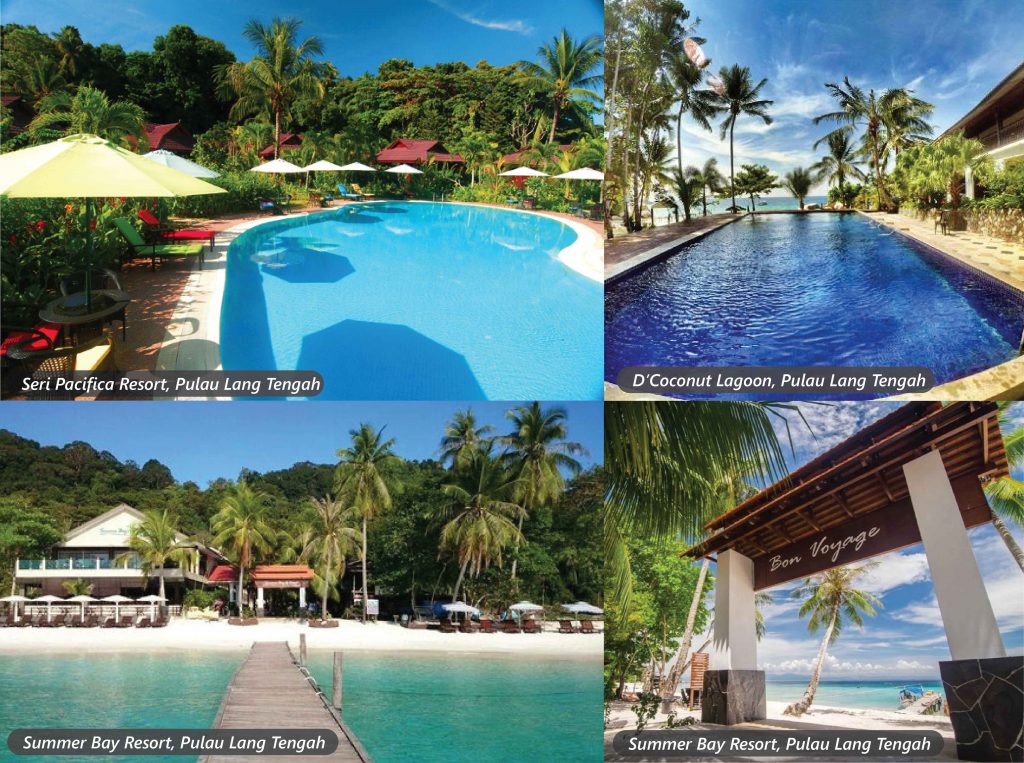 Pulau Lang Tengah is pretty straightforward when it comes to options. Essentially, there are four main resorts who all maintain their own private stretch of the beach. This island unsurprisingly favors a quieter way of living, with most travelers choosing to come here for its obvious lack of crowds. This is because many choose to island-hop here, stopping by for a quick visit instead of staying for the night.
Summer Bay Resort will cater to any basic creature comforts that you can find in the city, and then some. D'Coconut Lagoon Island Resort is an alternately inexpensive choice that does not compromise on the views or the experience.
Whichever island you choose, you won't go wrong when it comes to a good night's sleep. At the end of the day all you want is a bed and shower since most of your time will be spent with the fishes anyway! But for options, variety, and just general living quality, we'd have to pick Pulau Redang as the winner of this category. There are simply too many options to choose from, allowing you to customize your vacation down to the tee.
P.S. As with any island resort, sea-view rooms are not guaranteed. Some hotels build inwards away from the sea, so make sure you specify the view you'd like when making reservations.
The Accommodation Winner: Pulau Redang!
---
4. The Marine Life
All 3 islands are located in a marine park with great spots to swim with the fishes. They share the same environments: sweeping wide beaches and lush forests nearer inland. Whether you're a trekker or a swimmer, you're bound to leave satisfied and worked out! But of course, when it comes to islands, it's all about the underwater life. So which island does it better? Which island is less 'tainted'?
Pulau Redang and Lang Tengah each have their own natural attractions. However, Pulau Redang suffers from an influx of foreign tourists, and due to poor policing, has seen a decline in the health of its reef. But if you are able to swim or kayak elsewhere, there is still good coral and wildlife to see. Redang also has a turtle sanctuary where you can swim with the turtles and a marine park where you can swim around a shipwreck and see moray eels. 
On the other hand, snorkeling in Pulau Lang Tengah is a breeze too, with a number of discrete snorkeling spots and considerably fewer crowds (fewer people with life vests floating around you!).
Our pick for this category would have to be Pulau Perhentian. In our books, this is the best place for diving and snorkeling this side of Malaysia. Most resorts on the island are built facing dense house reefs. It's easy to just swim out from your resort and encounter a thriving ecosystem of fishes and coral, in waters only knee-deep. You can swim with giant turtles directly off the beach!
Divers and snorkelers in the Perhentians get to enjoy excellent visibility and reefs in fairly good condition. It isn't uncommon to bump into reef sharks, barracudas, turtles, and even occasional mantas and whale sharks swimming around the waters of Pulau Perhentian. Shark Point is a particular fan-favorite dive spot where one can find blacktip reef sharks roaming the waters.
The Marine Life Winner: Pulau Perhentian!
P.S. The common misperception about these islands is that they are all tainted and spoilt by tourists. While it's true that they aren't what they were two decades ago, the Terengganu islands still boast terrific underwater views. Some spots are even more untouched than others, and with a bit of exploring, it isn't difficult to find them.
---
5. The Food
Ah yes, the thing that keeps us Malaysians motivated (OK, maybe not everybody). Anyhow, if you're a food lover, I'm sorry to say that dining options on these islands are limited. They are famous for their underwater activities, after all. The best food options are served at resorts and some rare delicious food stalls/cafes littered throughout the islands. If you're going with a package tour, then rest assured as food will be covered by the resorts. But if you're game for some exploring, read on.
Pulau Redang contains more restaurants due to its better tourist infrastructure. Many local stalls sell common local food like fried rice, fried fish, and anything else from RM10 onwards. It is also no hassle to walk to other resorts and check out their lunch and dinner menus. Check out Aima Grill Fish Restaurant nearby Taaras Resort for some local eats at affordable prices. Visit Summer Point Restaurant for a more expensive alternative but with a live band to jam the night away.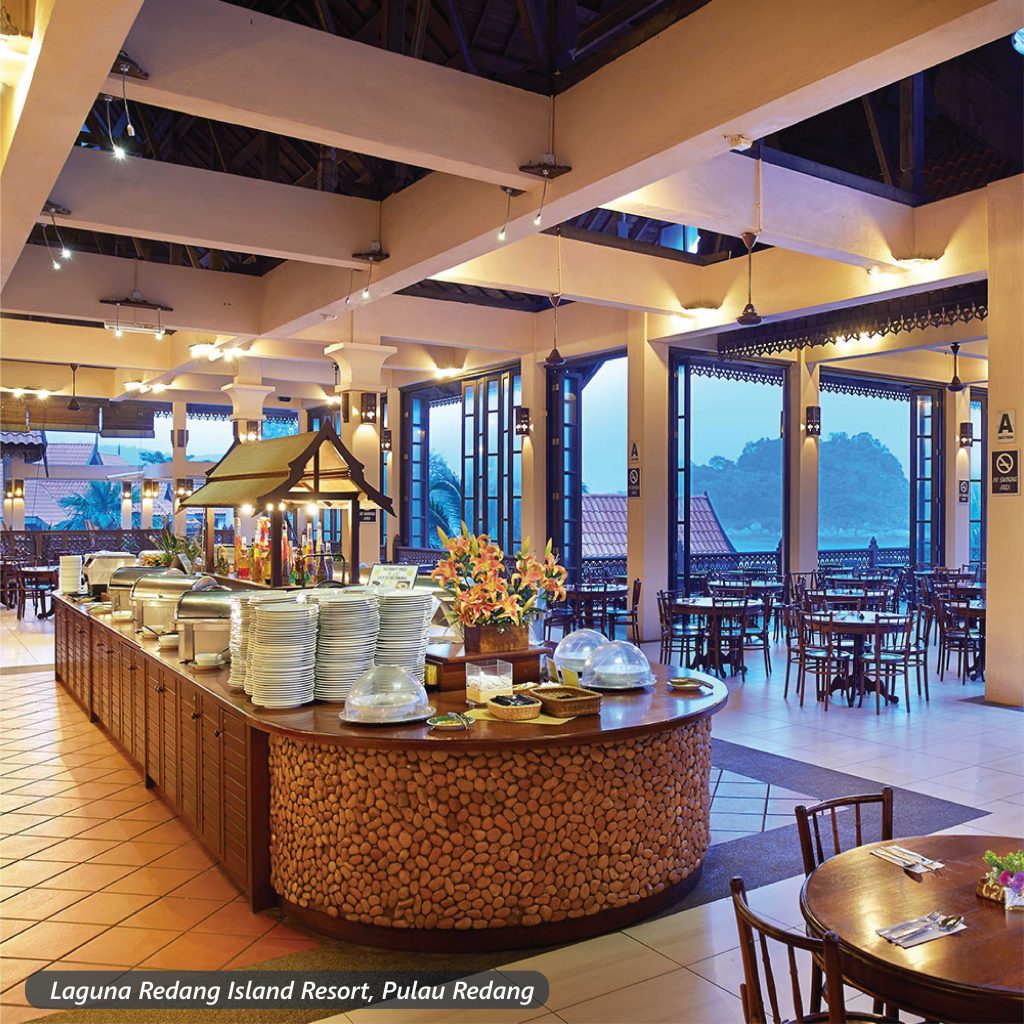 Pulau Perhentian offers some decent dining options, with Bayu Restaurant leading the way with a higher standard dining experience. Other than generous portions, the selection is vast with a choice of western or Asian options for customers. With great sea views, fresh seafood, and a relaxing ambiance, this takes the cake for our Perhentian recommendation. Crocodile Rock Bistro is another good place to try. Amazingly located on the beach, this establishment serves fresh, sustainable food with one of the best burgers that you'll find on the island.

Pulau Lang Tengah is much less commercialized and retains its palette for local, authentic Malay cuisine. We recommend checking out Warung Dewati for some of the best seafood you'll find on all the islands, as well as some classic 'mamak' staples like Mee Goreng and Roti Canai. It is easily accessible via a 5-minute walk from Sari Pacifica. Their BBQ Seafood Dinner is excellent as well and a must-try. Besides this, food options outside are very few and you'd have to make do at resorts for some decent food.
Overall, we'd have to go with Pulau Redang as the winner. Being more commercialized has its perks. With more variety to choose from, and more pricing options to suit your budget, Pulau Redang takes first place when it comes to better food.
The Food Winner: Pulau Redang!
---
6. The Activities

Whether you're a trekker, swimmer, or just a hammock-person, these islands have got you covered. There is a huge emphasis on water sports and underwater activities. You can kayak, snorkel, swim and relax pretty much anywhere in and about these islands.
Most resorts have dive centers that offer leisure dives and PADI dive certification courses. The PADI open water course theory and open water sessions can be completed within 4 days, but it's recommended to take 5 days to slowly go through it, and also leave some time for leisure dives after getting yourself certified. Travelers tight on schedule can also opt for discovery dives, where an instructor will give a short briefing on scuba usage and personally bring participants out for a short shallow reef experience.
Of course, your island vacation wouldn't be complete without some island hopping. For this, we recommend Pulau Redang as there are many tours being offered there at competitive prices. Most of these tours will bring you out by boat to popular snorkeling spots and surrounding islands. Everywhere you go, the water is crystal clear and the beaches are sandy, smooth works of art.
All 3 islands offer ground trails of varying difficulty. This is probably one of the best ways to appreciate the island's flora and fauna, sans-water. Some of these are rare species, though to spot these, it's best to engage the help of local trekking guides.
For us personally, we'd pick Pulau Lang Tengah for the best trails you can find. The trails are of moderate difficulty, with the best one (in our opinion) leading to Batu Kuching. There are many trails leading here so ask around your resort for the right path to take. Batu Kuching rewards trekkers with amazing views of the sunrise (if you come early enough) and a serene snorkeling experience. At times, this can even be your private beach as the number of tourists that come here is few and far between.
There is also a more adventurous trek to Batu Bulan (Moon Rock) which you can ask around for at your resort's reception. Bring a snorkel as this is a great place to see schools of fish and turtles.
Watch the beautiful sunrise when you wake up at 6 AM (I know this won't be a wildly popular suggestion). Provided the weather is good and there aren't many clouds in the sky, be prepared to have your breath taken away! At night, tilt your heads and be amazed at a dazzling night sky full of stars that you would rarely get to see from the city. It is truly a date with nature when you come out to these islands, as you get to see many things that you otherwise wouldn't have in the city.
As a bonus, ask around locals for the best spots to see 'blue sand' (blue tears in Chinese) during the night at specific beaches. These are tiny crustaceans known as ostracods, which give off bioluminescent blue light as they are washed ashore by the waves. They are truly a sight to behold.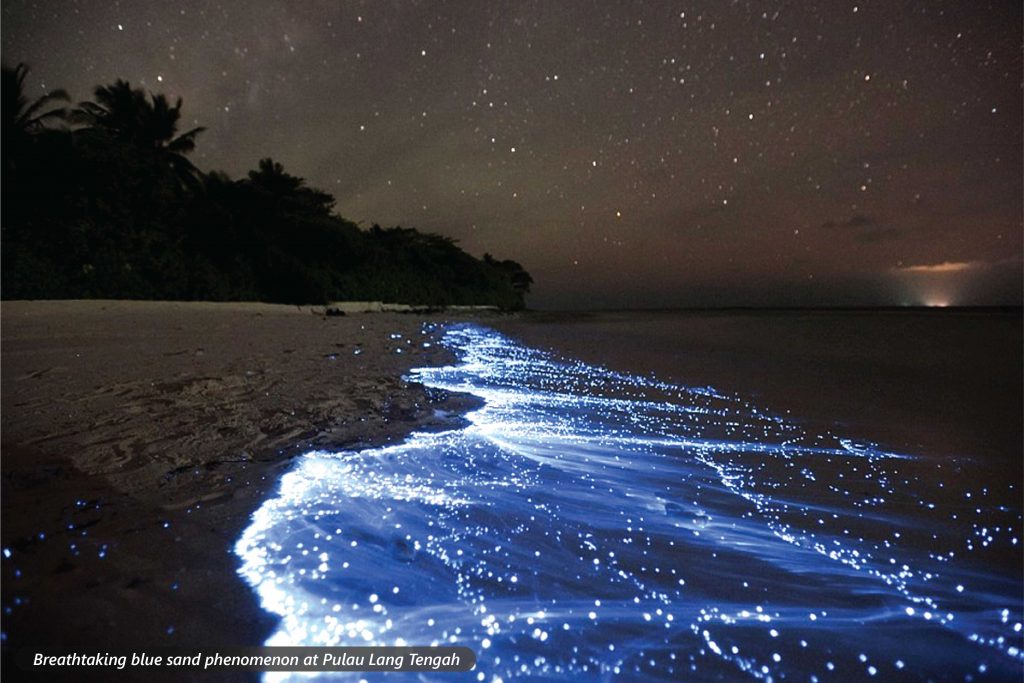 Alright, there are many things to do on these islands. But which island does it better?
Keep in mind that all islands have about the same activities to keep you occupied. But if we really had to choose one, our pick for this category would have to be Pulau Perhentian. Besides the usual day activities like snorkeling and water sports, travelers can also be assured of eventful nights with its avid nightlife scene. Parties, live bands, and bars can go on all night. Who says that your nights have to be boring?
The Activities Winner: Pulau Perhentian!
---
7. The Views
Whichever island you go to, there are breathtaking views to be had.
Pulau Redang and Pulau Perhentian share some amazing views of the sunrise and sunset. Wherever you look, the ocean will dazzle you with its sparkling blue splendor and different shades of blue. It is truly a remarkable view.
Unfortunately, the fame of these islands has dampened the experience. More travelers mean more litter, more damaged coral, and more boat traffic. The ecosystem has been slowly damaged over time and it is starting to show. While still remarkably beautiful, these popular islands are becoming a tad too crowded nowadays. However, smart travelers will still know the best places to go on the island for fantastic scenery and peaceful moments with nothing but the sound of the waves crashing to soothe the ears.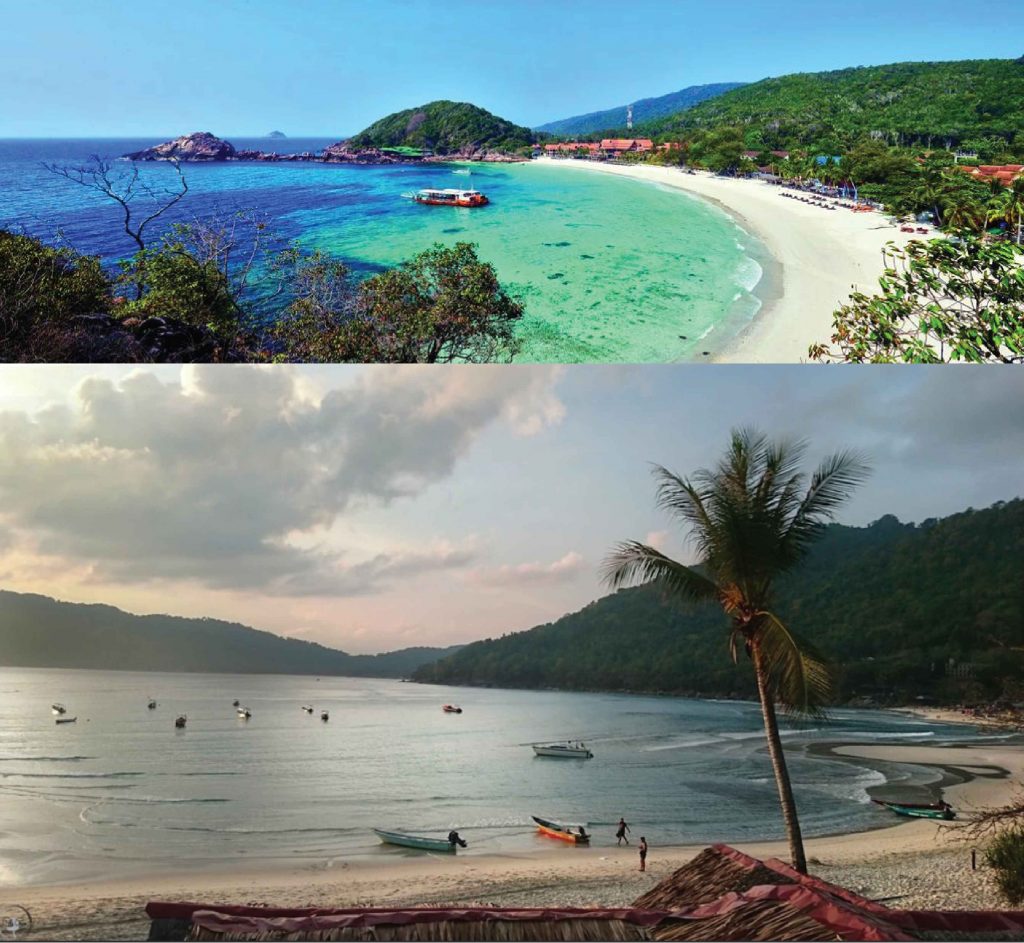 There is a clear winner for this category, and that is Pulau Lang Tengah. There is just something about looking at a view untainted with people walking around in the distance. Pulau Lang Tengah offers amazing views of the sea and its surrounding islands without fellow travelers walking in your shot. The island is surrounded by pristine warm waters all around with beautiful corals and marine life, quiet beaches, and lots of places to explore.
If you head down to the Lang Tengah Turtle Watch (LTTW), you also stand a chance to see turtles coming to nest on the beach. A truly humbling experience. If you're really lucky, you might also get to see hundreds of baby turtles hatching and making their way to the sea where they will start their life as part of the ocean (I know this doesn't technically count as a view, but it's a beautiful sight all the same). Their 2020 volunteer programs have been paused temporarily due to the Covid-19 pandemic. To learn more, check them out here.
The Views Winner: Pulau Lang Tengah!
---
8. The Getting There
Pulau Redang offers the most convenience in terms of getting there. This is how you get to Redang Island. Travelers can opt to depart from Shahbandar Jetty in Kuala Terengganu or Merang Jetty about 30 kilometers north of Merang and then board their vehicle of choice to Pulau Redang. You can choose from a public ferry from Merang Jetty, private boat operators, or if your resort provides it (most do) their private boats or ferries. Boat rates start at RM55/pax/way.
The public ferry runs on a schedule that you can check out here. It takes up to 2 hours to get to the island via ferry. Keep in mind that the ferry only sails 3 times a day. There is also the option to travel in style via flight to Redang Island. This travel route is operated by Berjaya Air and departs from Subang Airport.
Getting to Pulau Perhentian requires purchasing a speedboat ticket in Kuala Besut. As it only takes will 45 minutes to reach the island, some service operators have speed boats that depart every hour (every half hour during peak season). It is RM70/pax for a return ticket and boats leave regularly throughout the day from 9 AM. Most resorts and locations on the island provide jetties so that travelers don't have to get their feet wet.
Pulau Lang Tengah is a 40-minute boat ride from Merang Jetty. The boat costs RM60/pax/way or, as is usually the case, your resort will arrange transportation for you.
Overall, we'd say that Pulau Perhentian is the easiest to get to. Traveling to the island is a breeze as boats come and go very often, which gives travelers more freedom to work around their schedules. It is also cheaper than going to the other islands due to its short distance.
The Getting There Winner: Pulau Perhentian!
---
Can I travel first and decide to change islands later?
Crossing over from one island to another is harder than you imagine. Charter boats are your best bet here but can cost upwards of RM1K/boat. Resorts will usually arrange this for you, but at your expense of course. This is why it's important to decide which island you want to be spending your nights in before setting out.
However, if you really must travel, the alternative way is to take a boat back to the mainland. From there, take a Grab to a relevant jetty and then take a boat back out to the island of your choice. This method will take up more of your time but is the most cost-effective way of switching islands mid-vacation.
Getting around within an island will be a little bit trickier. Boat-taxis are the common and cost-effective way of getting from one side of an island to another. For the adventurous, trekking is another common method as well.
---
Conclusion: Which is the best island for a holiday?
Pulau Redang is a busy place with lots of travelers throughout the year. There are a ton of things to do here and the island features much better options for accommodation and food compared to its smaller counterparts. This makes it an extremely popular choice among tourists, resulting in large crowds every season.
But despite its popularity, there are still beautiful spots to snorkel and immerse yourself amongst the underwater wildlife. Provided that you're adventurous enough. These places are simply waiting to be discovered. Sadly, due to its crowded environment, Pulau Redang falls short of being the best island for your next holiday.
Pulau Lang Tengah is still very uncommercialized, and thus you might find fewer facilities and options here. However, depending on what you're looking for, this secluded wonder might just exceed your expectations.
With beautiful views and peaceful surroundings, this is a popular place with couples on their honeymoon trips, as the absence of crowds means a lot more privacy for you and your loved one to relax in. It is also a good spot for those looking to get away with the busyness of it all and just reconnect with nature. Pulau Lang Tengah is great for a specific kind of traveler, but where it falls short is its inability to cater to a bigger audience. So read on to find out which island is our winner…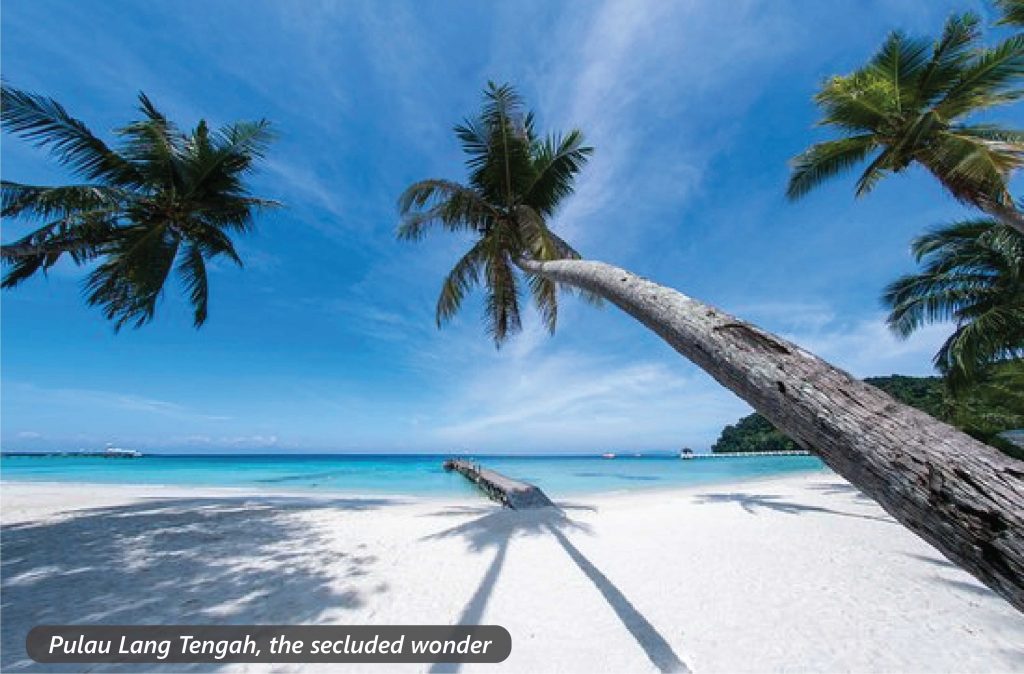 Writing this made us feel like we were picking apples from oranges. The flaws of these islands are few and far between. Ultimately, they each have their strengths that cater to different groups of travelers. But if we had to pick the best island for a holiday…
Our overall winner is: Pulau Perhentian!
Although all the islands have their strengths, we have to say that Pulau Perhentian is the best island on our list. It is the perfect choice for both solo travelers and families, thanks to two different islands with different crowds. With the amount of accommodation and food options available for any budget, Pulau Perhentian is an experience for all. It is easiest to reach by boat, making getting there a breeze. It is also full of great snorkeling and dive spots. Wherever you go, you are guaranteed to see some amazing wildlife that will take your breath away. If you're still looking for the best island holiday experience in Malaysia, look no further than Pulau Perhentian!
Check out our ongoing post-MCO island tour promotions here. 
---
What did you think of our comparison of Pulau Redang, Pulau Perhentian and Pulau Lang Tengah? Let us know via Whatsapp, we'd love to hear from you!
Related Tours