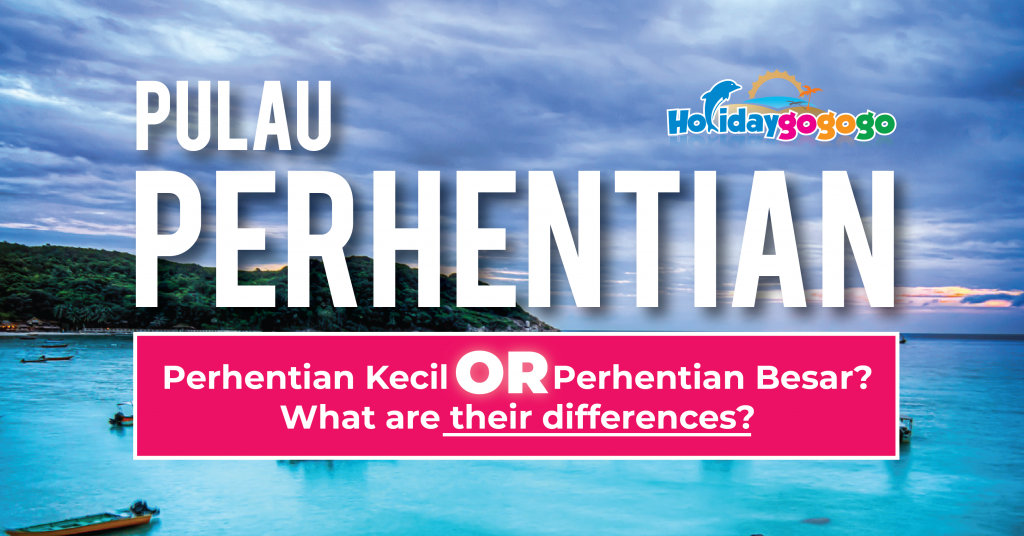 Malaysia's beautiful Perhentian Island lies on its east coast, off the coast of Terengganu. But there are two of them – Pulau Perhentian Besar (Greater Perhentian) and Pulau Perhentian Kecil (Lesser Perhentian).  They are different not just in appearance but also in what they have to offer travellers. So which island should you choose? Is there a difference?
[lwptoc]
---
Our island tale begins…
Perhentian actually means "Stop" in the Malay language. The word shares the same meaning as when it is used in, say, a bus stop. Known as the Pearls of the South China Sea, the islands are a mere 21km off the coast of Terengganu, easily accessible via boats from the mainland.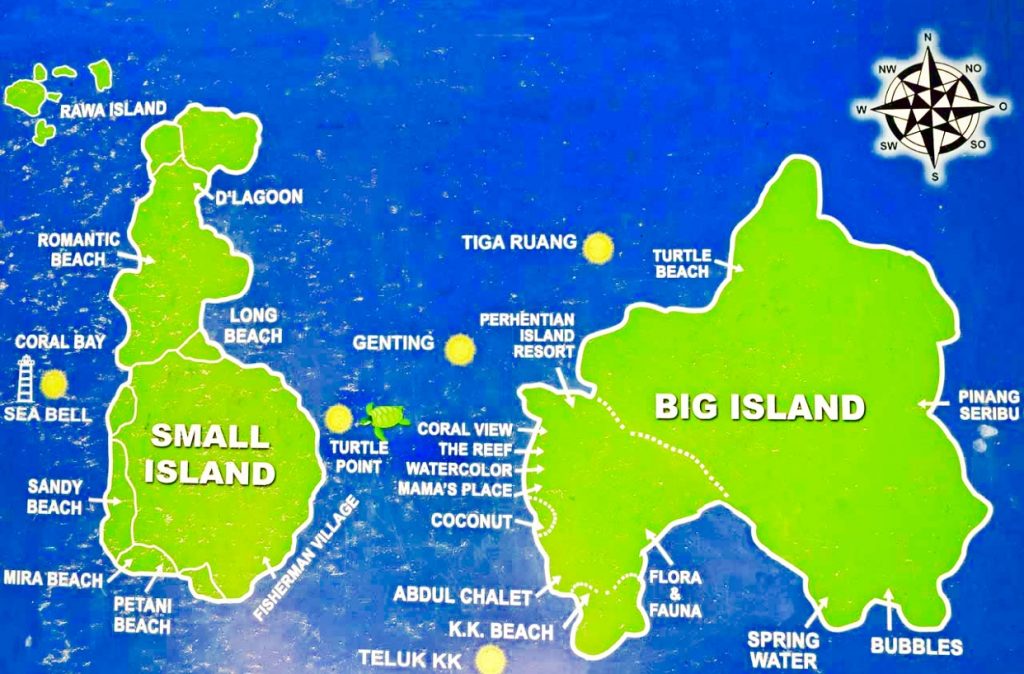 10-second history lesson
Traditionally, the islands were used as waypoints by traders from Malaysia and Bangkok. Tourism takes precedence now in the islands.
For the past few centuries, fishermen inhabited these islands and benefited off the ideal location. The Perhentian Islands have appeared on older maps as "The Station Islands", which can be loosely interpreted as "stopping point". This can be traced all the way back to the British colonial period.
How do I get to Perhentian Island?
Getting to the Perhentian Islands requires purchasing a speedboat ticket in Kuala Besut. As it only takes 45 minutes to reach the island, some service operators have speed boats that depart every hour (every half hour during peak season).
It is RM70/pax for a return ticket, and boats regularly leave throughout the day from 9:00am. Most resorts and locations on the island provide jetties so that travellers won't have to get their feet wet.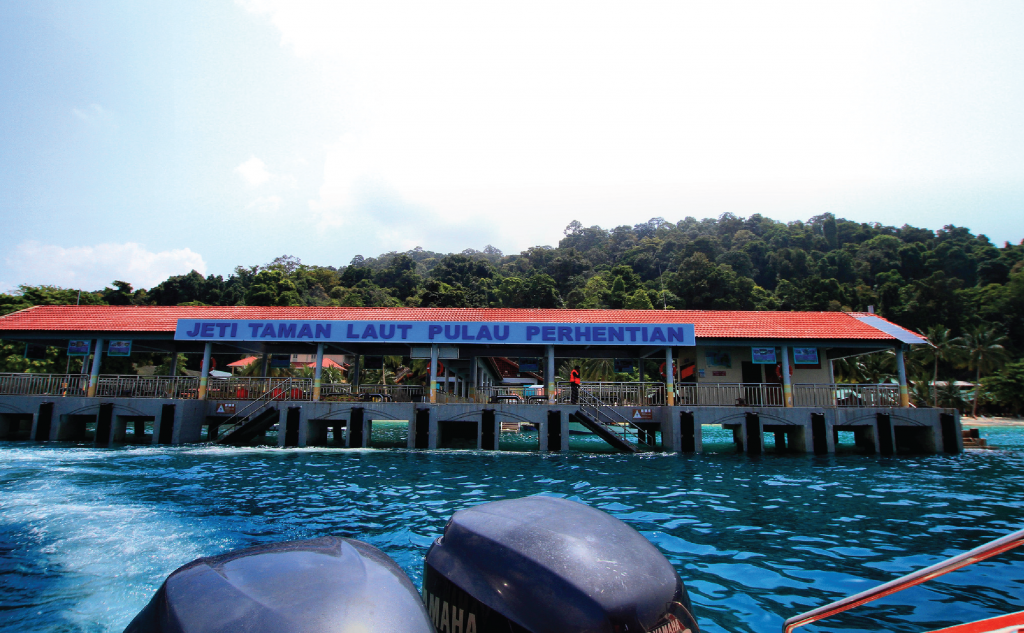 Travelling to the islands is a breeze as boats come and go very often, which gives travellers more freedom to work around their schedules. It is also cheaper than going to its neighbouring islands (for example Redang Island or Lang Tengah Island) due to its short distance.
Now that you know some of the basics, it's time to dive into the differences between Perhentian Besar and Perhentian Kecil! Let's start with the "big boy" among the two.
---
Perhentian Besar
The (Bigger) Family Island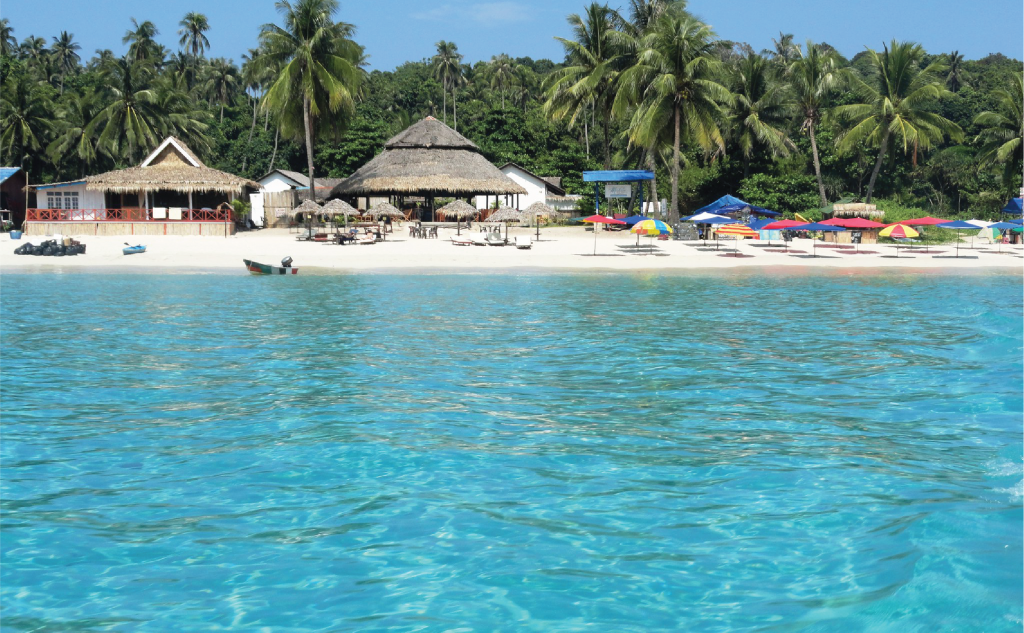 What stands out at Perhentian Besar?
Perhentian Besar is one word – beautiful. Pristine beaches, gorgeous sunsets, transparent clear waters and thriving marine life are merely part of life on this island. Travellers flock here for a long-overdue escape from all the worries and noise that comes with city living. And you can't blame them for it.
The beauty of the island has not gone unnoticed, as evidenced by the tourist infrastructure on the island that has grown significantly over the decades. But despite its popularity, the island never feels crowded due to its large number of long, sandy beaches. It is not hard to find private areas on the island that provide a sense of total seclusion.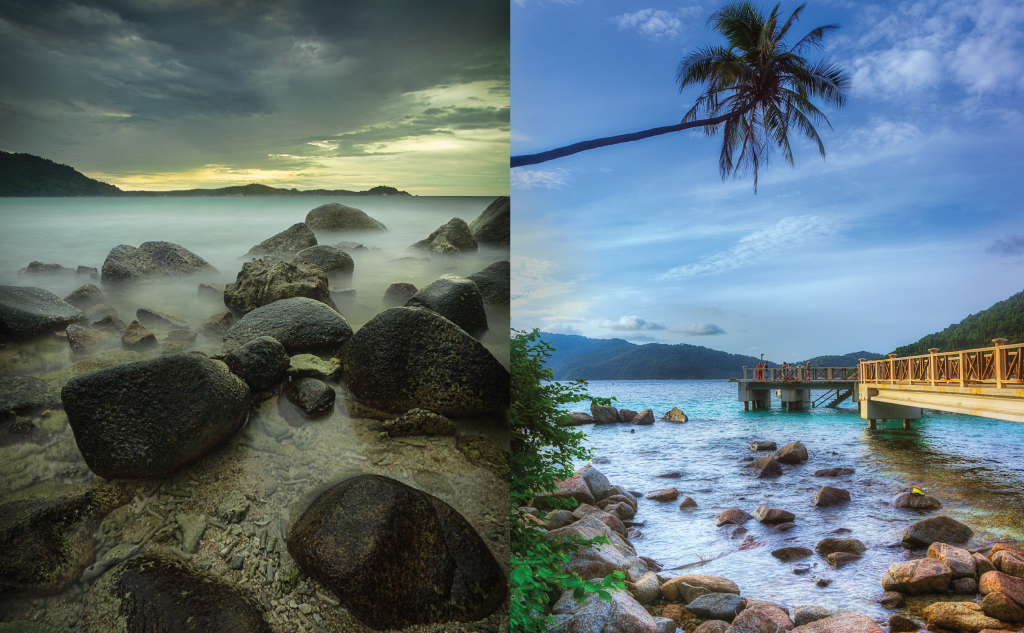 Compared to it's smaller cousin Perhentian Kecil, Perhentian Besar is more suitable for families or laid-back folk. If your goal on holiday is to get out of all the noise and bustle, then Perhentian Besar is the place to be.
The hotels here reflect that too. You can find more upscale resorts that cater to families who are willing to spend more for a relaxing holiday. Of course, budget options are still readily available, but some of the higher-end resorts will leave you in awe of the experiences they provide.
Where to stay in Perhentian Besar?
In case you were wondering, here are some of our recommendations for places to stay on Perhentian Besar (for a more comprehensive list, read 7 Best Perhentian Island Resorts For A Peaceful Island Holiday!):
1. Coral View Island Resort
Coral View Island Resort is a 2-star seafront resort on Perhentian Besar. The property is strategically placed nearby to the ferry terminal and Teluk Pauh, which is widely considered to be the best beach on the island. Guests will be delighted to know that right in front of the beach is a thriving coral garden that is perfect for snorkelling.
2. The Barat Perhentian Resort
The Barat Perhentian Resort features excellent sea views and delicious beachfront dining where the food is said to be the best on the island. Their prices are reasonable and are in line with what you would expect from island dining. Their BBQ seafood platter is a hearty feast and immensely satisfying – a definite must-try.
3. Perhentian Island Resort
Perhentian Island Resort holds a reputation on Pulau Besar for having the best stretch of beach. The resort is strategically located on Teluk Pauh, where it has its own beautiful sandy beach (PIR Beach)  with crystal clear water. You'll find turtles just off the jetty and coral reefs on either side of the beach. Perhentian Island Beach Resort wins hands-down when it comes to location.
Speaking of best beaches in Perhentian Besar…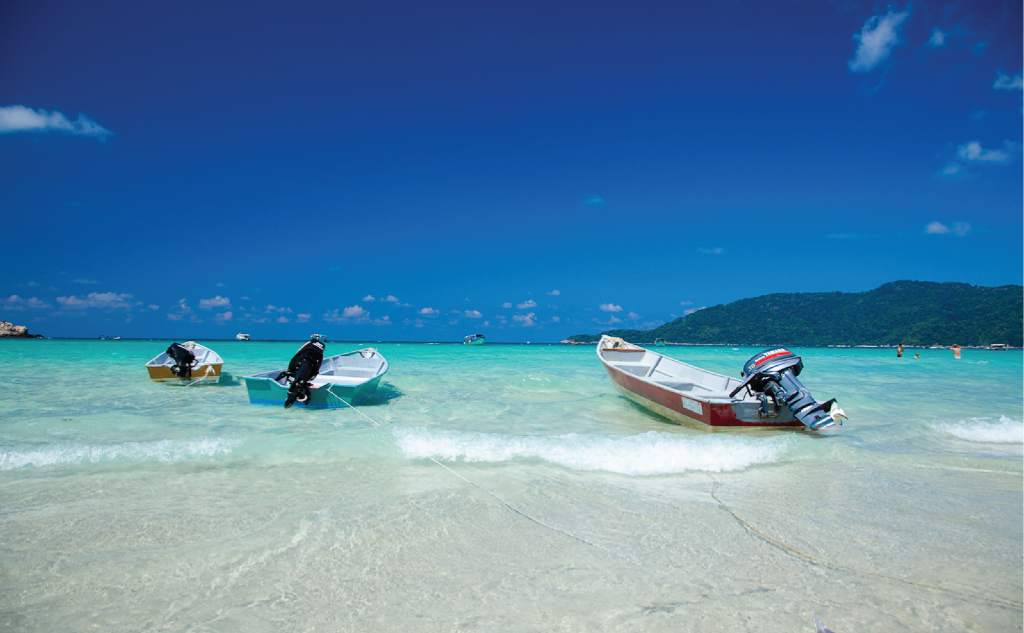 Teluk Pauh (PIR Beach) is suitable for both adults and kids alike. Opportunities to snorkel are plenty, and younger children can safely stay on the beach to play with its white, pristine sand.
The water is crystal clear here with wide, sweeping views of the sea and the sky. Travellers can easily see many fishes crowding near the jetty stilts. Easy photos!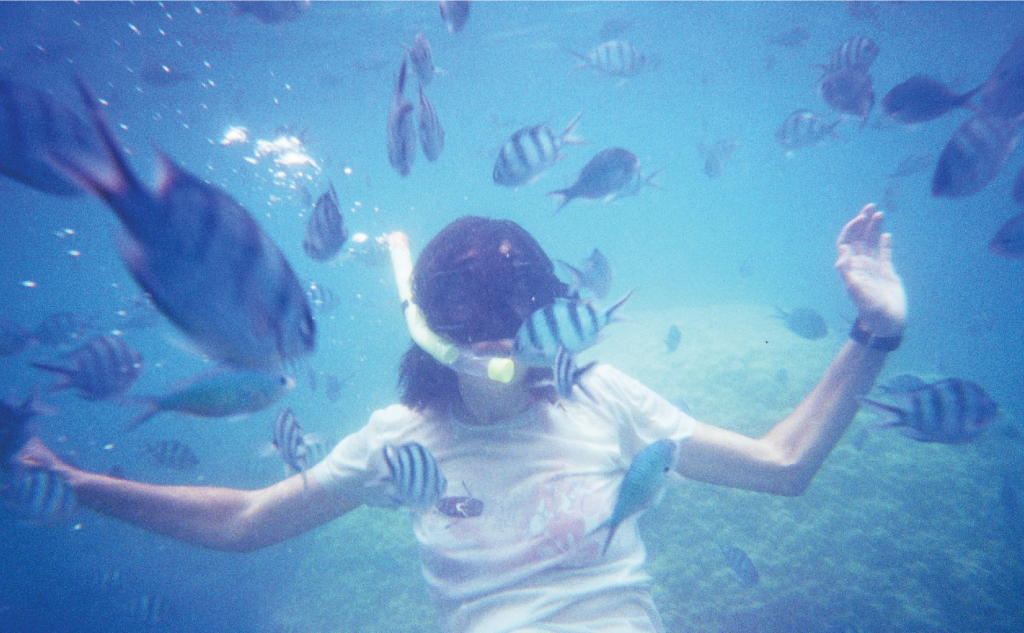 The coral reef on the western end of the beach is a particularly favourited snorkel spot. You can find giant clams, parrotfish, tamarin wrasse, damselfish, butterflyfish and huge but impressive green humphead parrotfish here.
You can enter the water at the western end of the beach in front of Coral View Island Resort, or just directly from Perhentian Island Resort itself. Initially, the seabed will be covered in sand, which is quickly replaced with rocks and coral as you swim further out from the beach.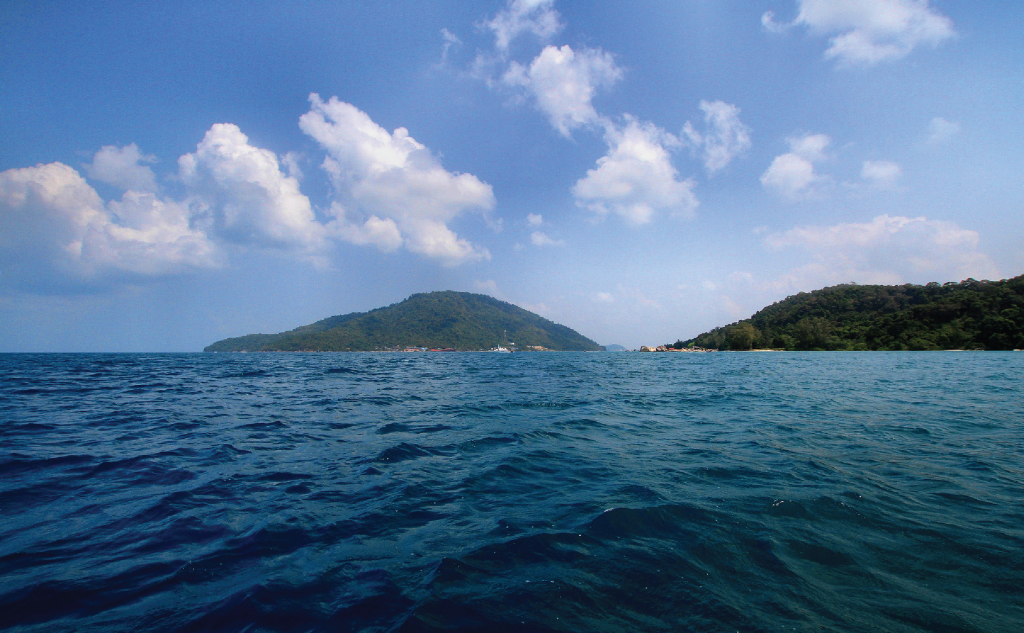 What to do at Perhentian Besar?
Most of Perhentian Island's best snorkelling spots can be found in the vicinity of Perhentian Besar. These include places like Blue Lagoon, Turtle Point, Shark Point and Coral Garden. So put your snorkel mask on and explore the underwater world to your heart's content.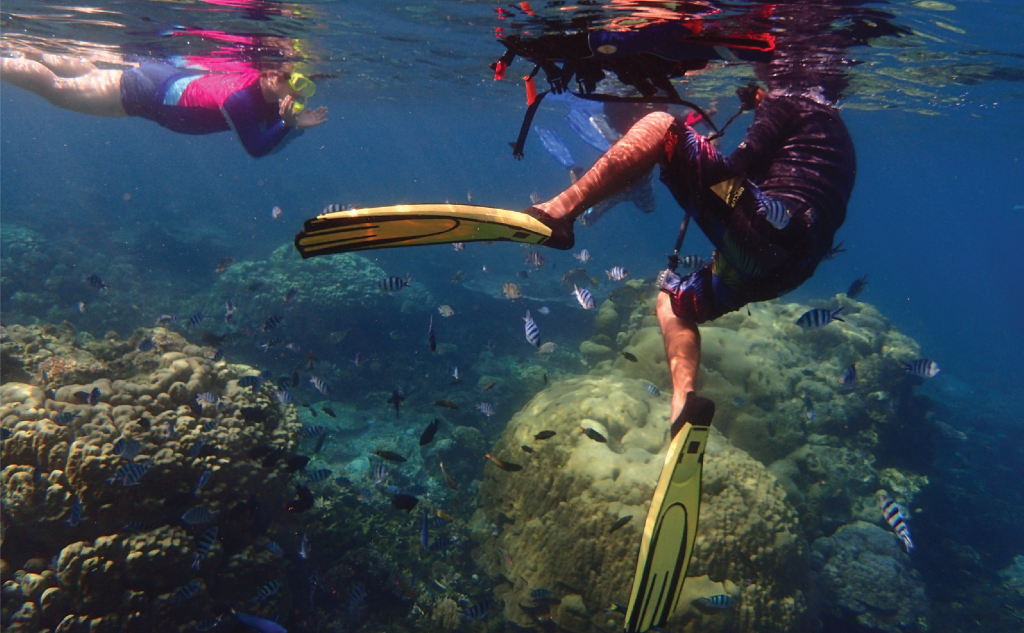 Explore the islands' beautiful beaches while you're at it. Teluk Pauh is known for being the longest and busiest beach on Perhentian Besar, but the island is also home to other beautiful beaches such as Teluk Keke.
Teluk Keke is small but most importantly, away from the crowds and great for relaxation. The waters here are calm and shallow – perfect for families with younger children. This also means visibility is excellent, and the corals beneath are abundant with marine life.
Turtle Beach, or Turtle Sanctuary Beach, lies near the northern side of the island. It is known for the big turtles that swim around in this area. Remember that you have to swim further out from the beach to have higher chances of seeing one, as that is where they all like to roam.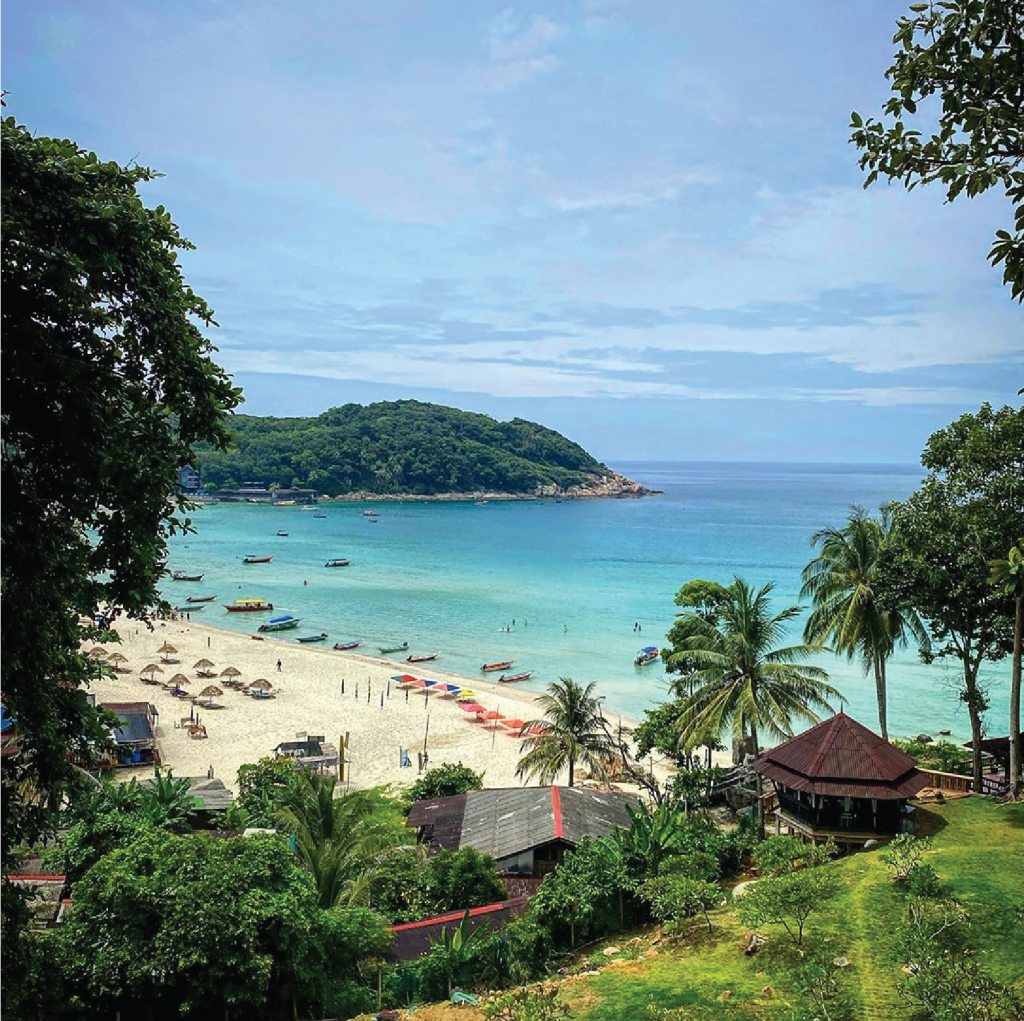 If you're tired of the ocean and want some land activities, Perhentian Besar has some lush trails for you to explore. From Perhentian Island Resort, go for a 30-minute jungle trek across the island to Teluk Dalam beach.
This beach is significantly quieter than Teluk Pauh and is fantastic for a relaxing swim.
Then, continue for another 20 minutes to Love Beach before heading back to Perhentian Island Resort via a 45-minute trail that offers beautiful beach views throughout.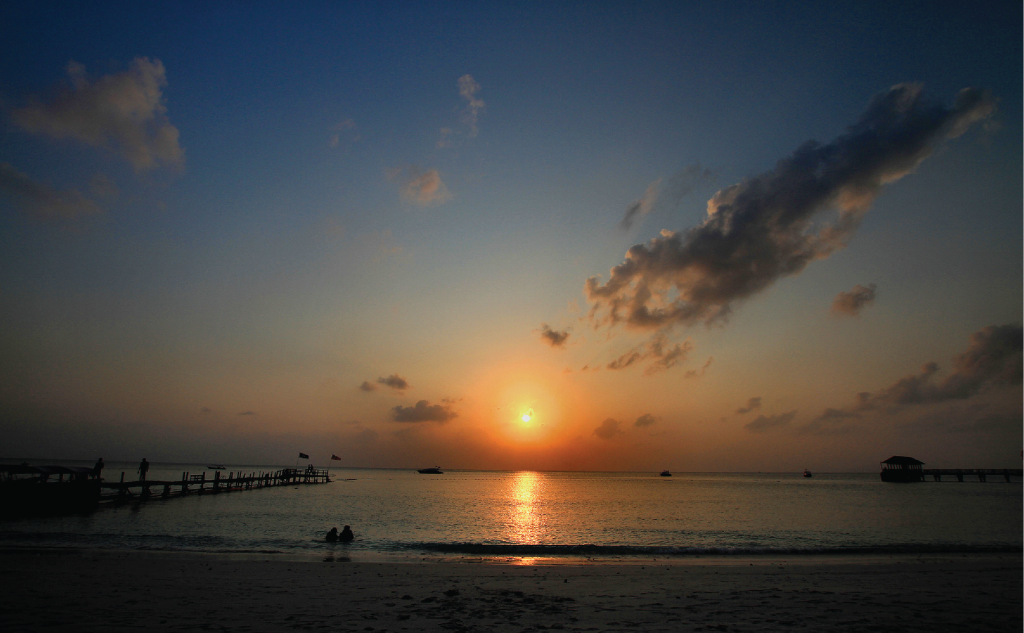 Sunsets here are also spectacular. As the day draws to a close and if you still have the energy, trek your way to vantage points located everywhere around the island. Your eyes will thank you for it.
Or if you're feeling particularly adventurous, negotiate with a few water taxis to take you out into the South China Sea for front-row seats.
---
Perhentian Kecil
Young Lively Vibes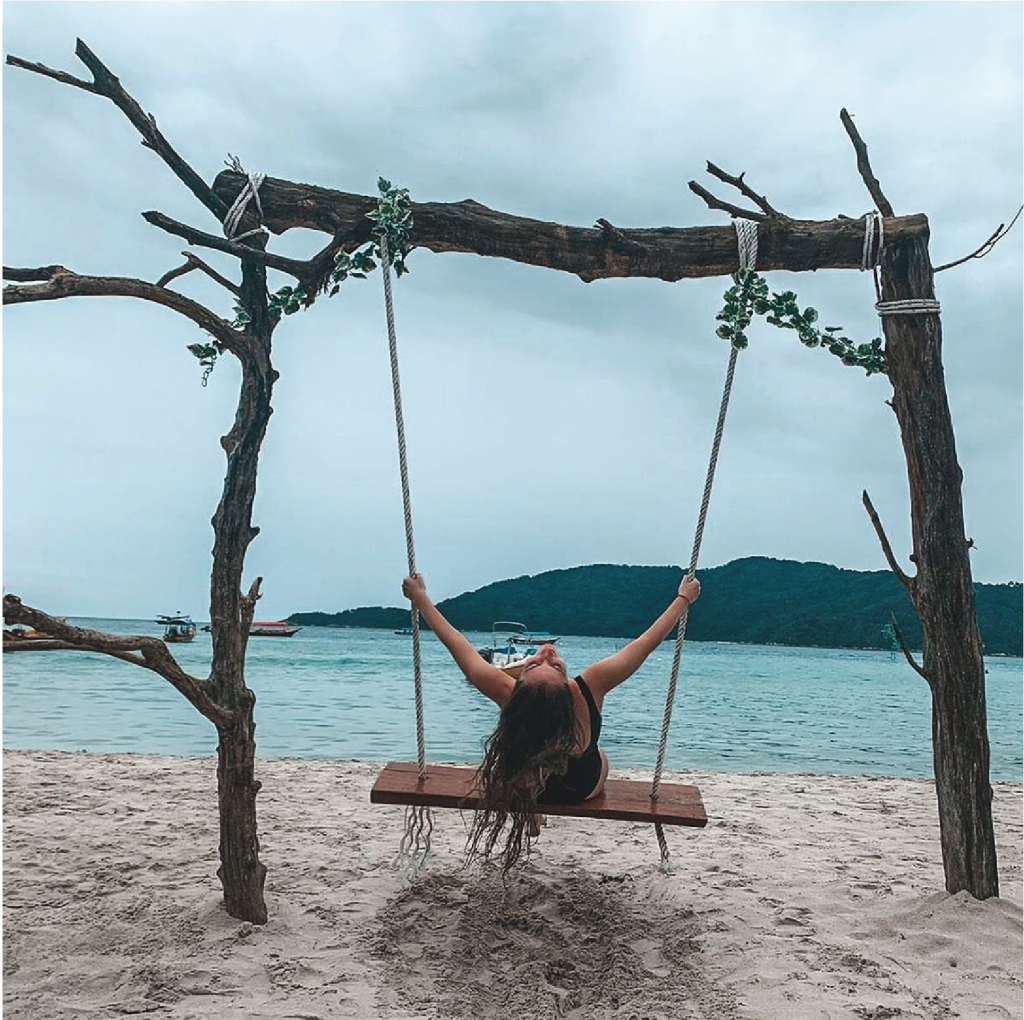 Does smaller = second-rate?
Perhentian Kecil might be smaller in size, but it is definitely not second-rate. In fact, to some travellers, it might even be the most ideal choice for their next holiday destination!
You've read amazing things about Perhentian Besar so far, but don't let that mislead you into thinking that Perhentian Kecil has nothing better to offer. These two islands have their differences but are equally worth your time.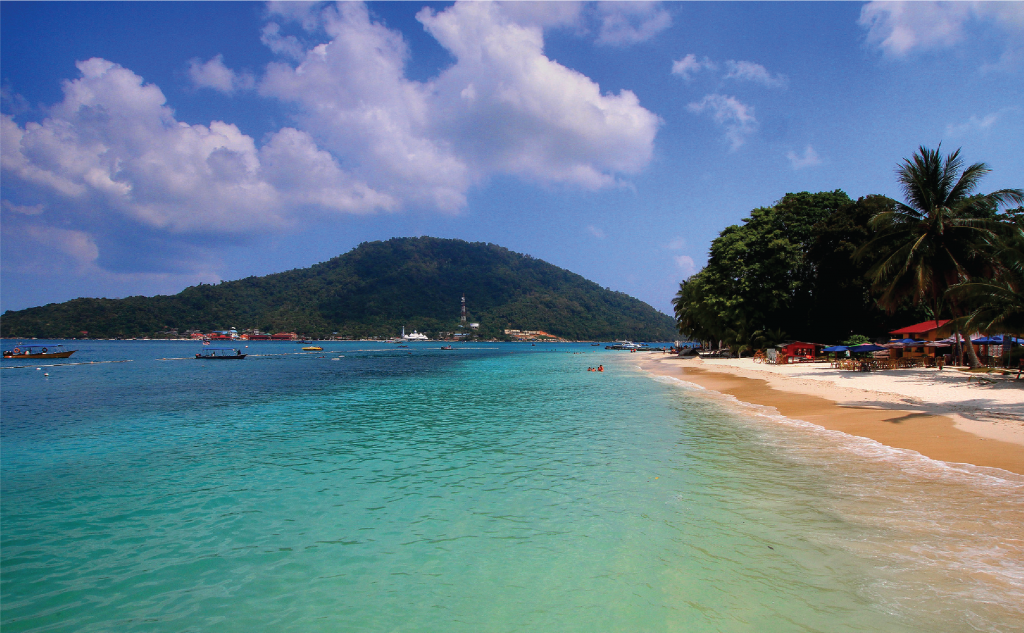 Perhentian Kecil is a "happening" place. That means that there are more events, more people, more social opportunities here. Backpackers and solo travellers love Perhentian Kecil for its lively nightlife, cheap accommodation and plentiful food options.
There is a fishing village here complete with a mosque, police station, school and various shops selling groceries and daily essentials. Eating in the village is also significantly cheaper than dining at tourist spots.
What are the best places to stay in Perhentian Kecil?
These are the top accommodations that we think offer the best value proposition for your holiday stay (read our article for the 7 Best Perhentian Island Resorts For A Peaceful Island Holiday!):
1. Mimpi Perhentian
This brand new establishment is quickly climbing the ranks for resorts on Long Beach with comfortable, modern rooms. Book a sea view room with them and be in absolute awe as you wake up in the morning to a view like no other. Their friendly staff is always on hand to assist you and make your holiday better with a smile on their face.
2. Bubu Resort
Bubu Resort is right next to Mimpi Perhentian. Both establishments lie tucked away on the northern end of Long Beach, far away from the hustle and bustle that the beach is famous for. Friendly staff, free cocktails during the evenings and excellent beach access complete the perfect holiday package here at Bubu Resort.
3. Alunan Resort
Alunan stands relatively isolated compared to other resorts, something that travellers looking for a relaxing and peaceful vacation would surely appreciate. The highlight here is its rooms that come with private sundecks on the roof where a hammock, sun loungers, and a shaded patio awaits lucky guests.
The happening beach experience at Perhentian Kecil
The star of the island is the undisputed king of lively beaches – Long Beach (otherwise known as Pasir Panjang in Malay). The beach is home to a significant number of chalets and hostels that cater to a backpacker audience. During the day, you'll see many foreigners sunbathing and relaxing to the sound of the waves.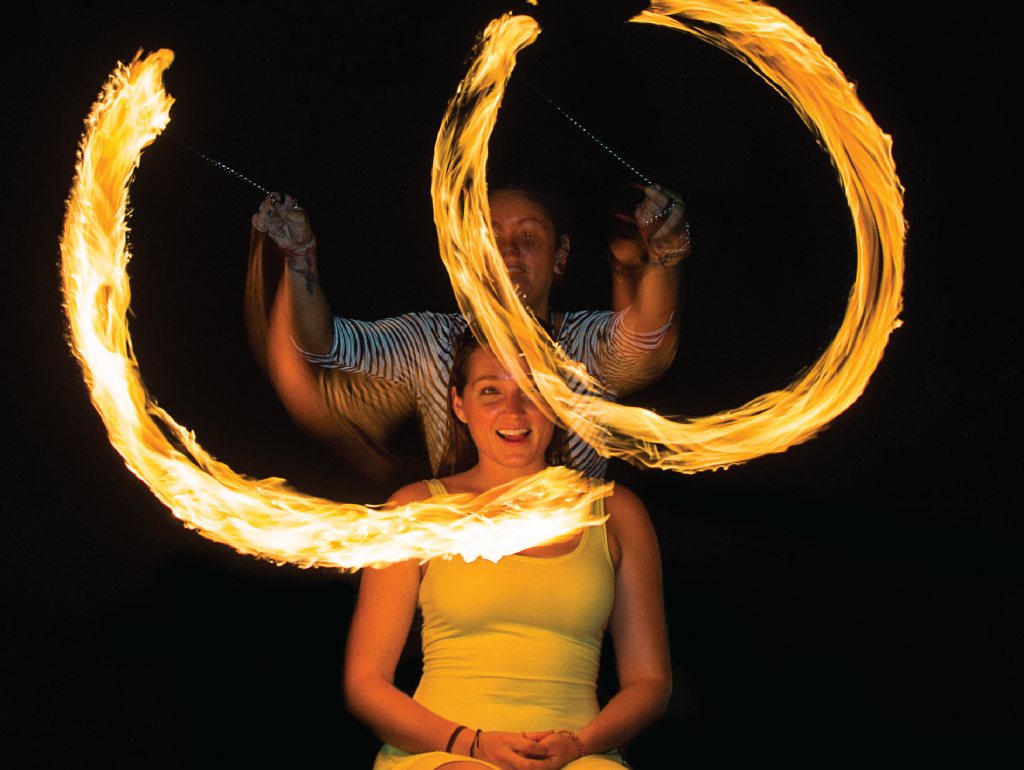 But come nightfall is when this beach truly comes alive. Fire shows, dining sessions, parties, beach bar dances, and more will take place here. For travellers who still find themselves energetic after a whole day of water exploration, this is the place to be!
Do take note that water taxi rates double past sunset. So carry enough cash with you to accommodate for increased return boat fares.
Coral Bay
Coral Bay lies on the other side of the island. This beach is popular among travellers during the day. It is also known as a 'less busy Long Beach" in general. To serve your cravings, Coral Bay is dotted with local-operated food stalls that sell barbecued fish and seafood.
The main attraction here is the beautiful sunset view with almost no obstructions. Trust us, the reddish-orange hue that floods the skies during the evening is entirely worth the short trek here.
You can reach it via water taxi or by a walking trail that leads from Long Beach itself. The trail is 15 minutes and offers excellent views of Coral Bay along the way. This is also the recommended way to get to Coral Bay on a budget.
---
Can I stay on one island and travel to the other?
If you don't want to be restricted to just one island, don't worry! It is very easy to charter a water taxi to take you to the other side. Most travellers will agree that while the solitude offered in Perhentian Besar is much appreciated, there will be times during your holiday that you'd want to experience the equally charming but more lively counterpart, Perhentian Kecil.
It's a short distance to travel between the two (about 5-10 minutes to take a water taxi), so you can freely decide on any accommodation between the two islands, and then take a boat to explore the other island.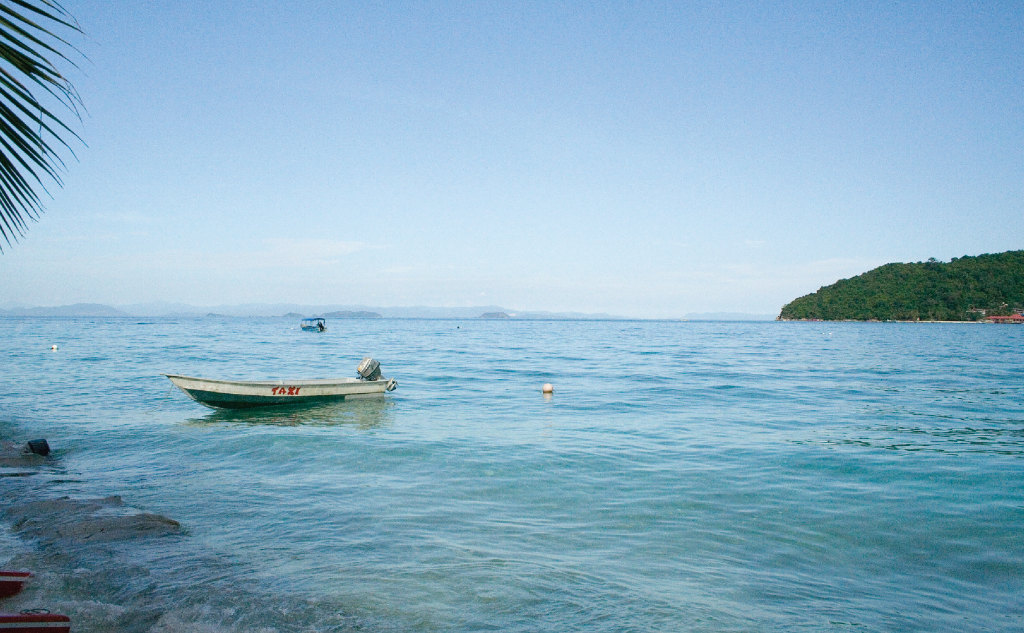 Which island does it better?
The truth is, both islands have much to offer travellers. The differences between Perhentian Besar and Perhentian Kecil mainly lie in the crowds they attract.
If you're travelling with a family, head on over to Perhentian Besar for some peace and relaxation. Snorkelling is terrific, the views are serene and the beaches lie almost untouched as if waiting for the first human being to set foot on them. 
But if you're all about that energetic atmosphere, then Perhentian Kecil just might be the place for you. Party your days (and nights) away, make new friends, explore wonderful trails and gorgeous views. This is the liveliest island this side of the coast!
Can't make up your mind? Just ferry yourself between the islands with super-convenient water taxis. 
---
Image Credits: StingyNomads | @yom_le_parigot | @maidamaiko | Mike Villiger | Achilli Family | Xuanxu | hams Nocete | Phalinn
What did you think of our article about the differences between Perhentian Besar and Perhentian Kecil? We'd love to hear your thoughts. Send them to us on Whatsapp!
Related Tours