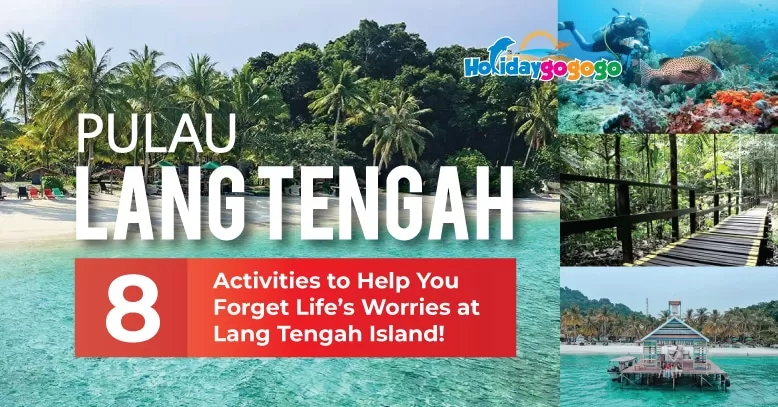 Lang Tengah Island is known for its pristine beaches and lesser crowds. This small middle island is an ideal spot for a quiet night's rest while still maintaining easy access to activities such as snorkelling and diving. If you're looking for a tranquil getaway in Lang Tengah Island with relaxing activities, I urge you to look no further!
Did you know that you further enhance your relaxing holiday thanks to the myriad of laid-back activities offered by Lang Tengah? Here are some of the 8 most relaxing activities to help you forget life's worries at Lang Tengah Island.
[lwptoc]
---
Get to know the turtles at Lang Tengah Turtle Watch (LLTW)
One of the most popular activities that have always been a favourite attraction is the Lang Tengah Turtle Watch (LLTW). Knowing that turtles are not an everyday sighting, most travellers will not want to miss the golden opportunity to visit Turtle Bay, where LLTW is located.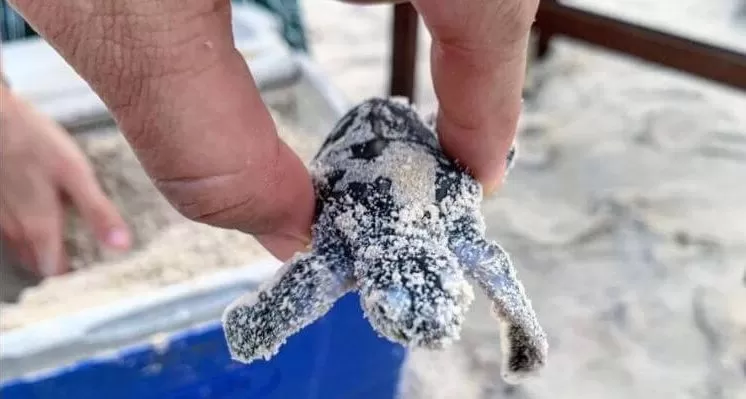 This turtle conservation centre has made it their mission is to preserve turtles and to protect their eggs from being stolen by poachers.
Not only can you approach them, but you can also study them up close. You'll be surprised at how therapeutic it can be just looking at the cute baby turtles moving their tiny limbs around. For more information, you can read more about their efforts here.
Scuba diving, snorkelling and scuba walk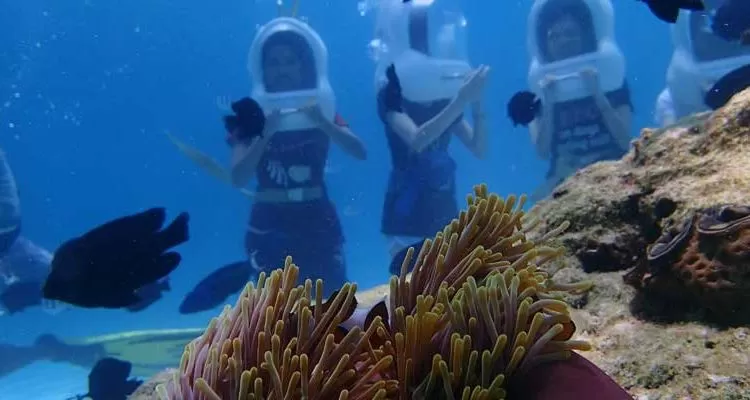 Apart from the turtle watching, scuba diving or scuba walking is also a must for tourists who are visiting Lang Tengah Island. The difference between these two is that scuba diving and snorkelling are more suitable for swimmers. On a side note, scuba walk is dedicated for non-swimmers which involves sea trekking underwater in the shallow sea. Hence, scuba walkers will be equipped with an aqua helmet complete with an air canal. We believe that this would be a very interesting experience for tourists.
Scuba diving and snorkelling are made for swimmers since they will bring you to the deep sea so you can observe amazing coral reefs and various fish species. Yes, this would be a heaven for an avid marine lover. Not to mention, you might have the chance to bump into a baby shark too!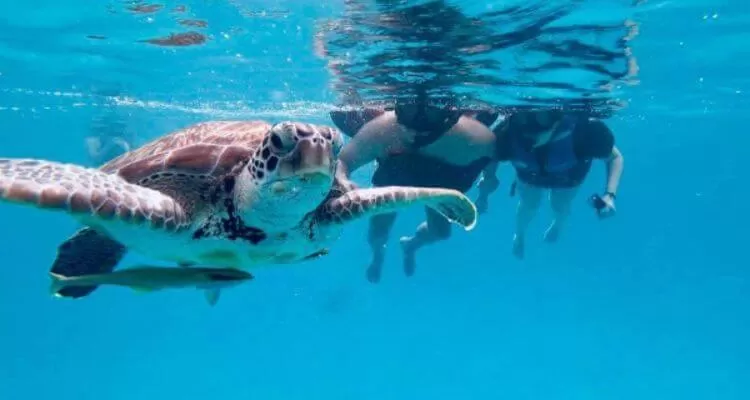 Not only you can go snorkelling at Lang Tengah Island alone, but island hopping is also one of the noteworthy activities to be done. You'll have the chance to visit other breath-taking islands such as Perhentian Island and Redang Island. These islands have a distinct species of sea creatures; thus if you're a marine life enthusiast, this activity would astonish for you. Try to picture yourself snorkelling in various locations and get the chance to meet some of the rarest species of sea creatures; well, we bet you'd boast to your friends and relatives about it though!
Jungle trek your way to amazing views
Next, we have jungle trekking. One of the brilliant things that you have to consider is going trekking in the thick tropical forest which takes about 90 minutes to walk, and you'll be amazed by watching the beautiful sunrise. As you're walking along the trek, you'll feel relaxed listening to the natural sound, or as we call it – the sound of the jungle. There's no need for loud music, just a relaxing cricket sound would do. In addition, the panorama from the top of the mountain is also something that you wouldn't want to miss out.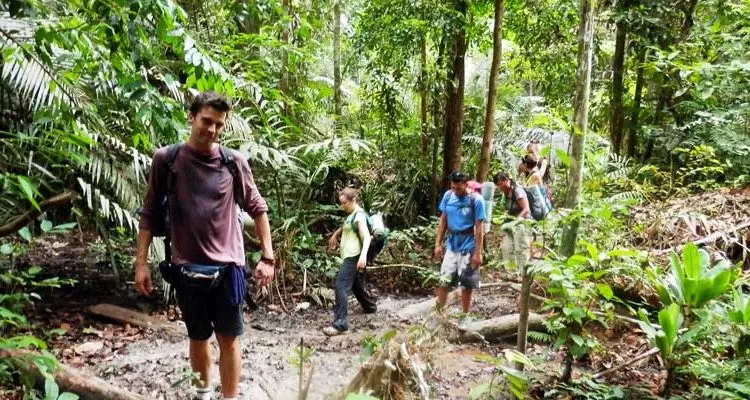 This wonderful scenery is one thing that people would die for. Don't forget to bring your smartphone along, so you can take a bunch of photos and share them on your Instagram!
Kayak your away around the island
If you wish to ride something like a jet ski in Lang Tengah Island, we're terribly sorry to inform you they don't really provide motorsports there for the sake of preserving the beauty of the coral reefs. However, you can opt for kayaking or canoeing instead! It's a perfect activity if you're planning to shed some calories after devouring all that delicious island food during your vacation.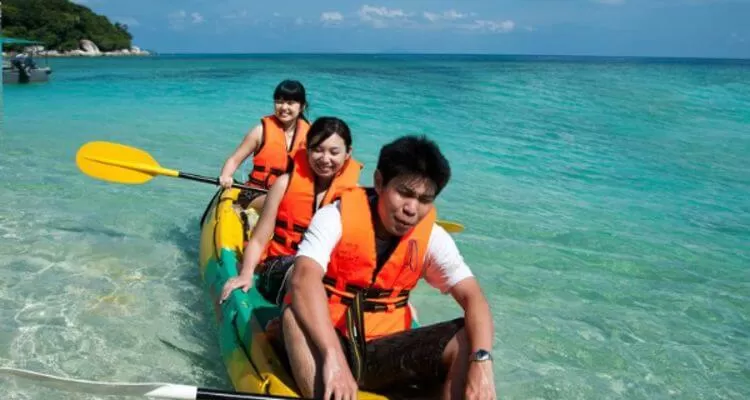 Kayaking and canoeing are great for families and couples since both kayak and canoe offer not only a single-seater. We believe that you'll have a great time together. When the exhaustion kicks in, you can stop kayaking for a while and observe the beauty of the sea that will surely give a relaxing view to your eyesight. Other than that, there are also transparent bottom boats where you can see the astounding underwater view through the base of the boat. These boats are also super-duper instagrammable (that will make your feed seem more interesting to friends!).
Sunbathe under the hot Malaysian sun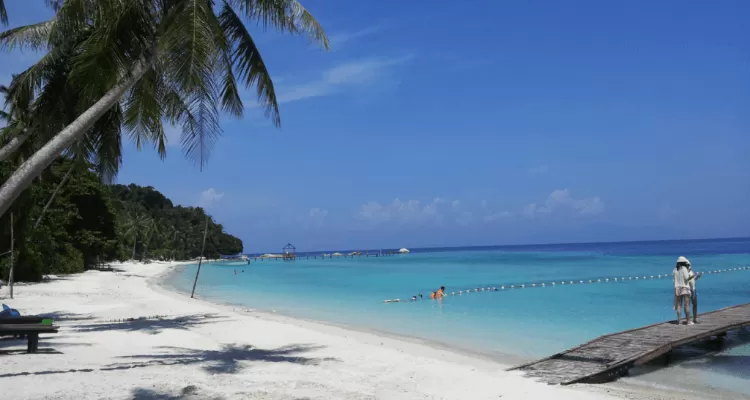 As Malaysia has hot weather, sunbathing would be a significant activity if you're thinking of getting tanned skin. While sunbathing, you can feel the calmness of having me-time under the hot scorching sun without having to think about your work and stuff. This is one of the easiest, most relaxing Lang Tengah activities you can partake in. Not to mention, it's free!
Beach sports!
Aside from that, you can also entertain yourself at the beach by playing volleyball with your family. If you're travelling solo, we bet you can just join some volleyball groups there. We're sure you're absolutely going to have a whale of a time throwing and catching the ball while laughing and giggling with your teammates.
Cast your worries aside and the serenity of island bliss to take over your mind. The most interesting part of playing volleyball at the beach is when you're done playing, you can straight away dive into the sea to clean yourself from the sand that is sticking on your whole body.
Enjoy the peaceful nightlife activities
When night falls, you can listen to live bands playing acoustic songs with relaxing melodies. If that doesn't relax you, what will?
If you're not into live bands, you might opt for some blue sand hunting at night. In Lang Tengah Island, there's a beach along the west that looks like something out of a science-fiction fairytale. Walk along a sandy beach that comes alive at night with blue "tears". Come with your best photography equipment — even on the darkest night — just to catch a glimpse of the sparkling blue lights from the sea.
The beauty of these blue tears are truly magical and something to take home with you.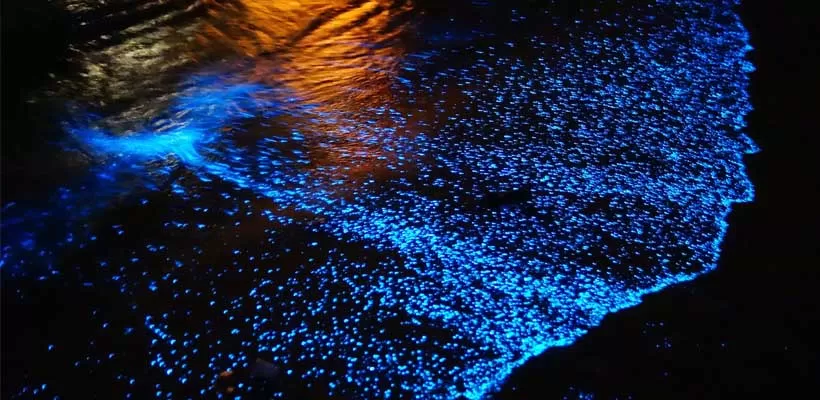 Other than that, you can also just lie down at the beach and look at the star. Imagine you and your partner reminiscing the sweetest moments in your life while gazing at the bright star; you'll definitely feel you're the couple in those romantic movies. What a romantic night to ask for!
Enjoy freshly cooked seafood barbeque at your resort
Freshly caught seafood and spectacular ocean views – can you think of a better combination? Enjoy hot and delicious seafood BBQ dinners at your resort's restaurant. Chat with a loved one or family members. Catch up on lost time amidst busy schedules, all the while being lulled to a state of euphoria by the calming waves and tantalizing tastes of top-notch seafood. This is island dining at its best.
Suggested Read: Comparing all 3 Lang Tengah Resorts – Which is the best?
---
Popular Lang Tengah Promotion Package