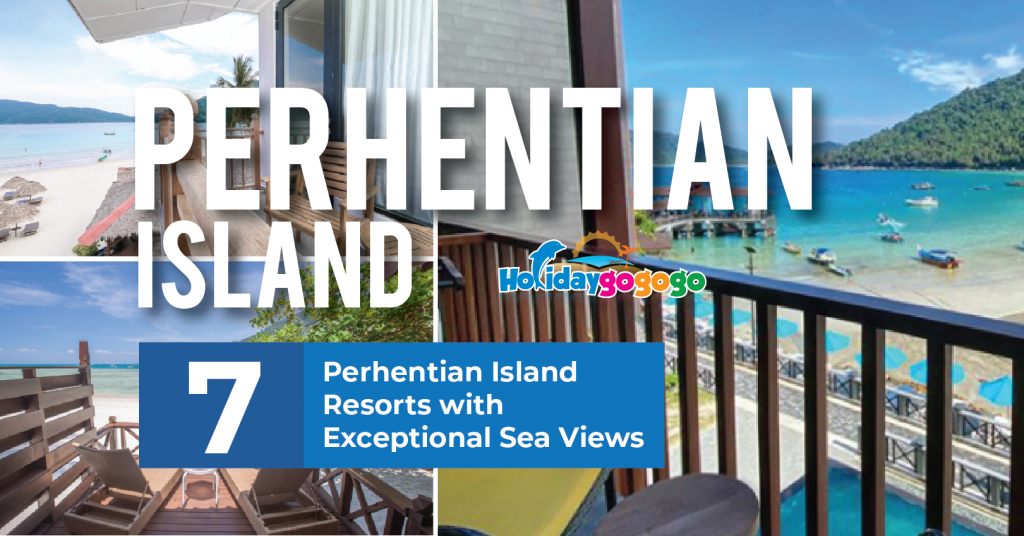 When you think of a vacation in Perhentian Island, the first thought in your mind is a wholesome experience of waking up to the sound of waves lapping against the shore and an enchanting view of Perhentian Island's crystal blue sea. For the avid beach lover, a resort with sea views is a must in the choice of accommodation.
To help you, we've done our research (so you won't have to!) for the top picks of best resorts with gorgeous sea views in Perhentian Island. Just pick your favourite from our list of best Perhentian Island Resorts with Exceptional Sea Views and you're all ready to go!
[lwptoc]
---
1. Alunan Resort
Alunan Resort is a picturesque getaway for all nature and beach lovers. This 3-star resort treats its guests with ultimate care and hospitality in an oasis of serenity amidst nature in Petani Beach of Perhentian Kecil. Travellers who seek for a relaxing and peaceful vacation will definitely love this resort as it stands fairly isolated compared to other resorts.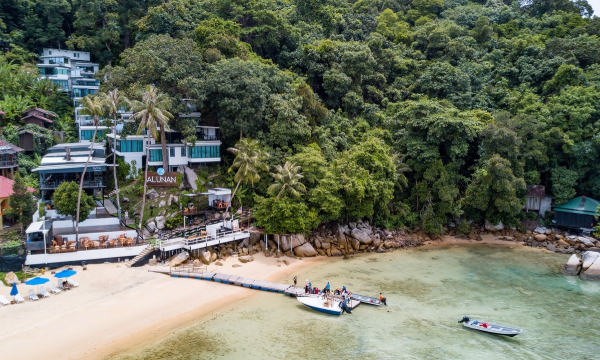 Alunan Resort is famous for its terraces with a view of the ocean on the island. Each serenity suite comes with floor-to-ceiling glass panels to provide a luxurious stay with mind-blowing sea views. A private rooftop sundeck awaits you, letting you unwind on a swinging hammock or a sun lounger while enjoying the sun-kissed days and the starry nights. For us, this truly makes for a truly memorable room experience.
Do take note that there are some stairs to climb as the resort is located on a sloping cliff. However, you will be rewarded with a stunning Perhentian Island sea view that you will surely never forget!
2. Mimpi Perhentian Resort
Mimpi Perhentian Resort, comprising 75 stylish rooms with different specialities, sits on one of the best beaches on the Perhentian Kecil–Long Beach. Recognised as one of the Best Perhentian Island Resorts in 2019, this 4-star establishment shines in its friendly services and modern amenities among other resorts, making this resort one of the most welcoming resorts on the island. You'll find the friendliest staff to coordinate your needs or arrange fun activities for you to enjoy.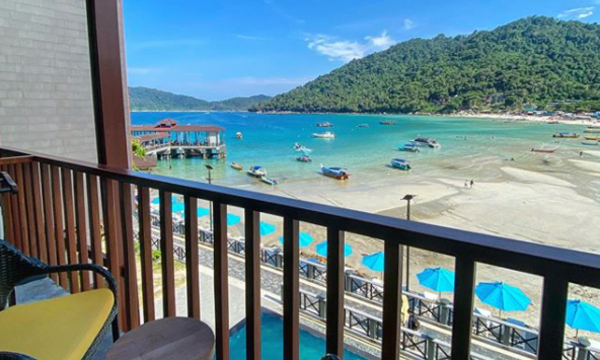 The Premier, Family and Ocean Deluxe Suites come equipped with a private balcony where travellers can soak in the beautiful view of the turquoise-hued waters of the South China Sea. The Premier Suite is the largest of the three, with a panoramic sea view balcony and sea view seating lounge to enjoy a complete picture of the entire beach.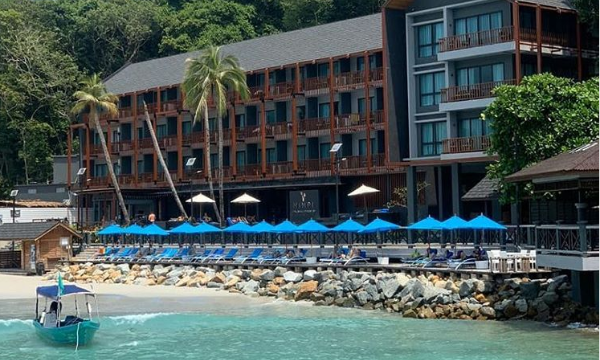 What's even better is that Mimpi Perhentian Resort was newly built in 2018, so the accommodation here is spanking brand new! It is one of the best Perhentian sea view resorts that will make you want to stay here forever.
3. Bubu Long Beach Resort
Conveniently located close to the jetty on Perhentian Kecil, Bubu Long Beach Resort offers opulent and spacious rooms with stunning sea views on the island's famous Long Beach. Its ideal location on the quieter side of the beach provides an escape from the noise of nightly events.
This beautiful resort offers plenty of sea-view rooms. Still, we recommend the premier deluxe room with a private balcony facing the sea. The room provides the most breath-taking views of the white sandy beach and deep blue sea available in the resort. The thoughtful design and layout of the room ensure that the view is uninterrupted, and you can see everything from the balcony! The resort has also equipped the room with modern luxuries such as air-conditioning, a personal safe deposit box and bathroom amenities.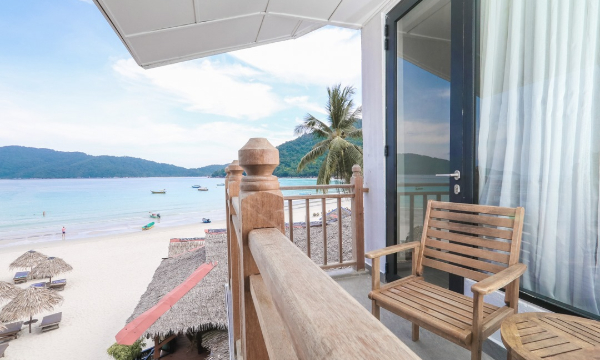 Luxury and comfort such as spa and massage treatments are offered in abundance at the Grape Tree Spa of this 3-star establishment. Travellers can genuinely relax and soothe the pain away after a long day in the sun and seawater.
As a bonus, this resort is immensely popular for honeymoon and weddings. It is perfect for couples seeking a romantic getaway as they offer services such as a sunset cruise, secret picnic and candlelight dinner with a romantic ambience on its private beach.
Suggested Read: Honeymoon at Perhentian Island
If you're looking for a memorable sea view in Perhentian Island and romantic holiday, look no further than Bubu Resort!
4. The Barat Perhentian Beach Resort
For culinary hunters that appreciate a splendid sea view, The Barat Perhentian Beach Resort might be a perfect choice. Apart from satisfying your gastronomic cravings, The Barat restaurant also promises an excellent view of the sea.
Serving Asian, international and local favourites, the restaurant's food and views are considered among the best on the island! You may enjoy a hearty barbecue seafood dinner full of the bountiful flavours of the sea for a reasonable price.
The sea view rooms in this resort are not lacking, either. The Seaview Deluxe, sprawling over a wide area of 220 square feet of space, is arguably one of the best Perhentian resort sea view rooms that offer sweeping views of the glimmering sea beyond. The room is fully furnished with air conditioning so you have no trouble getting respite from the island's sometimes-blistering heat while comfortably staying indoors. There is a sun deck (with tables!) for you to relax in and absorb the breath-taking sea view while having a picnic too.
The best part of it all? Sleeping to the sound of the waves after enjoying the ember sunsets of orange and red hues in Perhentian Island reflected onto the deck.
5. Perhentian Island Resort
Surrounded by a luscious and untouched rainforest, you'll be surprised to know that Perhentian Island Resort also offers the best sea views on Perhentian Besar! Perhentian Island Resort's claim to fame is that it is strategically located nearby the jetty where the water taxis gather. It also boasts an outdoor swimming pool, a beachfront café, and a karaoke room.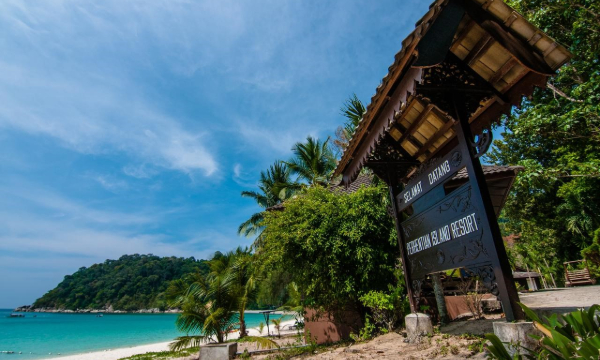 For nature lovers, this 3-star establishment is rich with wildlife. Travellers may witness wild magpies, giant fruit bats, or the unique silver leaf monkey when you take a jungle trek nearby the resort. You might even get lucky and see giant green turtles laying eggs along the beach if you come between July and October!
But of course, there is nothing quite like gazing at the magnificent sea view landscape. With over 106 comfortable guestrooms on its very own private beach (PIR beach), there is nothing to worry about as you will always be in proximity to the waters.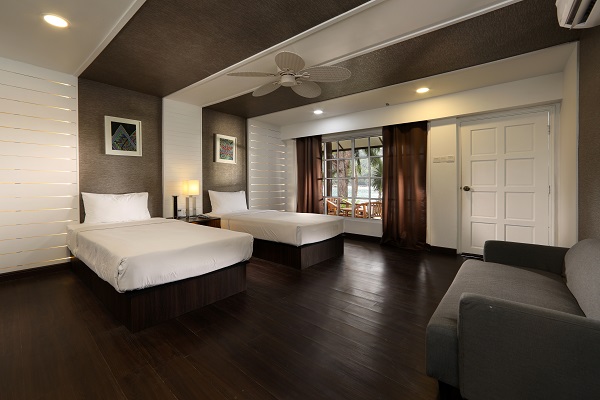 The rooms are spacious and come with their own private balcony to breeze away your days in a state of full relaxation.  You can opt for the Premier Beach Front room where your sliding doors open to spectacular views of the beach. The rooms are tastefully furnished and fully equipped for a pleasant stay.
Once you are settled down in the Perhentian Island Resort, nothing can take you away from the comfort of the ocean breeze and the exceptional Perhentian sea view.
 6. Coral View Island Resort
Known for its long stretches of pearl-white beach and deep blue waters topped with patches of thriving coral gardens – Coral View Island Resort is indeed worth all the money spent. Nestled within Teluk Pauh, which is said to be the best beach in Perhentian Besar, the resort offers travellers a relaxing stay next to a beautiful seascape. Its location is absolutely convenient for guests planning to island-hop to visit other islands!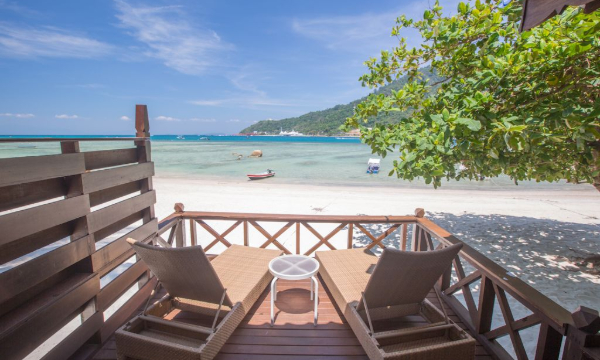 There are plenty of rooms offered with excellent sea views, but with different amenities that will suit different guests' needs. Each room comes with its own private balcony and comfortable lounge chairs where you will want to linger, listen to the waves and enjoy the spectacle of the ocean. But where you would like to head to is the Executive Suite Sea View. There is a private pool as well for you to jump into. Once you've tired of spending your time diving and exploring the island, that is (is that even possible?).
As a bonus, there is a newly built outdoor swimming pool in front of the resort. The swimming pool has a gorgeous view of the sea as well! Imagine swimming in the pool and absorbing the stunning Perhentian resort sea view at the same time!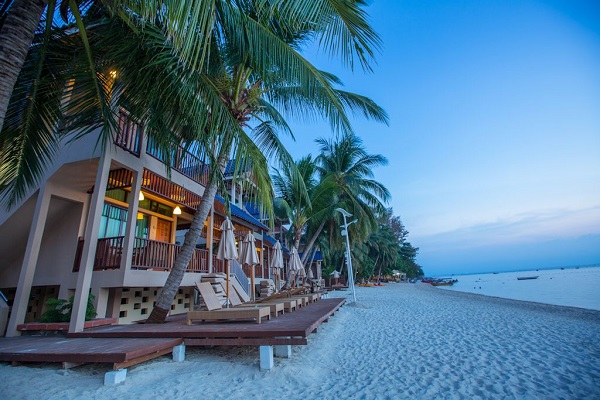 7. Shari-la Island Resort
If you are looking for some peaceful me-time, between you and the ocean, head on to Shari-la Island Resort right away! This 3-star establishment is within a 15-minute walking distance to Long Beach in Perhentian Kecil. This short distance is not too far that you are away from the action, but still great for travellers who want to avoid the crowds.
In the laid-back zone of Perhentian Kecil, Shari-la Island Resort provides a hassle-free private beachside where you can forget your worries. Besides, this property has kept most of its original forest foliage. This means that you will easily be able to find several entrances to some fantastic jungle trails. Think of all the animals and flora you can see!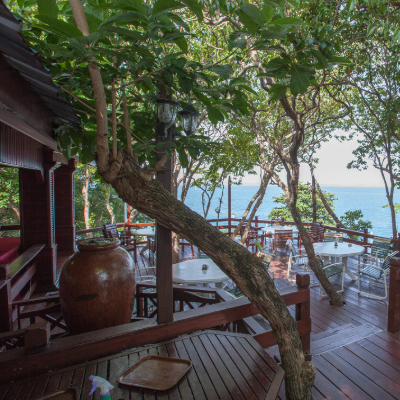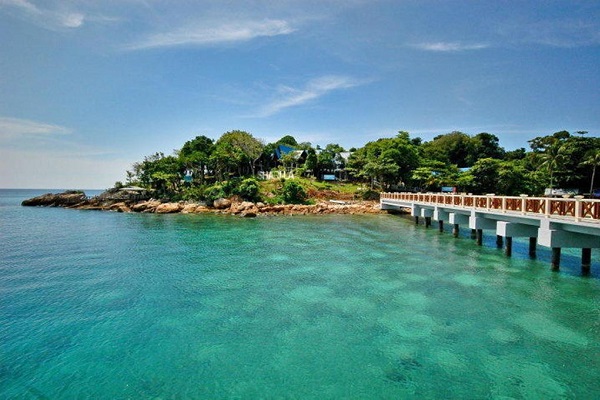 Shari-la Island Resort does not disappoint us when you look for its exceptional sea view rooms. Surrounded by lush green jungles, the only suite that offers an incredible ocean view is the bungalow with an equally large balcony that overlooks the sea. This makes for a more luxurious Perhentian Island Sea View room experience while blending in beautifully with the greens around.
The gorgeous Perhentian resort sea view sea view from the bungalow works as an instant calm for the senses. It is almost therapeutic. This, combined with the fact that nature surrounds you all around, makes it one of the best resorts in Perhentian Island for magnificent sea views.
---
Popular Perhentian Island Tours